Returning customer: please log in
Please click

here

to register
Wholesale customer: please register
here
Retail customer: please register below
Latest Joyetech cuboid mini kit 5ml: 80w| Your upgrade for cuboid mini
Explore every detail associated with joyetech cuboid mini 5 ml kit in the cuboid mini 80 w range In case you are looking for an ideal mini for vaping, it is best that you check out cuboid mini kit for ensuring the best of facilities. The speciality of this kit rests in the fact that it has a specific dual circuit protection that provides for a perfect protection system in case overcharging or over discharging. Thus, chances of over current are reduced to a great extent, and this device becomes safer to use. Also, unlike previous devices, this has a top airflow tank and top filling quality that allows both coil and top part to be removed simultaneously. What makes this kit different from the rest? Certain specific features such as double battery protection and top filling system makes this cuboid mini 5 ml better in comparison to others. Also, this coil ensures that one can have the best of flavours while making use of this vaping device. It is also noteworthy that this device does not leave out any residue like the actual cigarette and therefore ensures that this device best serves its purpose. Also, there are a number of covers that are available for this product, which ensure that these fit with the actual mod body and prevents the device from having any external abrasion. Thus, on the whole, with this cover comes this classy pack that acts as a perfect alternative for cigarette smoking. Ways to obtain cuboid mini kit: On a general note, this joyetech cuboid mini device comes within a range of $29.9-39.9 depending on the country that it is to be sent. Also, it is to be noted that in case a person wishes to get it on a wholesale basis, a payment of $500 to $5000+ USD is to be made. Apart from that there are a number of discounts available on this product. Also, with a shelf life of 90 days, it is best that one keeps a check on its quality and send back in case of discrepancy. Why take help from professionals? The professional units ensure that the products sent are authentic and in the best of their conditions. Every top brand associated with this product is available with professional suppliers. Hence, you can get products as per your demands. Diverse shipping methods are available for consumers. In case you are looking for an ideal cuboid mini 80 w make sure to check out professional suppliers!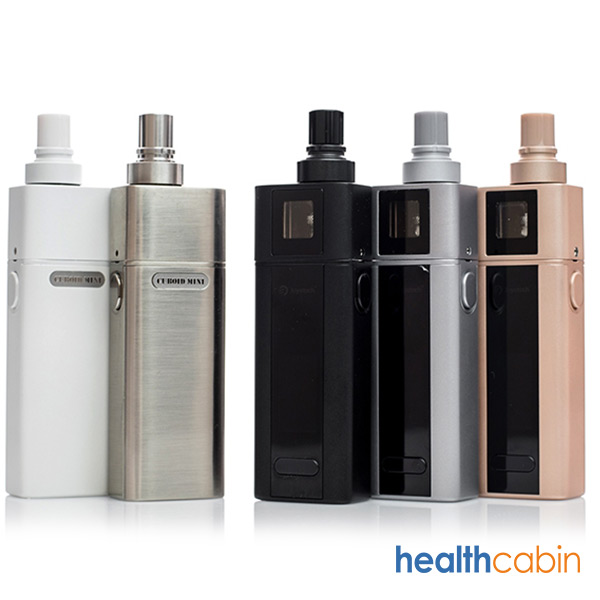 Joyetech Cuboid Mini TC80W 2400mAh Simple Kit with 5ml Cuboid Mini Atomizer (Ex. USB wall adapter)
(Clearance)
3.0
( Original Price:
$54.90 | Save: $38.92 )
10633
VT Software Version 3.02 to Upgrade Cuboid Mini is available now, please click here to download.
What's new in Version 3.02?
1. This is the first upgrade for the Cuboid Mini. And this time, we bring you something really interesting — custom logo is now enabled.
2. With the new Firmware Version 3.02, users can upload custom logos onto the Cuboid Mini as you like. The logo should be single color bmp. picture with limited 64*40 pixel.

The Joyetech Cuboid Mini Kit was made of Cuboid Mini mod and a matchy square 5ml Cuboid Mini tank, features 80W power output, temp control (supports Ti, Ni, SS wires), and new Notch Coil was used.








Features:
1. 80W power output
2. 6 working modes: VT-Ni/VT-Ti/VT-SS316/VW/BYPASS/TCR MODE
3. Resistance range: 0.05-1.5ohm for VT Mode; 0.1-3.5ohm for VW/BYPASS Mode
4. Temperature range: 100-315C (200-600F)
5. Built-in 2400mAh battery
6. With a top filling square tank
7. New Notch Coil (0.25ohm)
8. Tank capacity: 5.0ml
9. 510 threading
The Cubis coils are also compatible with the Cuboid Mini Kit:
A. 0.2ohm Ni200 Coil Head
B. 0.6ohm SS316 Coil Head
C. 0.5ohm SS316 Coil Head
D. 1.0ohm SS316 Coil Head
E. 1.5ohm Clapton Coil Head
F. BF RBA Coil Head
G.0.25ohm NotchCoil DL head
HealthCabin also carries the Colorful skin for joyetech cuboid mini tc80w mod for your choices.
Brand: Joyetech
Unit: 1set
Size: Height 124.5mm; Width 35.5mm; Depth 22.5mm
Color: Black/Silver/Grey/White/Gold
Battery capacity: 2400mAh
Tank capacity: 5ml
Resistance: 0.25ohm
Threading: 510
Shipping weight: 509g
Package: Gift box
Shipping method: Please check here for details.

Each set contains:
1pc Cuboid Mini 80W Mod
1pc Cuboid Mini 5ml Atomizer (0.25ohm Notch Coil)
1pc BF SS316-0.5ohm
1pc BF Clapton-1.5ohm
1pc BF RBA M&L. (Vertical)
1pc Spare mouthpiece
1pc USB cable
1pc User manual
1pc Warranty card
Warranty: Please refer to Warranty Policy for details.
How to save money?
You can use shopping points. Please check instruction here.
Please check discount codes for orders over 50 USD and save money.
If you want bigger discounts, please check our wholesale instruction.
Your satisfaction is Health Cabin's top priority. If for any reason you are in need of help or support, please click Help Desk on the top right corner and submit a ticket.We will reply to you asap
Request sales representative follow up and reply asaps
Contact me to Email update when price drops
Email update for promotion
Request sales representative follow up and reply asaps
Contact me to Email update when price drops
Email update for promotion