Returning customer: please log in
Please click

here

to register
Wholesale customer: please register
here
Retail customer: please register below
30ml 100% Ejuice Fruit E-Liquid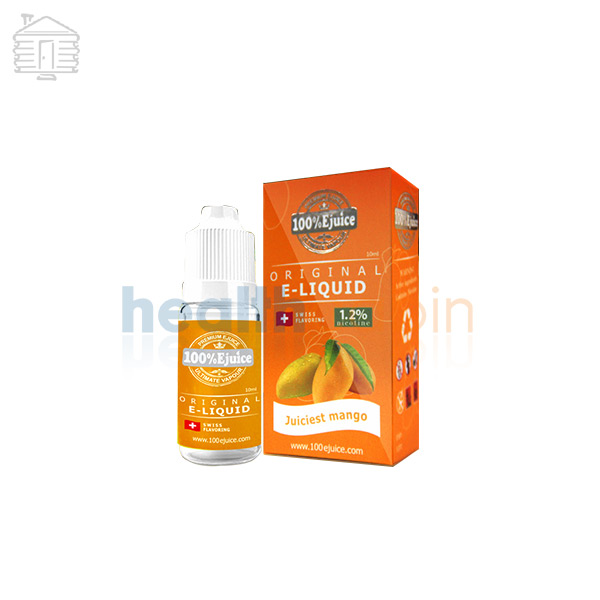 30ml 100% Ejuice Fruit (50PG/50VG)
4.8
Big Watermelon
Blackberry Bunch(Blackberry)
Blueberry Blast
Grape Madness
Guava Lush
King Pineapple
Litchi Dreams
10779
Place orders for liquid separately please, all orders contain liquid and hardware parts (including batteries) will be delayed for 3 business days.

The 100% eJuice ingredients are: 100% pure Swiss Flavoring, American standard VG & PG, together with the 99.5% pure & natural USP Grade Nicotine.
FDA and GMP compliant Clean Room with strict triple Agilent Testing System to maintain the highest quality product. Ensure every drop of E-liquid is safe and healthy.
HealthCabin carries 30ml 100% Ejuice Menthol & Mint  ,Beverage, & Candy & Others E-Liquid for your choices.

Brand: 100% eJuice
Unit: 1 Bottle
eJuice base: 50%PG+50%VG
Strength: 18mg/12mg/6mg/3mg/0mg
ipping weight: 60g
Shipping method: Please check here for details.
Flavor List:
Page 1: Banana Sensation, Big Watermelon, Blackberry Bunch(Blackberry), Blueberry Blast, Cherry Extreme, Grape Madness, Green Apple, Juiciest Mango, Guava Lush, Kiwi Power(Kiwi)
Page 2: Litchi Dreams, King Pineapple, Strawberry Passions, Blackcurrant Delight,Litchi Dreams

Notes:
1. We do NOT cover customs risk for orders including ejuice from Norway, Greece, Canada, Mexico, Brazil, Germany, Denmark, Hungary, Finland, Turkey, Estonia, Thailand, Singapore, Malaysia, Korea and Belgium.
2. Store ejuice in a cool dry place, out of direct sunlight.
3. NEVER drink or ingest, use at your own risk.

Warranty: Please refer to Warranty Policy for details.

How to save money?
You can use shopping points. Please check instruction here.
Please check discount codes for orders over 50 USD and save money.
If you want bigger discounts, please check our wholesale instruction.

Your satisfaction is HealthCabin's top priority. If for any reason you are in need of help or support, please click Help Desk on the top right corner and submit a ticket.We will reply to you asap.
Request sales representative follow up and reply asaps
Contact me to Email update when price drops
Email update for promotion
Request sales representative follow up and reply asaps
Contact me to Email update when price drops
Email update for promotion