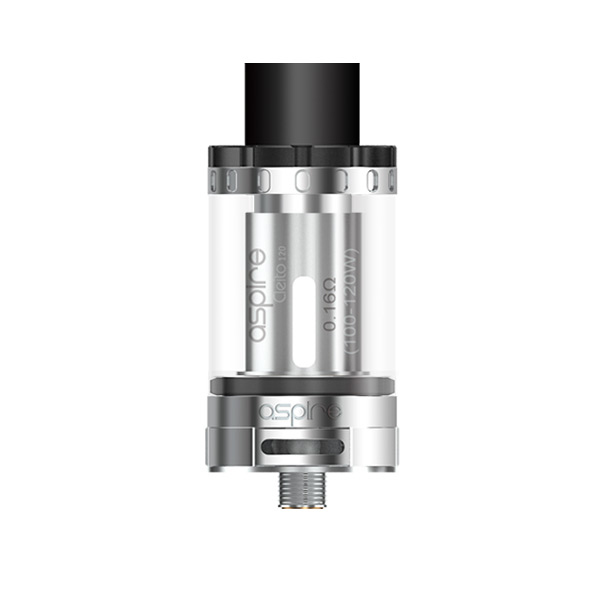 Aspire Cleito 120 Stainless Tank Atomizer Kit 4ml





25% OFF Aspire Brand Discount to save $
7.48
, get it at shopping cart
You Got It.Coupon will be used during check out.
100% Authentic
100% Secure Payment
24 Hours Delivery
Description
Product List
Customer Reviews
The Cleito 120 is so ground-breaking it deserves a new class of its own: "Maxi-Watt" Tank. Maxi-Watts is the next level of high-power vaping. Ramp up to 120 watts and enjoy smooth airflow, intense flavor and gigantic vapor production. Cleito 120's revolutionary new design enables it produce a controlled airflow and ultra-efficient wicking with thick VG E-Liquid. Cleito 120's strengths are endless - Become the King of the Jungle today.





Features:
1. Tempestuous airflow and vast vapor production
2. Revolutionary Cleito coil design
3. No chimney within the tank
4. Top filling
5. 4ml ejuice capacity
6. Wide bore Delrin drip tip
7. Colorful Cleito cuffs are available
8. 510 threading
Compatible coils: 0.16ohm coils.

HealthCabin also carries Aspire Cleito 120 Black Tank Atomizer for your choices.

Please note that the Cleito coils can NOT be used on Cleito 120 Atomizers.
Brand: Aspire
Unit: 1 set
Material: Stainless steel & Pyrex glass
Size: Height 58mm; Diameter 25mm
Capacity: 4ml
Color: Stainless
Resistance: 0.16ohm
Threading: 510
Shipping weight: 137g
Package: Crystal box
Shipping method: Please check here for details.

Each set contains:
1pc Aspire Cleito 120 Stainless Tank Atomizer (0.16ohm)
1pc Spar Cleito 120 Coil (0.16ohm)
1pc Replacement glass tube
1pc Vape band
1pc Warranty card

Warranty: Please refer to Warranty Policy for details.
How to save money?
You can use shopping points. Please check instruction here.
Please check discount codes for orders over 50 USD and save money.
If you want bigger discounts, please check our wholesale instruction.
Your satisfaction is Health Cabin's top priority. If for any reason you are in need of help or support, please click Help Desk on the top right corner and submit a ticket.We will reply to you asap.