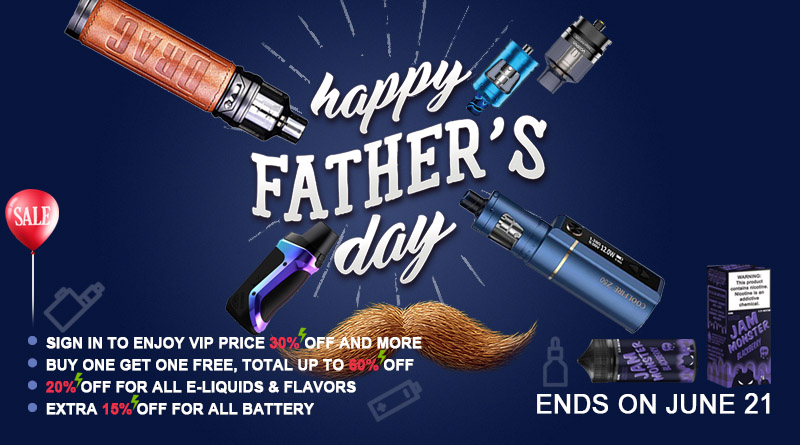 Since Father's Day is coming soon, Healthcabin prepares related gifts and lots of discounts. If your father is a vaper, this is a great chance to buy vape devices for him. Also, we provide a huge discount for E-liquids & Flavors. The valid time is from 3rd June to 21 June.
Now, Healthcabin has "Buy Kit Get Tank Free, Buy Tank Get Kit Free", the total discount is Up To 60% OFF. Limited Pcs, Buy Now!  
Date: June 4- June  22
Good chance to try new vaping juice – you could grab 20% OFF for all vaping eJuice and components for eJuice DIY, including Concentrated flavor, PG/VG, Unflavored based for below brands by using coupon code: liquid.
3.Extra 15%OFF for All Battery
We now have a sale activity for all the battery, an extra 15%OFF for all retail customers. Also, we have updated a lot of the Li-ion dedicated shipping method to guarantee the shipping time could arrive at your shipping address in time. coupon code: battery.
Here is some Li-ion dedicated shipping method list:
USA UPS(Li-ion)
UK HERMES(Li-ion)
EU DPD(Li-ion)
JP YAMATO(Li-ion)
AUPOST(Li-ion)
CanadaPost (Li-ion)
Russia Parcel CDEK(Li-ion)
Belarus Parcel China EMS(Li-ion)
Ukraine Parcel China EMS(Li-ion)
Kazakhstan Parcel China Post(Li-ion)
Indonesia Packet(Li-ion)
Philippines Packet(Li-ion)
Thailand Dedicated(Li-ion)
Singapore Dedicated(Li-ion)
Malaysia Dedicated(Li-ion)
Netherland Registered Mail(Li-ion)
New Zealand(Li-ion)
South Korea Dedicated(Li-ion)
Israel Packet(Li-ion)
We have updated the New Round Special Deals.  There are many new arrivals, hot vape devices & clearance items at the affordable price on this page. So you could choose some popular vape products as the best price for you or your father.