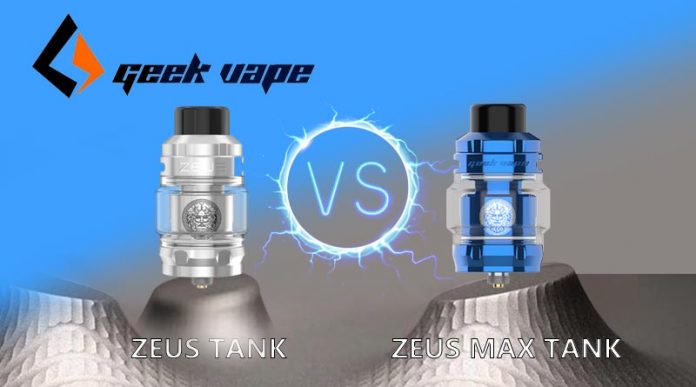 Zeus sub ohm tank (or the renamed Z tank) by Geekvape is one of the best sub ohm tanks in the market since its release back to the August of 2019, out of its good performance on leaking proof, good flavor and huge vapor production. Now they finally release a new version – the Geekvape Z Max with 32mm diameter. Let's see the upgradings or the differences between them in this post.
0.14ohm Mesh coil, 60-80W


0.2ohm Trible Mesh coil, 70-85W

0.15ohm Quadra Mesh coil, 85-100W

0.3ohm Dual Mesh coil, 55-65W
Summary
Obviously, Geekvape kept the same design – top filling & top airflow but expand the diameter to 32mm with larger mesh coils. But it sounds unreasonable that the bigger Z max tank only holds 4ml ejuice, which is smaller than that of original Zeus 5ml capacity.
The new mesh coils are bigger in size with 4 different combinations – single mesh, dual mesh, trible mesh and Quadra mesh. It accepts higher wattages than the original Zeus tank. Unfortunately, those coils are not Interchangeable, you cannot use those new coils on your origina Zeus tank.
Meanwhile, you may have trouble to find a box mod to match the 32mm Z Max tank, many box mods in the market only accepts 26/28/30mm tanks. So it's better to measure your box mod before buying the Z Max tank.
For the price, the new Z Max is slightly more expensive than the original Zeus, totally acceptable.
It is said that Geekvape will upgrade the Zeus tank to 2021 version with larger air inflow, better performance, and new coils will be added too. Watch it out!
Will you buy the new Z Max tank? Share us your thoughts in comments below.