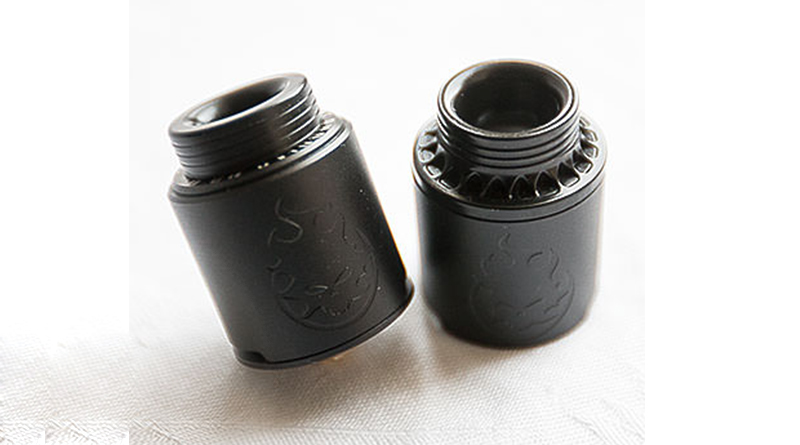 I received this Vandy Vape Phobia RDA free of charge from Healthcabin for the purpose of this review. Regardless of this, it will not color my opinion on this review in any way, shape or form.
Packaging
It comes in the new plastic casing that Vandy Vape has started to use, and the RDA and the spare top cap sit in cutouts on top, while the goodie bag sits beneath them both.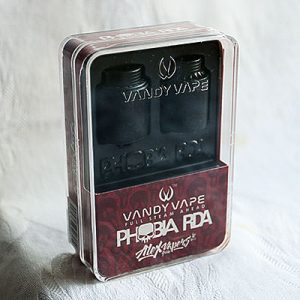 On the backside, you will find the scratch and sniff together with info on what the package contains and on one side a QR code to Vandy Vape.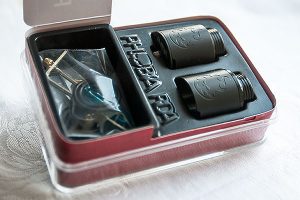 The RDA
Today we have ourselves another collaboration between a YouTube reviewer named Alex Vapers MD and Vandy Vape and it's gonna be interesting to see how the Phobia does in comparison with the others I have reviewed earlier.
It is a 2-piece RDA contrary to a lot of other RDA's on the market and it is delivered with two top caps. Both top caps are one piece and what makes them different from each other is that on one, the drip tip is an 810 size and on the other drip tip is the size of the barrel, a chuff cap basically.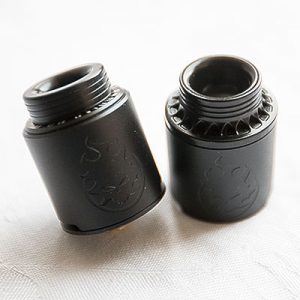 Another thing with both top caps is that they are doomed to ensure good flavor and all I can say is that it seems to work as good as they intended since it does deliver on flavor.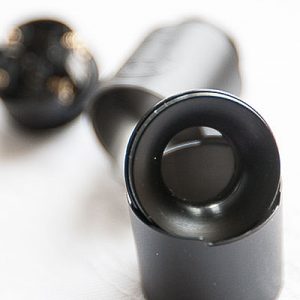 The one sent to me is the black RDA and the engraving looks good but doesn't stick out that many thanks to the lack of contrast between the black and the engraving. I think the engraving would pop more on the stainless one. On top of one of the top caps, you will find an engraving saying "No More Fear, No More Phobias".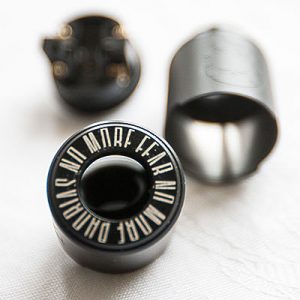 The machining is as always really good when it is a Vandy Vape made RDA. And to my joy, the o-rings is working as intended and hold both top caps in place and they sit snug.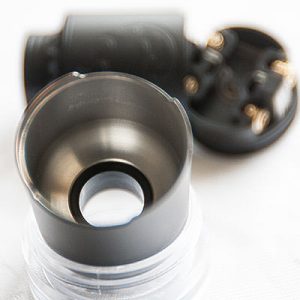 The deck is what is really interesting on this one and it is different from a lot of other RDA's out there. It is a two post less thingy, where the center is elevated where the airflow is coming out of the posts going straight to the coils from the side, and from beneath ensuring good flavor. It got four big … post screws, and on delivery it has Phillips screws mounted, and in the goodie bag you will find four additional Allen key grub screws.
Even though this deck can accommodate some really big coils the well itself is a bit cramped due to how the posts are made and that doesn't leave you with much room for cotton or juice.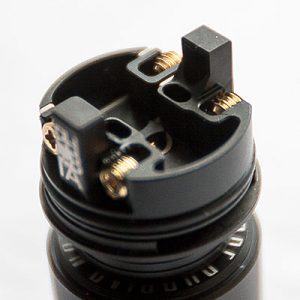 I have experienced a lot of seeping through the airflow on this one and even if I have been careful and made sure I didn't over drip it could happen anyway. Much of this issue is something I blame on the cramped juice well and could have been avoided if the juice well had been deeper, as it is now it is only 5 mm and that's not even close to being enough.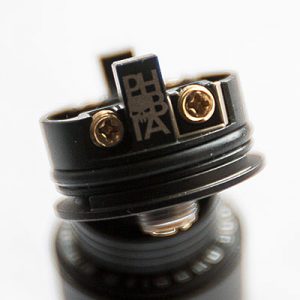 I have been trying my hardest to not have this one to seep through the airflow without any luck at all. The only way as I see it is to push the coils as close to the post as possible or vape it almost dry and the latter doesn't give me much flavor at all and isn't anywhere near a pleasant experience. It is a shame really since I like it a lot otherwise.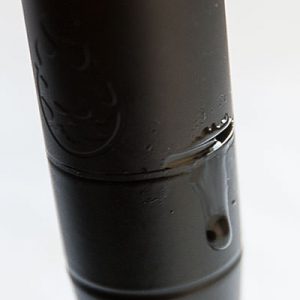 Building on the Phobia is really easy and all you have to do is to figure out how long the legs need to be, cut them at that length and then just put the coils in the post holes and tighten the screws. Since the airflow comes through the posts you only need to position the coils in order to get the most out of this RDA.
I would say that this is a dual coil RDA but considering how the deck is made it might be possible to use it with a single coil by using one big … single coil with an ID of 4 – 5mm that you place a bit high right in the middle of the deck. That way the airflow on both sides might be able to accommodate that big single coil and provide it with the air necessary to give you a good flavor. This is however just speculation on my part since I only used dual coils in it.
The top cap with a regular drip tip is built for 810 drip tips and I have tried a few I have and they all sit nice and flush on it. I'm pleased that 810 seem to be the new standard today and that almost every RDA has it.
The airflow is nice and smooth and I haven't experienced any issues with it like noise or something like that. It is really easy to adjust and when you have found the adjustment that's good for you I advise you to not lift the top cap since you have to find that airflow adjustment once again.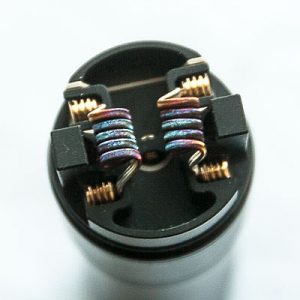 So how does this Phobia compare to the other YouTube reviewer RDA's I have tested earlier…? Against the others, I must say that it is up there with the best when it comes to flavor at least. Had it been without the cons I might have rated it even better. The o-rings are easily fixed by using a tad thicker o-rings but the somewhat tiny juice well isn't something you can get rid of, unfortunately.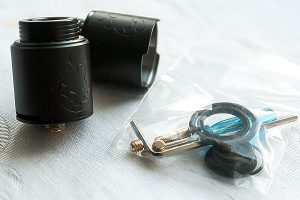 Assessment
All I can say is that it is a nice little chucker that performs well. It does come through on flavor and can be used as a cloud machine as well. The seeping does make the experience to be not as good as it otherwise would have been. The idea however is solid and with some redesign to it (read deeper juice well) and perhaps redesigned airflow I think it could be as solid as they get.
Can I recommend it to others?
If you don't mind the cramped juice well and the seeping through the airflow I don't see why not. It will provide you with good flavor and a deck that is easy to build. The price on this one is a bit higher but can still be worth it if you can see past the cons it has.
Pros
Looks
Machining
Easy to build
Squonk ready
Flavor
Hybrid safe
O-rings
510 adaptor (for those that like 510 drip tips)
Cons
The tiny juice well
Seeping through the airflow
Parameters
Width: 24 mm
Height: 30 mm
Silver, Gold, Flat Black, Rainbow
Package includes
1 x Phobia RDA
1 x Extra top cap
4 x Spare allen grub screws
1 x Squonk pin
1 x 510 drip tip adapter
3 x O-rings
1 x Allen key
1 x Blue screwdriver
1 x Manual
Thanks for reading this far and Vape on!
Norseman