Wotofo COG MTL RTA Preview & EXVAPE Exomizer V4 MTL  and HELLVAPE Destiny RTA Review

Wotofo's new MTL RTA the COG is constructed out of stainless steel material and comes pre-installed with a Delrin drip tip. With it being a 22mm diameter tank, it goes great with most single battery box mods. Additionally, this atomizer holds at maximum 3mls of e-juice. Additionally, it takes only a couple seconds to completely fill thanks to its top fill system.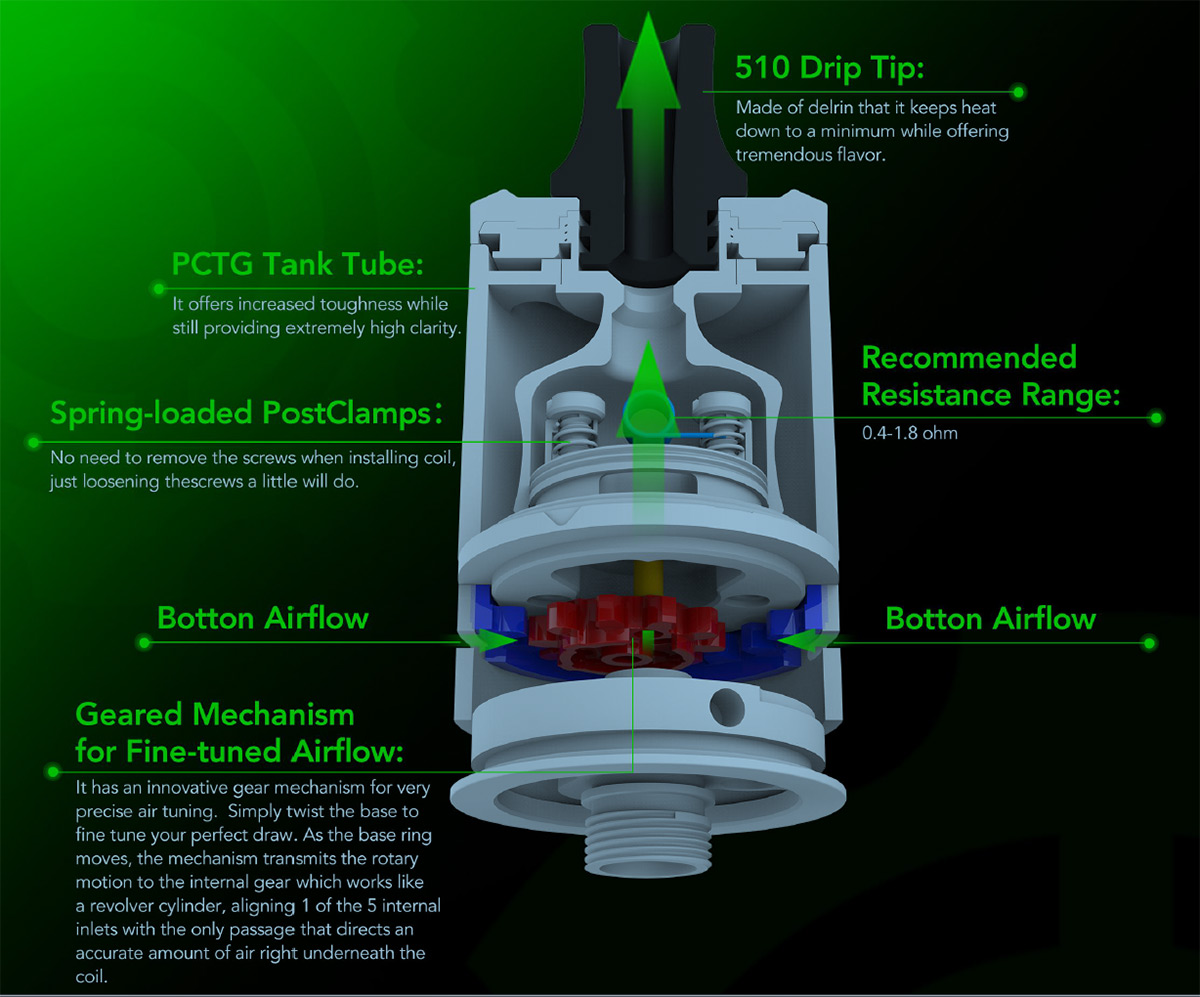 The new Wotofo COG MTL RTA Tank utilizes a single coil clamp style build deck. This design makes building on it quite simple and much less time consuming. Now, the most unique feature that the Cog MTL tank has that makes it much different than other RTAs is the cog mechanism.
It's the first tank atomizer to have this design and it provides 5 different airflow options for enhanced flavor, and fine tuning. Lastly, there are two large airflow slots at the bottom of the Cog MTL RTA atomizer.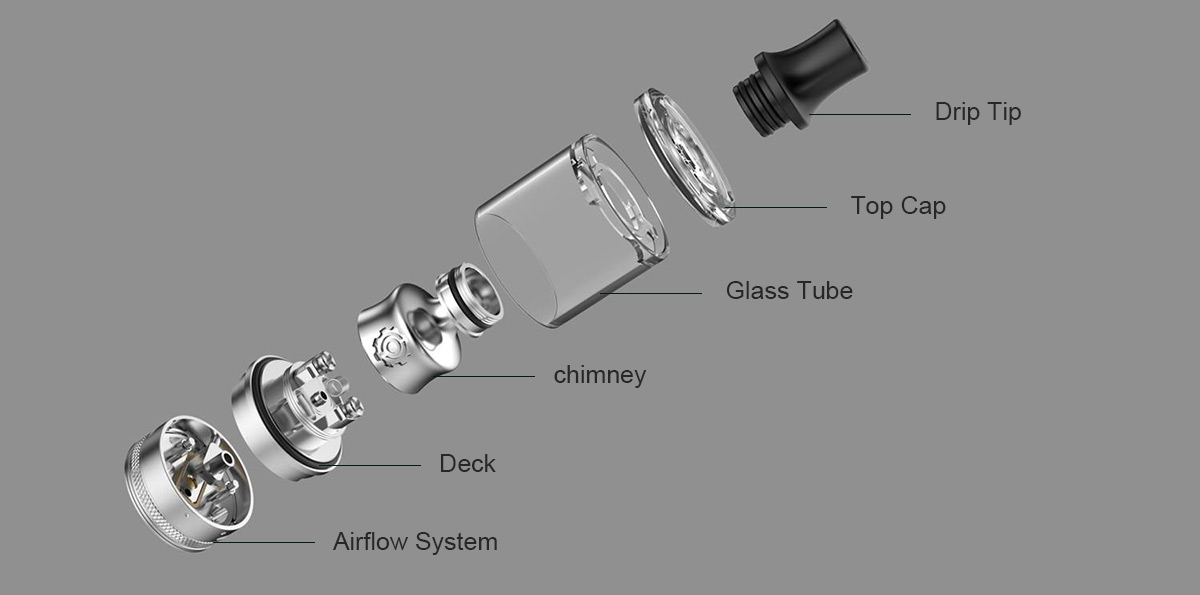 Brand: Wotofo
RTA Type: MTL Type
Drip Tip: 510 Delrin Drip Tip
Tank Capacity: 3ml
Build Deck Diameter:22mm
Height:34mm(without drip tip & 510 pin)
Airflow Type: Bottow Airflow
Coil Configuration: Single Coil
Wattage Range: 5-30W
Recommended Ohm Value:0.4ohm-1.8ohm
Resistance of Included Coil:0.8ohm
Body Material: Stainless Steel
Insulator Material: German Peek
Threading: 510
Color: Black/Silver/Gunmetal/Gold/Blue/Rainbow

1pc COG MTL RTA
2pcs 2.5mm Thick Cotton Strip
1pc Dual Core Fused Clapton Coil 0.8ohm
1pc Single-Stand Coil 1.2ohm
1pc Cross Head Screwdriver
1pc User Manul
1pc Bag O-rings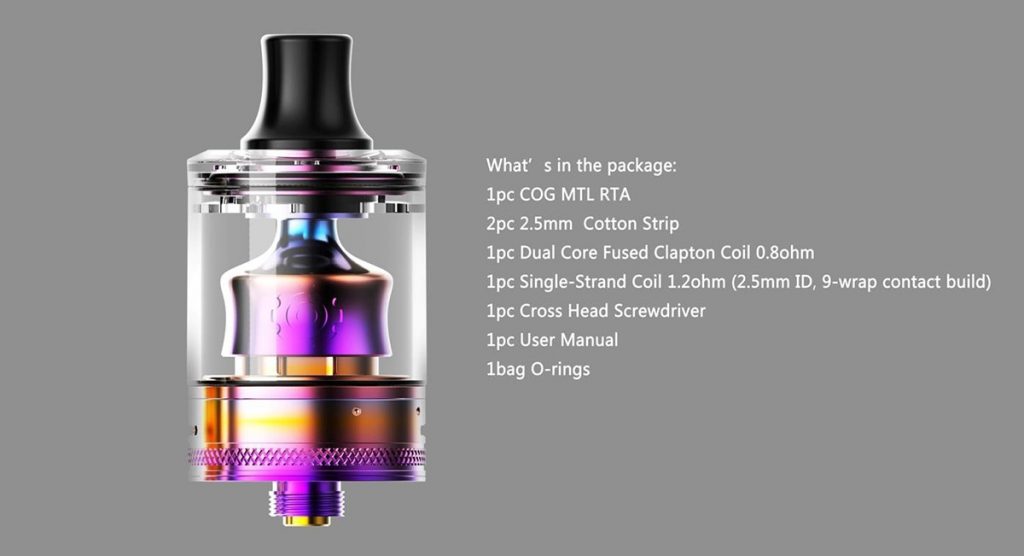 All in all, if you are looking for a new mouth to lung tank for your favorite nic salt e-juice or high nic freebase liquids, then you'll want to take a look at the new Wotofo COG MTL RTA. It holds a good amount of e-juice and offers a variety of great airflow options, plus the build deck makes it super easy to install coils.
There is a chart for the WOTOFO MTL RTA, EXVAPE Exomizer V4 MTL  and HELLVAPE Destiny RTA are the difference and same to contrast.
You may also like:
Spread the Love
Best Regards
Healthcabin Team