Returning customer: please log in
Please click

here

to register
Wholesale customer: please register
here
Retail customer: please register below
joyetech cuboid 200 200w tc box mod-grey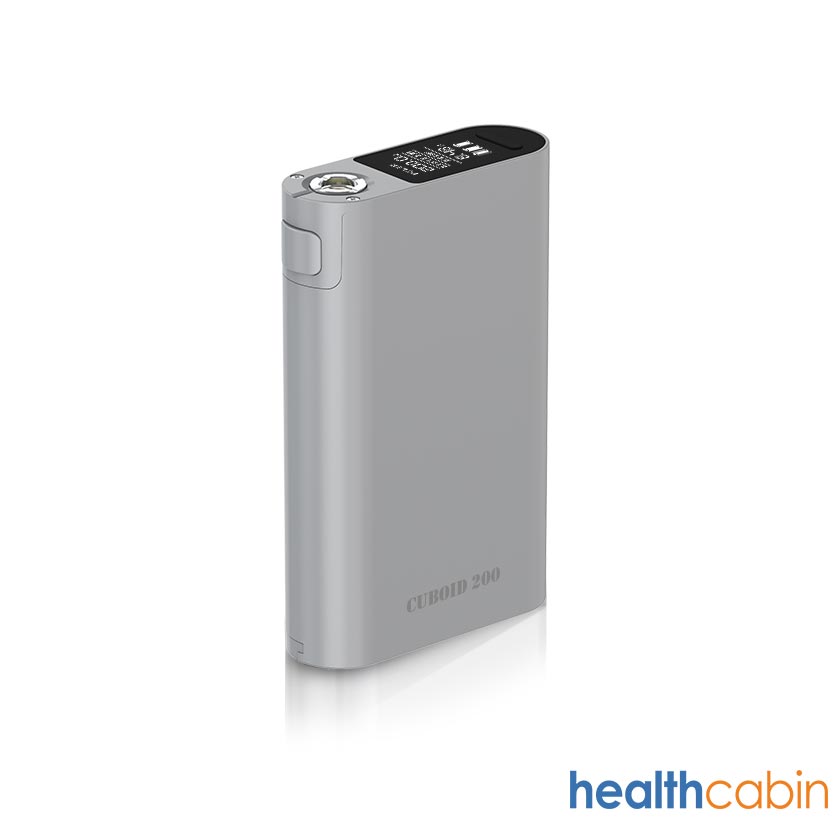 Joyetech Cuboid 200 TC 200W Box Mod Grey
(Clearance)
5.0
( Original Price:
$79.90 | Save: $63.26 )
12501





Having the glossy zinc alloy shell with its premium finish, the CUBOID 200 provides durability and reliability in its one of a kind style. Featuring 3 replaceable high-rate cells, it can be powered to 200W.
The CUBOID 200 has a 0.96inch OLED display, supporting VT/VW/TCR modes as well as real-time-clock, preheat and custom logo functions.
Meanwhile, it is designed with upgradeable firmware with which you can keep the CUBOID 200 up-to-date.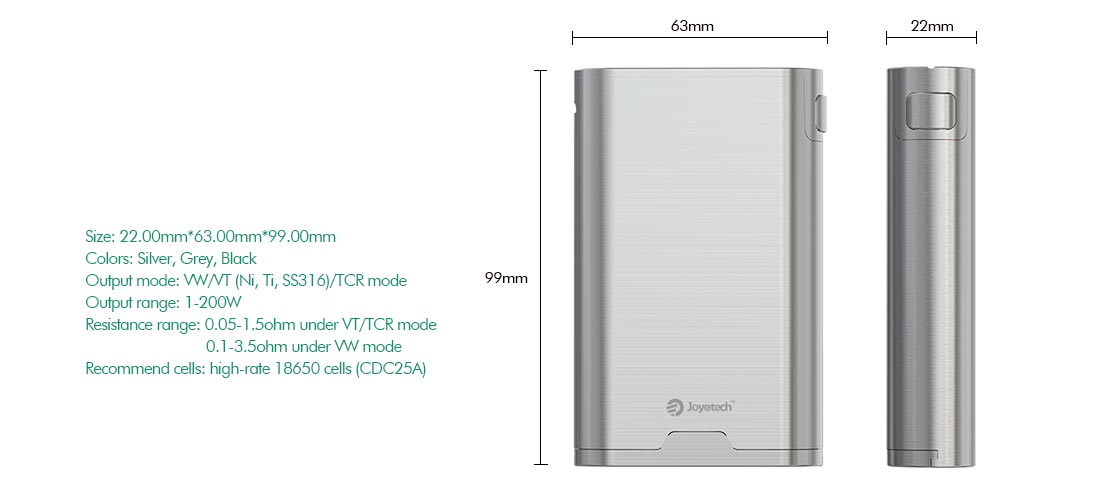 200W maximum output with triple cells
Cuboid 200 is powered by three replaceable 18650 cells, where maximum output can be reached to 200W. Battery status will
be displayed with three separate bars. Please always use married cells with continuous discharge current (CDC) 25A.




Flexible battery cover for easy exchange
The Cuboid 200 back cover enables to replace the batteries with great ease. Always pay attention to the battery installation marks (+/-) when installing new batteries.



Reverse polarity protection and dual circuit protection
The onboard reverse polarity protection, as applied in the Cuboid 200, will protect the device from damages in the event of reverse battery installation. It also adopts the dual circuit protection system, realizing overall battery protection of over-charging, over-current and over-discharging, which makes the Cuboid 200 a total safe and reliable device.





Firmware upgradeable
Cuboid 200 comes with the upgradeable firmware.
Having the latest firmware V6.04 for Cuboid 200, custom logo and preheat function are available.








Charging & Upgrading
We kindly suggest you take out the cells and charge them in a standalone charger.
The micro USB port is on the top. Connect it with a micro USB cable to upgrade your device.

HealthCabin also carries Cuboid 200 TC Box Mod (Black & Silver) for your choices.
Note:
1. Customers can download upgrading firmware here to keep your Cuboid updated.
2. No 18650 battery comes with the mod. Customers need to buy them separately here. We kindly recommend high-rate 18650 cells with rated discharge current ≥25A.

Brand: Joyetech
Unit: 1set
Size: Height 99mm; Width 63mm; Depth 22mm
Color: Grey
Threading: 510
Shipping weight: 497g
Package: Gift box
Shipping method: Please check here for details.
Each set contains:
1pc Joyetech Cuboid 200 TC Mod
1pc Micro USB cable
1pc User manual
1pc Warranty card

Warranty: Please refer to Warranty Policy for details.

How to save money?
You can use shopping points. Please check instruction here.
Please check discount codes for orders over 50 USD and save money.
If you want bigger discounts, please check our wholesale instruction.

Your satisfaction is HealthCabin's top priority. If for any reason you are in need of help or support, please click Help Desk on the top right corner and submit a ticket.We will reply to you asap.
Request sales representative follow up and reply asaps
Contact me to Email update when price drops
Email update for promotion
Request sales representative follow up and reply asaps
Contact me to Email update when price drops
Email update for promotion