Returning customer: please log in
Please click

here

to register
New customer: please register
Innokin Disrupter.Innokincell|Innokin Box Mod Kit by HealthCabin
Innokin Disrupter is the latest box mod which employs the unique InnokinCell, offering a maximum continuous output at 50W, firing down to 0.2Ohm. The ultra-durable Japanese buttons on the kit have been tested to over 100,000 clicks. The InnokinCell within the Disrupter delivers Real power and maintains the full 2000 mah capacity over 300 full charge cycles. The series provides you with 3 long lasting Disrupter finishes and 7 beautiful InnokinCells, for a total of 21 possible colour combinations, to choose from. The box mod kit can be charged via a standard MicroUSB, and features a Tri-LED touch power indicator, through which you can always know how much power remains in the mod. Positive reviews regarding the powerful box mod introduced by Innokin have been received from vapers around the world, about its performance, user-friendliness and appearance. "The Disrupter performs well as Innokin is definitely not a newcomer to the vaping industry and they have been known for their solid performing mods. The buttons function easily and just do what they're supposed to do. The mod fires every time you hit the fire button with no errors." "Innokin makes quality vaping devices and the Disrupter is no exception. I really like the feel and function of the buttons on it, as they are really solid and pragmatic. Innokin describes those buttons as ultra-durable Japanese buttons. Beside, the Disrupter and InnokinCell fit together easily and securely." Most users of the Innokin Disrupter recommend it to the fellows. Rated values and features of Innokin Disrupter are as follows: Operating Voltage: 3.0V-7.5V; Operating Wattage: 6.0W-50W; Clearomizer Resistance: 0.2Ohm (minimum); Charging: Micro USB DC5V/1A; Large Bright OLED Screen; Left/Right Screen Flip; Large Durable buttons; InnokinCell Slide n' Lock System; 15 second cut-off; Remembers last Voltage or Wattage setting Ohms Meter & Battery Level Indicator & Puff Counter.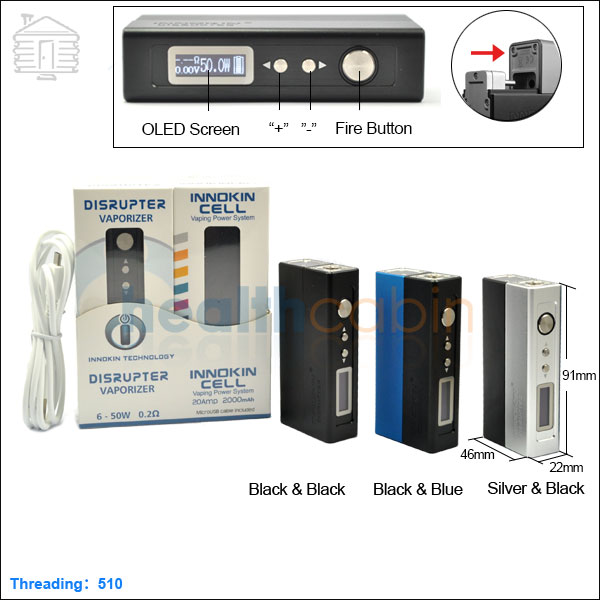 Innokin Disrupter & Innokincell 50W 2000mAh Mod Kit (Ex.USB Wall Adapter)
5.0

You may pick this
This is the product we choose for you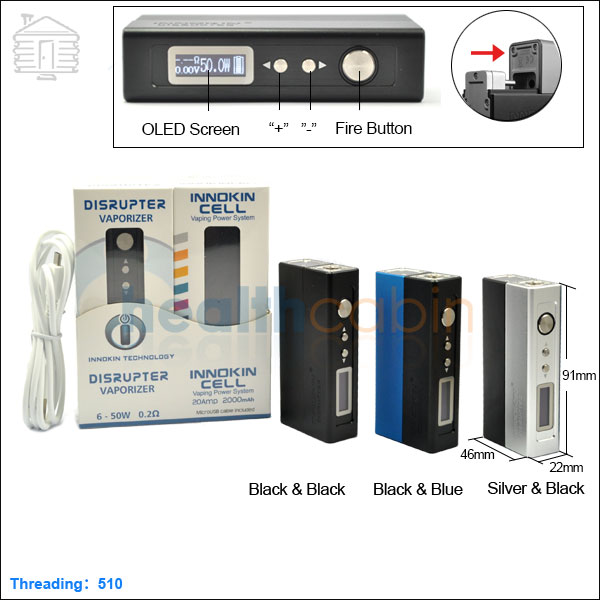 Innokin Disrupter & Innokincell 50W 2000mAh Mod Kit (Ex.USB Wall Adapter)

Disrupter:
Black
Innokincell:
Black
Price:
$43.90
10233
The Innokin Disrupter is the latest high powered advanced personal vaporizer and is the first device to utilize Innokin's revolutionary InnokinCell Vaping Power System LiPo replaceable battery technology. The Disrupter is a compact 50W vaporizer that can fire down to 0.2ohm.
The InnokinCell delivers Real power and maintains the full 2000 mah capacity over 300 full charge cycles. With a max continuous output of 20Amp (even at 50Watt output), the InnokinCell lasts longer and packs more real power.
Features:
1. Variable wattage: 6-50W
2. Voltage range: 3-7.5V
3. Battery capacity: 2000mAh
4. Fires down to 0.2ohm
5. Big OLED display to show parameters
6. InnokinCell slide n' lock system
7. Remembers last Voltage or Wattage setting
8. 15 second cutoff
9. Can be charged via the micro USB port while vaping
10. 300 full charge cycles
11. 20Amp max continuous output
12. 510 threading
HealthCabin also carries Innokin MVP 3.0 Pro & Cool Fire IV for your choices.

Brand: Innokin
Unit: 1 set
Size: Height 91mm; Width 46mm; Depth 22mm
Disrupter color: Black/Silver
Innokincell color: Black/Blue
Capacity: 2000mAh
Shipping weight: 342g
Package: Gift box
Shipping method: Please check here for details.
Each set contains:
1pc Innokin Disrupter
1pc Innokincell 50W 2000mAh battery
1pc Micro USB cable
Warranty: Please refer to Warranty Policy for details.
How to save money?
You can use shopping points. Please check instruction here.
Please check discount codes for orders over 50 USD and save money.
If you want bigger discounts, please check our wholesale instruction.
Your satisfaction is Health Cabin's top priority. If for any reason you are in need of help or support, please click Help Desk on the top right corner and submit a ticket.We will reply to you asap.
Request sales representative follow up and reply asap
Contact me to Email update when price drops
Email update for promotion
Request sales representative follow up and reply asap
Contact me to Email update when price drops
Email update for promotion