Returning customer: please log in
Please click

here

to register
Wholesale customer: please register
here
Retail customer: please register below
Get cuboid mini 80w mod from HealthCabin| Avail top quality
Get Vaping with cuboid mini 80w mod Are you into smoking? Are you afraid of suffering from the various after-effects of smoking tobacco? Want to go for an alternative option? Think e-cigarettes to be too fancy? Think again as you might find the cuboid mini 80w mod to be exactly what you will need. It is a fact well known that smoking tobacco is harmful, not just for your lungs but for your loved ones as well. With vaporizers like cuboid, this risk is mitigated on a larger scale as the vapours emitted are 95% safer than the ones emitted from a cigarette. Moreover, you can keep up with the having of smoking by vaping, without damaging your health. What is vaping? Vaping is a term posthumously used to describe the act of inhaling vapours from an e-liquid through a vaporizer but which is free from tobacco. It is same as smoking, but is in fact much healthier. The liquid contains various elements like PG or VG which impart a certain flavour to it. The working of a vaporizer like the cuboid is incredibly fascinating. There are two essential parts of this vaporizer. One is the part containing the battery and the USB port along with the OLED screen. While the second comprises of the mouthpiece and the atomizer. The battery is used to power the atomizer which in turn heats the liquid and creates the vapour which is inhaled through the mouthpiece. Benefits of cuboid 80w mod Well, over the years the e-cigarettes have been worked on to produce vaporizers and providing much more benefits than the traditional ones. Listed below are some of the benefits that this vaporizer has to offer: -It is long lasting so that you can puff away any time you want and for as much time you want. -Easier to carry around with its compact shape. -It has 6 working modes. -It has a temperature range of about 200 to 600F. -Its parts are detachable so that you can clean and wash them any time you want. -You can change the liquids and get the flavour you desire. What's new in it? What's new in cuboid is the custom logo. You can change it as and when you want and can upload the one of your choice. It also has dual circuit protection and is comparatively smaller than its previous model. The adjustment of TCR values allows a better control of the temperate and obtaining better accuracy with 2400 mAh battery for more juice. So, go ahead and save your lungs by buying it at just $49.90 and never give up on smoking!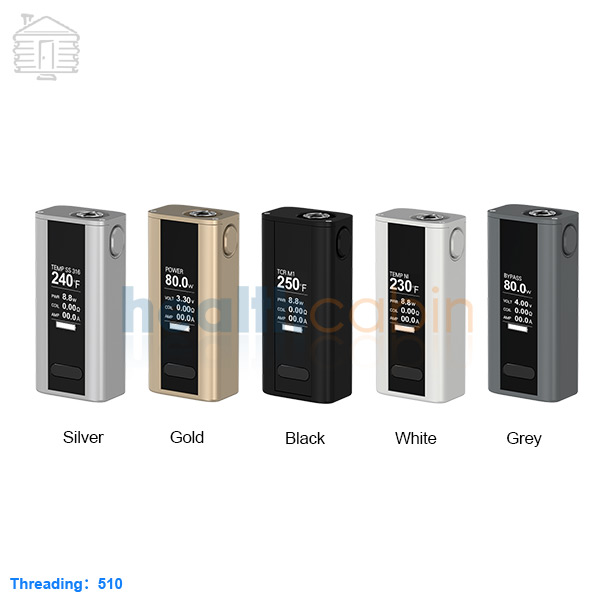 Joyetech Cuboid Mini TC80W 2400mAh Mod Kit (Ex. USB wall adapter)
(Clearance)
5.0
( Original Price:
$49.90 | Save: $22.40 )
10634
VT Software Version 3.02 to Upgrade Cuboid Mini is available now, please click here to download.
What's new in Version 3.02?
1. This is the first upgrade for the Cuboid Mini. And this time, we bring you something really interesting — custom logo is now enabled.
2. With the new Firmware Version 3.02, users can upload custom logos onto the Cuboid Mini as you like. The logo should be single color bmp. picture with limited 64*40 pixel.


Cuboid Mini, a scaled-down version of Cuboid which is much slimmer and cuter in appearance. It applies variable Temperature Control system, having Temp-SS316 and customized TCR available. Large 0.96 inch OLED screen, built-in battery and multiple choices of attractive colors all make it more practical and attractive catering to your preference. Upgradable firmware always enables it up-to-date.


Cuboid Mini enables you to adjust TCR values for different materials,thus further improving the accuracy of temperature control and bringing you the great taste.There are three options (M1, M2, M3) for you to customize the TCR according to the material.
In power-off condition, press the fire button and the right regulator simultaneously for around 5 seconds,
then you enter into the TCR set menu:
And here's the TCR Value Range for your reference:

Bottom Ventilation Holes:

The ventilation holes are placed on the bottom which can greatly help the device for better heat dissipation.

Features:
1. 80W power output
2. 6 working modes: VT-Ni/VT-Ti/VT-SS316/VW/BYPASS/TCR MODE
3. Resistance range: 0.05-1.5ohm for VT Mode; 0.1-3.5ohm for VW/BYPASS Mode
4. Temperature range: 100-315C (200-600F)
5. Built-in 2400mAh battery

HealthCabin also carries the Cuboid Mini Kit & Cuboid Mini Atomizer  , Colorful Skin for Joyetech Cuboid Mini TC80W 2400mAh Mod for your choices.
Brand: Joyetech
Unit: 1set
Size: Height 76.5mm; Width 35.5mm; Depth 22.5mm
Color: Black/Silver/Grey/White/Gold
Battery capacity: 2400mAh
Threading: 510
Shipping weight: 392g
Package: Gift box
Shipping method: Please check here for details.

Each set contains:
1pc Cuboid Mini
1pc USB Cable
1pc UserManual
1pc Warranty Card

Warranty: Please refer to Warranty Policy for details.
How to save money?
You can use shopping points. Please check instruction here.
Please check discount codes for orders over 50 USD and save money.
If you want bigger discounts, please check our wholesale instruction.
Your satisfaction is Health Cabin's top priority. If for any reason you are in need of help or support, please click Help Desk on the top right corner and submit a ticket.We will reply to you asap.
Request sales representative follow up and reply asaps
Contact me to Email update when price drops
Email update for promotion
Request sales representative follow up and reply asaps
Contact me to Email update when price drops
Email update for promotion