Returning customer: please log in
Please click

here

to register
Wholesale customer: please register
here
Retail customer: please register below
Sigelei T200 200W TC Box Mod with Touch Screen-Silver
Choose sigelei touch screen and enjoy the wonders of vaping! Wondering about why you should get along with the trend of vaping? Thinking about purchasing an e-cigarette with customisable functions? Want to understand why it is more cost effective than getting a normal pack of cigarettes? Are you looking into the various flavour options for liquids? Well, why not invest in a good one like the sigelei touch screen vaporizer! Well, the sigelei T200 is a modified box shaped vaporizer which has a unique capability. It boasts of a 2.4 TFT HD touchscreen. Made out of zinc alloy, this particular vaporizer can be operated via the touchscreen and has Bluetooth capabilities. You can also control and change the wall paper on it and allows APP control function. It supports TC mode and can control the temperature from 100 to 300°C. It has power wattage of 200 and can thus provide and cater to all your vaping needs. The size of the vaporizer is pretty compact so that you can carry it around anywhere you like. Why is vaping so popular? Smoking tobacco is incredibly addictive and it's very hard to resist. But in most countries, smoking tobacco is being banned and is becoming a punishable offence. To come up with an alternative and to save the lives of smokers, e-cigarettes were developed which further was advanced to create vaporizers. These are a much healthier alternative as the nicotine content is almost negligible in sigelei touch screen vaporizers. Moreover, they are not at all addictive. The juices present in them are healthy as mostly they are made of vegetable glycerine. Thus, the smokers get the same taste which they acquire from smoking a tobacco but instead, pose no risk to their health. Cost: smoking vs. vaping Another reason why people mostly flock towards purchasing sigelei T200 is the cost associated with smoking traditional packs of cigarettes. A pack of cigarette costs around $14 a pack. That's like $520 spent per month on smoking itself if you waste an entire pack in a day. With sigelei T200, the cost is pretty less, around $120. The price is pretty decent considering the expenditure in the long haul and the amount of time it is going to last. There are also other models of e-cigarettes available at a less price as well. No throw-outs: get refills The best thing about sigelei T200 and the likes of other e-cigarettes is that you don't need to throw them out once the e-liquid is finished. You can simply purchase an e-liquid of your choice and fill up the cartridge and use it again. Thus, it is a really cost effective method! So, go ahead and save your money now by buying an e-cigarette with the e-liquid that your taste prefers!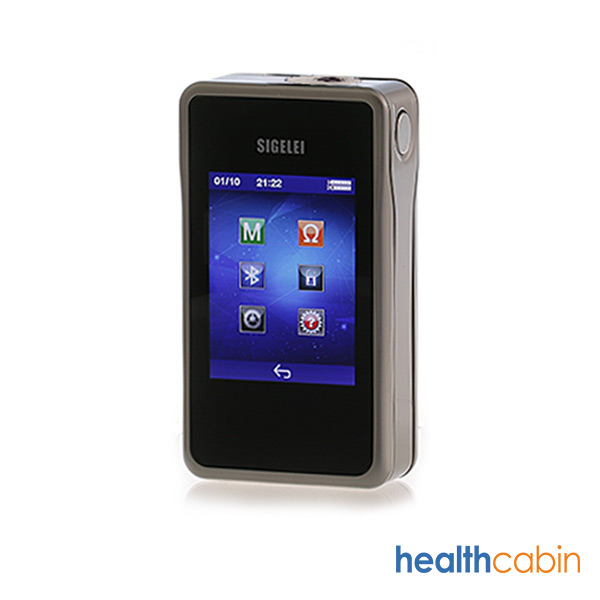 Sigelei T200 200W TC Box Mod with Touch Screen Silver
(Clearance)
5.0
( Original Price:
$110.00 | Save: $74.37 )
11095
The Sigelei T200 is a TC VW box mod features Touch Screen 2.4 inch TFT HD design. The Sigelei T200is constructed from Zinc Alloy. It comes with Bluetooth connection function, APP control function and fee choices of wall paper and word colors. The Sigelei T200 is powered by 2 x 18650 batteries (not included) that can fire up to max 200 watts. The Sigelei T200 can support TC mode and compatible with TI/NI200/SS304/SS316/SS317 coils. With all these amazing functions, the Sigelei T200 will surely bring you the wonderful vaping experience!


Features:
1.Screen: 2.4 inch TFT high definition touch screen;
2.Power mode / Temperature mode;
3.Wattage range: 10~200W;
4.Temperature range: 10~70W; 100~300C/212~572F;
5.Voltage input: 6.4~8.4V;
6.Voltage output: 0.5V~7.5V;
7. Maximum current: 35A;
8. Battery: 2 x 18650 high drain battery (not included);
9. Resistance range: 0.05~2.5ohm;

Unit: 1 set
Brand: Sigelei
Material: Zinc Alloy
Size: Height 95mm; Width 53mm; Depth 25mm
Color:Silver
Shipping weight: 322g
Package: Gift box
Shipping method: Please check here for details.
Each set contains:
1pc Sigelei T200 Mod
1pc Micro USB cable
1pc User manual
1pc Warranty card

Warranty: Please refer to Warranty Policy for details.

How to save money?
You can use shopping points. Please check instruction here.
Please check discount codes for orders over 50 USD and save money.
If you want bigger discounts, please check our wholesale instruction.

Your satisfaction is HealthCabin's top priority. If for any reason you are in need of help or support, please click Help Desk on the top right corner and submit a ticket.We will reply to you asap.
Request sales representative follow up and reply asaps
Contact me to Email update when price drops
Email update for promotion
Request sales representative follow up and reply asaps
Contact me to Email update when price drops
Email update for promotion