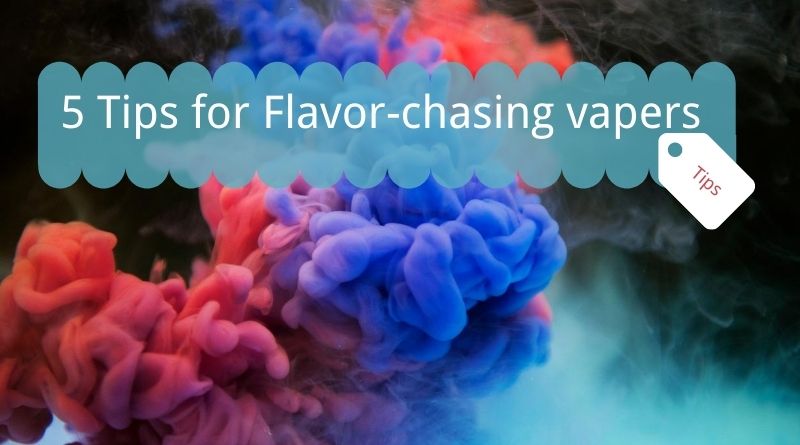 Chasing stuff is awesome. Adele did it with pavements that made her fortune. The taste of E-liquid is the first priority for Flavor-chasing vapers. It will directly result to vapers' mouthfeel. Indeed, like the humongous clouds to cloud-chasing vapers. The factors that flavor-chasing vapers are seeking for are getting vivid, smooth or maybe robust or mild throat hit feelings from a setup, etc.
The flavor plays a big part of vapers' overall experience. Do you have a prefer flavor among vaping product? Before reading our tips you can pick a flavour that you like the most before the following tips.
Tough right? If you've picked the juice you prefer. Then, how do you go about maximizing the flavor from your e-cig? Here is an amazing guide for you to achieve better flavor experience.
Tip 1. Choose the Right Juice
Have you chosen the flavor you prefer? if it is the flavor you are after, is it Propylene Glycol (PG) or Vegetable Glycerin (VG) juice? If it's VG juice. High VG juices may not be the best option for flavor-chasing vapers. While VG is practically flavor-less, it may still have a touch of sweetness. Thus, it may interfere the original taste of your e-liquid. Instead PG juice is different. In order to get the best flavor. Getting at least a 50/50 PG/VG mix or bumping up your percentage of PG would be even better. You can get even higher PG ratios for better flavor. What to do next? Enjoying vaping. Ecigclick listed some best ejuice in their site.
Tip 2. Choose the right coil
You'll want to be sure when buying your coil that you choose the right vape coil for flavor. Juice and coil are the two most important foundation to your E-cig. You'll want to be sure when buying your coil, you've had a base acquaintance to the vape coil you need. Top-coil clearomizers are no-go because they don't wick efficiently. Meanwhile, bottom-coil or automizer options might be better because they work with gravity instead of against it. If you are not familiar to the coil spread of E-cig product click some related tutorial for more information.
Tip 3. Modifying an appropriate airflow
Less airflow normally leading a better flavor. Less air enhances a more robust flavor. An appropriate attraction comes with an appropriate air flow. However, if you close off airflow too much. It will impact the performance off your E-cig.
Tip 4. Perfect your setting
First of all, you'll want to make sure you have the ideal temperature and wattage settings based on your acquaintances or experiences to the product you are using. The way of your temperature setting will affect how the taste of your steam. Starting from a lower temperature and keep increasing until it reaches the mouthfeel you'd prefer. Once you made sense of how your vape performed. You will know the setting for your own.
Tip 5. keep your tools clean
Keeping your stuff clean is the most important procedure after using your vape. Particularly for flavor-chasing vapers. Grime might will block the funnel of your vape. As the time going. The flavor will decrease, and as different flavor of juice filled into the tank. Different flavor will confound among your tank. Thus, frequently cleaning is required once you finished vaping.
Are these tips useful? If you are above 21 and seeking for a place to buy all the vape stuff online, Healthcabin would be your best option. Check our website for more information.