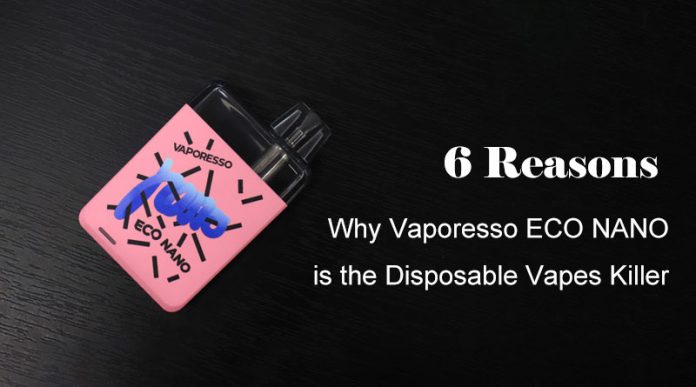 Vaporesso is increasing its pod system line with the success of XROS and LUXE series. Now they release a new ECO Nano, targeting the vapers who are vaping with disposable vapes at competitive price. In this Vaporesso ECO Nano review, we will see why ECO Nano is a disposable vape killer.
Dimensions: 44.7 x 18 x 77mm
POD Capacity: 6ml
Pod Resistance:0.8Ω
Battery Capacity: 1000mAh
Charging: Type-C, 1A
Draw Activated
Replaceable Refillable Pod
1x Vaporesso ECO NANO Device
1x Vaporesso ECO NANO Pod 0.8ohm
1x User Manual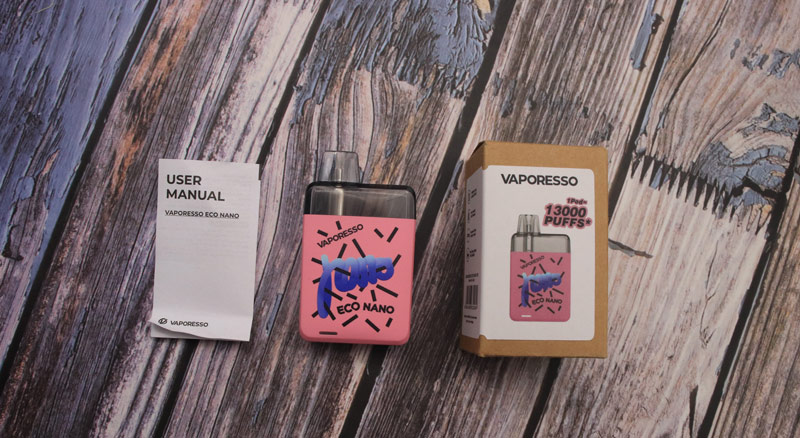 Vaporesso ECO Nano Appearance
Vaporesso is offering multiple color options, and 2 materials: plastic & metal. We got 2 plastic and 1 metal for this review. We can see clearly the eliquid level via the transparent pods. There is a bright LED indicator at the left corner, unfortunately it is not a 3 level LED indicator. USB C charging port at the bottom, 5V/1A.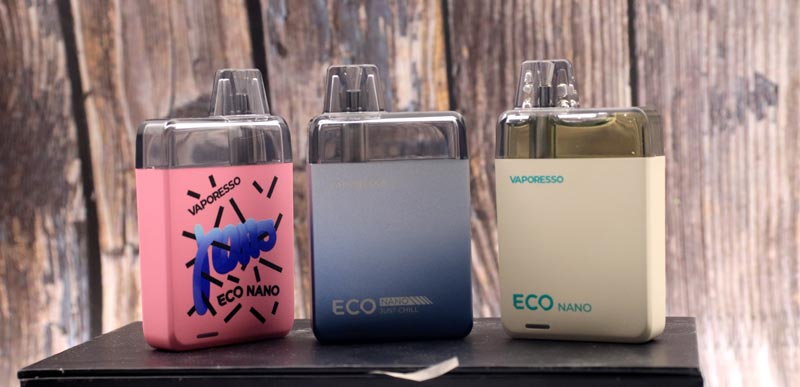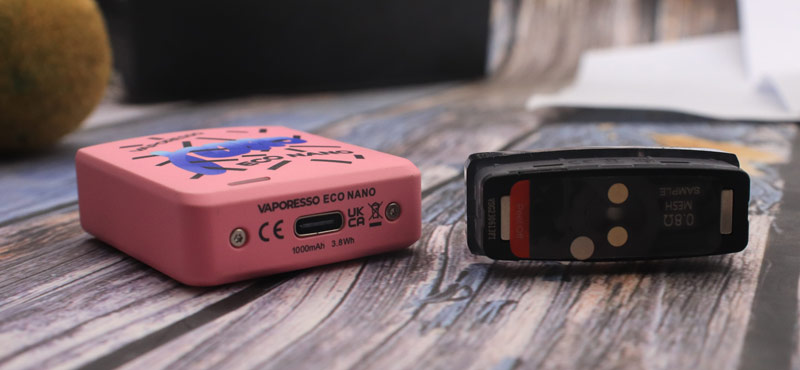 The metal version is a bit heavier than the plastic one, of course it make sense.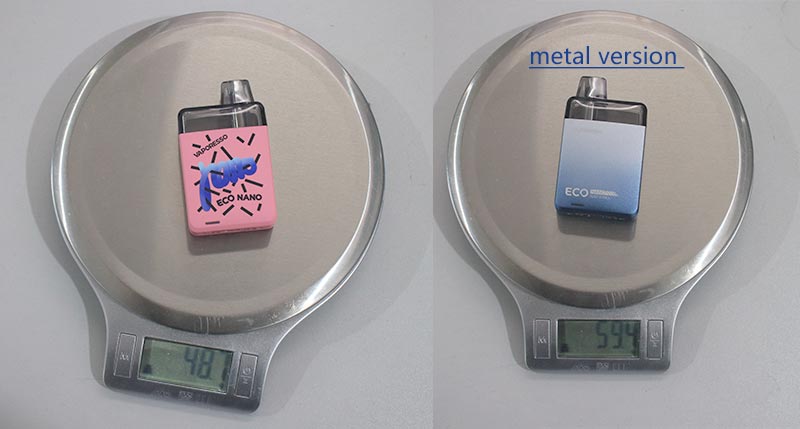 The ECO NANO size is even a bit smaller than some box styled disposable vapes.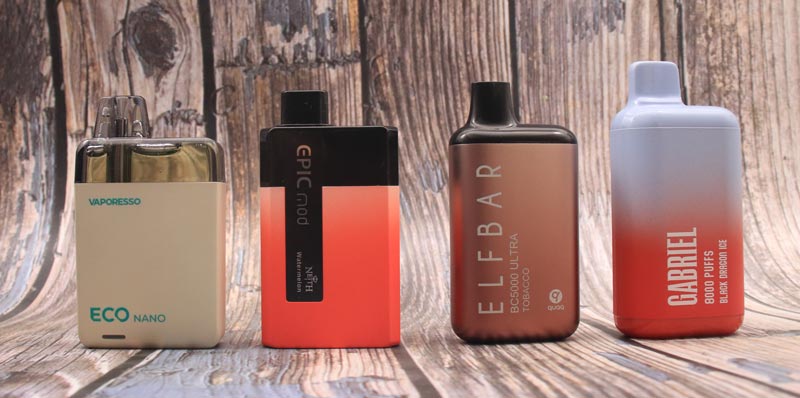 Vaporesso ECO Nano Performance
The ECO Nano is very easy to use, just fill the pods through the refilling hole at the bottom of the pods, wait few minutes then draw it to enjoy the vape. So no skill required for new vapers or disposable vapers. Buy it and you will know how to use it.
Vaporesso innovative COREX heating technology applied with unique Morph-Mesh structure and COREX cotton ensures more rapid and even heating to provide sheer flavor accuracy from the first puff to the last and extends the pod lifespan by 50% performance that will keep you vaping throughout the day.
Overall the flavor is top quality, which is able to match that of XROS pods.
The airflow is smooth, you can reverse the pod to experience 2 different airflows – relatively tight / loose.
As for the vapor production, this 0.8ohm does not produce heavy vapor.
The warmth is mild and never gets hot even when you chain vape it.
Battery, I'm not a heavy vaper, I can vape it 2 days or a bit more for one full charge, pretty good.
Pod life span, it is advised 1 pod = 13,000 puffs, which is about 30ml eliquid for real, while some disposable vapes exaggerate their puffs, people always cannot vape that long. I have refilled the pod 3 times now, the flavor is still great.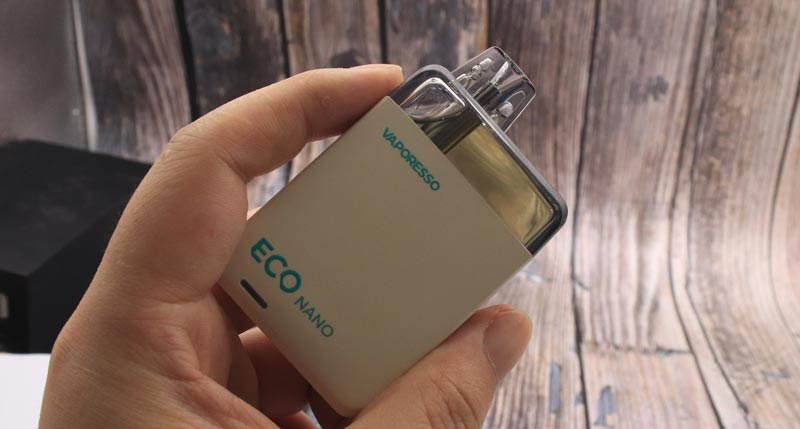 Vaporesso ECO Nano Advantages over Disposable Vapes
I have tried hundreds of disposable vapes from different brands, ECO Nano is much better than 98% of them with below reasons:
Rechargeable battery & replaceable pods, less electronic waste produced
Long lasting pods, 1 pod ≈ 3 disposable vapes
Higher level of product quality, longer battery life span, no leaking
Overall much cheaper for future vaping
Try different flavors with 1 kit
Improve your vape quality to a new level
Pros & Cons
Pros:
Nice flavor
Long pod life span
Large capacity: battery & pod
Super easy to use
Money save
True disposable vape killer
Cons:
Not a 3-level LED indicator
No cable in the box
Will you buy Vaporesso ECO Nano to replace your disposable vapes? Share us your idea in comments below.
HealthCabin will give away lots of ECO NANO Kits in coming week, stay tuned.