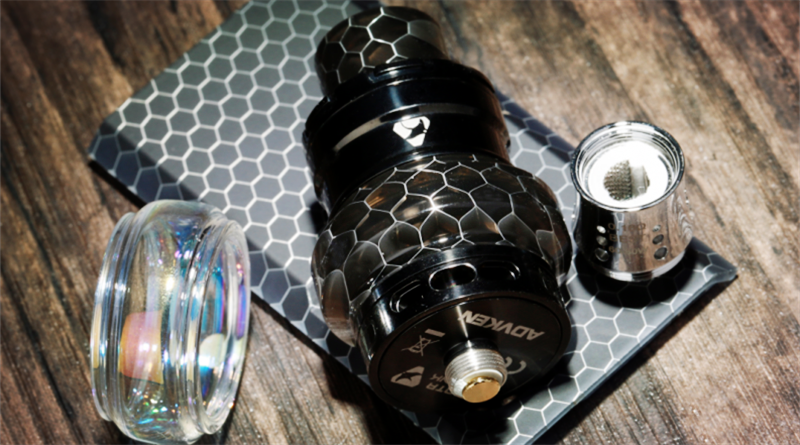 The Advken Manta Mesh Tank Review
Box Contents:
1 x Manta Tank (0.16ohm mesh coil Installed)
1 x Rainbow Glass (4.5ml)
1 x Mesh Coil Head 0.2ohm
1 x Doctor Coil Spares Bag
1 x Cleaning Cloth
Spec:
Size: 24mm * 45.7mm
Capacity: 2ml or 4.5ml
Material: 304 Stainless Steel, Resin and Pyrex Glass
Connection: 510
Colours: Black, Silver, Blue, Red, Gold, Purple, Rainbow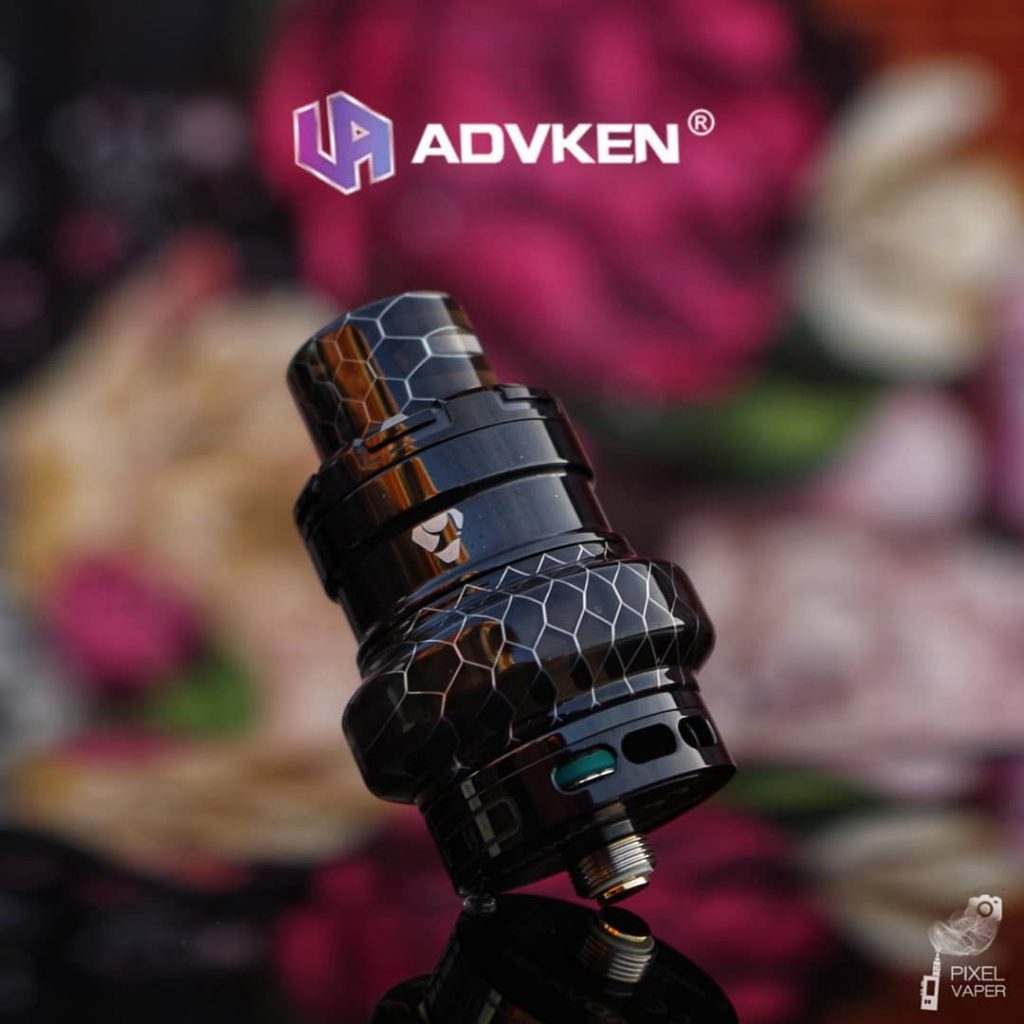 Design and Build Quality:
I like the unusual design of the tank. No sharp edges or machine oil was found.
You get 2 tanks. A honeycomb 2ml and a Rainbow PC tank with a 4.5ml capacity
The honeycomb bubble glass is a unique style but it can be difficult to see your juice level through it. There is also a matching honeycomb drip tip included. An o-ring sits inside the top of the tank allowing you to use any of your own 810 drip tips. The tank is top fill, slide the top cap to reveal a kidney shape fill port.
The tank is a bit loud with the AFC full open but close it down 1/3 to 1/2 down and the noise is reduced and the flavour increases. The Manta is a bottom air flow tank so don't leave it on its side for too long or you will find a small amount of ejuice leaking out.
The 2 mesh coils: A 0.16ohm coil pre-installed and a 0.2ohm spare coil. Performed well. I get more battery life using the 0.2ohm coil but the 0.16ohm has slightly more flavour at a higher wattage. I ran both coils on the Geek Vape Blade mod at about 65w on the 0.2ohm coil and 85w on the 0.16ohm coil. Flavour was great for both coils. I started with the pre installed 0.16ohm and got a week of heavy use including changing flavours 4 times and then switched it for the 0.2ohm coil which is still running today 2 weeks on.
Pros:
Gorgeous design and shape
Long lasting mesh coils
Great flavour
Compatible with TFV8 Baby Coils
Cons:
Noisy airflow at fully open
Can't see juice through honeycomb tank
Final Thoughts:
I really enjoy using the Advken Manta Sub Ohm Tank and I will have it on rotation for a long while. #happyvaper
Available to buy now from healthcabin.