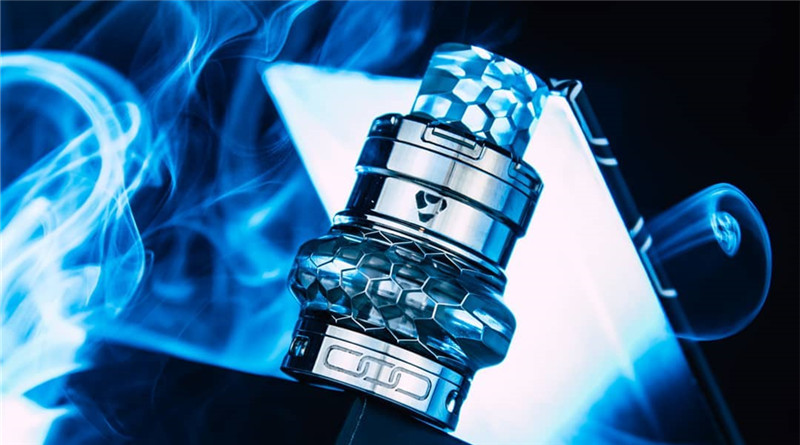 This interesting little fellow was supplied by the ever helpful Cortana from Healthcabin
This review reflects my own thoughts… Other's may disagree.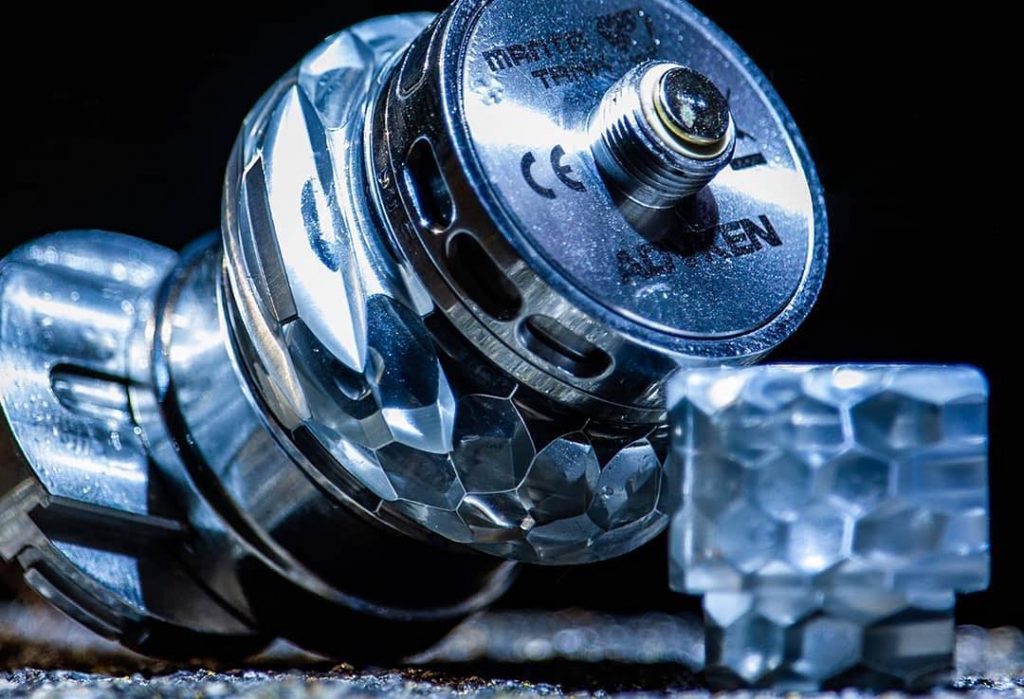 Advken have been getting high praise with the manta rta they released last year so I thought I'd have a look at the stock coil version.
It arrives in a tidy little display box including the Manta 5ml (I've tested it) sub ohm tank which has a 0.17 mesh coil inside, a spare 0.2 ohm mesh coil, a pack of good quality spare o'rings, spare iridescent glass section, instruction manual and rather worryingly a cloth!.
The tank has a sliding top fill with a large fill port and a huge airflow control at the base.
The resin is a bubble style design with a faceted finish and snake skin design over it that matches the 810 sized drip tip. It should be noted that although the exterior of the drip tip is 810 size of actually has a bore similar to a 510.
The tank is 24mm at the base.
Now on first opening this my first thought was to pull out my own eye's and burn them at the stake.
It's a divisive design for sure. Looks like a robot rattlesnakes tail.
But how does it vape.
The reason I've held back on this is that at first it was a little disappointing, then it got good and then it stayed good for a surprisingly long time.
The coil really took some breaking in. At first things are a little metallic and cottony (for want of a better word). It took a full tank of juice to break the supplied coil in but once it was the vapour production was huge and flavoursome. I run this coil around 55w but I've pushed it north of 90w and suspect this would run at 75w all day long.
I will have to update you on the 0.2ohm coil as the 0.17 ohm one is still going strong with some Cotswold vapour, custard doughnut.
The coil size is based around the established smok baby beast size so there's ample choice.
Airflow as I say is huge and noisey. I've managed to lower the noise by adjusting down the size a little. I suspect this would be remedied by a different coil choice.
Don't get me wrong it's not tobhino loud (ie: Darth vader) and not quite angry wife loud, but certainly noticeable.
The tank looks a little more acceptable with the alternative supplied glass but the fitted one is certainly tough.
Long story short. I liked the vape it gave enough to forgive its looks.
Bit of a cracker on the quiet and I'd recommend trying the coils and preserving. Good stuff.
You can grab yourself one of the fellas now from the good folks at healthcabin.