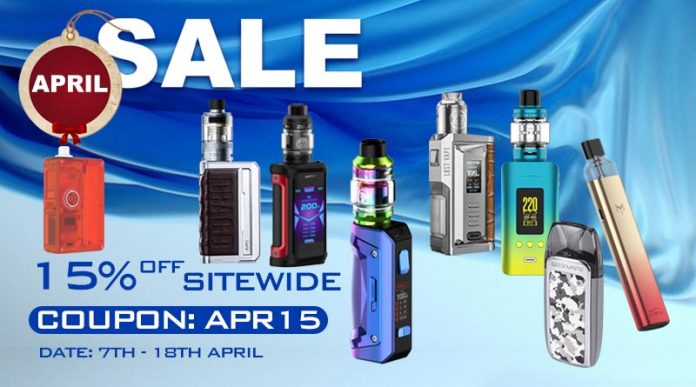 Dear valued customers,
The brand new April is here. So Healthcabin is here to bring our new round of promotion – April Sale 2022, with 4 vape deals in total. Take the chance to join us and save more on your favorite products!
A. Sign in to get 30% OFF
Old customers – Please sign in directly to get your member VIP price, which is about 30% cheaper than regular price (the price before login).
New customers – Please create a new account to get the same member VIP price.
Note: For all E-liquid products & DOVPO products, the member VIP price is the same with regular price, but we are offering better discounts, let's check it out.
B. 15% OFF Sitewide
We also created an extra 15% OFF discount coupon code, which is available for your whole order. Let's check it out!
Coupon infos:
Coupon code: APR15
Date: 7th – 18th April, 2022(-0600 GMT)
$1 Flash Sale products excluded
Retail Only
C. Giveaway – Free New Vapes
We are now partnering with Vaporesso to giveaway GEN 200 Mod with 5 winners in total. Ends on 9th April. Wanna test it for free? Click here to join us and win it home!
Prizes:
*If you are luckly to win, you will get one of the colors randomly.
D. Vape Deal Links
Here are some other useful links where you can find our best deals: