Aspire Skystar Revvo Kit Review by liblue1
I received the  Aspire Skystar Revvo Kit from Health Cabin for review…..(Thank you @vapbig )
This is my first touch screen mod and I love it………it is very responsive and is super easy to use……I love the curves on the mod itself, it feels slick & so comfortable in my small hands…..
The Skystar Mod…..
With a simple double swipe up or down takes you to different menus……the up swipe is the quick adjustment for you mode…to go higher or lower in temperature and also to change the mode from Soft, Normal or Hard…..the down swipe takes you to the full menu list…

Modes, Watts, Voltage, Bypass, TC, CPS
Data, Watts preheat,(Soft, Normal or Hard) TCR (Ni, Ti, Ss M1, M2, M3) & CPS (C1, C2 & C3)You can adjust each Memory & Curve….
System, Vapetime, Screen Time, Watch Time, Brightness, Language & Default…You can adjust each….
Time, Month, day, Year, clock (analog & digital
About….had a scan code and the version
Swiping right to go back to the menu you were just at swiping right takes you back to the main screen…….
The fire button is directly above the screen…..it's sometimes a little hard to find….It is a very well made mod. No rattling from the buttons or the battery door that is held on by 2 strong magnets. It has a very nice thick battery band to make it really easy to grab to remove the batteries…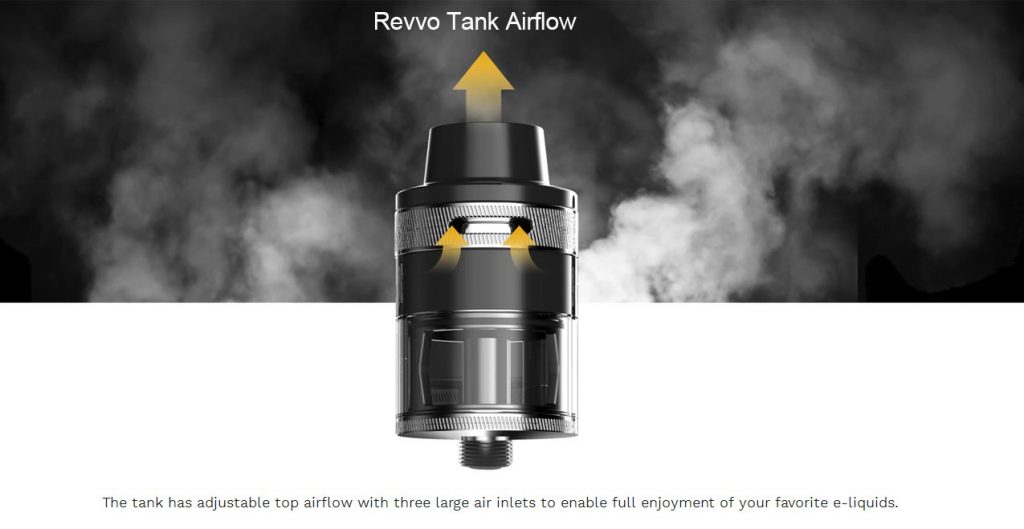 The Revvo Tank…
Well what can I say…this tank is excellent….I mostly love the filling method…..I just push my 30 ml plastic bottle in the mouthpiece and squeeze…..I love that I can fill it all the way up since the juice fills the tank from the bottom…..I can see it going in(air bubbles & all) and stop when it reaches the top….I love the large round coil disks….they allow lots of juice therefor lots of flavor…..It does have top air flow and it opens & closes really smooth.
I love that it comes with a silicone cover for the mouthpiece…it fits really good and doesn't come off when I put it in my pocket….
Aspire Revvo Tank:
Capacity: 3.6ml
Tank Size: 24*45mm
Coil Resistance: 0.1-0.16ohms
Wattage range: 50-100W (Optimal 80-85W)
Aspire SkyStar Mod:
Diameter: 91*50*33mm
Battery: 2*18650(not included)
Wattage range: 5-210W
Voltage range: 0.5-9V
Coil resistance parameters: 0.1-0.5ohm
Output modes: VW/VV/BYPASS/TC/CPS
Temperature Control: 100-315C/200-600F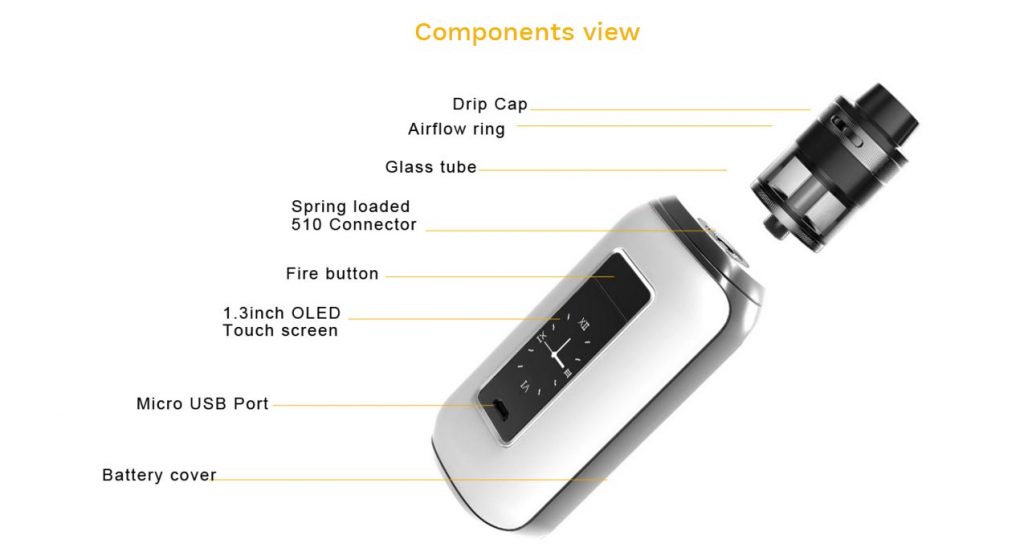 The Kit contains:
1pc SkyStar mod
1pc Revvo tank
2pc Coils (0.10-0.16ohms)
1pc Glass tube
10pc O-rings
1pc USB cable
2pc Warning cards
1pc User manual
1pc Warranty card
1pc Protective silicone cap
Aspire Skystar Revvo 210W Touch Screen Mod Kit Standard Version, check it here 
Aspire Skystar 210W Touch Screen Box Mod, check it here 
I highly recommend this mod for everyone…….It has great flavor and it pretty easy to use (especially the touch screen)…I love the mod & the tank and it will be staying in my rotation…..