Dear friends, in this review I take a look at the Hita Ink Pod Mod Kit from Asvape. The Asvape Hita Ink Pod Mod Kit was supplied free of charge for the purpose of this review by the Healthcabin. Let's start the Asvape Hita Ink Review.
Introduction
Asvape were founded in 2016 and have never in their 4 years of manufacturing flooded the market with countless products but tend to focus more on quality at an affordable price and have released a few gems in their portfolio. The idea behind the Hita Ink is combining three previous Asvape devices, the Hita Pod mod with the form factor of the Strider and the illustration style of the Michael. The Hita Ink makes use of the previous Hita pod and coil heads including the RBA while introducing the new 0.3ohm coil head. The power only simple device has fully adjustable airflow, a type C USB and comes with a choice of illustrated finishes with either a Silver or Black frame, let's check it out!!!!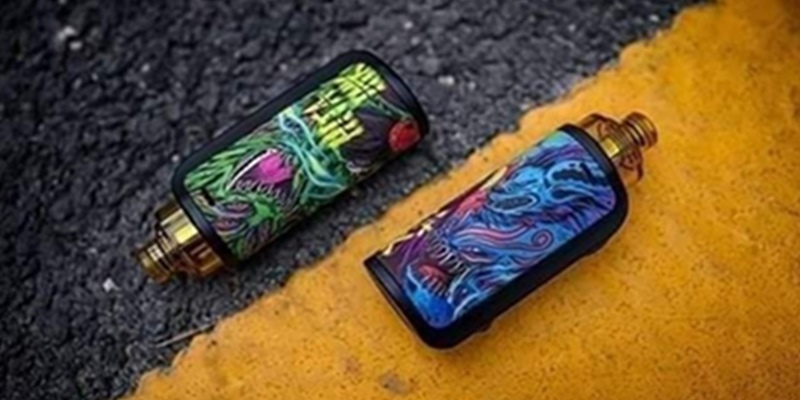 Asvape Hita Ink mod Pod
0.3ohm Mesh coil
1.0ohm Mesh coil
2x Drip tip (MTL & RDL)
Type C USB Cable
Warranty Card
Social Media Card
User manual
Material: Zinc Alloy Frame
Dimensions: 91*34*28 (Including pod and a supplied drip tip)
Weight: 100g
Battery: 1500mah built-in battery
Capacity: 3ml (TPD Version 2ml)
Output: 5-40W
Resistance coils supplied: 0.3ohm/1.0ohm
Input voltage: 3.3-4.2V
Resistance range: 0.2-3.0ohm
Charging voltage: 5V
Charging current: 1A
Standby current: <30uA
Colour/Design: All Black, Black frame with Quiong Qi, Tao Tie, Tao Wu or Hun Dun mythological design. Silver frame with Quiong Qi, Tao Tie, Tao Wu or Hun Dun mythological design
Aesthetics and Ergonomics
The Hita Ink comes in a presentation box with everything neatly placed in their own compartments. The device is a mini pod mod which just gets swallowed up by the hand having a cylindrical spine and classic C-frame form factor, very ergonomic!!!! There is a plain Black option for those not into their illustrations but i am fine with these as they are not exactly Mickey Mouse or Scooby Doo but based on Chinese Mythology so are cultural! I received the Tao Wu design with a Silver frame, the design options are Quiong Qi, Tao Tie, Tao Wu or Hun Dun and come in a choice of Black or Silver frame.
The device at 100g is a nice weight and the design is raised and has a slightly rubberised feel to it. I am not exactly sure what the coating is but these raised designs and coating are also what we have seen on the Asvape Micheal, VSticking VK530 and Pioneer 4You iPV V-IT, so if anyone knows exactly how these raised coatings are done and what the tactile coating is i am sure people would love to know!
On the face we have a Black domed fire button then further down two side by side smaller domed navigational buttons. Between the fire and navigational buttons we have a large display and then right at the bottom a Type C USB port. On the base we have printed safety stamps and branding then moving up top we have the polished amber pod protruding, on the device each side towards the top we have a small airflow slot.
The device is extremely well made and i must admit when i first opened the box i immediately said to myself "this is nice"!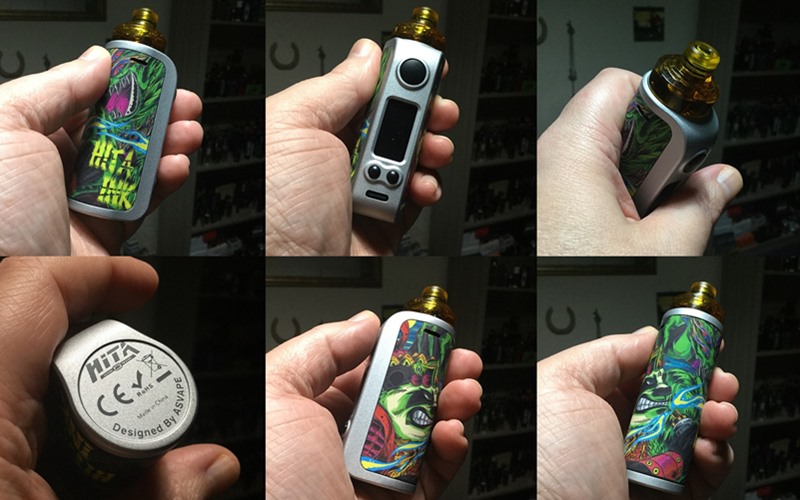 The Pod
The pod is cylindrical and up top we have a raised 510 fitting with pre-installed 510 tip which is more frosted than the polished pod and has an inner bore suited for a RDL vape.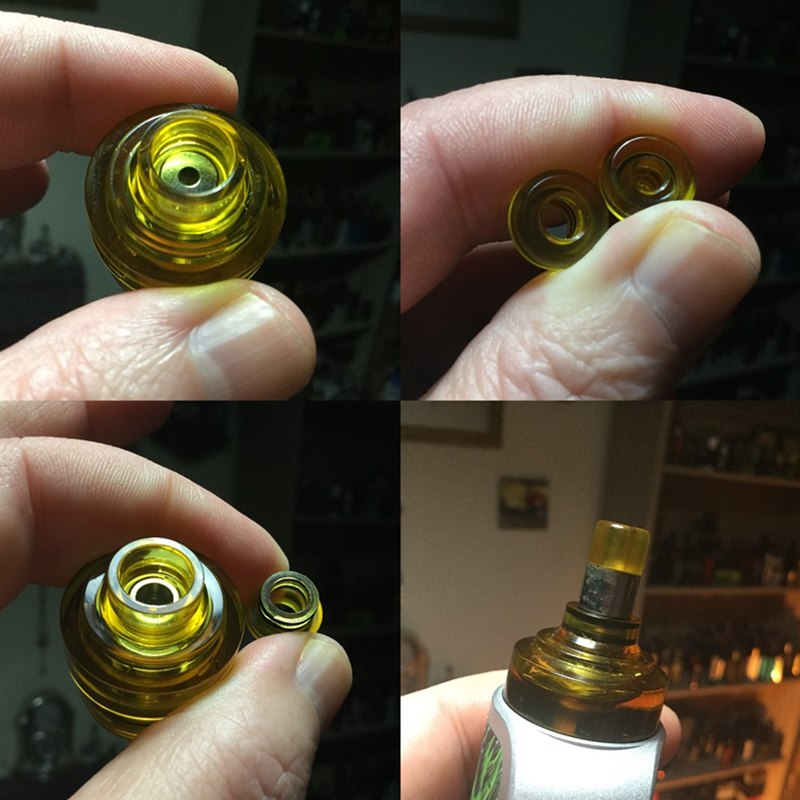 In the bag of goodies you also receive a more polished tip with very narrow MTL bore but you can also fit your own 510 if you prefer although due to the raised fitting some might look a bit funky although i found the Expromizer drip tip looks and works great with it. On the pictures you can also see how the coil head is also the chimney and just how close it is to your mouth so the vaper has very little distance to travel.
The pod is very transparent and most protrudes outside the device so your e-liquid level can be seen at all times. To one side we have a Black Silicone plug with an arrow showing where to lift and once lifted a generous fill port is revealed, you need the pod on it's side but it can be filled quickly and mess free!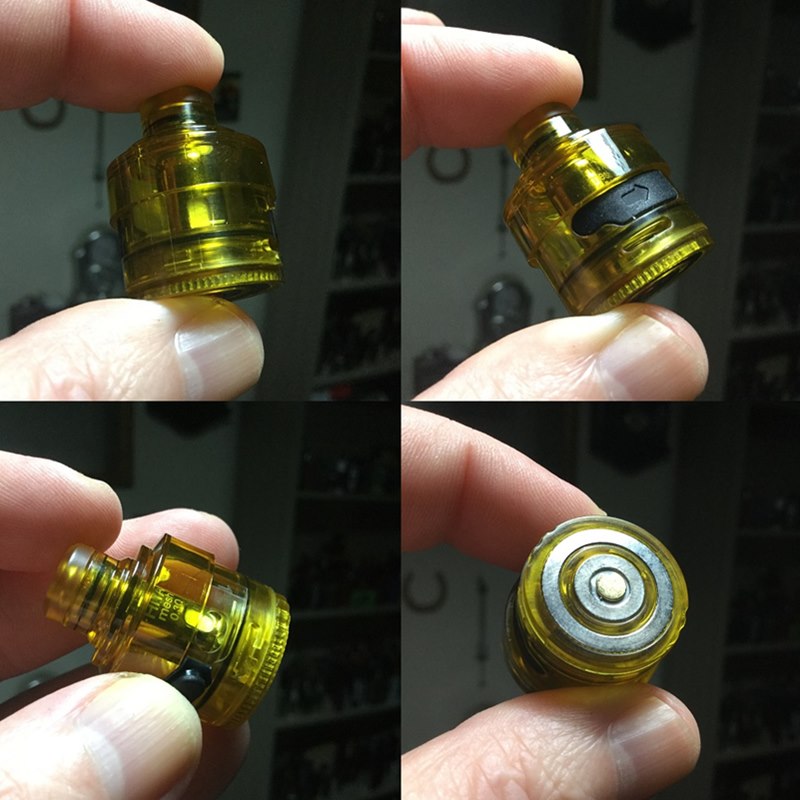 Moving to the base with the 0.3ohm coil head pre-installed we can see the central positive and negative ring and then an outer magnetic ring which is fixed to the retaining base ring which is removable.
Fitting The Coil Head
The pod has a retainer ring on the base which attaches to the pod with a bayonet fitting, this ring both contains the airflow and makes the pod much more leak resistant than similar designs. The new 0.3ohm coil head comes as one but with the 1.0ohm coil head the lower base section unscrews so don't throw this bottom section as this is needed when getting more of the 1.0ohm coil heads, this bottom section is also included if buying a spare empty pod! The pod assembly just gets press fitted into the pod and then the retainer ring needs a quarter of a turn to secure in place.
As well as the included 1.0ohm coil head and 0.3ohm coil head there is also a 0.6ohm coil head and an RBA. I don't have the RBA but it seems to come with an adaptor to build and pulse your coils using the Hita Ink and looks just like any other 510 pod mod adaptor so i assume using this you could also use standard atomisers unless it doesn't fit well, again would be interesting if anyone has one?
There are no specs given for the coils other than they are all mesh and the resistant is etched on to the head, even more confusing is the 1.0ohm coils seem to actually read at 1.2ohm and although on the website it only mentions 0.6ohm coil heads i am finding 0.5ohm coil heads for this on some sites!
Fitting The Pod
Looking inside the bay we can see the Gold plated, spring loaded positive and outer negative contacts. We also see the magnetic ring which will line up with the one on the base of the pod. looking at the pod we have a little tab one side which lines up with a recessed rail to allow movement with stoppers for airflow adjustment. When lowering the pod in the bay just turn and you will feel it drop into place, it fits very securely needing a tug for removal.
The Airflow
The device has a narrow slot towards the top either side which lines up with slots on the pod when inserted. Due to the retainer ring the airflow is enclosed which is much better than on similar pod mod designs and having the side of the pod adjusting directly to the outer slot you don't get the air leakage as you do on fancy designs such as the Voopoo Drag X etc! As mentioned the pod has a tab that moves along a recessed section so turning as far as it will go one way is fully open and as far as it will go the other fully closed but you can see the pods slots through the outer slots so adjusting precisely is no problem, excellent adjustable airflow design!!!!!!!!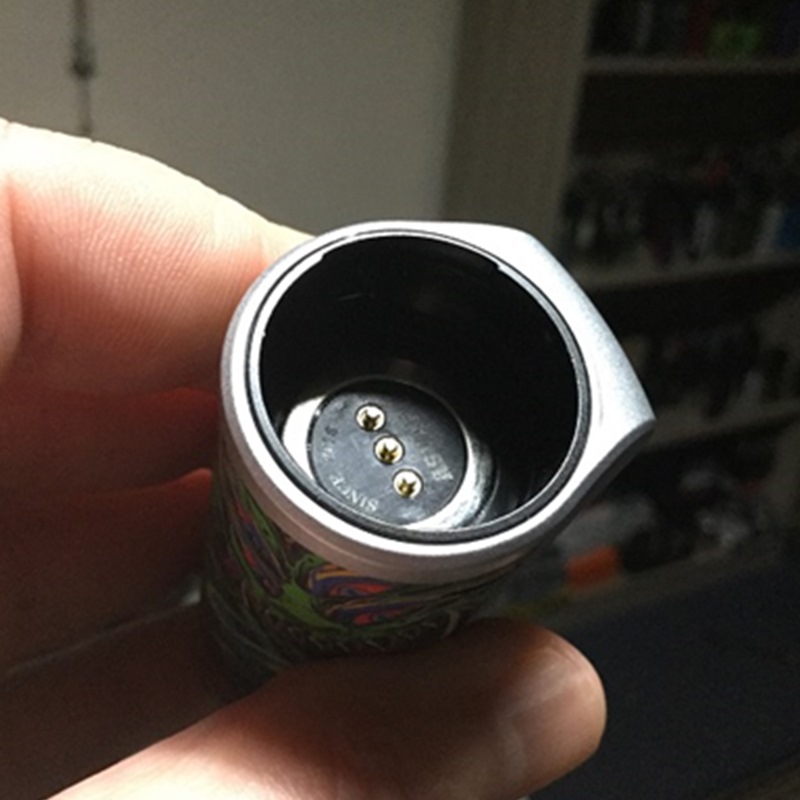 The Display
I really like the display on the Hita Ink, it might be a mini pod mod but it has a sharp, bright, large colour display which is well laid out! Top left we have "HITA" which i really wish this area was used to show the battery status as a percentage and then top right we have a battery status bar, underneath the top half of the display is completed with the wattage in nice large font.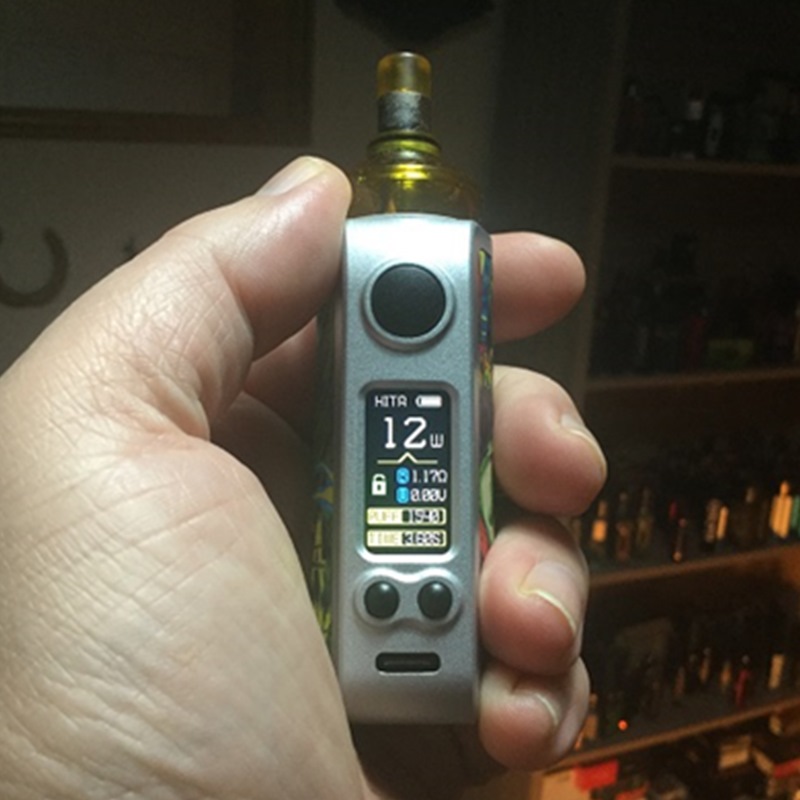 Below to the left we have a padlock in either a closed or open position depending on the status of the device. To the right of the padlock we first have the resistance and then the voltage below. At the bottom of the display we have the puff count and finally below vape duration.
Operating The Device
The Hita Ink is a wattage only simple pod mod which can be adjusted from 5 to 40w in 1w increments and doesn't round robin! To turn the device both on and off is 5 clicks of the fire button within 2 seconds and once on the device can be locked by pressing up and fire together. When locked the device will not fire which for me is a con and the second mini pod mod in a row that has this annoying feature (i just want the navigational buttons to lock, if i didn't want to fire it i would just switch it off with 5 clicks)! The only other feature is the puff counter which can be reset by pressing down and fire together.
The device uses smart wattage which is becoming standard with pod mods of late so for example when i install the 1.2ohm coil head (labelled 1.0ohm) it automatically adjusts to 12w, what i prefer with the Hita Ink compared to the Argus Pod Mod i just reviewed is this doesn't limit wattage adjustment which is much better for when using the available RBA coil head.
Protections
Low Voltage Protection
Overtime Protection
Over Temperature Protection
Low Resistance Protection
Short Circuit Protection
E-Liquid Leak Protection
Charging
The Hita Ink has a Type C USB port and 1A charge rate allowing the battery to be charged in less than 2 hours which for a 1500mAh battery is a little slow, it also doesn't support pass-through. A large charging progress bar is displayed while charging but the charge isn't given as a percentage or estimated charge time left so pretty standard!
My Thoughts!
When it comes to mini pod mods with an in-built battery this is the best i have used to date and compared to the Argus Pod Mod as a direct comparison then the Hita ink knocks the socks off the Argus especially when it comes to a MTL option!
I actually like the raised colourful designs and the tactile feel of the coating, the device just gets swallowed up in the hand making it great for out and about! The smart wattage feature i find better on this as well as adjustments are not restricted so will be much better with a rebuildable option. This is a more restrictive device than the Voopoo offerings so if you prefer a wide open draw then the Voopoo will be more to your liking but for those preferring a restricted draw or MTL you have no need to look any further!
The airflow adjustment just works so much better on this without the air leakage you get from the more complicated Voopoo design and with the retainer ring the air is much better directed making for more precise adjustments and smoother draw. The only criticism is with the 0.3ohm coil which once closing the airflow down more than halfway the flavour starts suffering but when fully open this gives a smooth RDL with flavour now to match the Voopoo PnP coils and can be adjusted down as far as halfway retaining good flavour. I personally think the 0.6ohm coil option with the airflow on the Hita Ink will give a great RDL option so will have to get some of those coils.
I like the flavour the Voopoo PnP coils give but i did say when i reviewed the Argus Pod Mod the flavour was down with their MTL coil but not with the Hita, the 1.0ohm coil head (actually 1.2ohm) gives absolutely cracking flavour. Wide open it gives a loose MTL but can be closed down for both medium and even tight MTL draws, the best MTL pod mod option i have used to date!
I really like the large screen on such a small device and you can fit your own 510, Type C USB is another pro and the 1A charge rate seems to be an average rather than max rate because this charges in 1 hour 40 minutes but doesn't support pass through!
The only real cons i have is i have to stay consistent and say needing to remove the pod to fill, also when using the 0.3ohm coil the 3ml capacity doesn't go very far. I also hate the whole device locking rather than just the navigational buttons! When it comes to battery life it's pretty good with the 0.3ohm coil head but very good indeed using the 1.0ohm (1.2ohm) coil head lasting pretty much all day!
Likes
Excellent build quality
Illustrated designs in choice of frame colour
Portable and Ergonomic Mini Pod Mod
All Black version available
Retainer pod base ring
Quick mess free fill
Both RDL & MTL 510 tips included
Can fit your own 510
Pod fits very securely
Excellent adjustable airflow design
Leak resistant design
Large colour display
Domed fire and navigational buttons
RDL & MTL suitable
Both 0.3ohm and MTL coil included
Flavour good with 0.3ohm coil head (with airflow more open)
Flavour pinging with MTL coil head
Loose to tight MTL draws
Other available coil options including RBA
Type C USB, 1A average charge rate
Battery life good especially with MTL coil
Cons
Whole device locks rather than just navigational buttons
Feel 0.6ohm coil would of been better option than 0.3ohm
Needs filling very often with 0.3ohm coil head
Pod needs removing to fill
Charging could be a little quicker, and it could give better feedback while charging
No pass-through
I would once again like to thank the Healthcabin for supplying the Asvape Hita Ink Pod Mod Kit for the purpose of this review, thanks for reading and stay safe!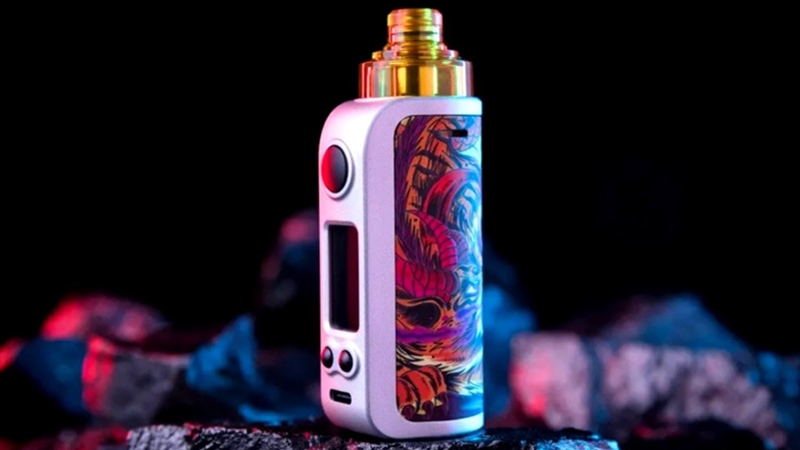 This review was written by Tim from Vaping Underground, Reddit and other forums, click to view original review.