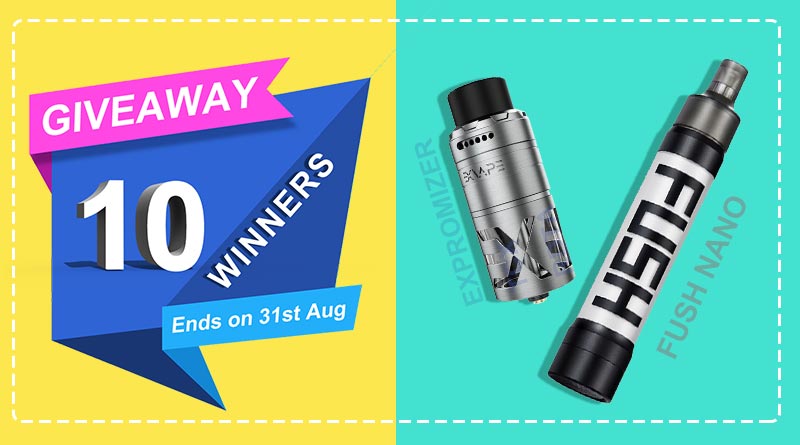 Dear HealthCabin Fans,
Here comes our wave 2 giveaway contest for August, the products are: Exvape Expromizer TCX RDTA (5pcs) & Arcohm Fush Nano Kit (5pcs). 10 lucky winners in total.
The Exvape EXpromizer TCX RDTA is a mesh RDTA for purer flavor, it is easy to rebuild the mesh coil with the single coil deck. Featuring top filling cap and top airflow design, the Exvape EXpromizer TCX Mesh RDTA can be filled quickly and easily without leakage completely. With the large 7ml juice capacity, the Exvape EXpromizer TCX Mesh RDTA can satisfy your daily needs. Similar product: WOTOFO Profile RDTA.
Features:
1. Top mesh coiler DL RDTA
2. Top air flow directly to mesh
3. 7ml capacity, great flavor & dense cloud
4. Anti-leakage design of filling port
Acrohm Fush Nano Pod Kit adopts shaking to change its colors, and maintains airflow control 7W for throat hit and button switch 10W for bigger vapor. Acrohm Fush Nano is powered by built-in 550mah battery to support MTL to DTL vaping and comes with 1.5ml capacity with 1.4ohm resistance. The cartridge features top filling design without leakage and rotate 180 degree left or right to looser or tighter draw.
Features:
1. A visual revolution – shake to change colors
2. The first color changing refillable pod
3. Airflow Control 7W for throat hit/Button Switch 10W for bigger vapor
4. Easy switch from MTL to DTL vaping
5. Top filling design without leakage
Join & Win
Finish the tasks listed below, easy to win. The contest will end on 31st Aug.
Expromizer TCX RDTA & Fush Nano Giveaway, 10 Winners
Good Luck!