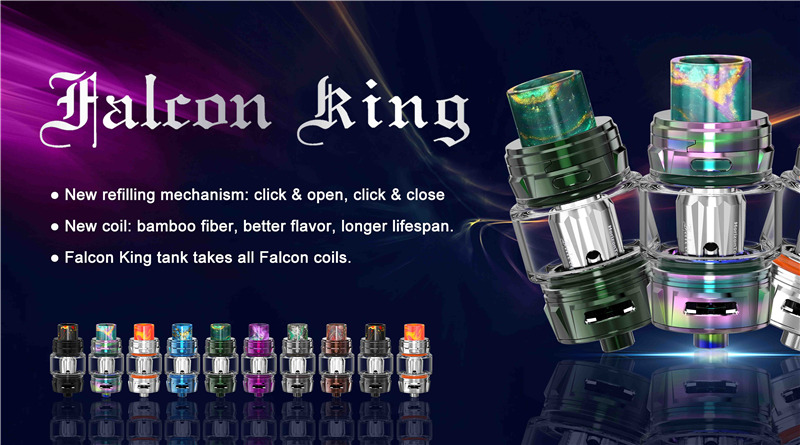 Specifications
26.2mm Base Diameter, 59.5mm Tal
28mm Diameter with Bubble Glass
Swivel Top Fill System Single Fill Port
6ml Maximum Tank Capacity with Bubble Glass
Bamboo Fiber Wicking Material
Gold Plated 510
Stainless Steel, Resin and Glass Construction
What you will get
1* HorizonTech Falcon King Sub-Ohm Tank
1* 0.16 ohm M1+ Coil Head
1* 0.38 ohm M-Dual Coil Head
1 * Spare Parts Bag
1* Spare Glass Tank Section
The Build & Design
I love the shape of the original Falcon tank, which looks more attractive. But it also not bad for the new Falcon King. The whole finish of this tank is top level, you cannot find any problem on it. They just made it perfect for you to vape. There are 10 color options, I love all of those colors, looks very attractive. The 810 resin drip tip color also matches the tank color. Horizon & FreeMax, I believe they are the leader of mesh sub ohm tanks in the market. Keep the nice job.
New Coils
At first, the new Falcon King accepts all old coils for Falcon, that is a very good follow up.
Based on the old coils, they also got some innovative coils on the wicking material, they are using bamboo fiber, which will deliver a better flavor experience, as well as extend the life of the coils. The tank came with 2 new mesh coils with this new wicking material.
Top Filling
The filling system of the Falcon King is not new, but it works pretty good. Similar to a sliding top fill or a push-to-open system, they call this a swivel fill. Push the button on the top cap and it'll swivel open to reveal the filling port.
I was a bit concerned with this button being pushed accidentally, but have not experienced any issues so far. It is easy to open, but not so much so that it will open inside your purse or pocket and allow the liquid to spill everywhere.
Performance
I have used this tank for a week or more, also vaped it on different mods – VOOPOO Drag 2, Vsticking VK530, Desire Cut Premium… Started with the new dual mesh (M-dual) coil 0.38ohm at 80W (Horizon recommended), the flavor was so great, while the vapor production is also impressive. The bamboo wicking works! I love the flavor, and it performed steadily for 3 days, the flavor never dropped! The coil should be able to last over a week, I changed the coil to the M1+ 0.15ohm in the 4th day.
The M1 coil did not let me down, it also delivered good flavor and decent vapor production. But overall, I love the M-dual coil more.
Of course, same with other mesh coil tanks, it burns your juice a lot at fast speed. So make sure you've enough ejuice before buying a mesh tank.
Cotton VS Bamboo VS Tea Fiber
Very happy to see companies are trying new wicking materials, excluding organic cotton. Horizon used bamboo in the Falcon King, while FreeMax used Tea Fiber in the Fireluke 2. Organic cotton is good but they are too common, you can see it everywhere. Bamboo fiber & tea fiber, I believe they are also healthy material to vape, people use bamboo at lot and drink tea in daily life.
Cotton: Healthy, pure flavor
Bamboo fiber: Healthy, good flavor, long coil lifespan
Tea fiber: Healthy, better flavor, long coil lifespan
For sub ohm tanks, I think its much easier to use new wicking materials than RDA/RTA. Also hope we will have more wicking material selections for rebuilders in the coming future.
Pros & Cons
Pros:
Beautiful design & nice finish
Easy to disassemble
Amazing flavour
Amazing airflow
Innovative mesh coils
Cool and easy top fill system
Great coil life
Cons:
Juice demanding tank
Pricing
You can get this tank at $27 at HealthCabin, also there are some discount coupons available, just search around. This pricing point is very good for an amazing sub ohm mesh tank. Totally worth the money you pay. So if you loe it, just buy it, cannot go wrong with this.