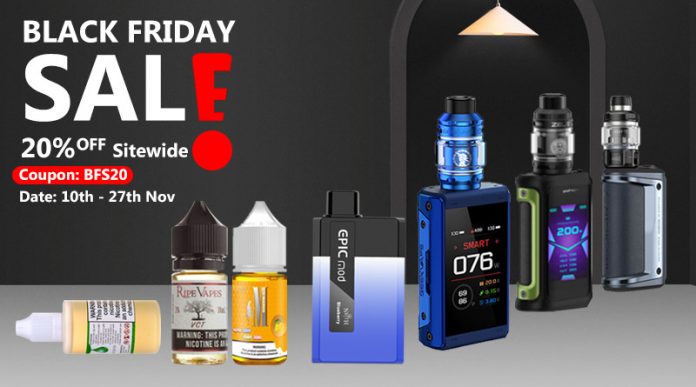 Dear Valued Customers,
We are extremely excited that the Black Friday, an exciting shopping weekend is just around the coner. So here comes Healthcabin the biggest promotion of the year – Black Friday Sale, with 4 vape deals in total. Take the chance to join us and get your favorite high-quality vapes at the best price!
A. 20% OFF Sitewide
We've created an 20% OFF discount coupon code, which is available for your whole order. You may need to wait for another year to get the big discount if you missed~
Coupon infos:
Coupon code: BFS20
Date: 10th – 27th Nov, 2022(-0600 GMT)
Retail Only
Flash Sale products excluded
B. Giveaway – $30/$50 OFF Coupons & Free New Vapes
We are now giving away something different and something attractive to celebrate the upcoming Black Friday, with 10 winners in total. Ends on 27th Nov. If you don't want to buy right now, why not try your luck and win free vapes? You may be the one who gets the $50 OFF coupon! Click here to join us and win them home!
Prizes:
$50 OFF Coupon – 1 Winner
$30 OFF Coupon – 4 Winners
5pcs YUMI EPICMOD – 5 Winners
*If you are luckly to win, you will get one of the prizes randomly.
C. Buy 1 Get 2
Further more, the buy 1 get 2 promotion is available for selected products at the same time. Check the selected products here. The good new is, you can also overlap coupon: BFS20 to get them. Come on!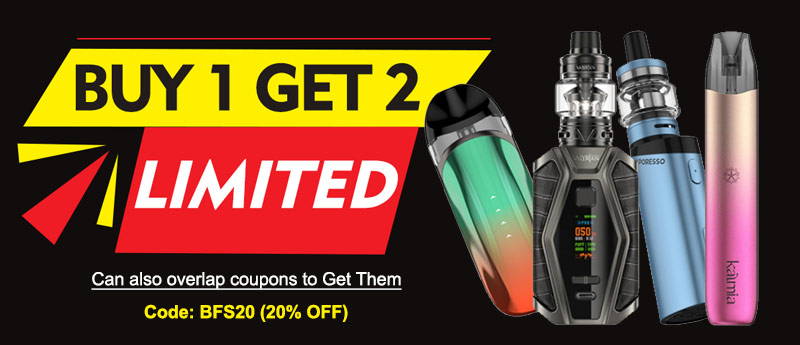 D. Vape Deal Links
Here are some other useful links where you can find our best deals: