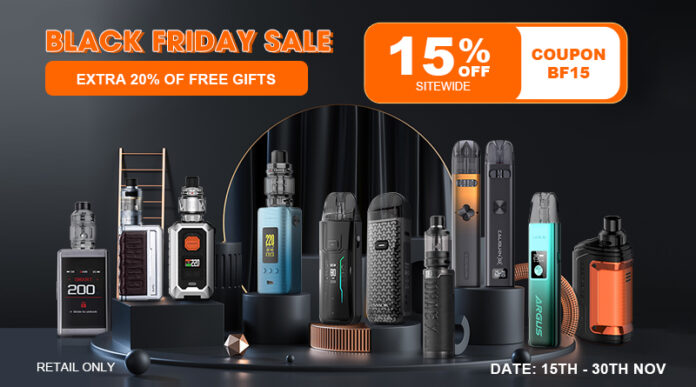 We are so excited that the Black Friday, an exciting shopping weekend is just around the coner. Healthcabin grand sale of the year for retail is ready, with 4 vape deals in total, starts from 15th and ends on 30th Nov. 2023! Get ready to save with our Black Friday Sale.
A. Login to get VIP Price
Old customers – Please sign in to get your member VIP price, you'll see the big price difference for most items.
New customers – Please create a new account to get the same member VIP price.
B. 15% OFF Sitewide
We've created a 15% OFF discount coupon code, which is available for your whole order. Let's check it out!
Coupon info:
Coupon: BF15
Date: 15th – 30th Nov, 2023(-0600 GMT)
Retail Only
Flash Sale products excluded
C. Extra 20% of Free Gifts
Over 10,000pcs free gifts, were ready for you to pick, including vaping devices from big brands.
Free gift is for every order. Your free gift value is 20% of the shopping cart total amount. For example, if the shopping cart total is $100(not include the shipping fee), you can pick $20 free gifts. And you can save another 15% with our promotion coupon code: BF15.
Buy more to get more free gifts. Here is the full gifts list, check them out.
Please choose the free gifts at the shopping cart page.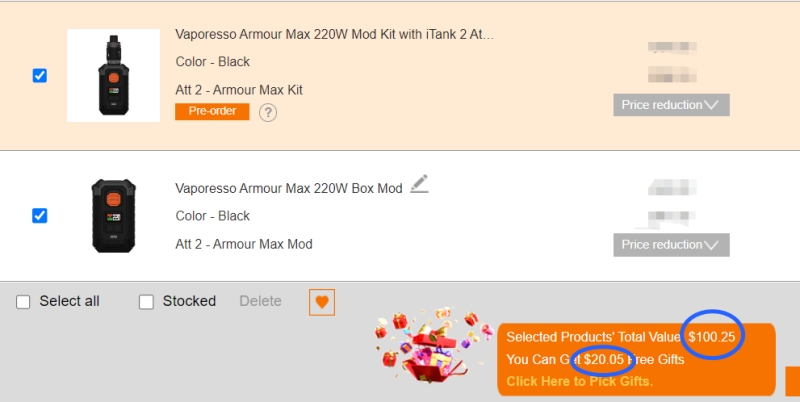 D. Giveaway – Free New Vapes
Healthcabin is now partnering with ZQ is here to bring you guys ZQ Xtal Pro Diamond Edition Giveaway, with 10 winners in total, ends on 25th Nov. If you don't want to buy right now, why not try your luck? Click here to join and win!
Prize:
*If you are luckly to win, you will get one of the colors(Diamond Gold or Diamond Silver)randomly.
E. Vape Deal Link
Here are some other useful links where you can find our best deals: