Dovpo Topside Squonk Review by Rahim Husain
Hi all, I am totally buzzing about this new mod also I see loads of people loved my post about the liquid bar sale. I just got my 20×3 packs of kilo kiberry today ! What a bargain at £17 anyway here is my review of the Dovpo Topside
***REVIEW*** The Dovpo Topside is as awesome new squonk mod – designed in collaboration by Dovpo and Brian from 'The Vapor Chronicles'
The Topside is the first top fill squonker – Remove the cap and drip your eliquid into the 10ml squonk bottle with no need to remove the bottle from the mod unless you want to clean it.
Specs
Size:92x54x27mm
Material: Zinc alloy, Stainless steel
Display: 0.96in OLED
Wattage: 5-90W
Voltage: 1-8.5V
Battery: single 21700/20700/18650
Squonk bottle capacity: 10ml
Modes: Variable Wattage, Bypass, TC with upgrade
Gold plated spring loaded 510
Leak resistant 510 connector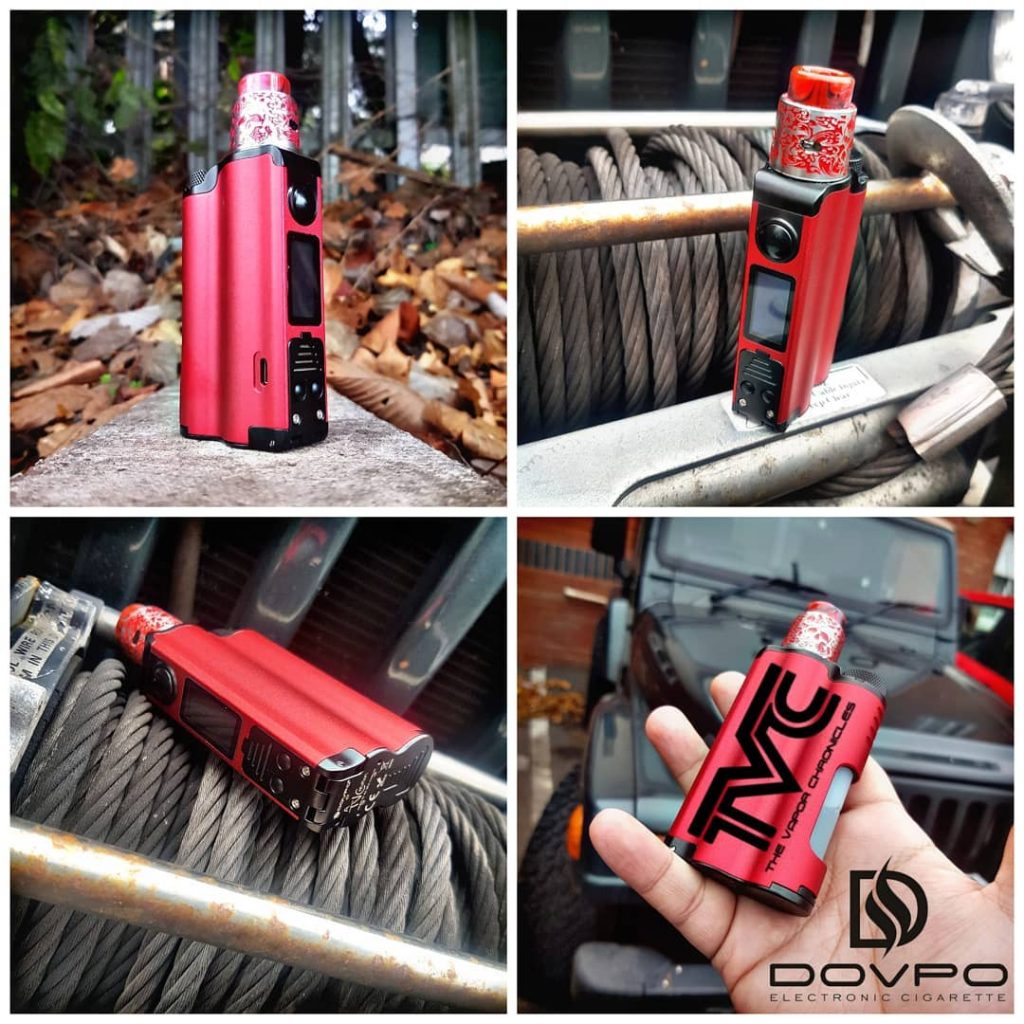 USAGE:
The mod has a 0.96in OLED screen and requires either 1×21700 / 20700 or an 18650 battery with the included adapter.
The mod will output 5-90W and has VW and Bypass modes. You can add TC via a firmware update available on the Dovpo website. The voltage reading allows you to see your charge of the battery when idle and the actual voltage delivered to the atomizer when under load, a fab feature !
The battery door works by sliding across then pulling down. No loose door here !
The round fire button is large, and clicky as are the up down buttons. There is also no rattle. The Topside can handle up to a 26 mm diameter attys without overhang
On top of the mod, you have the cap of the Squonk bottle and the other side is a gold plated 510 connector with a leak proof seal. The mod has generous air inlet cutouts at the front of the mod. This allows the chip to remain cool thus helping gain the full 90w output.
There are 6 colours to choose from – Red, Black, Blue, Silver, Gunmetal, Purple
Kit Includes
Dovpo Topside Mod
Instruction Manual
Usb cable
Spare 10ml bottle
The case also double as an atty stand !
FINAL THOUGHTS:
The Dovpo Topside looks so so good. It's feels durable and well-built. I got a red Topside and topped with the Stage Vape Venus RDA also in red made by mod really stand out. The mod fires instantly and is hard hitting. If you don't mind a single battery mod and want a more pleasurable way of squonking then get it ! I got mine from www.healthcabin.net Vape on fam !