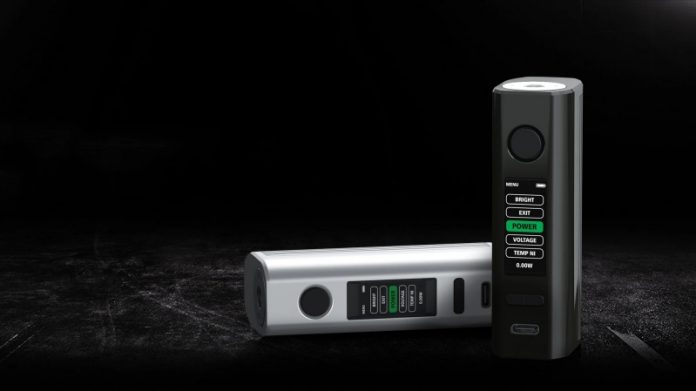 In my mind you can never have enough single 21700 box mods, and I recently came across the Dovpo Tribute box mod which looks like it should fit the bill nicely with its slightly retro (circa 2016) looks and classic C-frame design. This comes in at a budget price point as well which makes it even more attractive so I asked our friends over at Healthcabin if they could send one over for review. So let's get started the Dovpo Tribute Box Mod Review together!

86.2 x 42.5 x 26.6 mm
161.5 grams
Single 21700 battery / usb-c 3 amp fast charging
Zinc Alloy + ABS construction
0.96 inch colour TFT screen
Output 5~100 watts / 1.0~ 8.5 volts
Resistance range 0.08~3.5 ohms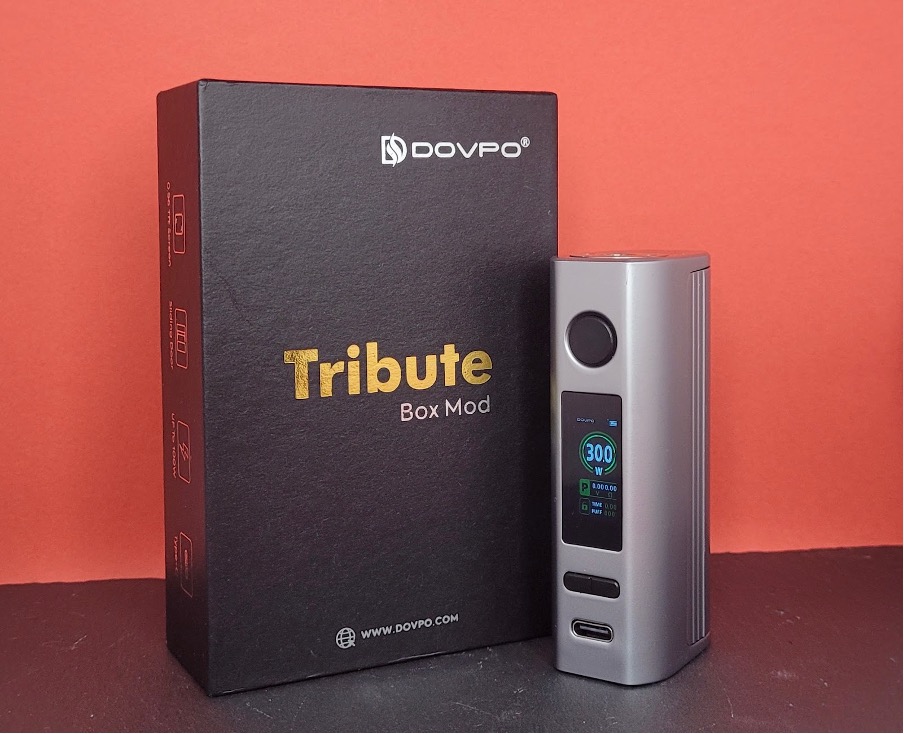 The Dovpo Tribute box mod comes in a rather small box and, as you might expect, there's not much in the way of extras. Besides the Tribute itself, you get a brief user guide, QC card, a type C charge cable, and finally hidden in the battery compartment there's an 18650 battery adapter. This is only available in two colours, this silver/grey variant which has a slightly "sandblasted then polished" appearance, and a black/gunmetal version which looks to be more gunmetal rather than a deep black colour.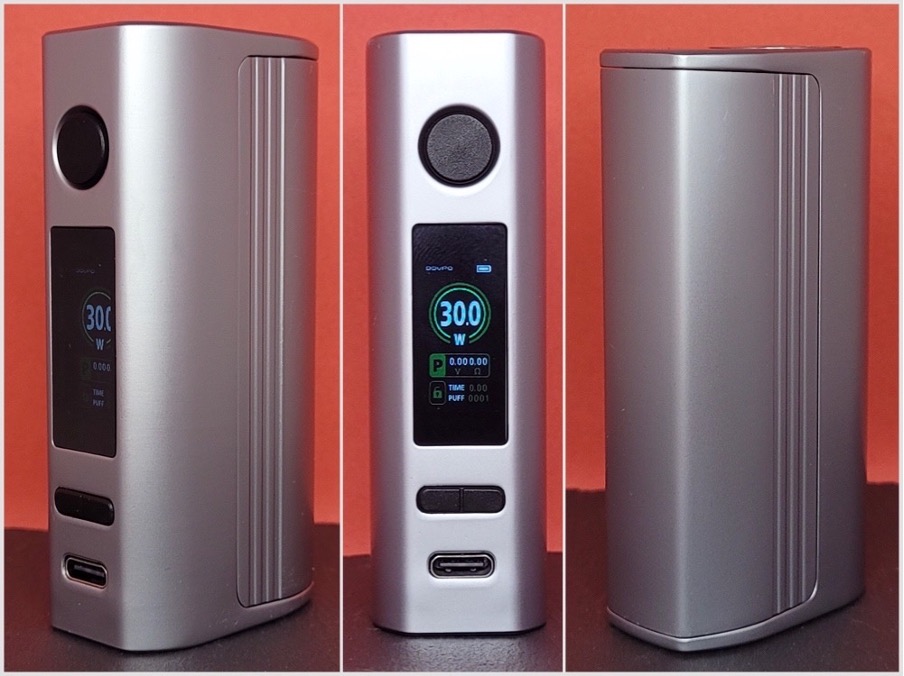 Whilst the Tribute box mod is far from being the smallest 21700 mod I own, it's still fairly compact and the softly rounded edges make this very comfortable to hold. It is quite hefty though due to its zinc alloy construction, weighing in at 161.5 grams without a battery.
I love the slightly plain understated design and lack of any over the top branding on the main body coupled with the bold vertical lines swooping down the sides of the mod. The slightly dull finish on the silver/grey version I was sent certainly makes it stand out from the highly polished finish seen on many other mods and one other big advantage here is that it doesn't wind up being a fingerprint magnet, if you're the type that finds fingerprints and smudges on your kit annoying, then this will be right up your street.
The control panel is uncluttered with plastic buttons which are raised just a hair above the main body of the mod, these all have a nice tactile feel with a very satisfying click at the end of their very short throw. The buttons are broken up by a 0.96 inch colour screen and whilst this is bright enough to see outside, some of the information could have been displayed a little more clearly. The selected power is easy enough to see but all the other information is teeny, so much so that I've struggled to see it at times even with my glasses on.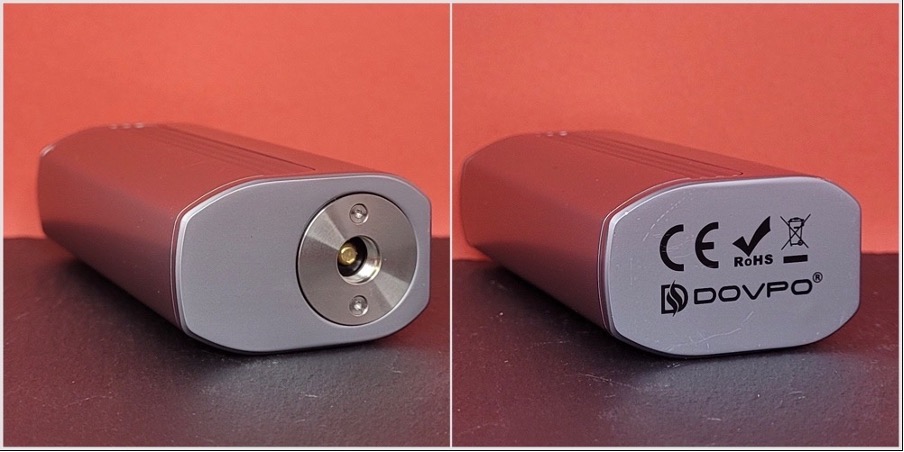 The only real branding can be found on the base, and up top there's a 510 plate which is offset towards the front of the mod, this is also raised 0.1 mm above the top of the plate so you shouldn't experience any atty rash over time. The slightly narrow design coupled with the offset position and softly rounded edges mean that this is good for anything up to 25mm diameter, you can push this out to 26mm at a squeeze but anything over this is definitely going to overhang.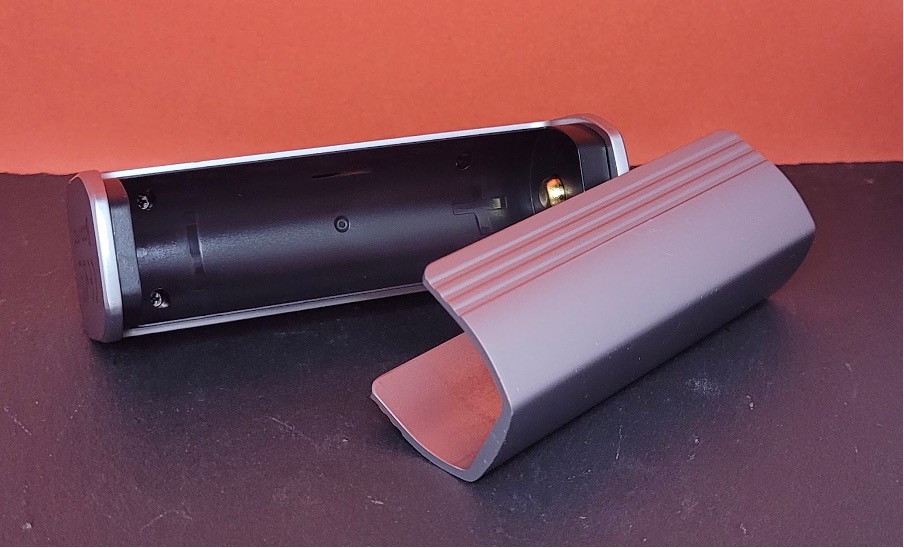 The battery door is your classic C frame design and is held in place by magnets at the top and bottom. Whilst the fit here is pretty good with no excess play up or down, there is a bit of sideways wiggle if you grab onto the battery door. This isn't something you'll really notice in use though so I'm nit-picking. The battery sled has a spring loaded positive contact at the top and this passed my oversized battery tests, but it was an extremely tight fit with my "too tall" battery. You should have no issues with modern more standardized 21700s though.
There is on board charging via the USB-C charge port located at bottom of the control panel, but Dovpo gives out contradictory information on this. The manual and specifications sheet mentions 1 amp charging, whilst further down the page a figure of "3 amps fast charging" is mentioned. Obviously further investigation was required here! In my tests this peaked at around 0.97 amps even on a C to C fast charger, so the 1 amp charging rate seems more accurate but as always, I'd recommend using an external charger whenever possible.
That's not the only bit of contradictory information on hand though, an operating voltage of 3.2 to 4.2 volts is mentioned all over the Dovpo site, and I was initially worried this might not have any boost capability which would severely hamper the use of the Tribute box mod with a low battery. Fortunately, this appears to be referring to the operating voltage of the battery rather than the output voltage, and a quick dive into the easy to use sub menus confirmed this as there's a handy voltage mode. I'm happy to report that the Tribute is in fact capable of up to 8.5 volts output up to a maximum of 100 watts…phew! You also have temperature control modes as well for those who still use this.
Pros
Clean uncluttered design
21700 battery
Cons
Small text on the screen is difficult to read
Conclusion
The Dovpo Tribute box mod is a solid all-rounder, and I really appreciate the understated design which reminds me of some of my favourite mods from when I started vaping back in 2016. It is a little on the heavier side, but this is slightly offset by the 21700 battery which means you can get decent all day performance. The budget price point should put this on your radar as well.
Many thanks to Healthcabin for sending the Dovpo Tribute box mod out for review.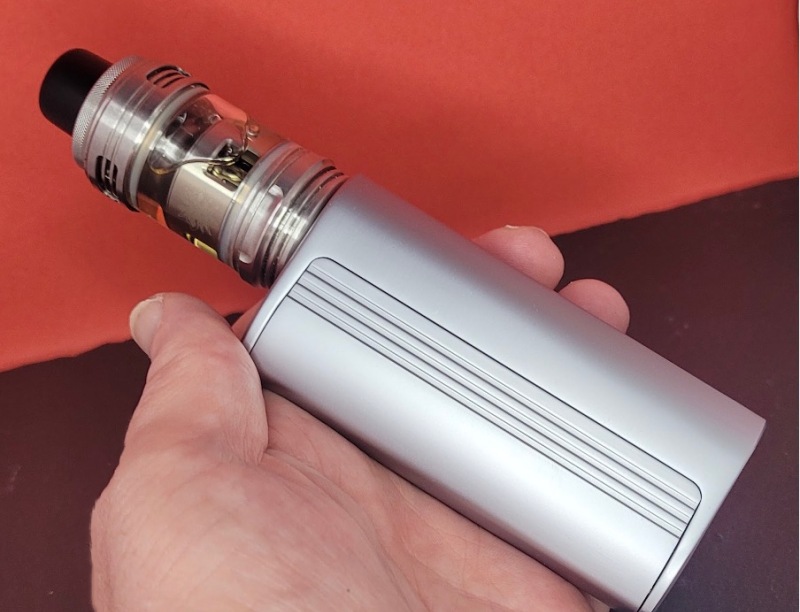 This review was written by Antony Lord from POTV(Planet Of The Vapes), click to view original review.