Eleaf iStick Pico Baby Kit Review by Nailz
This Eleaf iStick Pico Baby Starter Kit was provided by Healthcabin.net for this review.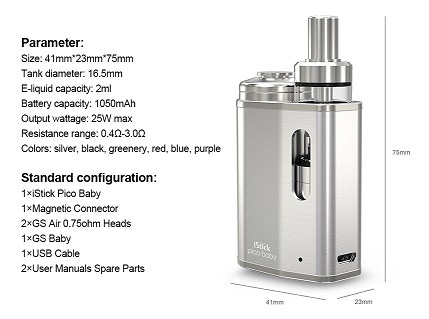 Standard packaging with the Pico Baby completes together straight out of the box.
Under the mod insert, is tank spares, 2nd coil (0.75ohms) USB charging cable, instruction books for both the pico mod and gs tank.
So lets talk about this kit, eleaf has always made more simple user friendly devices, and the pico baby does not get much more simple, not that is a bad thing though, no settings to mess with, the mod has no screen (does have led showing firing and battery level) and the only button is the fire button, which of course fires the tank, but also 5 clicks will turn it off or on, which is not really needed, as has a unique locking fire button, spin the out ring of the fire button clockwise will lock the fire button, anti-clockwise to unlock it.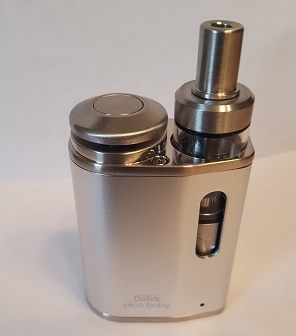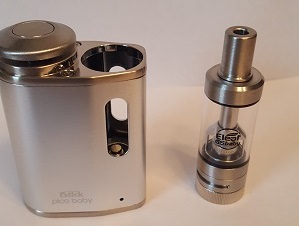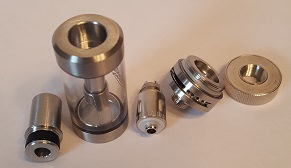 The mod is a tiny device, size comparison to the original pico and the paranormal.
The GS Baby tank comes with 2 0.75ohm coils, it is held onto the mod with magnetic ring that screws onto the bottom of the tank, which makes it quick and easy to remove the tank from the mod, and seems strong enough not to pop off by itself, it is good they did the quick release, as this tank is bottom fill only. Have quite a good range of airflow with the tank, from MTL to a restricted DL draw, if like wide open airflow, this tank is not for you.
So what do I think of the pico baby? I think it is a great kit for new people or vapors who want a stealth simple device. I like the locking fire button, with the way it is designed, feel safe it won't fire by accident. The battery is pretty decent for the size of the device, of course, how much you vape and how long of a pull will depend on battery life.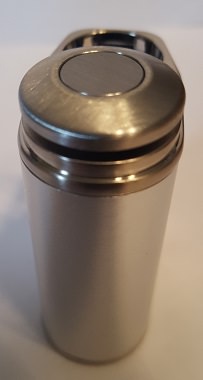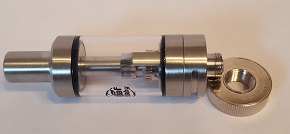 The tank surprised me, doesn't look anything special, but really vapes pretty good, especially as a MTL tank, can really dial this tank down to a tight MTL vape, but can open enough for a restricted DL vape too, and found the flavor good for a prebuilt coil tank. I like it has the quick release, doesn't make it being bottom fill such a negative.
So would I recommend this kit to people? For new people to vaping or people who want a simple setup, yes for sure, complete setup and can be up and vaping in minutes, no complicated menus to have to figure out, fill the tank and vape, that simple.
I would give this kit a solid 8/10
Can purchase the Pico Baby Starter Kit for only $32 from Healthcabin.net here