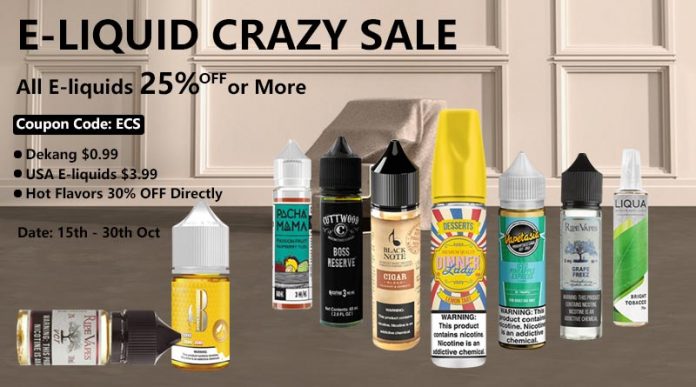 Dear valued customers,
Hope you are doing well!
Here comes Healthcabin E-liquid crazy sale for you to save more on e-liquids in our store, with 2 vape deals in total. Customers who love our liquids, or who need to buy liquids, don't miss the chance, join us and save!
A. All E-liquids 25% OFF or More
We have created a coupon code which is available for all e-liquids in our store, you will get 25% when you check-out your order, except those products listed in this sales page, whose prices are ultralow already.
Details below:
Coupon: 

ECS

Date: 

15th – 30th Oct, 2021

(-0600 GMT)
Sales Products excluded
B. Hot Flavors 30% OFF Directly 
We also listed some hot selling flavors and offered the best prices for them at the same time, check them out here.
Details below:
Dekang $0.99
Charlie's Chalk Dust $3.99
Ripe Vapes $4.99
Mad Hatter Salts $5.49
Cuttwood $5.99
More Hot Flavors 30% OFF Directly
All Coupon codes cannot be applied
Date: 15th – 30th Oct, 2021 (-0600 GMT)