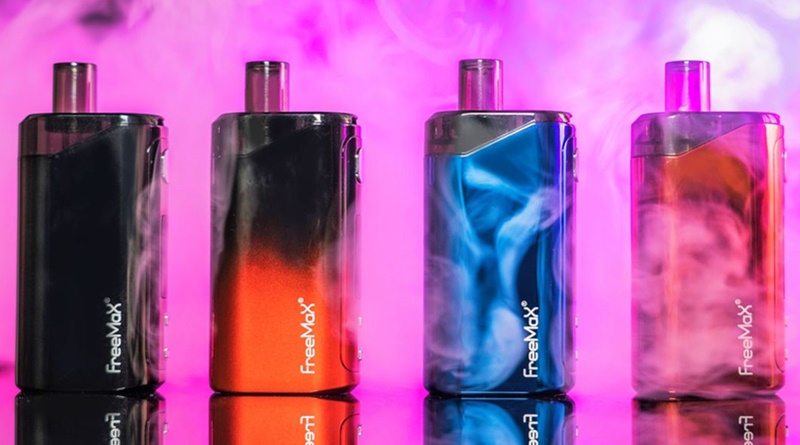 Roll up, roll up
Hello my fellow vape apes,
Today for my review I've got the Freemax autopod 50 courtesy of the Sue at Healthcabin.
These views on this product are my own and are not associated to anyone at freemax or health cabin, nor have I been paid for my opinions.
The Autopod is a 2000mAh internal battery pod mod, consisting of a 4ml pod (2mlTPD) and goes up to 50W. Is the world first duel mesh coil pod in the world! And with type C charging can be fully charged in under 80 minutes. It comes in a range of 6 colours.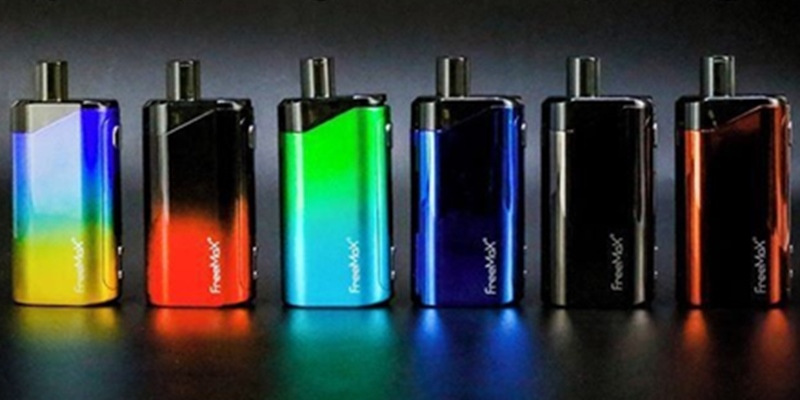 Now before I crack on with this review I've nicknamed this little fella Anthony Joshua because oh my it packs a punch.
I'll start of with what's in the box and the specs. Then i will get on with what I've found and think of this product having used it every day as my daily driver.
Freemax Autopod50 device
Pod
AX2 mesh coil – 0.25ohm (installed)
AX2 mesh coil – 0.5ohm
Silicone case
USB cable – type C
Bag of spares
User manual
Size: L43.5 x W24.5 x H94mm
Coil Resistance: Autopod50 AX2 Mesh Coil 0.25ohm (30-50W, Best 40W)
Autopod50 AX2 Mesh Coil 0.5ohm (15-35W, Best 30W)
Battery Capacity: 2000mAh
Output Voltage: 0.7-7.5V
Output Wattage: 5-50W
Material: FeCrAl/PCTG/SS904L/Tea Fiber Cotton
Now I'm a massive fan of Freemax products having brought and owned a fair few so was very excited to have this coming for review especially as its yet another freemax coil which surely can produce as good if not better flavour than all the previous.
Having a look about the product beforehand there was a couple of things i was abit dubious about and later on in the review we will find out if I was right or not.
-First the airflow ring being on the bottom of the coil therefore having to take the pod out if you wanted to change the airflow.
-Second the pod being a dark plastic will you be able to see the juice level.
-finally the fill port silicone cap being so thin how long will it last.
Out of the box you're met with a 3 coloured gradient kit which is very striking especially in the blue, green and yellow/gold I recieved. Its nicely packaged with the mod tightly packaged on top of a little box with the spares etc in.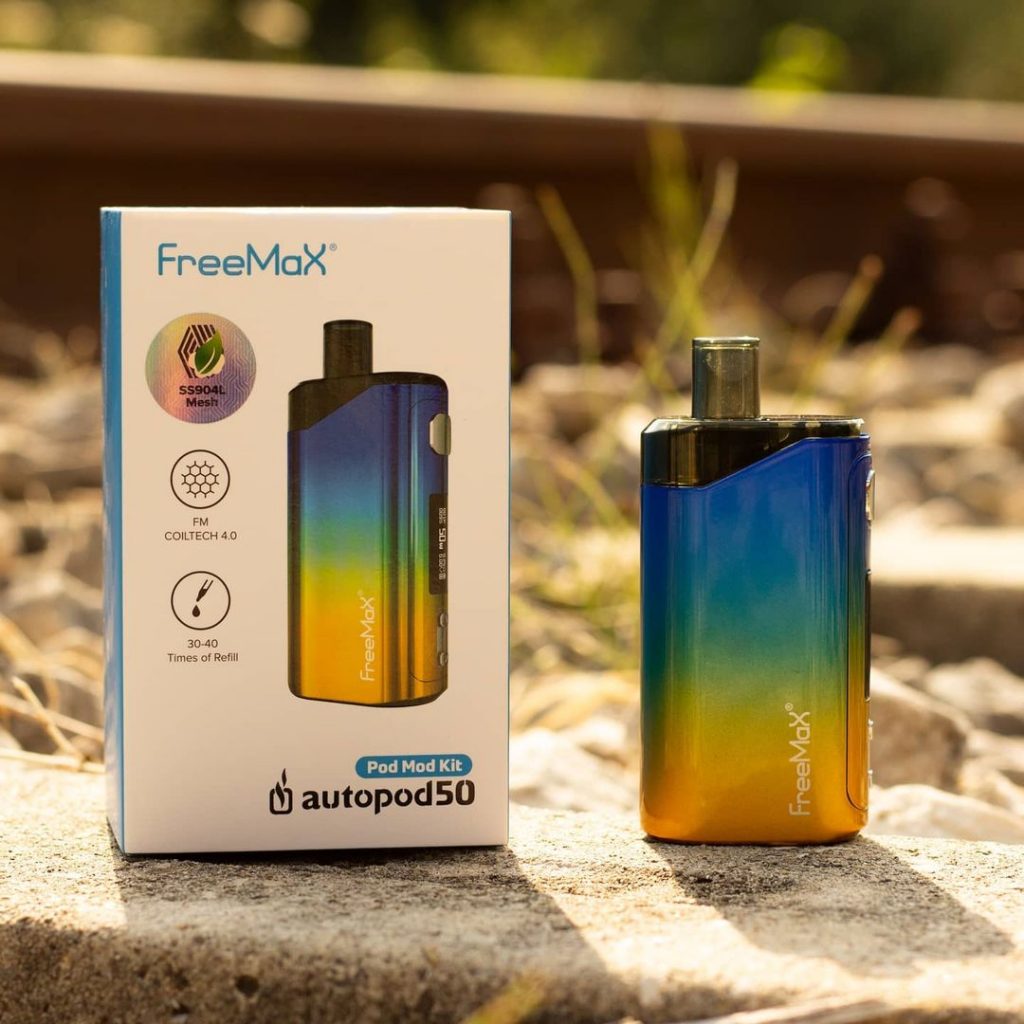 The Mod
5 clicks to turn on and off the device and 3 clicks to enter the menu system.
It felt heavier than I imagined it would but very solid and nicely built, the buttons are a plastic but are very clicky and responsive. It has a very easy menu screen with a set option and a info tab, Were you can do the usuall puff reset, timeout, factory reset etc. The usb type C charging port is on the bottom which for me is always a little annoying as it means the device has to be on its side whilst charging, but for most it might not even cross there minds. But then again with quick charging it only takes around 60/80 minutes to fully charge.
On the screen you have your battery level, your ohms and voltage, puff counter and also the amount of seconds you've puffed for which is something I've not seen before.
Also included is a protective silicon case which gives the paint job protection with cut outs in it still let's the colour shine out from behind just with it being safe from scratches and bumps. Which with my line of work has worked out well.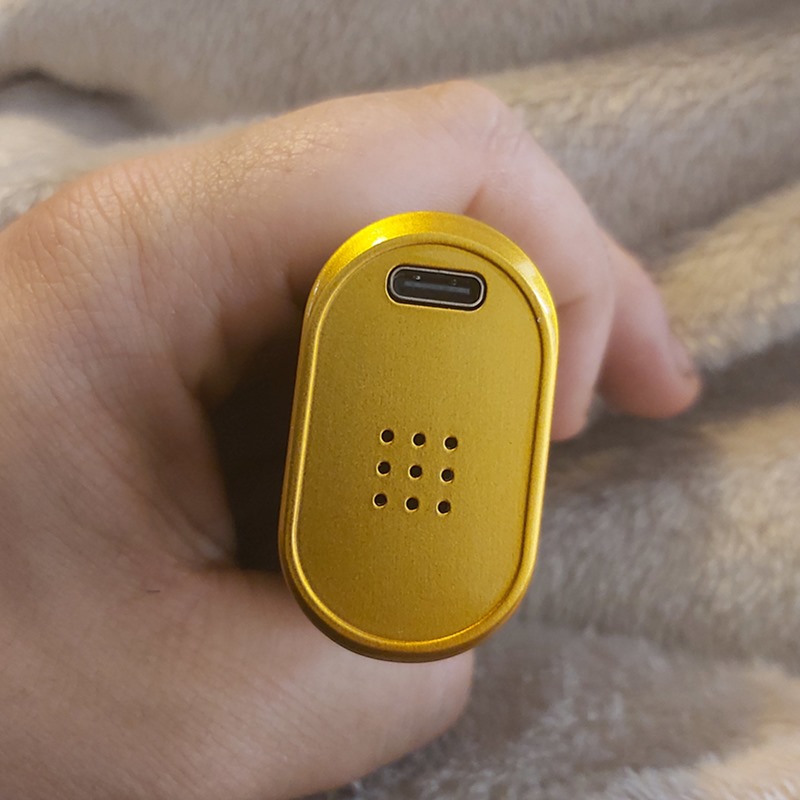 The Pod
Next up the pod which attaches into the top via 2 strong magnets on either side. It has a non removable drip tip but it is still comfortable so not a problem. The airflow controller is unscrewable from the base of the coil meaning each time you change your coil you have to remember to unscrew the airflow before throwing the old coil away, not a problem for most unless you're forgetful like myself and end up rummaging through my throw away box looking for a piece of metal!
Once the coil is in the fun begins! Remember at the start my 2 worries were the dark plastic pod and silicone fill cap. Here's were they really come into there own.
It's a thin piece of light blue silicone which if you bite your nails like myself is a struggle to undo as you're so scared of ripping it straight out, as I found out not the end of the world as freemax very kindly provide you with 2 spares obviously something they realised would happen before releasing the pod.
But once that fights over you have the filling of the pod to fight against, I have found it very difficult to see how much juice I have left, but also when filling it how much room is left in the pod until it ends up all over my hands.
So far if we are calling it AJ I would say we are 3 rounds in and I'm losing badly but after this it all becomes good and I claw it back!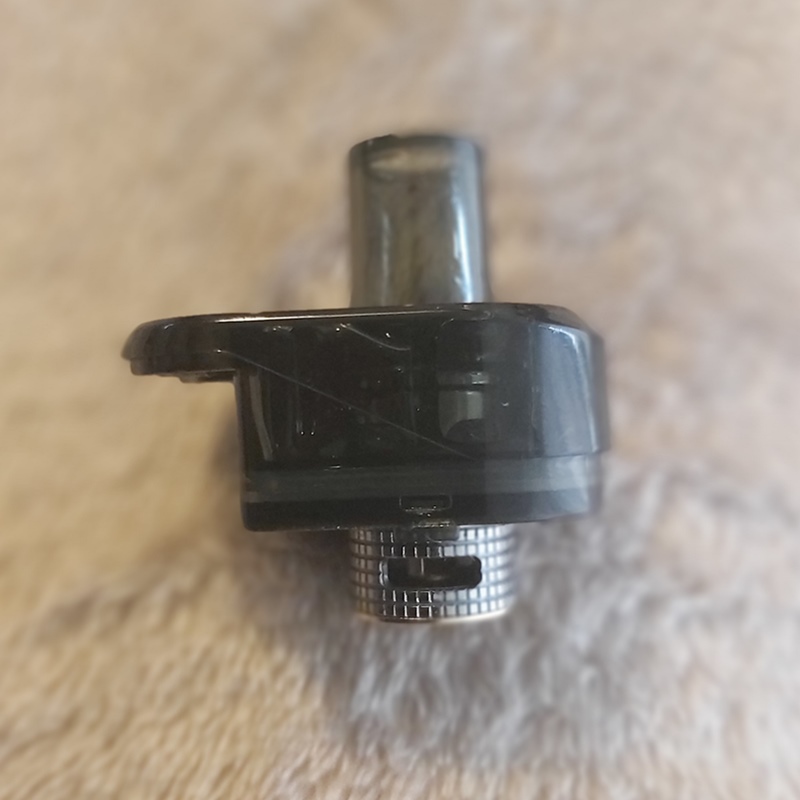 The Coils
The coils included in this kit are the: .5ohm and .25ohm AX2 coils with freemaxs 4.0 fm Coiltech.
As always I used Zeus Juice Black for the testers.
AX2 0.25ohm Mesh Coil

The power rating from Freemax for this coil is 30-50W and they suggest the best setting is 40W
My first vape really surprised me – the flavour, warmth and vapour of this little banger was unreal!
This device is not much bigger than the Freemax Mesh Pro tank on its own! So to be producing almost the same flavour from a sub ohm tank or RDA is quite something especially as you're only having to go to 30-50W to find it.
I started at 30W and already was in total shock at the flavour production from such a small device straight away I slowly took it up a little at a time and have settled on 40W being perfect for me a perfect balance between restricting and airflow.
So far after 10 refills the coil is still giving out the flavour it was to start with which is very impressive.
AX2 0.5ohm Mesh Coil
The rating for this coil is 15-35W and best at 30W according to Freemax.
I used the same e-liquid as with the 0.25ohm coil and the device set itself to 20W as the default when the coil was installed.
At 20W the vape is alot cooler and drier giving that sort of tickly throat hit but on a more airy feel than a MTL one.
At 30W the flavour is great but it is a lot cooler vape than the 0.25ohm. But still I could feel abit of a hit in my throat
Already knowing this coil wasnt my favourite i pushed it up to 35/40W to see how to compared and the flavour and warmth comes shining through but only for a little bit it soon becomes apparent why limits are on the coils you can almost taste a dry sensation which warns you to bring the wattage down. But for testing the coil out the flavour it produced throughout was fairly impressive.
I found 32W to be my go to this coil which gave the perfect balance between flavour and warmth.
Personally i would swap the 0.5ohm for another 0.25ohm coil in this kit but both are very good coils and everyone has there own preferences so they have to cater to both.
Airflow and Battery
The Airflow on this kit is a Restricted Direct to lung with the airflow right cut down you can get a loose MTL but it really is a RDL/DL piece of kit and for that it works perfectly with great flavour and vapour production which suits me perfectly.
Battery life using this all day at work on 35/40W I'm getting all day out of a full charge using it usually about 350/380 puffs but this is all dependant on the wattage and the amount it's used.
Verdict
I don't really like using the word Con as everything is subjective to the person using it, so I'll call what I've found niggles.
I have really enjoyed using this kit every day at work and I will continue to do so but with all the many good points, there are a couple of niggles which for some people may be nothing.
Niggles
– The dark plastic pods nightmare for seeing juice levels
– the silicone plug for filling is very flimsy
-AFC ring being on the bottom of the coil.
– the wattage resets to default when you take the pod out.
– USB port on the bottom of the pod with no protector over it.
Pros
– easy to read screen and menu system
– fantastic flavour (that of a decent sub ohm tank)
-type C quick charging
– the option of different airflow if wanted
-solidly built mod with protective casing
-easy to remove but strong pod.
It isn't perfect but I have loved it and will continue to use it. I would give this 8/10, for somebody looking for a small RDL piece of kit with great flavour this would be perfect for them. The few niggles wouldnt stop me buying another if this was to break its perfect for what I need and I would highly recommend it to people.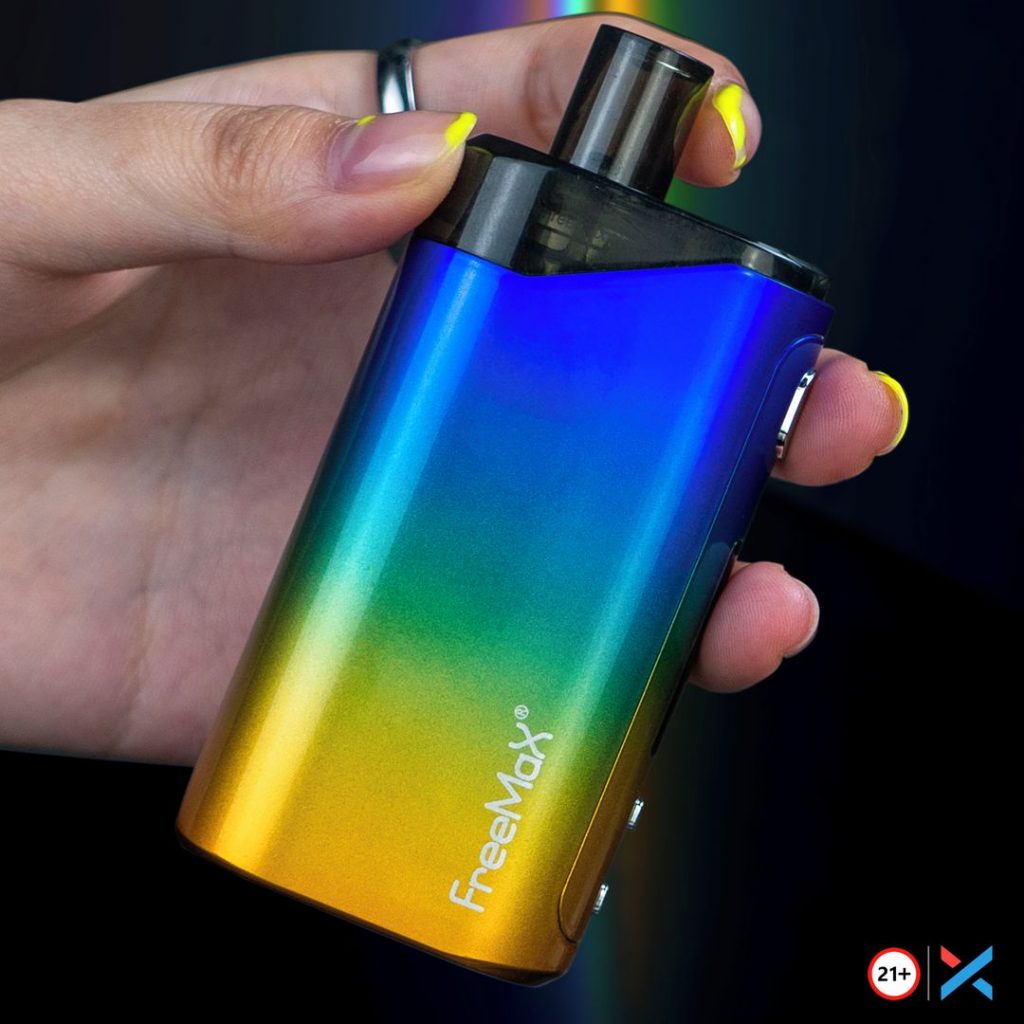 The autopod is currently $59.89 but when you create an account and sign in you get it for just $21.59 on Healthcabin.
In addition, Healthcabin is now offering the biggest discount 20% OFF for any order, which will be expired on 1st, Dec. Check out with coupon code: BFCM20 you can get the Freemax Autopod50 Pod Mod Kit at $17.27!!
This review was written by Sam from planetofthevapes, click to view original review there with more photos.