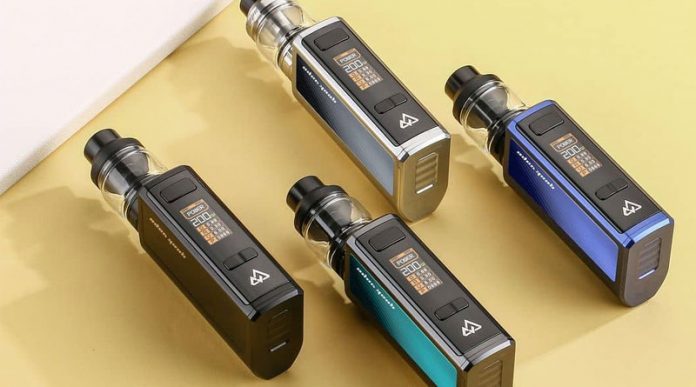 Roll up… Roll up. Hello my fellow vapers today we have a kit from Geekvape, the Obelisk 200. This was very kindly sent to me from Healthcabin. Let's get started the Geekvape Obelisk 200 Kit Review together!
As always this review is my own thoughts and not associated with anyone from Healthcabin or POTV. Nor have I been paid for my thoughts.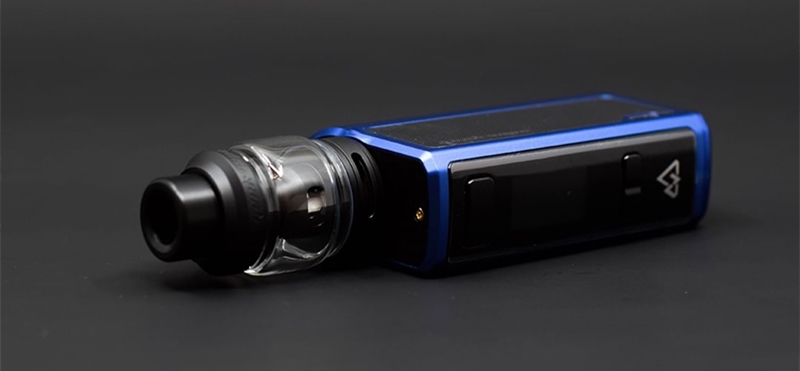 Abit about the kit
The Obelisk 200 is the newest in the named range from geekvape, following on from the 120 the internal fast charge version, geekvape have produced a dual 18650 version which is being marketed as the smallest duel battery mod.
The kit comes in 4 colour options 3 of which come with the black Obelisk tank, only the silver Variant comes with the silver tank and that's the one I recieved for this review.
1 x Obelisk 200 Device
1 x Obelisk Sub-Ohm Tank (5.5ml/2.0ml TPD)
1 x 0.2Ω Z-Series Coil (70-80w)
1 x 0.4Ω Z-Series Coil (50-60w)
1 x USB-C Cable
1 x Spare Parts Bag
1 x Spare Glass
1 x Coil removal tool
MOD
Product Size: 82.0×26.0x 48.5mm
Weight: 110g (Without Batteries)
Output Wattage: 5-200w
Output Modes: VW/TC-TCR/TC-SS/VPC/BYPASS
Charging: Via USB-C Port
Resistance range: 0.05-3.0Ω
Display: 0.96″ TFT Colour Screen
Battery: Dual External 18650 Batteries
TANK
Height: 47mm
Diameter: 24.0mm
Coil Types: Z-Series
Airflow: Adjustable at base
To Fill: Top fill port
Capacity: 5.5ml/2.0ml TPD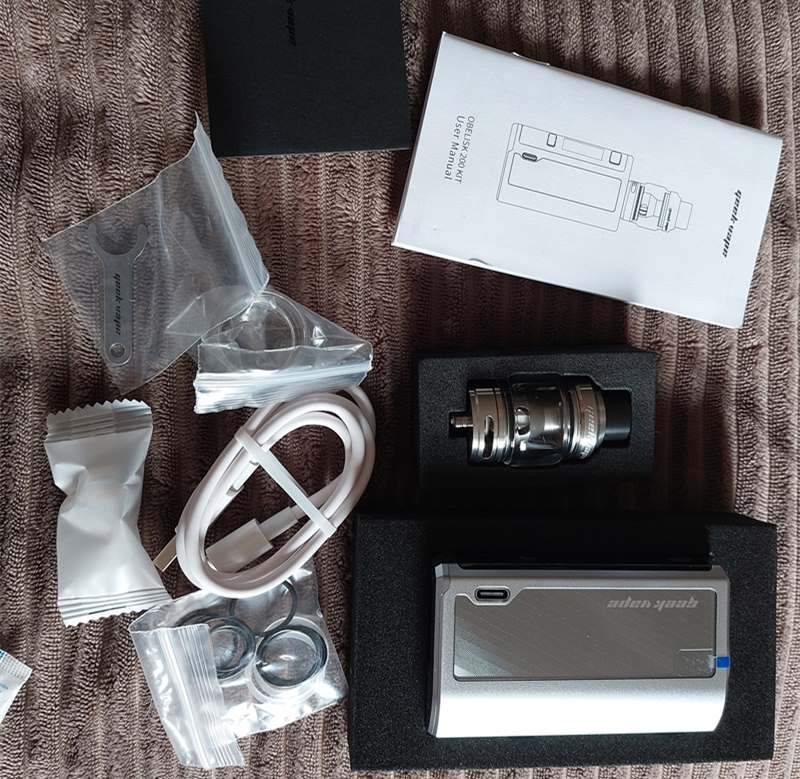 The mod
We will start on the top of the mod where there is a spring loaded 510 connector, you can fit up to a 24mm tank without overhang, if you look closer enough geekvape have made the top plate slightly bigger in the middle to help accommodate this size tank. 25mm tank looks abit over the top and big even with this added.
On either side of the device you have 2 mirrored plates on the brushed stainless mod, both of which have geekvape etched on.
The only problem I've found with these panels is they're absolute finger print magnets and are very prone to scratches.

The mod itself is very small and compact and fits very nicely in the hand it curves of at the end meaning when you grip it to vape it feels very comfortable.
It's charged via type C fast charging which is located on the side of the mod which is great as it means you can charge with the device stood up. Although with external batteries I reccomended using a separate charger.
The front of the GeekVape Obelisk 200 features a tidy 0.96″ colour display.
The usual fire button up top which is nicely raised from the face and has a nice click to it and two fairly sized adjustment (Left/Right) buttons which also click really nicely.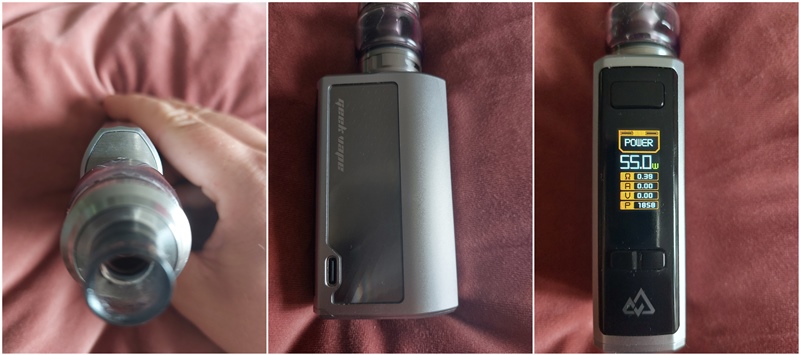 The screen shows the usual display options which are:
Battery level of both Batteries
Power Output mode
Set Power
Coil resistance
Current Output
Voltage
Puff Count (4-Digits)
This is a very simple device with no real menu system but the there are a couple of modes and things you can do and change the controls for these are:
5 clicks of the fire button will turn the device on and off.
3 clicks of the fire button will allow you to scroll the power output modes
Left Button will lower power output
Right button will raise power output
Press & Hole Left/Right buttons will lock the adjustment buttons (Will still fire)
Press & Hold Fire/Left will dim the display
Press & Hold Fire/Right button will brighten the display.
Overall this device is very simple to use, looks and feels great in hand and is very lightweight.
Now my biggest niggle and the worst part about this mod the battery door. Geekvape on previous products I have used and owned have always had the clip in battery door on the hinge. Here geekvape have made a battery door which is clipped in and held by magnets meaning the whole battery door comes off. Then to put it back in there's 2 notches half way up which you have to push in before sliding it across. Once you get used to it there isn't a problem but for me there is so many better options for battery doors and this really let's it down. My main concern being that over time will the battery contacts wear down and then not registrar.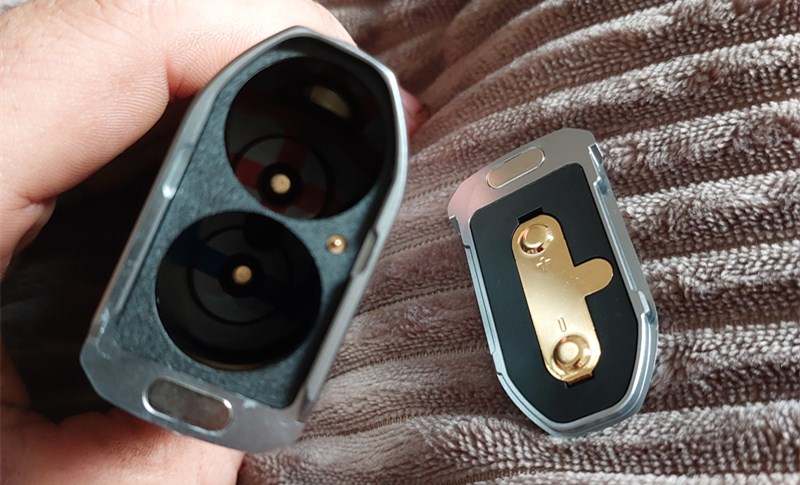 The Tank
This kit comes with the new Obelisk tank, it's 5.5ml capacity (2ml TPD) features bottom airflow and has a child safety mechanism when filling.
it's a stainless steel tank which although goes well with the mod its not a perfect match as the mod is brushed steel. It features 2 large cyclops airflow holes and they mirror each other.
To refill the tank you have to lift up the top cap and find a small line which is where you push across which then reveals a filling port which is covered by a very annoying gasket. Gorilla style large nossals will struggle to fit and you will end up with liquid everywhere. I've found I've had to put my eliquid into thinner tipped bottles so I can push it through the membrane to fill. I'm not a massive fan of the membrane covering the filling hole and this tank has proven me why.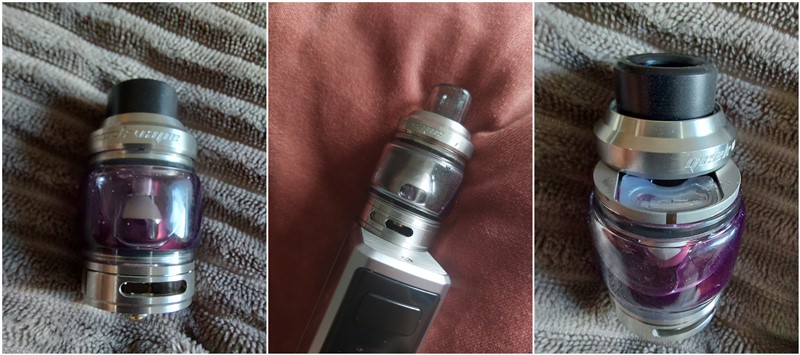 When finding the line on the underside of the top cap naturally you would think where geekvape is etched into the tank that would be the front of the tank therefore the line would be there but its not its a little to the side so getting used to that and opening it does take a little getting used to.
Another little niggle of mine is when you close the airflow down over about 1/4 you get a slight whistle it's not a massive problem but once you've noticed it, the whistle then seems to be louder. It does make the flavour more intense and the vape more restricted which is how I like it though.
The coils…
The coils used in this kit are the Z series coils the same which go with the Z sub ohm tank. There are 2 provided and they are.
The 0.2Ω mesh coil is recommended between 70-80 watts and the 0.4Ω coil is recommended between 60-80 watts.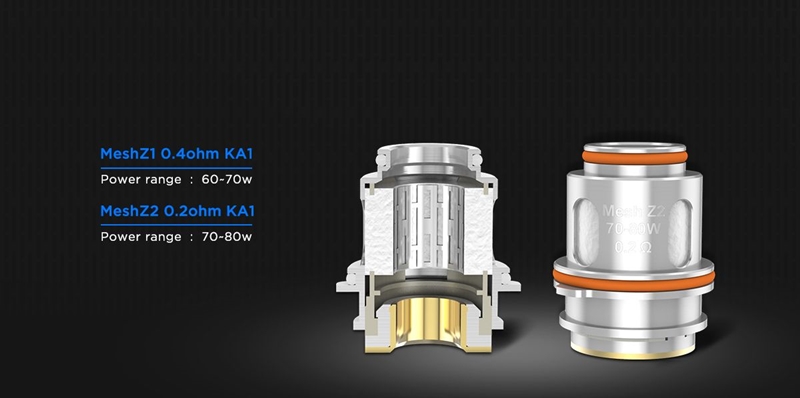 The one thing I have found with these coils are they take a little time to bed in but once they do the flavour and cloud production is very good. I've also found I prefer them below the reccomended wattage.
I Started with the 0.2ohm coil and boy it seemed to last for ages I was on about day 12 and flavour was still very good before I swapped it out to try the 0.4ohm.
I found my sweet spot at 66W but anything from 55W gave great flavour this may be the reason behind prolonged coil life, with the airflow a quarter shut off although with a slight whistle this was a lovely vape with great flavour and a slight restriction.
The 0.4ohm coil I am still using now and it's 6 days strong I'm currently vaping this at 54W and it's a lovely vape great flavour and restriction the whistle isn't quite as noticeable with this coil but it's still there.
Overall the I slightly preferred the flavour and vape from the 0.2ohm coil but both are very good as always from a geekvape coil.
Pros and Niggles
Pros
Great flavour and coil life
Small and compact
Good juice capacity
Easy to use screen
Comfortable in hand
Niggles
Slight whistle from tank
Filling membrane is a pain
Child safety feature could be easier on top cap
Battery door is fiddly and could become a problem
Finger print and scratches on mod panels
Overall thoughts
Overall from this device I've enjoyed it most of my Niggles come from the Obelisk tank, having used the zeus tank and it being one of my favourite sub ohm tanks and in daily rotation this doesn't quite hit my expectations from that tank. The flavour from the Z coils Is brilliant and coil life is great but there are to many little niggle parts that make this an OK tank. The whistle, filling membrane and top cap are all big factors which could be easily fixed and maybe will be in future tanks.
The mod minus the scratches because of the panels is a very solid easy to carry and use piece of kit. It looks great with mtl or sub ohm tanks on and just does a great job of what it's meant to do. I do feel geekvape have messed up abit on the battery door aswell but once you're used to it then it's not a problem.
As always a massive thank you to sue at Healthcabin for sending me this over for review its very much appriciated.
HealthCabin is also one of the biggest vape wholesale distributors in China, if you're a vape business owner, just contact them to get competitive wholesale price.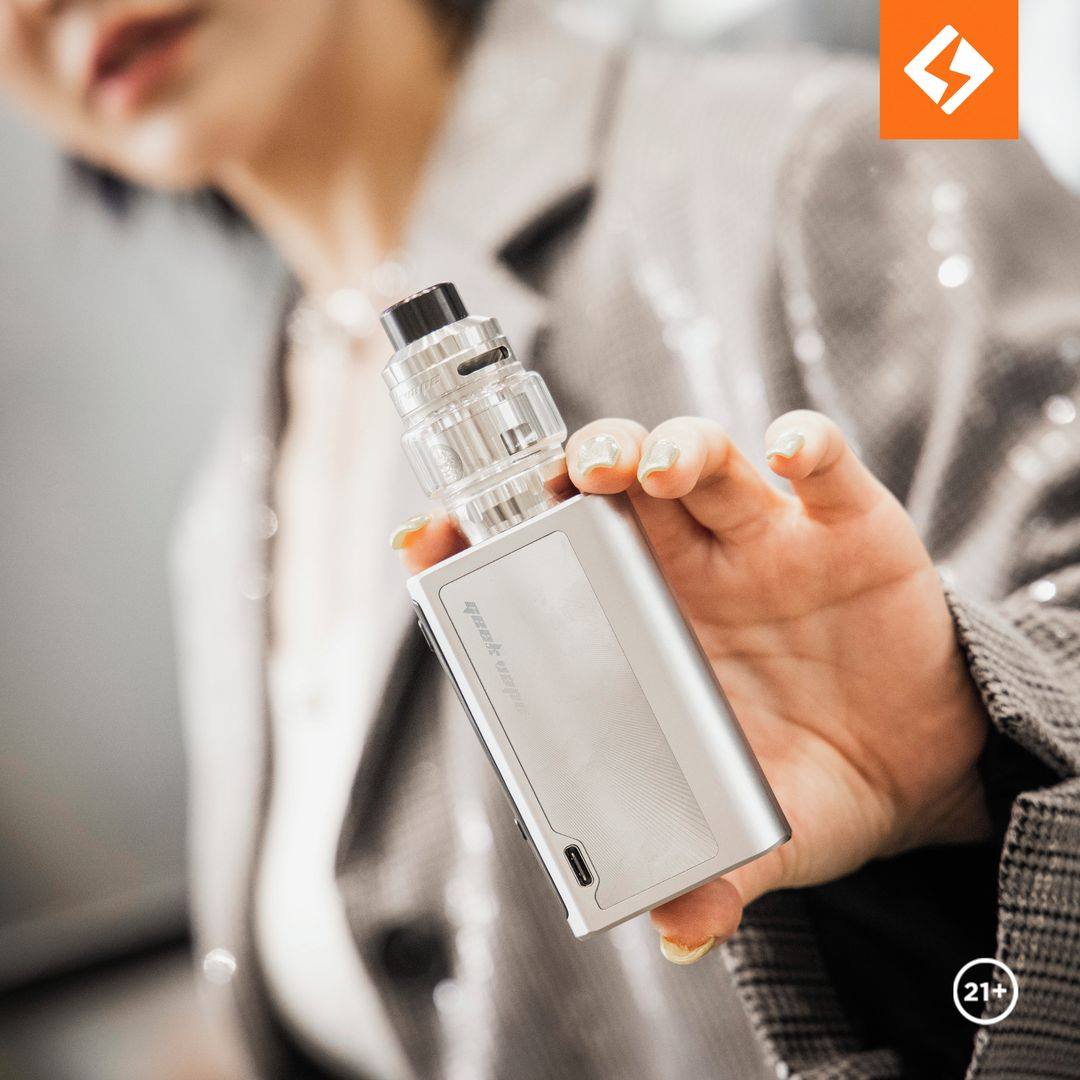 This review was written by Sam – The Vaping Gardner from POTV(Planet Of The Vapes), click to view original review.