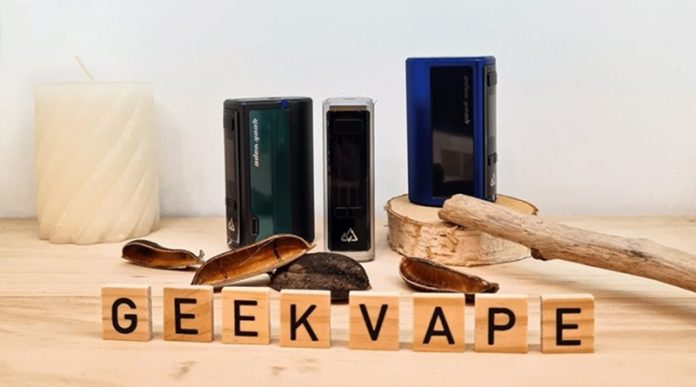 A little while ago, Simon took a look at the Geekvape Obelisk 120 kit with its fast charging capabilities, and I have to admit to being a little bit jealous because it looks like a super bit of kit (Review HERE). Geekvape has now released the dual 18650 version of this in the form of the Obelisk 200 mod so I asked our good friends over at Healthcabin if I could take it out for a spin this time around. So let's get started the Geekvape Obelisk 200 Mod Review.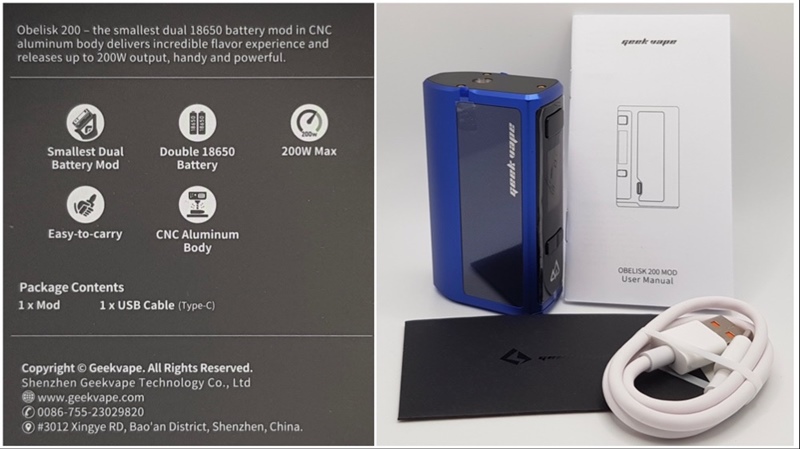 I asked Healthcabin if I could review the mod on its own as I wasn't all that interested in the Obelisk sub-ohm tank included in the full kit, they were also kind enough to send the blue version as I thought this might make a perfect match up for my blue atomisers. It comes supplied with an instruction manual, warranty cards, and a rather nice USB-C charge cable in the box. Additionally both the side and front panels have plastic protectors fitted to prevent scratches and the like in transit.
Size: 82 x 48.5 x 26 mm
111 grams
CNC aluminium body
Dual external 18650 battery
Fast 2 amp charging
0.96 inch TFT colour screen
Power output 5~200 watts
Resistance range 0.05~3.0ohms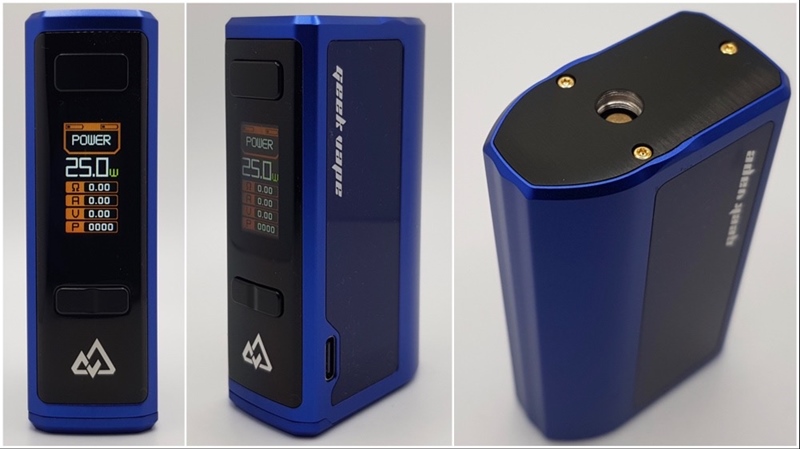 Geekvape claim that the Obelisk 200 mod is one of the smallest dual 18650 mods on the market and I'm inclined to agree with them, without an atomizer installed it's barely much bigger than my DotAio! The main chassis is CNC machined from a single block of aluminium which ensures that it's very lightweight as well so this has been perfect for throwing into a jacket pocket.
The front panel and buttons are all plastic but feel durable and of a high quality, there's a decent amount of travel in the buttons and zero button rattle. This is all dominated by a large colour screen and much like the Z50 kit I reviewed a while ago, this has been an absolute delight to use with all the information you need clearly laid out in a logical fashion, and it's plenty bright enough to use outdoors as well.
Up top is a spring loaded 510 connector. This is part of the top plate which, as Simon pointed out in his Obelisk 120 kit review, means this is prone to the dreaded atty rash, this doesn't cause much of an issue for me as I tend to habitually use atty gaskets anyway but it is worth bearing in mind. The chassis flares out slightly around this area and anything up to 25mm will sit on here quite comfortably without any overhang whilst allowing the mod to keep its rather svelte dimensions which is a rather clever design choice. One thing I was slightly less enamoured with here is the threading, the first few threads in particular feel a little off and it's all too easy to end up cross threading things if you're not paying attention. This could be down to the individual unit I was sent for review, but I'd be careful to pay attention if you don't want to end up stripping things out over time!
The main body tapers off to a gentle curve towards the back which makes this extremely comfortable to use for trigger firing which I prefer, it's still good for thumb firing but to me it didn't feel quite as intuitive to use in this orientation. All the edges are nicely rounded off so there's nothing sharp to dig into your hands which ever way you hold it.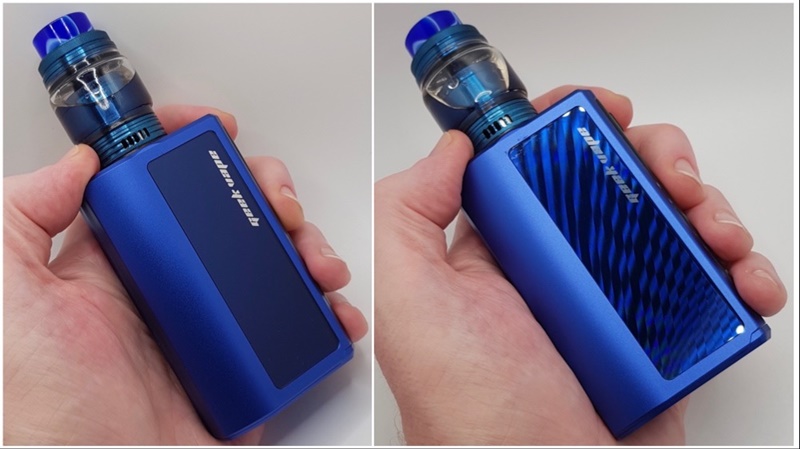 The sides are both dominated by a large colour panel, these are made from four overlapping layers of material which refract the light and alter the appearance depending on your viewing angle, they are also supposed to make the Obelisk 200 more durable protecting the aluminium chassis underneath. These are both a blessing and a curse, they do look rather snazzy changing from a flat dull surface to a vibrant multi faceted display as you twist the mod around in the light, but they are also absolute fingerprint magnets!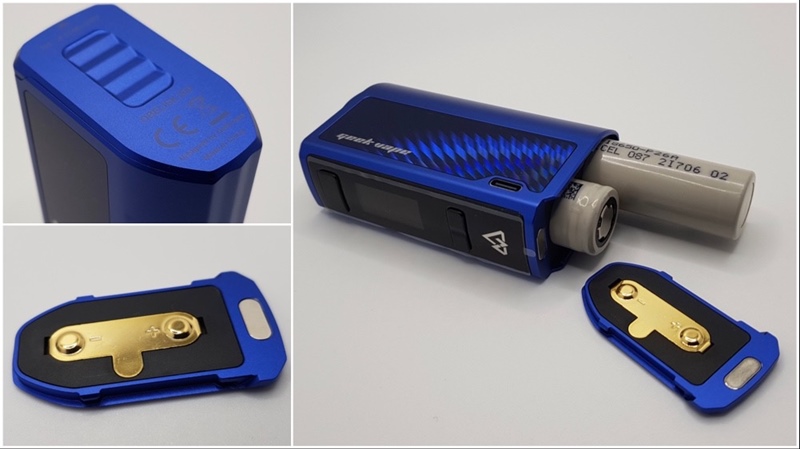 One of the ways that Geekvape has been able to keep the overall dimensions of the Obelisk 200 mod down is in the design of the battery cap. Unlike traditional designs with a hinge, the whole bottom of the mod simply slides off and this is held in place by a rail system and a strong magnet. It can be tricky to get the cap back in place until you've done this a few times as you need to get the small nubs on the cap correctly aligned with the bottom of the mod whilst simultaneously fighting against the magnet which wants to do it's own thing, but after a few practice runs this becomes second nature though. It also seems very secure in use, this has been in my jacket pocket and rolling around the floors of the cars at work all week and it hasn't budged once.
Whilst you lose the rapid 15 minute charging capability found on the Obelisk 120 mod, the USB-C charge port found on one side still supports up to 2 amp fast charging, and in my test it did actually manage to reach this level for once. The mod remained comfortably cool during this time as well. This is a great feature in a pinch, but as always I'd recommend using a dedicated charger whenever possible.
All this would be pointless if it wasn't backed up with the performance to match, and the Geekvape board more than capable. Power delivery seemed quick and accurate, the temperature control worked smoothly, and there are also power curve and bypass modes available for those that use them, with an easy to use menu system. This is a fully featured board and much like the Z50 kit I reviewed, I've been impressed by both the features and performance on hand.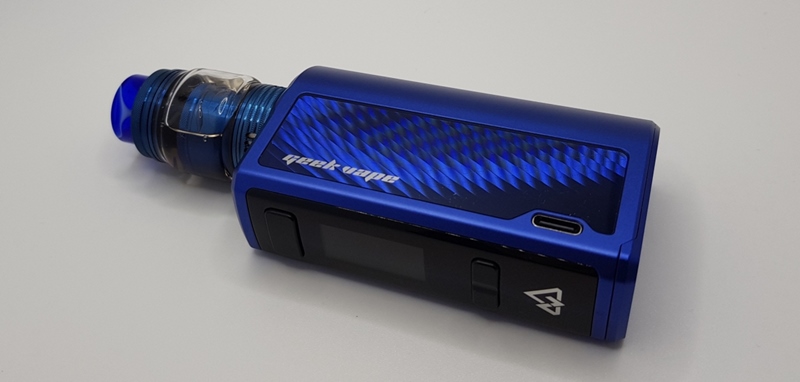 Pros
Compact, lightweight dual 18650 mod
Fully featured board with good performance
Cons
Side panels can be fingerprint magnets
510 connector prone to atty rash, threads feel delicate
Conclusion
The Geekvape Obelisk 200 mod is a bit of a looker, I'm especially pleased with this blue version as it's a perfect match for all my blue atomisers as I hoped it would be. The compact design and the fully featured board on offer here make this a great daily driver, although I do have my doubts about how long the threads on the 510 connector might last.
Many thanks to Healthcabin for sending the Geekvape Obelisk 200 mod out for review. They also asked me to point out that Healthcabin is one of the biggest vape wholesale distributors in China and if you're a vape business owner just contact them to get competitive wholesale prices.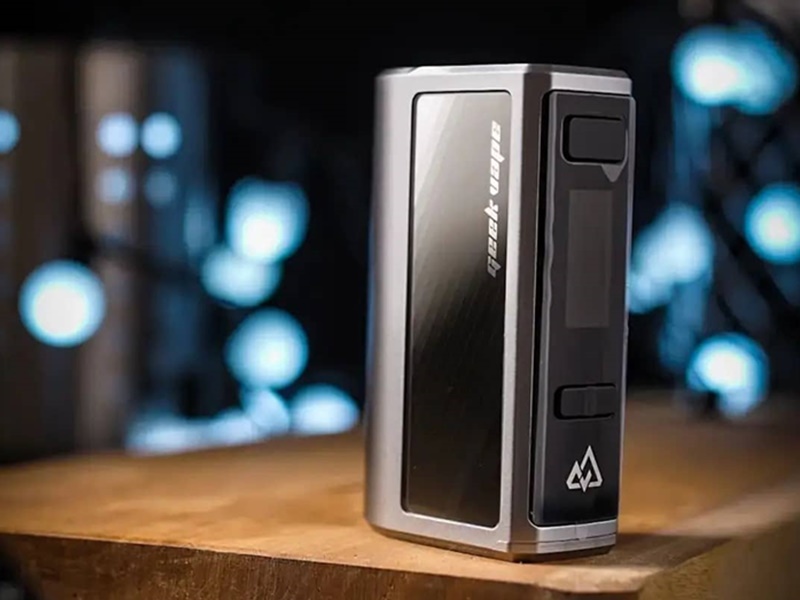 This review was written by Antony from POTV(Planet Of The Vapes), click to view original review.