Geekvape Zeus X Mesh RTA Preview & VS RTA VS OFRF NexMesh Sub Ohm Review

The GeekVape Zeus X RTA is the latest vape device for single/dual coil building. The Zeus X RTA comes with two capacity, 4.5ml and 2ml, to meet your needs for different liquid storage. The postless build deck provides an easy way for single/dual coil building too. The GeekVape Zeus X RTA adopts innovative double chimney design. And the multiple holes on the inner chimney brings smooth air inlet to the coil. The improved top airflow design also prevents juice leakage.

There are 9 different colors include Black, Blue, Gold, Green, Gunmetal, Rainbow, Red&Black, SS, Wine red.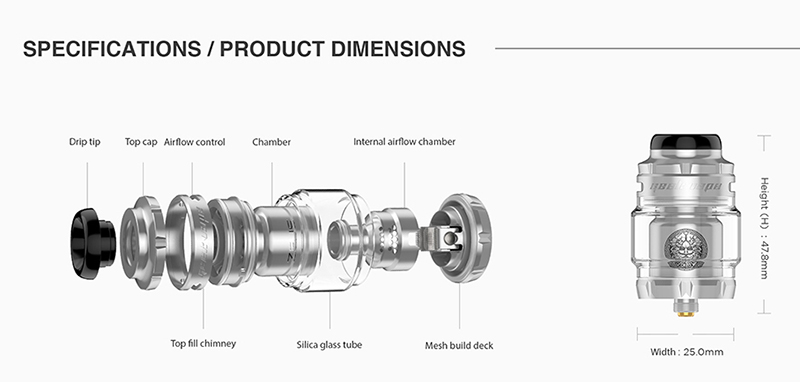 Parameter
Size: 25mm x 47.8mm
Capacity: 4.5ml/2ml
Type: Single/Dual Coil RTA
Thread: 510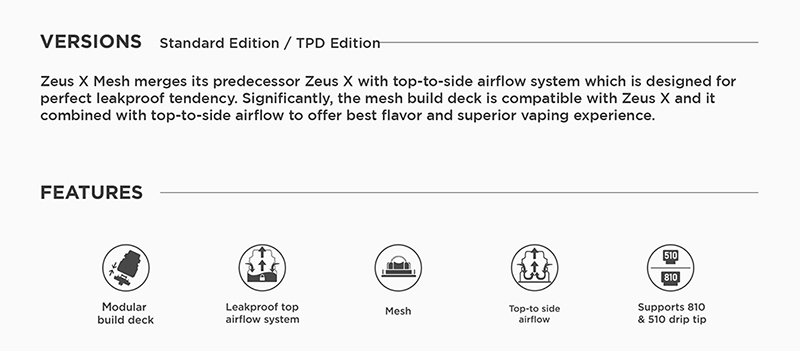 Features
Supports single/dual coil building
New deck for easy wire trimming
Double chimney design for optimal flavor
Top airflow eliminates leakage
Simplified refill system for quick access
Postless build deck for easy building
There is a chart for the Geekvape Zeus X Mesh RTA, Geekvape Zeus X RTA and OFRF NexMesh Sub Ohm the data contrast.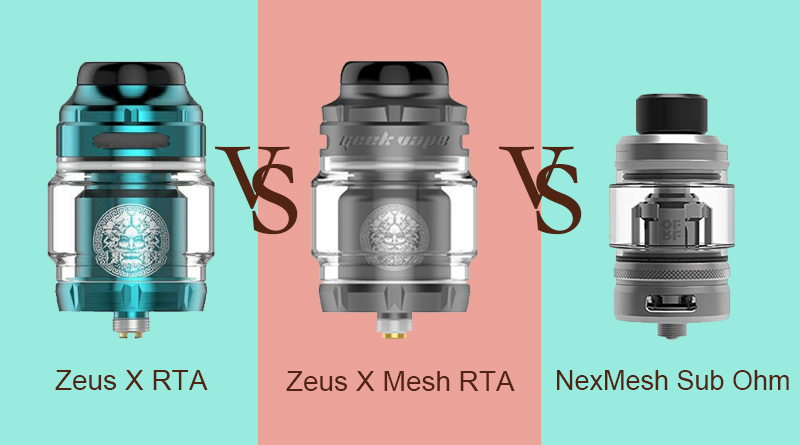 Product Name

Geekvape Zeus X Mesh RTA 

Geekvape Zeus X RTA

OFRF NexMesh Sub Ohm

Price at Healthcabin/USD

21.58
21.68
20.54

Coil 

Mesh
Single/Dual Coil RTA
Conical Mesh Coil

Special Performance

Top-to-Side Airflow system & Postless build deck
Innovative Double Chimney Design
Dual Vapor Compression System

Capacity

 4.5 ml
4.5ml /3.5ml
4ml/5.5ml

Resistance

0.01-2Ω
N80 0.4Ω*2
0.15Ω S.S.316L
0.2Ω     A1   

Max Output

75 W
80W
85W

Material

Stainless Steel

Stainless Steel

Stainless Steel

Threading

510Thread

510Thread

510Thread

Leakproof Condition

Yes

Yes

Yes

You may also like: