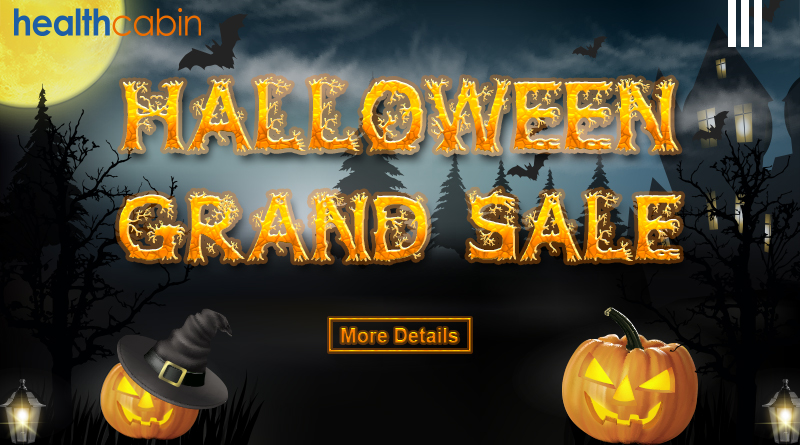 For Wholesalers:
We are offering 10% OFF Shipping Discount for your orders during 25th Oct and 31st Oct. The discount will be offered during checkout, no coupon required.
For End Users:
Whether you're looking to save huge on our massive collection of Premium E-liquids, or maybe you just feel like treating yourself to some new vape gears, HealthCabin Hollween Sale is one of our biggest events to date and the best way to save HUGE on everything you need. Lets check them out:
Available Date:
HealthCabin 2018 Hollween Sale will begin on 26th Oct and end on 1st Nov, 2018, based on GMT-6
1. Up to $50 OFF for your whole order
$10 OFF for orders over $60, coupon code: HW10
$20 OFF for orders over $100, coupon code: HW20
$50 OFF for orders over $200, coupon code: HW50
2. $30 OFF Coupon for Your Next Order
During our Halloween Sale, for customers who paid over $100 (including shipping fee), we will offer a $30 OFF coupon code for your next $100 order, it can be used during our 11th Nov promotion (Single's Day in China).
3. 30% OFF for Selected eJuice Brands
Good chance to try new vaping juice – you can get 30% OFF for all vaping eJuice for below brands by using coupon code: HWJUICE30
Available brands:
Black Note: Naturally Extracted Tobacco E-liquid, Best ever
Charlie's Chalk Dust: features elegant and smooth blends of savory and sweet flavors.
13th Floor Elevapors: Winner of "Best Cereal Vape" & "Best Tobacco Vape 2016"
Cosmic Fog: the most unique, thoroughly tested, highest quality e-liquids
Elixir Vape: a line of general wellness products, Epothecary, is described as the "Vape with Effect"
ANML: known for its sweet, dessert-themed e-juices
DEKANG: Best selling ejuice at very good price with lots of flavors
LIQUA: Italian flavors
ARAMAX: a range of delicious new vaping flavors, good price
4. 20% OFF for eJuice DIY: Flavor & Unflavored Base
Good chance to expand your ingredients. Get 20% OFF for all components for eJuice DIY, including Concentrated flavor, PG/VG, Unflavored based.
Coupon code: HWFLAVOR20
5. 20% OFF for All Items in Our US & EU Warehouses
If you're our customers from USA or EU countries, you can get products in our local warehouses now.
For customers from USA:
We have 2 warehouses there, LA & Perth Amboy, NJ, get 20% OFF by applying coupon code: HWUS20
Shop here:
https://www.healthcabin.net/est_us/
https://www.healthcabin.net/us/

For customers from EU:
We have a warehouse at Germany, get 20% OFF by applying coupon code: HWEU20
Shop here: https://www.healthcabin.net/eu/

6. New Customer Gift
For customers who create accounts at HealthCabin during our Halloween Sale, we will add 300 reward points (equals $3) into your account.
7. Review Products to Earn 500 Reward Points
For products you purchase during our Halloween Sale, you can earn extra 500 reward points by submitting your reviews on them after you get the package. Please mail to marketing@healthcabin.net with your order number once your review submitted.
8. Free Shipping
As usual, you will get Free Shipping:
Hardware part: free shipping on $59.99 or more, ship via DHL/FeDex/UPS/Dedicated Line
Liquid part: free shipping on $49.99 or more, ship via FeDex/EMS
Friendly reminder:
1. Add items to your shopping cart in advance
2. $ mentioned in this post stands for USD
3. The promotion time is based on GMT-6
4. Orders unpaid after the sale will be cancelled
5. This sale is only for retail customers.
Enjoy the sale and feel free to contact us with any questions.