Hugo Ranger 234W Box Mod Review by Pizza Dave
Hello everyone, Pizza Dave here,livering you a review of the Hugo Ranger 234w box mod. Have you ever wanted to vape on something that looks like it is from the 80s/90s? If you answered yes, then you might want to stick around for this one. With styling cues that remind me of the old school handheld video games of old, the Ranger has a retro look. However, once you power it up, it reveals a very clear, very bright, massive screen. As always, I will dive down and check out the operation, how it vapes, and give my final thoughts down at the bottom.
​
WHAT YOU GET
1 – Hugo Ranger Mod
1 – USB cable
1 – Manual
​
Available in Black and Red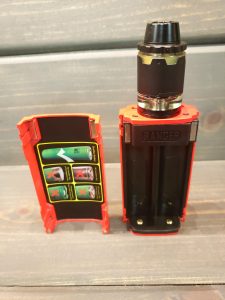 FEATURES
I touched on some features above, but here is the complete rundown. This is a dual 18650 powered mod with a maximum power of 234 watts. It has a large, 2" TFT display, which has a few color options for the font. The top of the device is beveled and accommodates a 26mm atomizer without overhang, but a 30mm could be placed on top without overhanging the entire device. It also has all the usual settings and protections we have come to expect from a modern-day regulated device.
​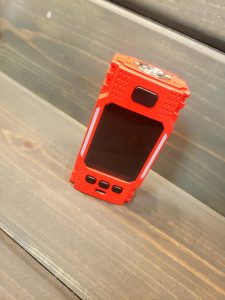 OPERATION
Overall, Hugo has made this device very simple to operate. They changed a few things compared to how other companies do stuff, but one big advantage of this device is the screen size. Everything is laid how neatly and can be figured out just by clicking around. The device powers up as soon as batteries are inserted. 5 clicks of the fire button locks and unlocks the firing of the device. Holding the up and down buttons together will lock the adjustment buttons, but it will still fire. To power down completely, one must scroll through the menus and find a spot that said, "power off". It is a bit odd to find, but at least it has the option to power it all the way off. 5 clicks will turn it back on again.
The menu system is accessed by hitting the middle button on the bottom twice. Once you have accessed this, scroll through each menu with the up and down buttons. Hit the middle button to start making changes on each screen. Here is a list of each menu.
MODE – The mode menu is for selecting and tweaking each operating mode of the device. This device has Power, Bypass, Temp control, and a curves mode. Temp control settings allow for tcr and preheat settings below. They are straightforward and there are no "hidden" settings to go digging for.
PUFF – Just as it says. This is a puff counter screen.
SCREEN – Adjust font color, standby time, brightness, and the clock style.
OFF – the Odd name for this menu, as it has a lot packed in. This is where you can power off the screen, but you also turn on or off the LEDs and select the colors of the said LEDs.
INFO – This shows board temp, both battery levels (in voltage), and the firmware of the chip.
CLOCK – This is for setting the time and date of the device.
​

HOW IT VAPES
For testing purposes, I ran this device with 2 rtas and one sub-ohm tank on top. Both rtas have stainless steel coils so I can test temp control. I ran this in wattage mode pretty much all the time as that is my primary style of vaping. It feels like it takes a little bit to ramp up and doesn't "hit hard". I played with preheats and curves to achieve a faster ramp up, but it still feels like it lags behind. It is very noticeable on cold coils and I found myself purging atomizers or hitting the fire a couple of times before I would start to actual vape the thing. It isn't awful but must be pointed out. I put it in stainless steel temp control and the result was no firing. I tried two different rtas that I run TC on all the time, but this would not do a thing. Once I held the button down for a while it would just say "shorted" and stop working. I played with TCRs as well, and it still didn't want to work for me.
​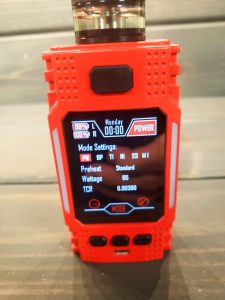 FINAL THOUGHTS
One of the biggest factors in buying a mod today is how they look. So many perform on similar levels that getting something to fit your personality is half the fun. This one just works for me. I love the retro styling of the body. I love the feel of the device and it feels solid in hand. For how cheap this is, they didn't miss much in the quality side as there are no rattles, the battery door is snug, and the 510 pin is nice and springy. I think the shelf like top is silly, as it could have supported 30mm atties with ease if it was flush. The LED lights don't have enough settings, as they are on every time the screen is on. I would have preferred a setting for LEDs on when firing at least. Performance could be a bit better on this one, as like I said above, it takes a bit to fire and I couldn't do temp control at all. The only other con I found was with battery life. The combination of a large screen and leds led to battery life that is noticeably weak. I also saw some odd readings with batteries and it always showed the left battery is lower than the other by 10% or so. I was surprised to see that Hugo is doing firmware support, which could help with some of the performance issues down the road if they address that. There are no release notes on the firmware to say what it does, but there is firmware released.
​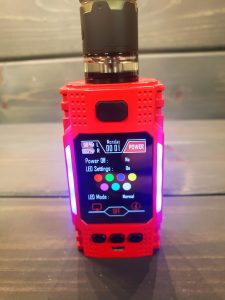 THE OVEN TEST
If this one accidentally went into the pizza oven would I go out and buy another? Probably not.
​
PROS
Retro styling
Feels solidly built
Low price tag
Nice, large screen
Upgradeable firmware
​
CONS
Seems to run on the weak side?
Battery life suffers due to a large display
TC didn't work for me at all
​
​
Thank you all for reading this review and thank you to Health Cabin for sending it my way for review. I am seeing this online for about $45-60 depending on the site.
Pizza Dave – Delivering real reviews, with no extra toppings