Hugo Vapor Rader Mage 218W Mod Review
In this review i take a look at the Rader Mage 218W Box Mod from Hugo Vapor. The Hugo Vapor Rader Mage 218W Box Mod was supplied for the purpose of this review by Cortana from the Healthcabin.

Introduction
The Rader Mage is a high powered dual 18650 device from Hugo vapor, which is mainly constructed using Nylon fibre and has a Rubber paint finish allowing for a nice hand feel and colourful designs. The Rader Mage employs a highlight and alter user friendly interface and utilises a large 0.96″ square screen to display a wealth of information. The Rader Mage boasts full TC suite, Bypass as well as preheats and curve features, it claims a top wattage of 218W?????? let's call that about 180w then. The device having a Reuleaux shape to it is ergonomic as well as very light, so let's give it a look!
—————————————————————————————————–
In the Box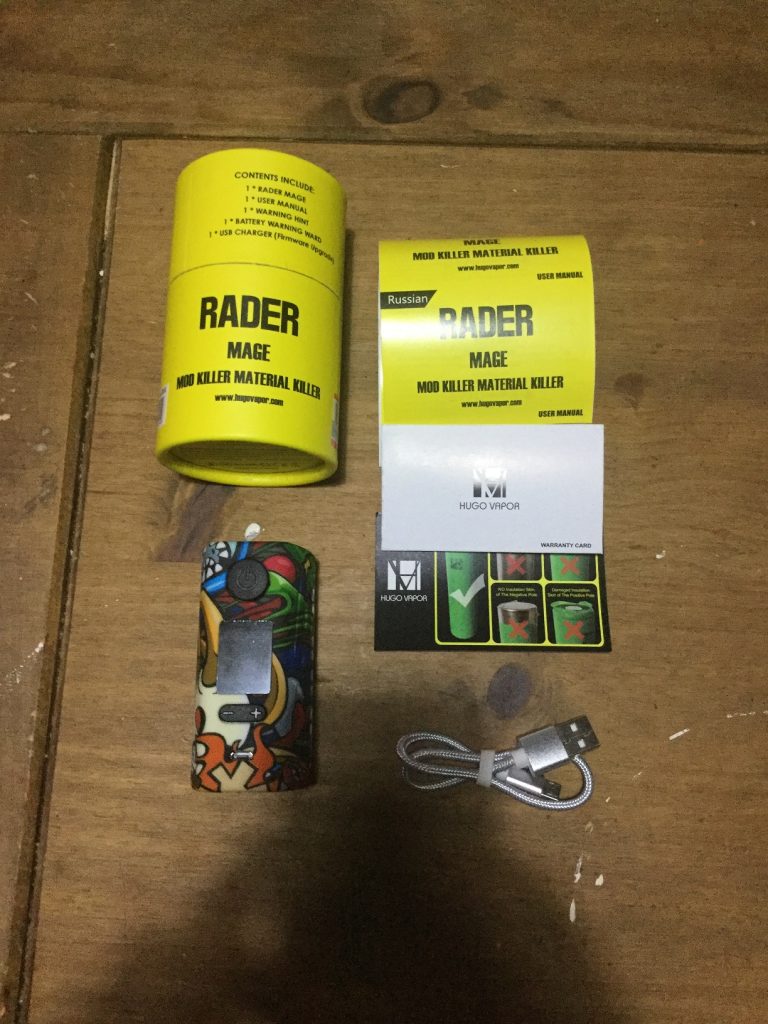 Contents:
1pc Rader Mage 218 Box Mod(Without Battery)
1pc USB Cable
1pc Manual
1pc Warranty Card
1pc Battery Safety Card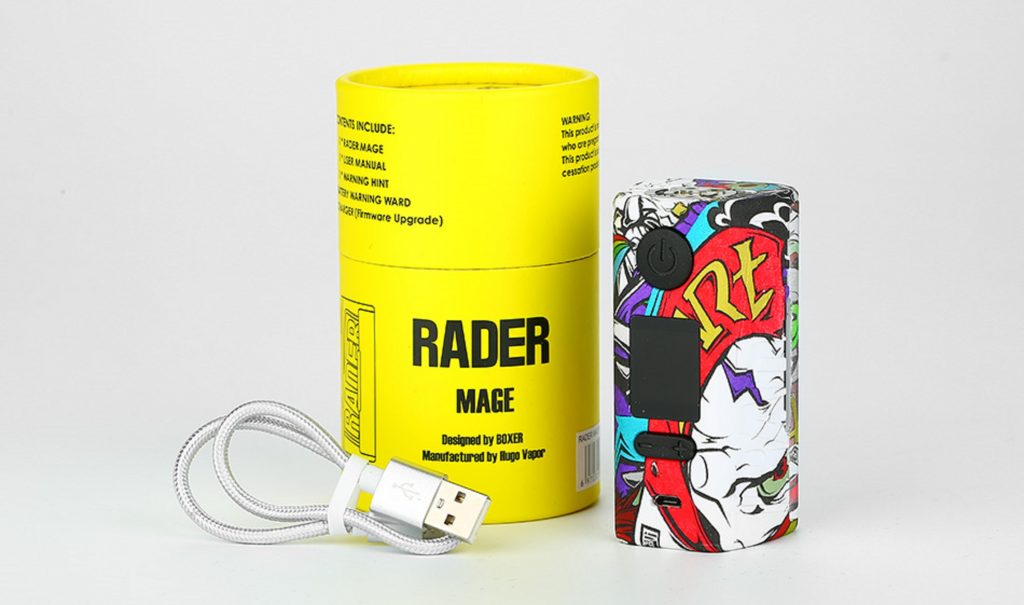 —————————————————————————————————–
Aesthetics and Ergonomics
The Rader Mage comes in tubular Yellow cardboard packaging which has the pause symbol on top which seems to be the logo of the device and some strange slogans written on the box like "MOD KILLER MATERIAL KILLER", i'm possibly being a bit dumb but not got a clue what any of this marketing c**p has to do with a vaping device. The device has a Reuleaux shape to it and is very lightweight as it's made mainly of Nylon fibre, like a lot of these devices that have used cheaper materials to keep the device more affordable it has the nice feeling rubber paint finish which allows for some colourful designs which will be chalk or cheese. I received the Manga design, it's also available in Splatter, Resin, Graffiti, Monster and Lightning designs, i must admit i really like the look of the Lightning design and i don't think a couple of other designs are too bad. It's worth mentioning my Manga version looks different from the one on the website so i think each design has variants. Both sides of the device has a slot that is about 30mm in length and 3mm wide which help remove the back panel and also allows for venting. One side also has "RADER" embossed but it is well hidden within the design, the back panel has the already mentioned pause symbol embossed central. The front of the device has a large round Black fire button which is slightly curved, further down we have the large screen followed by the – and + buttons on a rocker, central bottom is the micro USB port. Moving to the top we have a air fed 510 plate with Gold plated, spring loaded 510. The device as mentioned is of cheaper material but a good job has been made with the rubber paint finish and there are no rattles whatsoever, the only thing that let's the device down is the fire and navigational rocker button both feel and look cheap.
—————————————————————————————————–
Rader Mage Specs and Features:
Size: 84 x 42 x 40mm
Material: Nylon fibre
Wattage Range: 1.0-218W
Input Voltage: 5-8.4V
Output Voltage: 0.5-8.4V
Input Amperes: 30A
Output Ampere: 45A
Resistance: 0.06-3.0ohm
Screen: 0.96-inch OLED
Modes: VW/TC/Curve/Preheat
Battery: 2x 18650 cells (Not included)
Light-weight box mod with Nylon fibre frame
Various patterns for selection
2A quick charge
Thread: 510
Colour/Design: Splatter, Resin, Manga, Graffiti, Monster, Lightning
—————————————————————————————————–
Fitting The Batteries
The dual 18650 batteries fit by removing the back panel, there is a slot either side which helps with the removal of the panel. I have used a lot of devices with this style of battery panel on lightweight devices and many are just press fitted into place yet fasten very securely. The Rader Mage has 4 magnets also (one on each corner) so the panel snaps into place, this battery panel is going nowhere, zero movement.
—————————————————————————————————–
The Display
The Display is bright and has quite a lot of real estate with it's 0.96″ x 0.96″ size. Hugo Vapor take full advantage of all this display space by giving a wealth of information on the main screen while having a nice organised layout. The display is split into 3 sections, top, middle and bottom, the top section has 2 battery status indication bars displayed vertically to the left, these are labelled "A" and "B". Central top we have the mode then underneath this the preheat (this changes to wattage when in temp control), to the right of the top section we have the time at the top then underneath this is the puff counter. The central section of the display shows the wattage (temperature when in temp control), to the right of this we have real time seconds vaped and the unit "W" ("F" or "C" when in temp control). The bottom section of the display shows the resistance left, central we have the voltage and finally to the right we have amps.
—————————————————————————————————–
Navigating The Rader Mage
The device is the usual five clicks of the fire button to turn on and off and the device loads instantly. The Device is mainly navigated by a user friendly highlight and alter interface but also has a system settings menu for the extra features. 3 clicks of the fire button highlights the mode which then using the navigational buttons can be changed to which ever mode you want, the options are Power (wattage), NI, TI, SS, Bypass and curve. When power is highlighted 2 quick clicks of the fire button highlights the preheat which can then be altered between Normal, Soft or Power+. When you are in a temp control mode now where we had the preheat we now have wattage and again 2 quick clicks highlights this and allows you to set wattage for temp control. When curves is chosen where we had preheat or wattage (temp control) we now have a little graph and 2 clicks again takes you to a screen where you can set your custom curve. The other features can be found in system settings which can be accessed by pressing the + and fire buttons together. When in system settings the options are Time set, Brightness, Puff Counter, Stealth, TCR Set, Default and Exit. Their are a couple of other combo button press features which are, press – and fire together locks and unlocks the resistance and finally – and + together locks and unlocks the device, when the device is locked it will still fire.
—————————————————————————————————–
My Experience Using The Rader Mage
As usual i must state i do not vape using temp control and do not have equipment to get data so simply review devices as a personal experience from using them. As you would expect from a recently manufactured device it fires instantly and ramp up is also impressive, i only used the device on preheat normal and using the curves feature and even on normal to me it seemed to hit set wattage instantly. The curve feature works well and all the different wattage's i tried which ranged from 12w to 90w seemed very accurate, also resistance readings matched up with my Mirage (DNA 75C Device) so the chip looks to be very good. As for top wattage of 218W it's probably possible for a few seconds under set conditions but using under normal vaping conditions i would imagine 180W will be it's limit (but as mentioned it's guess work as i have no way of testing). There is a lot of real estate on top of the device but as per normal the 510 has been brought forward missing the opportunity of being able to fit 30mm + atty's but on the Rader Mage it's not brought forward quite as much as similar shaped devices so 28mm atty's will fit without overhang no problem. I would prefer the device to have a dual 2×700 option but the device seems efficient as dual 18650's seemed to give really good battery life. The Rader Mage supports 2A charging and is firmware upgradeable.
—————————————————————————————————–
Final Thoughts
Nothing Innovative and looks wise there are a lot of Reuleaux shaped devices with rubber paint finishes in the market place but the Rader Mage has a very good chip and performs in power mode impressively. I also like the large informative display which is well laid out and ease of use. The in your face designs are going to either be your thing or not and the cheap feel and look of the buttons let the device down slightly but for the price it's a very good device.
—————————————————————————————————–
Likes
Performed very well
Rubber paint finish feels very nice
Colourful designs (objective will be a con to many)
Seemed very efficient
Large, informative screen
User friendly interface
Ergonomic
Battery panel fits very securely
28mm atty's without overhang
TC (not tested)
Curves (worked well)
Lightweight
Supports 2A charging
Firmware upgradeable
Cons
Buttons have cheap look and feel
No 2×700 battery option
Designs will not appeal to many
I would once again like to thank Cortana from the Healthcabin for supplying the Hugo Vapor Rader Mage 218W Box Mod for the purpose of this review.