Healthcabin asked me to take a look at the new Innokin Coolfire Z80 kit. The last time I had a Coolfire mod was around the time I started vaping when the Coolfire 18650 mod was released and I haven't really taken a look at any of the Coolfire range since that time so I thought it was high time I got myself a bit more up to date.
This is part of Innokins Platform series which is designed in conjunction with Phil Busardo and Dimitris the VapinGreek and comes in Innokins environmentally friendly paper and cardboard packaging. The Coolfire Z80 mod has been teamed up with the updated Zenith II Tank and comes with plenty of spares (glass, o-rings etc), two coils, an extra drip tip and a USB-C charge cable.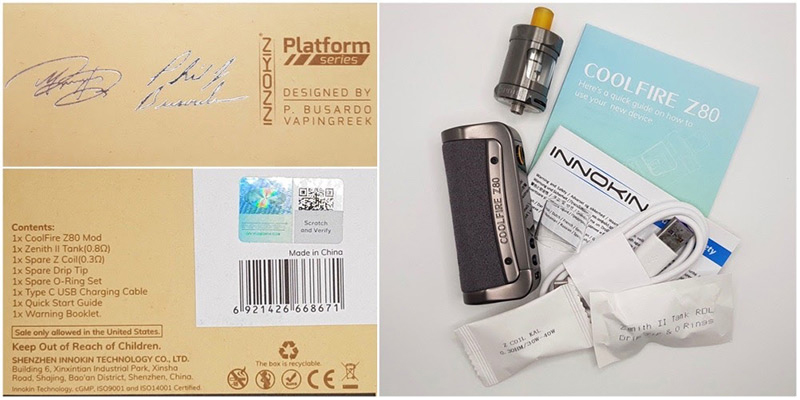 This is available in four colours, I was sent the "ash grey" version where the Coolfire Z80 mod has a "suede" grip housed in a gunmetal frame with a matching gunmetal Zenith II Tank and I have to say it does look rather snazzy. The colour of the frame and tank will vary depending on your chosen colour, I do have slight misgivings about how the "suede" grip might look a few months down the line with regular use but the black and white versions have "leather" grips should that concern you.
Size 83.5 X 38 x 27 mm / 88.4 grams
External 18650 battery
Fourier tech (f0)
Output 6~80 watts / 1~7.5 volts
Resistance range 0.1~3.5 ohms
0.96 inch colour screen
1.7 amp USB-C charging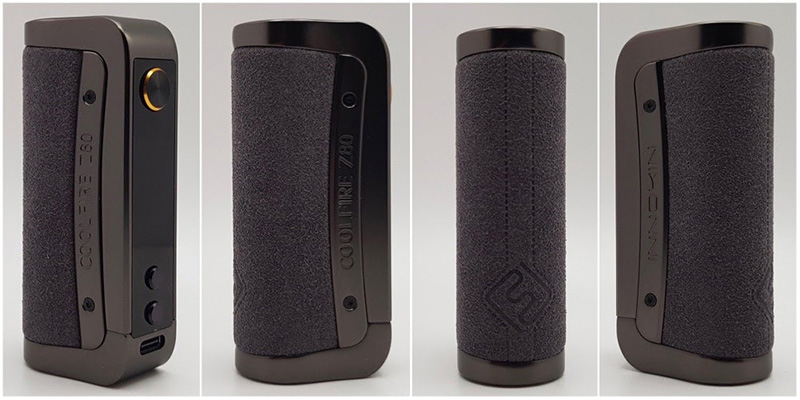 The Coolfire Z80 mod has the classic Coolfire teardrop shape, this is much shorter front to back than my Coolfire 18650 mod and it feels all the better for it, it's more comfortable to hold and this also means the front control panel and buttons are wider making it easier to use, the "suede" grip which is lightly padded and the softly rounded edges also help out here. It's something of a looker although I was surprised at just how light it felt once I picked it out of the box, even with an 18650 and a tank fitted this is very pocketable.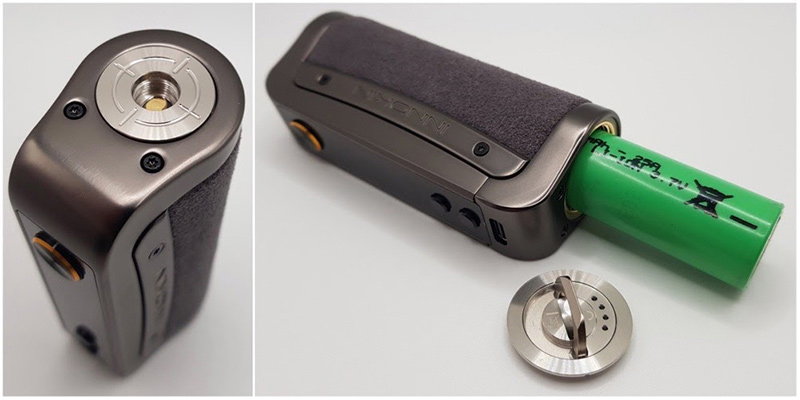 There's a very stiffly sprung positive pin in the 510 platform which is raised 0.2mm above the top of the mod to protect against the dreaded atty rash, this is only 17.5mm across so you may experience some apparent gapping although there is actually room on top for up to 26mm atomizers despite the diminutive size of the Coolfire Z80.
Batteries are inserted from the bottom and are held in place with a screw cap which has four vent holes for emergencies, polarity isn't marked on the cap itself but it is clearly marked at the bottom of the battery tube. Innokin claims up to 1.7 amp charging via the USB-C port on the front control panel, in my test this actually peaked at 1.45 amps but it's still handy if you're away from a dedicated external charger.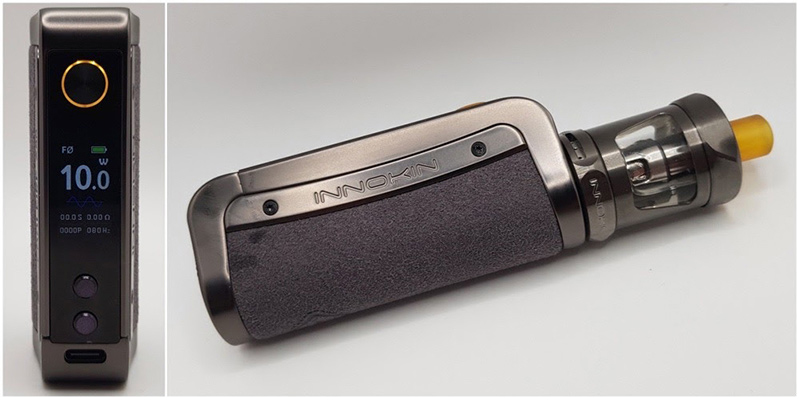 The front control panel is made from a large smoked plastic panel with a 0.96 inch colour screen sandwiched between the power and up/down buttons. All the buttons are raised up off the front panel which makes them easy to locate and the power button is highlighted in copper which makes it pop visually, they all have a nice positive click with zero button rattle present. The screen however could do with being a little brighter, it's fine indoors but that darkly tinted panel will have you cursing outside!
This time around Innokins Fourier (f0) tech is front and centre, it's what you're first presented with when you turn on the Coolfire Z80 out of the box, at least you don't have to jump through hoops to access it this time like you did with the recent Sensis kit! This is a genuine innovation in the vaping scene utilizing alternating current rather than a flat direct current signal we have used up until this point, this is supposed to enhance your flavours and extend coil life.
I did find that if I put the f0 mode at extremes of the frequency range there was a definite change in the flavour profile so it does seem to make a genuine difference but you will need to experiment with this as different flavours will work best at certain frequencies so it's not a "one size fits all" solution. With higher power/lower resistance coils Innokin suggests using frequencies below 50Hz and here I found I could hear and feel the f0 waveform, particularly at lower frequencies, in fact at times it felt like a bad pulse width modulation mod would!
Standard wattage and voltage modes are also available if you're set in your ways, wattage is adjustable in 0.5 watt increments and voltage in 0.1 volt increments and the power delivery is nice and quick in all modes.
23.7 mm diameter at the base, bulges out to 27 mm at points
35.8 mm tall (excluding 510 & drip tip)
5.5 ml capacity (2ml for TPD regions)
Z Coil compatible (0.8 and 0.3 ohm coils included)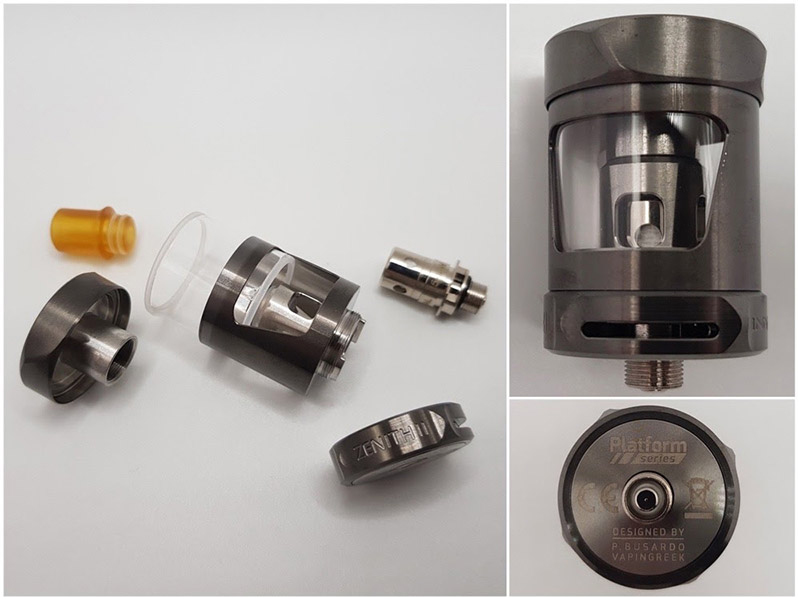 The Zenith II Tank uses Innokins tried and tested Z Coil system where the coils are press-fit into the bottom of the tank and the coil itself actually has the 510 connector. Several improvements have been made over previous incarnations, the glass is now removable and the 510 drip tip cup is now flat with the top of the tank, the airflow has three small holes for tight MTL vaping and a larger cyclops style slot for improved RDL performance and this feels super smooth throughout the range.
One thing to bear in mind is that whilst my kit came supplied with the full fat 5.5ml glass here in the UK the Zenith II will come with a thick plastic tank to make it 2ml TPD compliant.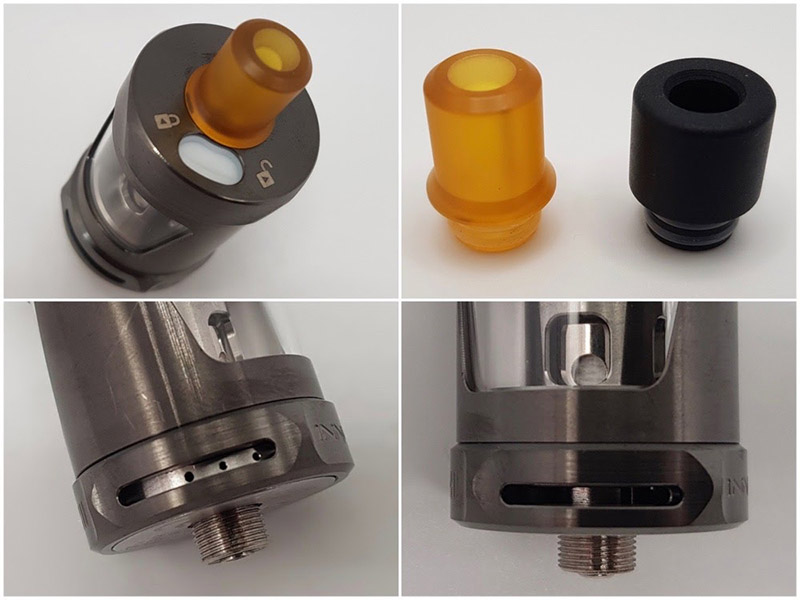 Two drip tips are included, a narrow bore ultem one for MTL and a black teflon drip tip for RDL vaping; I particularly like the Ultem one but the Teflon one feels a little too short in use. Filling is easy and mess free, twist the top of the tank to reveal the fill port and fill away, whilst this is fine with smaller (10ml) bottles with anything larger you'll likely have to remove the drip tip to fill.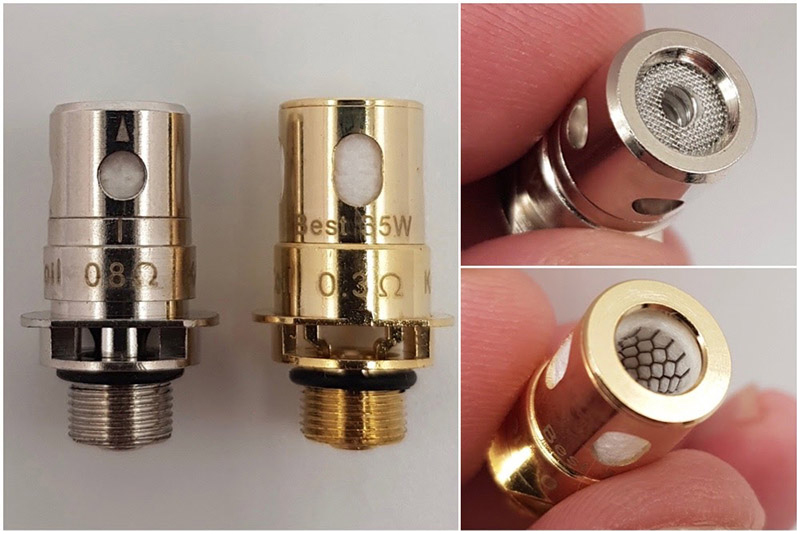 It's nice to see that the two included coils actually cover the two ends of the spectrum for vaping as we all too often see kits described as MTL/DL which are then shipped with two coils that are both intended for DL, the 0.8 round wire coil is definitely for MTL whilst the 0.3 mesh coil is a RDL coil. Both coils are kanthal, bonus points here to Innokin for everyone with nickel sensitivity as these are suitable for use.
I found that when using the 0.8 ohm coil with the three MTL holes this was far too tight for me, once I opened up the airflow so that it was using the three holes and just a sliver of the DL slot I got a much more satisfactory vape as I much prefer a looser MTL. Whilst the 0.3 ohm coil was OK it wouldn't be my "go to" choice for this style of vaping and the Zenith II works better as a MTL in my opinion.
Pros
Innovative Fourier (f0) tech
Nice compact kit
Cons
Tank feels too large for the mod
Conclusion
The Innokin Coolfire Z80 kit feels like a bit of a mixed bag, I love the Coolfire Z80 mod but I can't say I'm a huge fan of the Zenith II Tank and whilst it's a good match to the mod in terms of power requirements it makes the kit overall look "top heavy" from an aesthetic point of view. As this is a "proper" mod you can of course still use your own tanks.
The star of the show is of course the innovative Fourier (f0) tech however with the 0.3 ohm coil I ended up using straightforward wattage mode as this felt far more consistent so the f0 tech might be better suited to MTL vaping but you'll need to experiment with this and draw your own conclusions.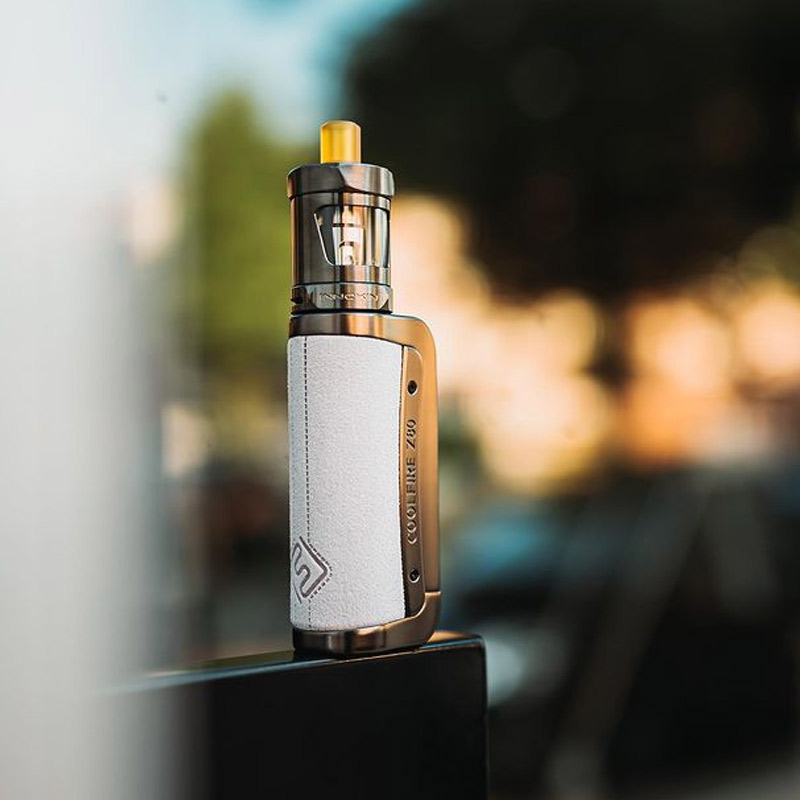 This review was written by Antony from POTV(Planet Of The Vapes), click to view original review.