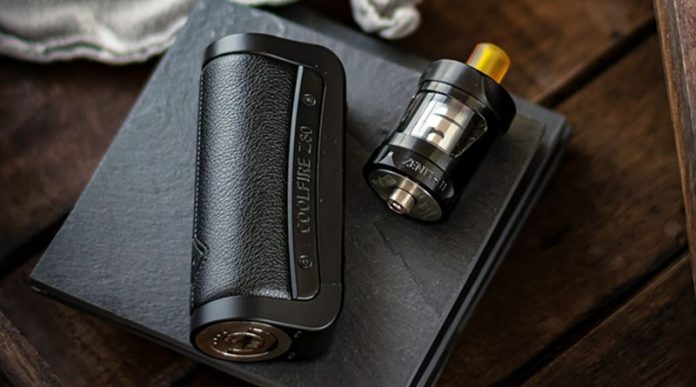 Thank you Healthcabin for sending me this Innokin Coolfire Z80 Kit to make the video of it. Let's check out the Innokin Coolfire Z80 Review together. Healthcabin is one of the biggest vape wholesale distributors in China and if you're a vape business owner just contact them to get competitive wholesale prices.
The Innokin Coolfire Z80 kit is composed of the Coolfire Z80 box and the Zenith II clearomiser.
Nice and complete package to start with, Innokin offers us a concentrate of power and technology in an easy-to-learn format.
Very well finished, the Innokin Kit is effective.
I have been using it for two weeks now and have not yet encountered any problems with it.
Good battery life, nice design, clearly readable screen, easy to handle and to adapt to the vape you want.
Everything is present on this Coolfire Z80 Kit!
Regarding the Coolfire Z80 Innokin box, we will find the Watt mode which goes from 6W to 80W.
The Mod will work with a 18650 format battery, it's standard, you can find it everywhere.
Regarding the Zenith II Atomizer, I find it efficient, discreet with good restitution of flavors.
The AirFlow ring is on the underside of the clearo and the filling is done from the top by removing the drip tip and rotating the top ring.
It is simple and efficient.
The resistors are easily accessible for replacement, from the underside of the tank.
It has a capacity of 5.5ML.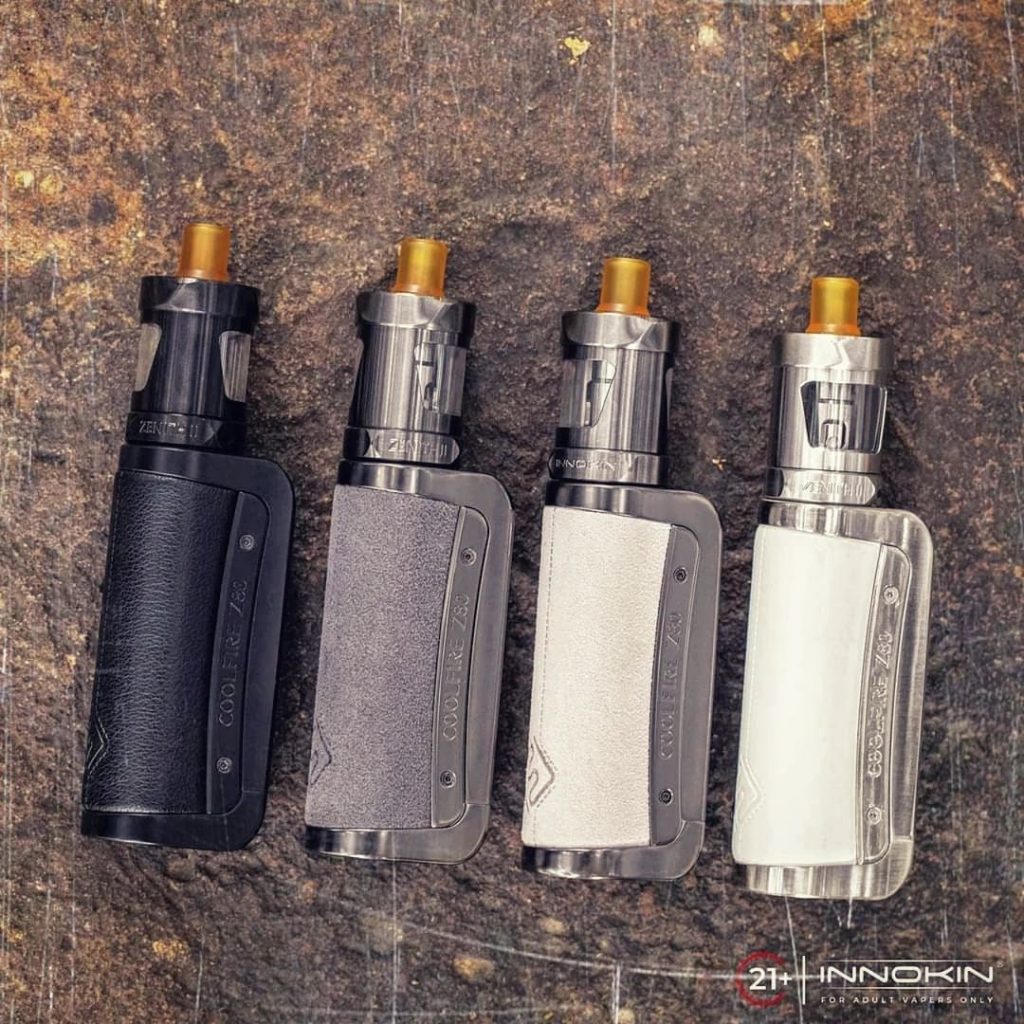 Brand: Innokin
Model: Innokin CoolFire Z80 & Zenith II
Type: Electronic Cigarette
Color: White leather, Cloudy gray, Black leather, Ash gray
Battery: 18650 battery * 1
Power: 6-80W adjustable
Voltage: 1-7.5V adjustable
Atomizer: Zenith II
Resistance range: 0.1ohm-3.5ohm
Body material: zinc alloy
Thread material: stainless steel
Thread type: 510 thread
Charging current: 5 V / 1.7 A
Dimensions: Without tank: 83.55 * 38.30 * 27.60 mm With tank: 131.75 * 38.3 * 27.6mm
Easy top filling, 5.5ml e-liquid capacity.
Interchangeable 510 drip tip and glass tube.
Precise air flow control for MTL and RDL.
Compatible with all Z coils (kit comes with 0.8ohm and 0.3ohm Z coil).
Brand new Cool Fire Z80 mod, 6-80W output, using single 18650 battery.
Compact size with 4th generation technology inside, which extends spool life and increases flavor, with Refresh and [F0] modes.
Large color display and intuitive user interface.
USB-C for faster and safer charging.
▶ Innokin Coolfire Z80 Box Mod Kit developed by Innokin
The box mod received an ergonomic zinc alloy body, painted in four color combinations.
The back side was rounded under the handle and decorated with a stitched artificial leather insert.
A shiny control panel on the front consisting of a fire button, a screen, a few small buttons and a USB-C port.
▶ The mod comes with Zenith 2 with a 5.5ml protected flask. The filling hole is hidden under the rotating cover.
The drip tip is made in duplicate for different types of airflow.
A pre-installed 0.8 ohm evaporator.
Good points
Good restitution of flavors
Tight or airy vape of your choice
Beautiful finish of the whole
Ease of use
Negative points
This review was written by Tofanger from Youtube, he also took an unboxing video for Innokin Coolfire Z80 Kit, click the video directly to view.