Kangertech XLUM 200W TC Kit Review
In this review i take a look at the XLUM 200W TC Kit from Kangertech. The Kangertech XLUM 200W TC Kit was supplied for the purpose of this review by Cortana from the Healthcabin.
Introduction and Background
The XLUM was released early summer 2018 with mixed reviews which although as a rule i don't watch Youtube reviews of products i believe i might get myself to review i have watched as i really didn't think i would be reviewing the XLUM. One review said it had a full second delay while none of the others mentioned a delay, one said it came with the menu system set to Chinese so until you worked out in the settings (not that easy when it's in Chinese) the option to change it to English he really didn't know what was going on and in 2 reviews (but not mentioned by the others) you needed several attempts to enter the menu system as more often than not it just bought up firmware and hardware information instead. One thing that was agreed on (apart from one) was how incredibly loud the XLUM Tank was which ruined it somewhat as both coils gave very good flavour and ridiculous cloud production. By the way in one review non of the above was mentioned and it was a cracking kit as he was singing the praises of the tank while i could clearly hear multiple decibels as he took a vape. The reason i didn't think i would get to review it is because i was going to be sent the XLUM kit with the second batch of samples but as the early reviews rolled in Kangertech decided to hold fire and delayed it's release while they looked into the reported problems. Here i have at last the retail version that's been out a while so let's find out if any of the mentioned is still the case or is the XLUM the real deal!
___________________________________________________________________
In The Box
Contents:
1 x XLUM Mod
1 x XLUM Tank (4.5mL)
1 x Replaceable Bulb Glass (4.5mL)
1 x NR Mesh Coil 0.18Ohm Coil
1 x NR8-OCC NiCr 0.2Ohm Coil
1 x Set of Sealing Rings
1 x Micro USB Cable
___________________________________________________________________
Aesthetics and Ergonomics
The XLUM comes really well presented, when taking the cardboard lid off the box it reveals a further flap lid with Kangertech logo shaped viewing window. I received the Blue version which comes with Blue XLUM Tank, it's also available in Red, Space Grey, Rainbow and Silver Black, the Red XLUM Tank that comes with the Red device is not actually Red but a Gunmetal, so they have fitted a tinted Red glass and Red drip tip and called it a Red tank lol. The device is all metal (i believe aluminium) but the entire chassis has a Black rubber like textured finish. Front and back are metal in the colour of choice and the Blue version i received has a very metallic sheen. Both front and back have a raised "X" which gives it a look of it's own and it uses the shape of the "X" on the front to give it some aesthetic personality. On the front where the lines of the "X" meet in the middle we have a large Black round navigational rocker, between the top raised area of the"X" we have it filled in by a very nice shaped screen and triangular light display panel between the raised areas of the "X" at the bottom. The back of the device has "XLUM" printed towards the top then the bottom section has printed safety stamps and branding, we also have generous venting. On one side of the device we have a Black rectangular fire button that sits flush with the chassis, then up top we have a central 510 plate with Gold plated, spring loaded 510. Ergonomically it's fine and it looks to be built very well.
___________________________________________________________________
XLUM Tank Specs and Features:
Size: 28mm(D) x 39mm
Capacity: 4.5ml
Coil: NR Mesh Coil 0.18ohm Coil, NR8-OCC NiCr 0.2ohm Coil
Easy to disassemble for clean and maintenance
Compatible with R2-OCC/R8-OCC
Push-to-open top filling design
Thread: 510
Colour: Blue, Red, Rainbow, Silver Black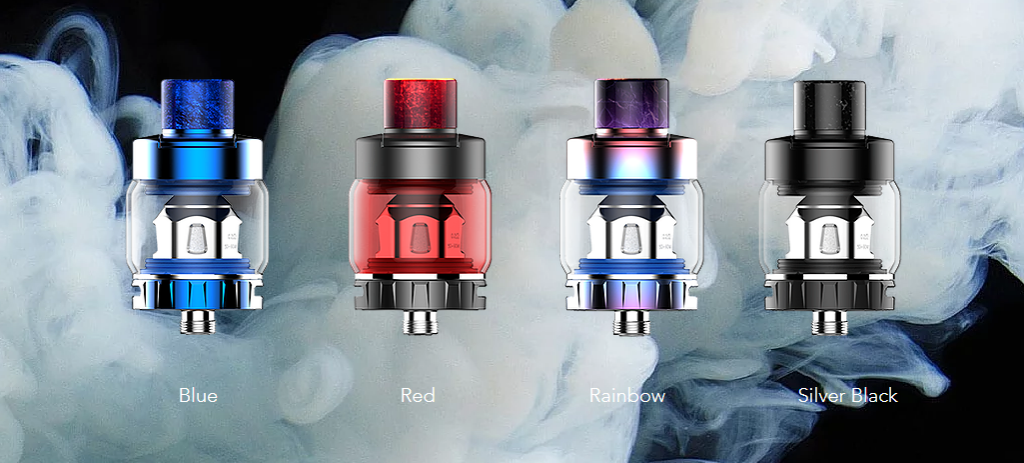 ___________________________________________________________________
XLUM Tank Overview
The XLUM Tank is a wide but short 28mm in diameter tank with bubble glass taking it's girth to 30mm. It looks quite nice from any sort of distance but on closer inspection looks a bit cheap. Looking at Kangertech's website the XLUM Tank is a sophisticated great performing tank but i disagree strongly. It comprises of a very cheap looking drip-tip, top section with slide open top-fill, base section and glass. The coil gets screwed into the base and the top of the coil screws onto the air pipe which is what holds the tank together. The top-fill at first glance looks alright, just the central section pushes back on rails revealing a nice sized fill slot but this central section when slid open feels very flimsy and rattles like crazy, i also don't have much confidence in how it secures back into place. The XLUM Tank comes with 2 coils the NR Kanthal Mesh 0.18 coil which is rated between 20-80w and the NR8 – OCC Nichrome 0.2 coil which is rated between 50-90w. We tend to get really good tanks included with kits these days but in my opinion before even using the XLUM Tank it's back to a kit tank and not a very good one, it's capacity is 4.5ml.
___________________________________________________________________
XLUM Specs and Features:
Size: 86 x 48 x 30mm
Power Wattage: 10W – 200W
Output Voltage: 0.0V – 8.0V
Battery: Dual 18650 Batteries(Not included)
Display: TFT Display
Thread: 510 Thread
Coil Resistance: 0.05ohm – 3.0ohm
Output Modes: Power Mode/TC- Ni / TC-Ti / TC-SS
Temperature Control Range: 100℃ – 315℃ / 200ºF – 600ºF
Charging: Micro-USB, DC 5V/2A(Max)
Powerful TC MOD with bouncing colourful lights
200W Max output by Dual 18650 cells
High performance TC/VW modes with advanced chip
Full-information OLED dashboard
Easy side fire button & magnetic battery cover
Colours: Red, Space Grey, Rainbow, Silver Black, Blue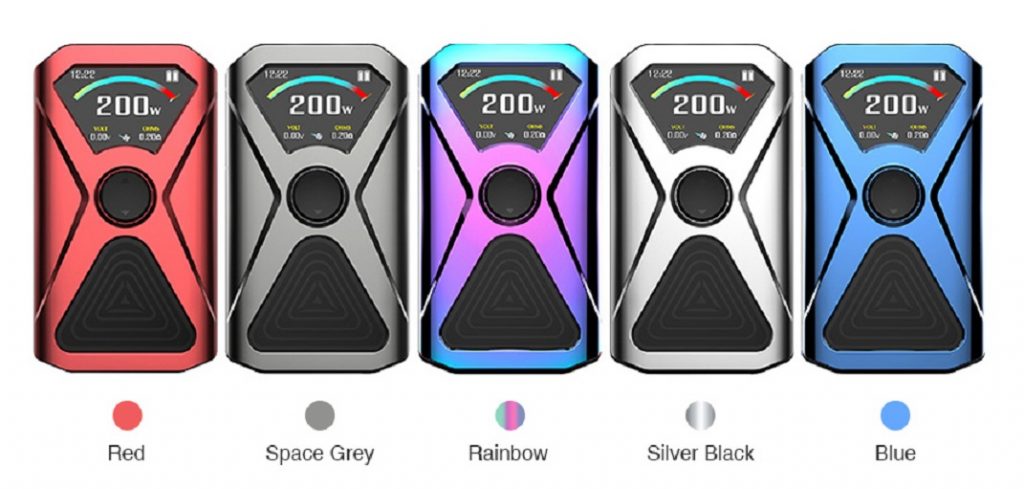 ___________________________________________________________________
Issues Addressed Or Not?
I will leave the tank until the performance section but lets have a look at the issues Kangertech said they would fix before release. First the delay, i don't know if it was a dodgy device, made up or a genuine issue as i only saw one review where an issue was made about the delay and a full second delay was claimed. I mainly have been using the XLUM with the Zeus X RTA with a dual build and although i don't have access to data their is no noticeable delay whatsoever so either a dodgy device or Kangertech have fixed this issue. The other main issue was the hardware and software information screen coming up often when trying to access the menu and this has definitely been fixed as i haven't even seen that screen. So at least that's the device sorted, wait can you believe it? Before going into the device i first popped the XLUM tank on top to give it a go to see if it was worth persisting with and assume it was asking me if it was a new or old coil and only because that is the norm not because i am fluent in Chinese, yep the whole device was set to Chinese. So it took me ten minutes going through the Chinese menu system until eventually i was able to set the language to English. In some ways it's very minor and has nothing to do with the device's performance but unless a product is for a different language market only it should be set to English, not because i'm English but sorry if i upsets some people English is recognised as the International language.
___________________________________________________________________
Fitting The Batteries
The Xlum (getting fed up of hitting the caps key) accommodates dual 18650 batteries and is accessed by removing the back panel. The battery compartment is very neat and has the same rubber type finish has the chassis of the device. As usual orientation is Black on Black so not easily visible but i do like how the panel fits in place. At the base of the compartment there is a little slot and a raised tab, you need to place the panel in place bottom first interlocking into place before allowing the top of the panel to snap shut where it is secured with a strong magnet. This panel is going nowhere, no movement whatsoever, great job!
___________________________________________________________________
The Display
The Xlum has a full colour display which is one of the best i have come across. The screen is an unusual shape more akin to a car dashboard display. All the important information is displayed but it's very well laid out and very uncluttered. Top left we have the time and top right the 2 battery status bars, then underneath these we have a long curved gauge with a marker that moves along the gauge as you alter wattage or temperature. In the centre of the display we have the wattage or temperature and mode, bottom left is the voltage and bottom right the resistance. Finally central bottom we have a little dial which is time vaped, it moves as you vape. When the screen timeouts we have a screensaver that comes on for about 10 seconds, there is a choice of 3 and in my opinion are all graphically superb more to what you would expect on a computer screen, you can set which one you prefer in the flash settings.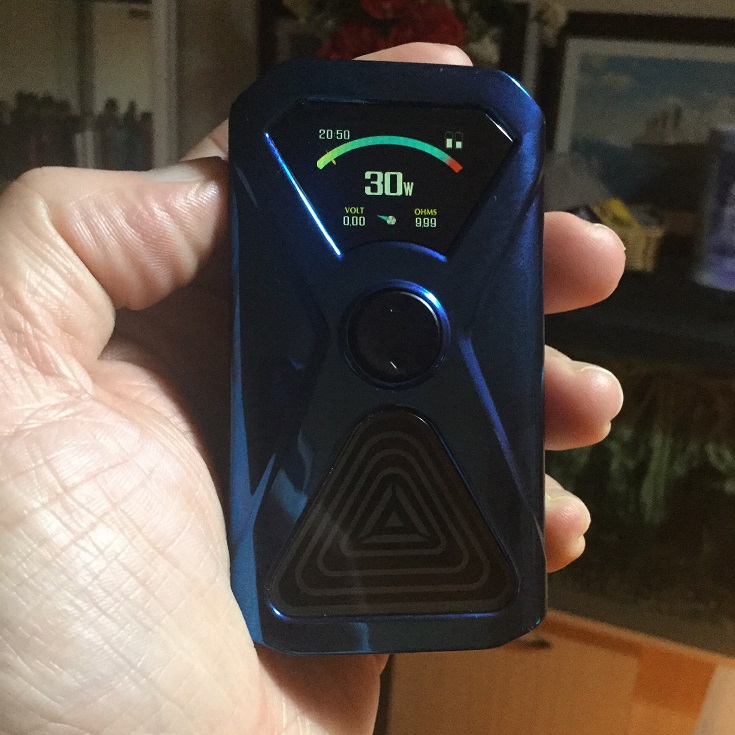 ___________________________________________________________________
Navigating The XLUM
The XLUM is the usual 5 clicks of the fire button to turn on and 5 clicks to turn off and when the device is first turned on you are greeted with a 5 second light display which i don't mind at all but it won't be everyone's cup of tea. Once on and assuming it is now set to English the device is very simple to navigate with a nice app style menu system. Changing modes is easy it's just 3 clicks of the fire button, with each 3 clicks it moves to the next mode. We have wattage, temp Ni, temp Ti, temp SS and back to wattage. Pressing the round navigational rocker in the centre so both up and down are activated together locks and unlocks the the device, when locked the device still fires. To enter the menu system is up and fire together which brings up a screen with four icons, if you keep scrolling through it brings up a second screen with another 4 icons. Not that it matters but exit is the last icon on the first screen as if screen 1 and 2 are the wrong way round, but it really doesn't make any difference. First we have Light Switch (this is where you can set the LED's on or off), next is Light Control (this is where you can customise the LED's), then we have Powersave (This is stealth, setting on turns the screen off) and finally on the first screen we have Exit which takes you back to the main screen. On the second screen we have Clock (set the time), Brightness (adjust brightness), then Language (choose between Chinese or English) and finally Flash which as already mentioned is the rather good screensavers. That's it, very simple with the only issue for me personally is when you adjust something it goes back to the settings screen rather than the main screen, so once in the menu the only way of getting back to the main screen is scrolling through and selecting Exit. I can't see anyway of adjusting wattage or locking the resistance for temp control which might be a big issue for temp control users.
___________________________________________________________________
My Main Con
I do have a big con but could be quite personal to me and nothing to do with the performance of the device. The fire button i like, it feels nice when clicking and performs well so no issues there. Also the large round up/down rocker on the face of the device works great no issues whatsoever and when walking about or just had the device in my hand a while i vape away quite happily. But the times i first pick up the device and press the navigation rocker as the fire button, almost always. The problem i have is the navigational button looks just like a fire button and protrudes nicely rather than the fire button which sits absolutely flush with the device and is the same colour as the chassis. Quite often i press it 3 or four times wondering why it's not firing before my brain half kicks into gear, i say half because i then take a vape using the actual fire button forgetting what the navigational button was for. I tried the XLUM with 3 different atty's at 30w, 40w and 70w and vaping any of these at 120w, 130w or even 160w is not a pleasant experience.
___________________________________________________________________
My Experience With The XLUM
I will get the tank out the way, only my opinion but i have to say it as it is, i found it garbage! I only used it for 5 minutes and nothing wrong with the flavour but it's the loudest tank i have ever used and i would of persisted a bit longer but it gets uncomfortably hot very quickly, no thanks! With issue's resolved i like the XLUM, it fires instantly and when i remember which it is the fire button feels nice and has a nice click. I don't vape in temp control but i would imagine not being able to set wattage or lock in resistance means temp control users would not be looking at the XLUM with any enthusiasm. I don't have access to data so whether it can hit 200w with dual 18650's i wouldn't know but it certainly seemed to be accurate at the wattage's i vaped at. I'm in the LED fan camp (yes i'm the one) and i do like them on the XLUM they are quite jazzy and of course you can always turn them off if you don't like them. Even though i like LED's the option of having the choice is important so it's a con that even if they are set off you still get the light show when the device is first turned on. The display i like a lot, as well as the app style menu system and screensavers. The device for a very boxed shaped device feels good in the hand possibly due to although the device is quite deep it's not too wide and the rubber like texture of the chassis feels very comfortable. With a 30mm atty their is the slightest of overhang but in my opinion still looks good so you can get some large atty's on the XLUM. Although i wouldn't charge your batteries in the device unless it was your only option it does support 2A charging and is firmware upgradeable. The only other thing i can think to mention is there is no curves feature which is a feature i like and no pre-heat settings.
Great RTA On Top
___________________________________________________________________
Conclusion
I'm sure even i would in time get out of the habit of trying to fire the device with the navigational button and if it comes set to Chinese once you set it to English job done. So if you don't mind a light display when the device is first switched on then the XLUM is a nice device that's simple to navigate and performed well in wattage mode. Unless you really dislike someone you have in mind to give the tank to i wouldn't bother with the kit but go for the device on it's own.
Likes
Built very well
Aesthetically pleasing (objective)
Rubber like feeling chassis
Good colour options
Very good battery panel design
Love both shape of screen and display
App style menu
Very easy to navigate
Nice LED's (objective)
LED's can be customised
LED's have off option
Fired instantly
Nice feel to fire button
Nice large navigational rocker
Performed well in wattage mode
Temp control (not tested)
2A charging (if you have no other option)
Firmware upgradeable
Cons
Kept mistaking the navigation rocker for the fire button (others may not have that issue)
It came set to Chinese so needed to spend some time working out how to set it to English
Can't set wattage or lock in resistance in temp control
No curves or pre-heat settings
Need to scroll all the way to Exit and select to exit menu system
Even with LED's set off you still get light display when device is turned on
XLUM Tank is the loudest tank i have ever used
XLUM Tank got too hot very quickly
Slide top fill section flimsy and rattles, doesn't secure well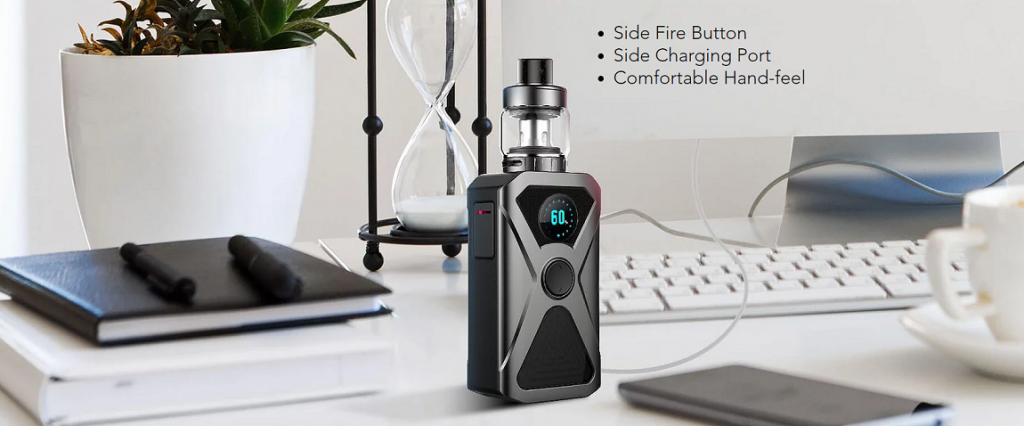 I would once again like to thank Cortana from the Heathcabin for supplying the Kangertech XLUM 200W TC Kit for the purpose of this review.