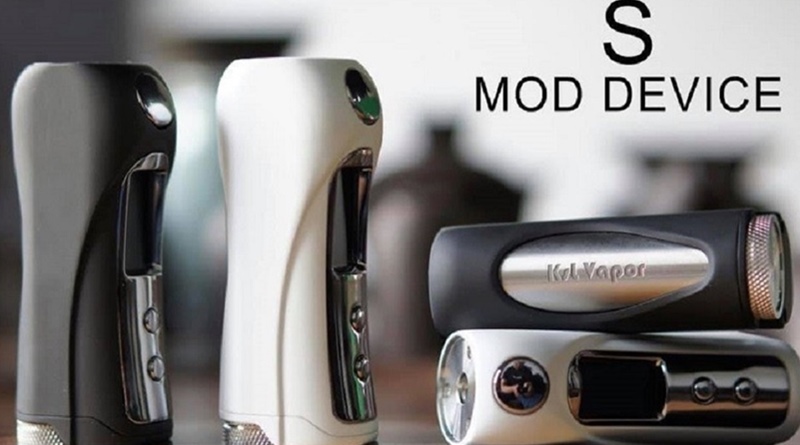 In this review i take a look at the S Mod from Kslvapor. The Ksl S Mod was supplied for the purpose of this review by the Healthcabin.
Introduction
Kslvapor only came to my attention about a year ago but have been releasing vaping products for a few years. The Japanese company manufacture their products out of China but have mainly marketed their products in France and Japan under the brand Vethos Design.
The S Mod is a single 18650 device with a top output of 80W, as well as Variable Wattage it also features TC and Bypass modes. With it's luxurious feel and ergonomic form factor which is as much pleasing aesthetically as in it's ergonomic credentials the S Mod is going to tempt many single battery device users, let's give this little gem a look!
1pc KSL S Mod
1pc USB cable
1pc User manual
1pc Warranty card
Size: 87x 40x 28mm
Weight: 135g
Output Power: 80W (Max)
Display current: 25 mA
Voltage Input: 3.2 - 4.2V
Output Voltage: 0 - 7.5V
Efficiency: 94%
Charging: Micro USB port 5V/1A
Firmware Upgrade: Supported
Screen: OLED display screen
Resistance range: 0.1-2.5ohm
Modes: VW / TC and Bypass modes
Material: Stainless steel / Zinc alloy
Battery: Single 18650 battery (Excluded)
Powered by the advanced KSL V2.0 chipset
Durable metal construction with ergonomic design
Supports VW, TC and Bypass modes with 0.1s fire speed
Thread: 510
Colours: Black, White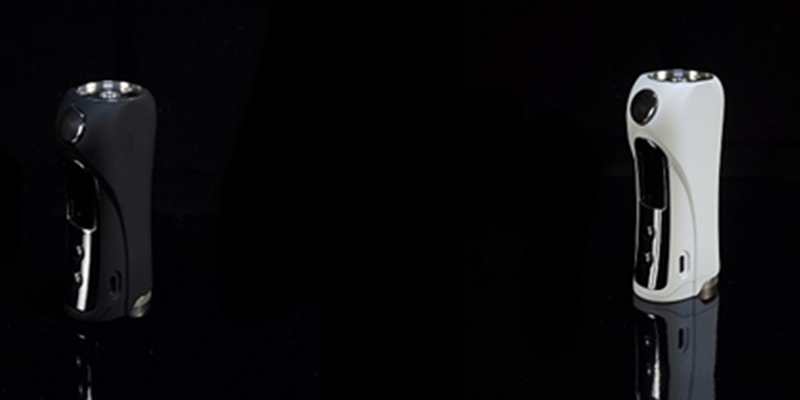 Aesthetics and Ergonomics
The S Mod is packaged in a simple but sturdy cardboard box and on opening we have the S Mod with it's beautiful ergonomic shape displayed in the top layer and everything else that's included below. I received the White version for the purpose of this review but have both had and used regularly the Black version over the last few months, Black and White are the only options!
The curvy form factor and fire button position makes the S Mod just about perfect ergonomically and it's shape is also very pleasing to the eye. The construction is Zinc Alloy and Stainless Steel but has some form of coated finish which is like a hard compound rubber paint which is proving to be very durable while also giving nice hand feel. The Chromed fire button barely protrudes but is nice and large and positioned on an angle making the device equally comfortable to use firing with finger or thumb in either hand.
As well as the chromed fire button on the top angle of the face we have a chromed panel below accommodating a set back screen like an old arcade game machine followed by two protruding round navigational buttons lined up vertically.
On one side towards the front low down we have the micro USB port and the spine has the exposed battery tube with "Ksl Vapor" nicely engraved on the vertical. On the base we have a screw on battery cap with heavy knurled perimeter and both safety marks and branding on it's base. Moving up top we have a sunken 24mm 510 plate with spring loaded 510! Personally for it's price point i am finding the S Mod has both excellent build quality and is just about perfect ergonomically!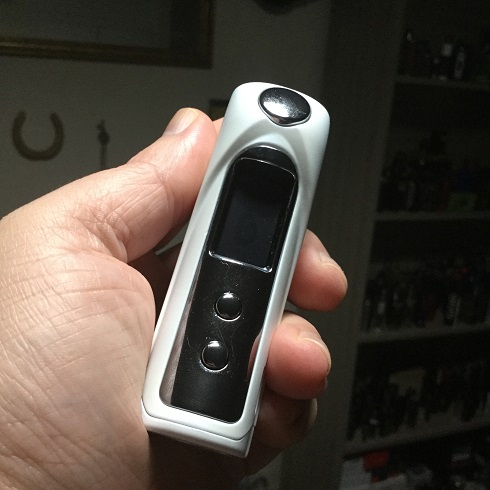 Fitting The Battery
The S Mod accommodates a single 18650 battery which is fitted via the bottom of the device. We have a screw on battery cap much like you would see on a Pico for example but just screwed on the bottom rather than top. We have heavy knurling around the perimeter of the cap for a good grip and on the underside negative is clearly marked in Black on the Stainless so no issues there! The threads catch easy enough but as i am going to be petty to actually find any cons for this device while screwing the cap on the threading does feel slightly on the crunchie side but i have known far worse!
The Display
The display is very bright although that can be adjusted and it reminds me very much of an Old School digital display, everything is easy to read, we have all the information required but the layout is quite crude but it kind of adds to it's charm.
The screen is set-back and as mentioned it reminds me of one of those big game machines found in arcades in that regard and the Chromed finish surround really sets it off. This however does give the issue of the surround acting as a mirror so we get reflection from the display which will be little or nothing to many but will really bug others!
Top central we have the mode within a rectangular frame and then below with a left orientation (not helping with the reflecting off the Chrome) the Wattage, when in temp control we then have temperature again with a left orientation underneath the wattage.
Next to the left it says "VOLT" then underneath, central is the Voltage displayed. Below we have the resistance to the left and vape duration to the right and finally at the bottom an elongated battery status bar!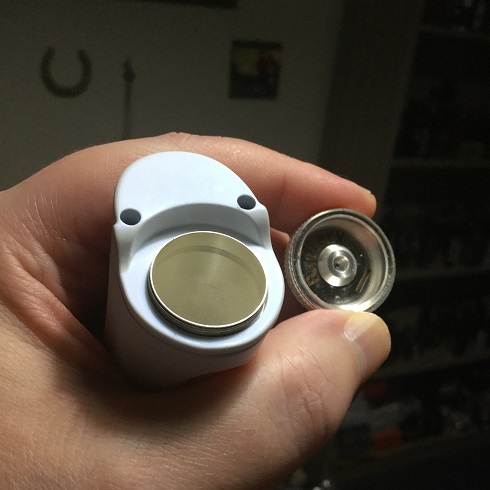 The S Mod is the usual 5 clicks of the fire button to power on but you need to enter the menu system to power down. Once on both navigational buttons clicked together locks and unlocks the device and when locked the device will still fire.
3 clicks of the fire button highlights the mode and then we can scroll through the options using the navigational buttons with fire being select. I particularly like how the screen changes from mode to mode as it's like a "Powerpoint" slideshow the way the previous screen fades out and the new one appears (i find myself just changing modes for the effect (simple things please simple minds!!!!!!))!
The modes are Power, Ti, SS316, SS317, Ni200 and Mech (bypass), when using TC instead of locking the device both navigational buttons pressed together highlights the Wattage so it can be set up to 60W for temp control and down and fire together allows you to set and lock the resistance. The wattage adjusts in point 1 increments from 5W to 80W but switches to 1W increments when the button is held down, it doesn't round robin but does scroll at an extremely fast speed!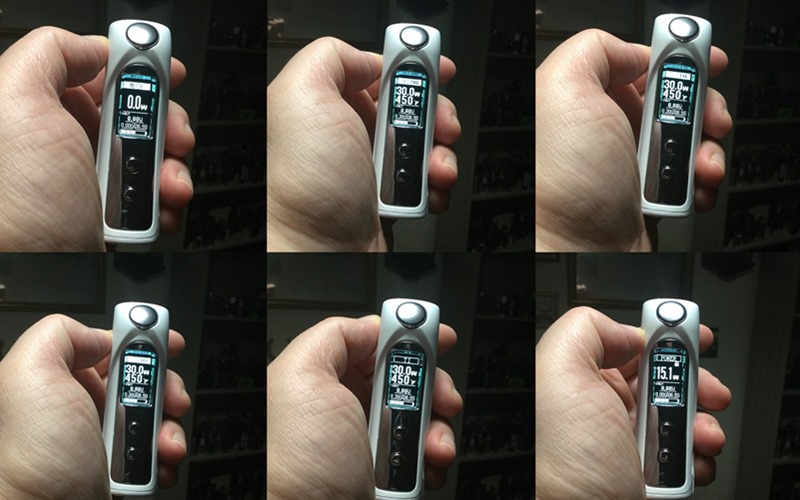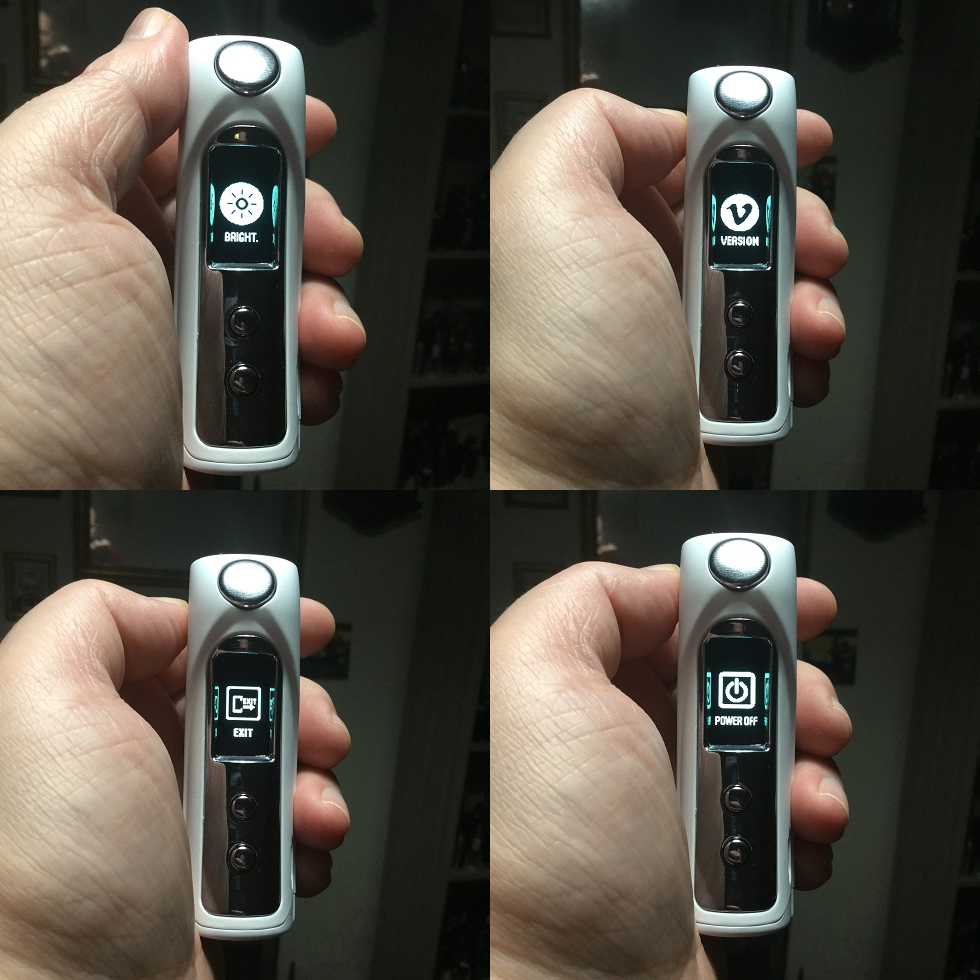 We also have a mini menu which is 5 clicks of the fire button to enter, this gives various large icons which again can be scrolled through "Powerpoint" style using the navigational buttons. The icons represent, Brightness, Version, Exit and Power Off. I love how the device is navigated apart from i wish powering off was the usual 5 clicks and not in the mini menu and the menu then could be accessed with up and fire together but apart from that no complaints!
Protections
Short Circuit Protection
Reverse Polarity Protection
High Voltage Protection
Low Voltage Protection
Low Resistance Protection
High Resistance Protection
Overheating Protection
Over 10s Vapetime Protection
Charging
As usual i go into Groundhog mode as i say "I don't recommend charging in the device unless it's your only option" but if you do we have 1A charging. No Type C USB which although for a device where most will charge externally i have to stay consistent in saying all devices now should be Type C so a rare con for the S Mod!
Performance and Thoughts!

I have had my Black S Mod for a while and it's been my go to mod for out and about ever since purchasing it. I have been impressed with the Ksl Proprietary chipset which has proved to be both 100% reliable and very efficient giving above average life for my single 18650 battery! It fires with zero detectable delay and hits set wattage instantly and when taking long vapes the power stays stable with none of this tapering off you can get with some devices, no complaints performance wise whatsoever. Also having this device a while before being sent a review unit gives me hindsight over the durability of the finish which after a lot of use is still pristine so again a big pro!

The device is just listed as a Zinc Alloy and Stainless Steel Construction but the paint definitely has a hardened rubber texture to it which gives it both a nice aesthetic look and great hand feel, also the face plate and buttons might be plastic with a Chromed finish but not sure on that because again the Chrome finish is impressively holding up to plenty of use so i now have my doubts!

I love the set-back screen, angled fire button, exposed battery tube with engraving and machined knurling on the battery cap. We have a sunken 510 plate which allows an atomizer to almost blend into the device giving it a much more organic look but the downside is 24mm is the limit although the depth is quite shallow so i have had no issues with atomizers with low bottom airflow in regard both performance or being able to adjust!

The only minor cons i have is no Type C, the threading on the battery cap being just slightly crunchie (but i am being harsh), needing to enter the menu to power down and more a subjective con to some but not me personally that refection of the display on the Chrome surround.

Some may say it should be a 21700 but i am more in the camp which feels there is a place for both single 18650 and 21700 devices and i find the size, weight and overall ergonomic form factor makes the S Mod as good as it gets for a comfortable out and about ergonomic device which would be brought into jeopardy with the increased size needed to accommodate a 21700. It takes up to 24mm atomizers so for me a MTL or single coil RDL atomizer is perfect for this where the added performance of a 21700 just isn't needed and the devices 94% efficiency will still give good battery life!

Finally to tie up the loose ends the device only has 1A max charging and doesn't support pass-through but does support firmware upgrades!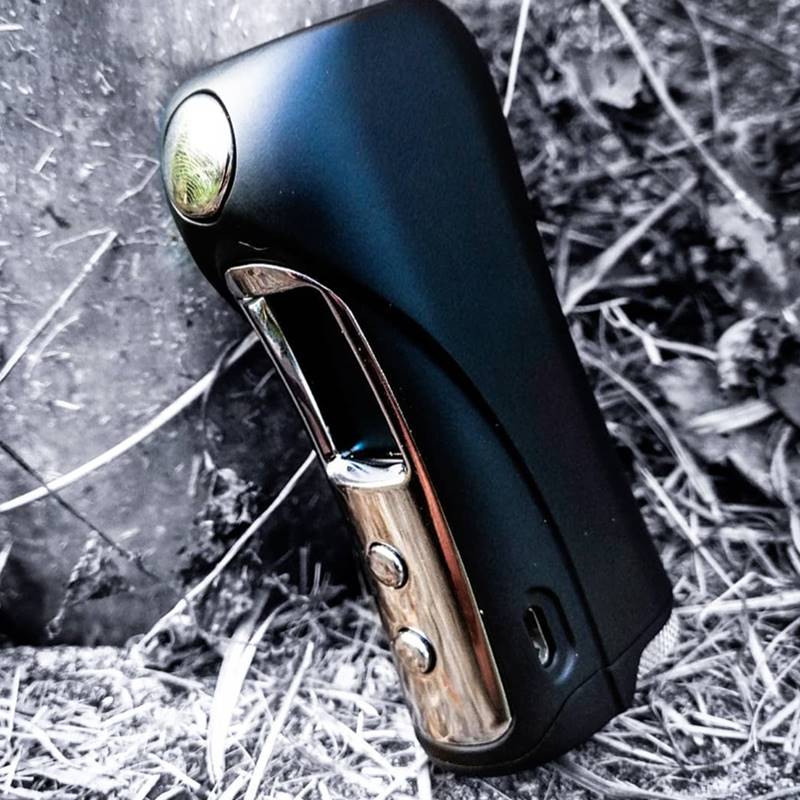 Likes
Excellent build quality
Ergonomically superb
Hard Rubber finish (proving to be durable)
Large Fire button on the slant
Equally comfortable to use as either finger or thumb firer in either hand
Zero issues over a period of time
Fires without delay hitting set wattage instantly
Screen set back, Bright, Old school digital display
Moves from screen to screen "Powerpoint slideshow style"
Battery tube nicely engraved
Clearly visible marked battery orientation
Easy to navigate
Power, Bypass (Mech). TC modes
Very efficient
Firmware Upgradeable
Cons
Threading on battery cap slightly crunchie (petty, really not that bad)
Reflection of display on Chrome surround (subjective con to some)
Can't accommodate atomizers over 24mm in diameter (MTL and most single coil RTA's etc will be fine)
Need to go into menu to power down
Not Type C USB
Doesn't support pass-through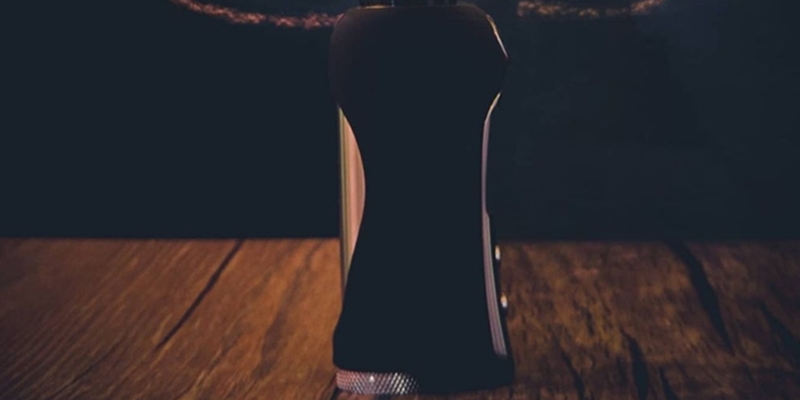 This amazing review was written by Tim from ECF, vapingunderground, vapingcommunity & reddit and other forums, click to view original review there with more photos.