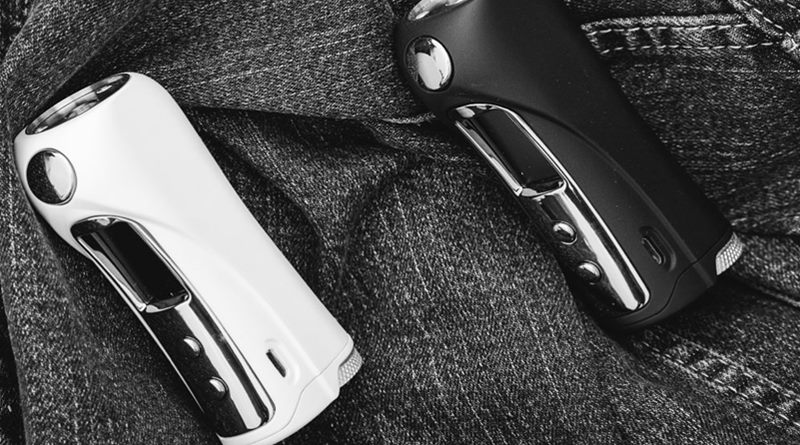 [Disclaimer: The following is an independent review of a sample device from Health Cabin and has no affiliation to POTV or any other media organisation.]
"Cor blimey" I thought to myself, "that's a bit of alright" "I fancy a bit of that", "I'll have one of those please!" and that was all it took.
Thanks to the generous people at Healthcabin recently adding me to their list of independent product testers, all I had to do was ask them for a sample item from their list, and write them a review for it in return – and I'm not even obligated to be nice about it!
Doesn't seem hardly fair, does it?
Getting a nice, new, beautiful KSL S 80w box mod simply in exchange for writing a small piece on it. Well, who's to argue? Not me that's for sure, and this was certainly an offer I couldn't refuse.
After a wait of what seemed a lifetime – but in reality only five days, I received the KSL S Box Mod all the way from Health Cabin in China and finally got my paws on it to have a good ol perusal.
I started by looking it all around, upside down, back to front, left and right, inside out and generally having a good old poke and prod, and then, after a good fifteen minutes, finally managing to put it down and settle myself in for a good old dig into all the technical data to see what it has to offer, finding all of the former and most of the latter very pleasing – if fairly standard.
Designed by Vethos in Japan, the KSL S Box mod is made by the 8 year old Chinese company KSL and measures in at a titchy 87 x 40 x 28mm.
As a tank-less mod, any talk of draw or flavour profiles is going to be irrelevant here, so we're stuck with talking purely about the aesthetics and numbers, but fortunately these things are all decently impressive.
The mod itself features the space-age KSL V2.0 chip-set and fires at 0.1 sec at a maximum of 80w, incrementing 0.1w at a time, and has all the modern functions such as TC, Bypass mode and settings for NI, TI & SS as you'd expect.
It's made from a lightweight Zinc alloy and stainless steel body, and weighs in at a minuscule 135g.
The gorgeous curves not only look the part, but they make the mod feel right at home in my dinky little digits and, along with the slightly rubberised coating, make it an extremely tactile and comfortable mod to hold.
It (unfortunately) features a slight roughness to the engraved logo down the spine – a dimmable OLED display and three firm, shiny, clicky buttons on the front. It also has some attractive knurling over the single 18650 battery cover to make it grippy and easy to thread.
The OLED screen and design of the display are bright and stylistically pleasing, with the battery life indicator and blue text illumination being particularly nice.
It's turned on by the standard five clicks but turned off by a mode option in the settings menu, and these can be locked by holding down the plus and minus button simultaneously. You can set your voltages and wire options up manually too.
It comes in an understated choice of just two colours – black or white, so if you want something more garish you're out of luck here, and the 510 connector will take any atomiser with a diameter of up to 24mm.
Unfortunately this sits in a slight recess though which prevents any larger atomisers being fitted, but it does look particularly good with the larger of the sizes, although a 22mm looks good too.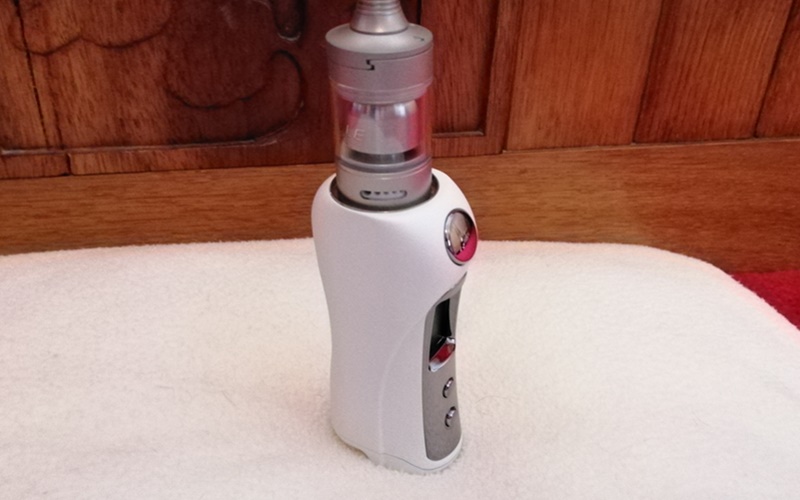 Charging is via flat micro USB cable which is included in the well padded box, along with a warranty card and an instruction manual written in English and French, and the mirror finish on the front panel and the brushed alloy spine are nice touches that don't attract too many fingerprints either.
All in all this is a nice little mod and one I'd happily show off and pay the $46.99 Health Cabin is charging for it too – but bear in mind that you can get another 30% off that price if you log in to the site, and new customers can get a further 10% off on top of that too, and for that I'd say it's an absolute bargain.
The last thing we need to discuss is what some other reviewers have said about this mod.
The stories to which I refer are the ones that centre around the – now seemingly unjust – claim that this mod supposedly 'hard shorts' its circuitry if you insert the battery the wrong way round.
Apparently this wasn't entirely without foundation early on either.
Apparently, there was an early batch of mods that had some teething troubles where 'hard shorting' could occur, but this has since been recognised and rectified in the subsequent batches.
The reviewers that got them just seem to have been unlucky and received their samples from the faulty early batch and not the updated final versions on sale now – and you can rest assured I've sought full confirmation of that!
I can't even offer any experience of mine getting hot, because mine has behaved impeccably and showed no signs of doing anything abnormal at all.
It didn't stop me panicking when I first heard about it though.
As soon as the issue emerged I immediately contacted Health Cabin and asked them about it – and to their credit they were back to me almost before I'd finished writing the initial email.
I didn't expect their response to be so comprehensive either.
They didn't even attempt to fob me off or say it's not their issue – or to tell me to take it up with the manufacturer, they just calmly took my fears on board and did everything in their power to concisely allay them one-by-one – and if this sounds like a bit of an advert for them, it probably is – but not one they're paying me for – nor is it me buttering them up for another review. I just happen to think the compassion and consideration they showed me in their response deserves it.
I'd been a customer of theirs long before this, but this time I was impressed by more than just their five day door-to-door delivery times, I was impressed by their human touch too, and that's something many more companies could learn from.
So, all in all, I've learnt two things from this test. The first is that I would definitely buy this mod despite all the scare stories. The second is that I will happily patronise Health Cabin for a long time to come, regardless of testing opportunities.
This is all just my own independent opinion though and your experience may be different. I am just one man and have no affiliation to Planet Of The Vapes or any other organisation.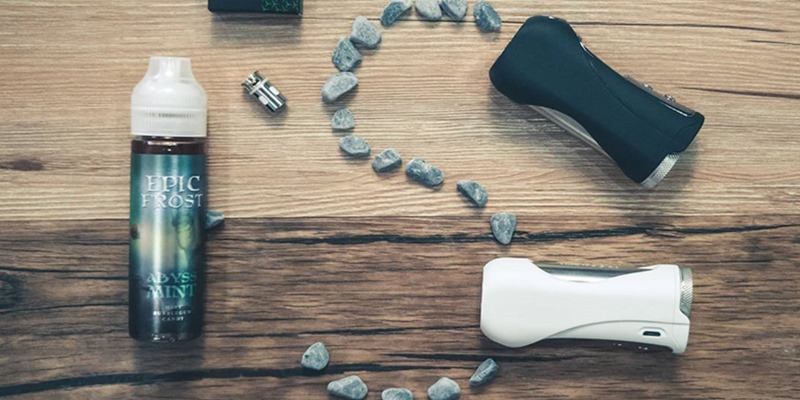 This review was written by Ryan from planetofthevapes, click to view original review there with more photos.