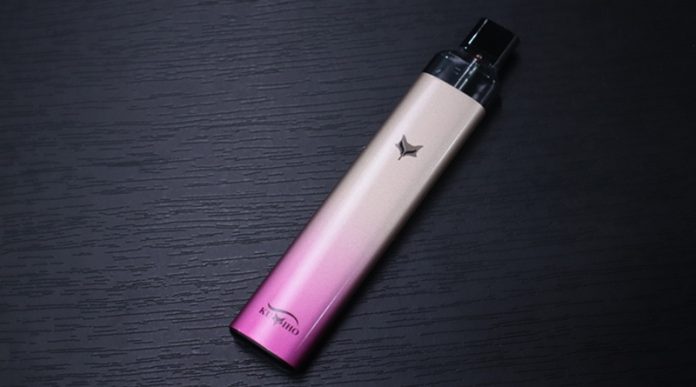 Healthcabin asked me to take a look at their latest offering from the Kumiho range, the Model V Pod system. This is available with both refillable pods and pre filled pods however it should be noted that the pre filled pods are currently only available with a non-TPD compliant 30mg nic salts (plus nic salts don't agree with me) so today I'll be concentrating on the starter kit and the refillable pods. So let's get started the kumiho model v review then.
Autodraw device with adjustable airflow
Power 11~18 watts
2ml PCTG refillable and pre-filled pods available
Resistance range 0.4~3.ohms
600mah internal battery / 0.75 amps charging via USB-C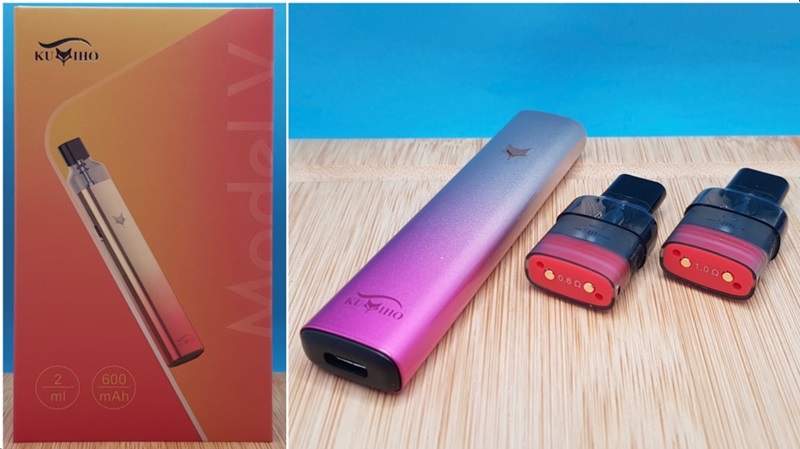 The Kumiho Model V Pod system comes in a range of colours and I was sent the "gold pink" version for review which wouldn't have been my first choice…. I'm not the bloody vaping Bogan! Having said that, it's not actually that offensive and I haven't drawn any strange looks whilst using this.
There are two pods included in the package, a 1.0ohm one for a tighter draw and a 0.6ohm one for a looser one which Healthcabin actually describe as a more restricted direct lung pod. There is also a brief instruction pamphlet and warranty card but no USB charging cable included in the box.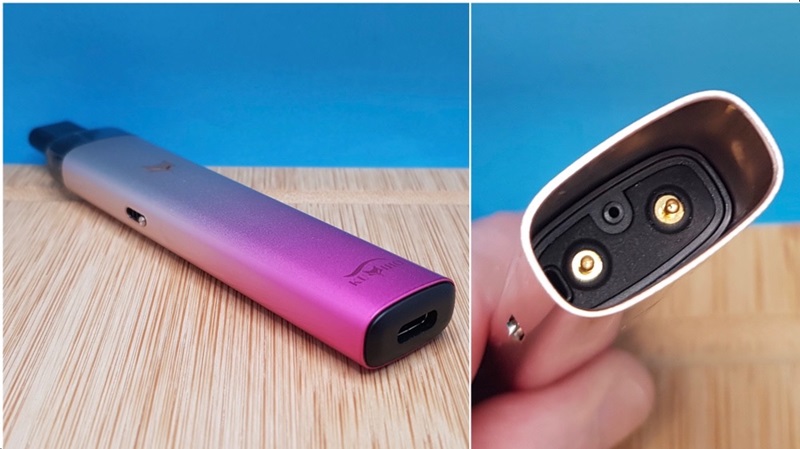 The Model V device itself is a fairly standard shape for a starter kit, consisting of a flattened aluminium alloy body with a pod up top and a USB-C charging port down at the base. All the corners are nicely rounded off which makes it comfortable to hold, sadly the base around the USB port is also rounded so you can't stand this upright. It's nice and lightweight as well, and is perfect for throwing into a shirt pocket.
The Model V is a purely draw activated pod system so there are no buttons in sight which makes it ideal for beginners as they don't need to learn any complicated menu settings, simply put some e-liquid in your pod and inhale after letting the pod soak for about five minutes, it really doesn't get any easier. I have found the auto draw feature to be perfectly reliable in use and was also pleasantly surprised to find that this actually has adjustable airflow via a small lever on one side which is very effective for once, allowing you to tailor the draw to your liking.
There are two bright LEDs in the Kumiho logo on one side to show your battery capacity. Unfortunately this only has two settings, white above 30% and red below this point, and you'll have very little vaping time left once it hits the red setting.
The Kumiho Model V has a claimed 0.75 amp charge rate via the USB-C port on the base with a quoted battery capacity of 600mAh. In my tests this actually hit a peak charge rate of 0.8 amps with a recorded capacity of about 545mAh achieved in one hour, sadly it's one of those kits that never drops completely down to zero amps when fully charged so I really wouldn't recommend leaving this charging unattended for long periods of time. Battery life seemed about average for this kind of starter kit, and if this is your only device you'll almost certainly need to top the battery up at some point during the day.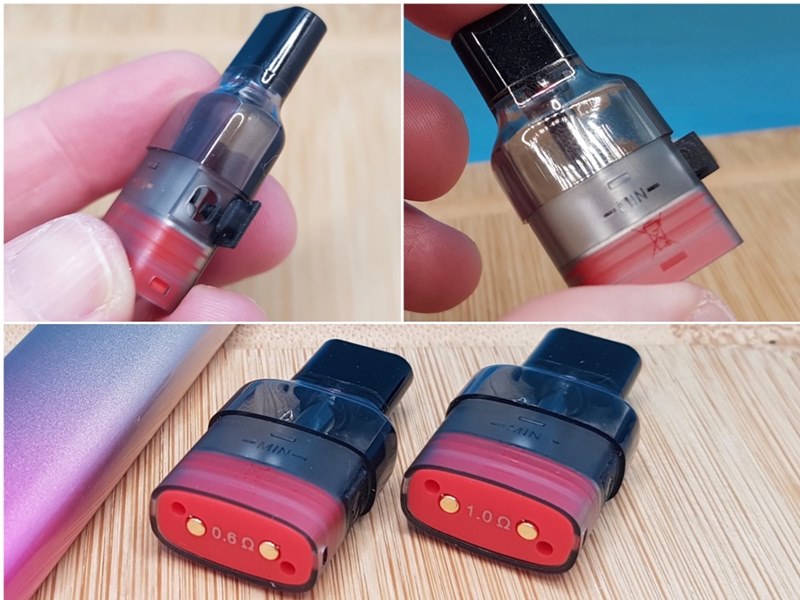 The pods are standard 2ml PCTG affairs, which are more than adequate for a mouth to lung starter kit, with the resistance clearly marked on the base, Healthcabin have assured me that these use kanthal coils as well so should be suitable if you're nickel sensitive like myself. Filling is done via a rubber bung on the side of the pods and these have been easy to fill, you get a satisfying vibration from the battery once you insert the pod to let you know it's made contact, but this particular feature seems under utilized otherwise (for low battery warnings and the like).
Healthcabin asked me to pay particular attention to the 0.6ohm pod as this has a rather unusual wicking arrangement with part of the wick poking out of the side of the coil to increase wicking capability on this particular pod, sadly this is difficult to photograph as this part of the pod is frosted. The rest of the pod is clear though so it's easy to see your e-liquid levels. This seems to work very well with a consistent, saturated, and flavourful vape. The adjustable airflow helped here as well. With two out of the three available airflow holes giving me a nice draw, it's a bit on the looser side like most modern mouth to lung vapes but this is my preferred style anyway so this has been perfect.
The 1.0ohm pod was slightly disappointing in comparison, flavour was still decent with one out of the three airflow holes open for a slightly tighter draw, but I did find that the coil was prone to flooding so I was constantly having to flick the pod to clear out the excess e-liquid. It did at least pass the shake test though as the pod remained firmly in place thanks to the two small lugs on the side of the pod which locked it firmly into the battery.
One aspect of the pods I am particularly fond of is the integrated drip tip, whilst this does initially look a little strange, it's much more comfortable to use than many standard starter kit pods.
There's a teeny bit of condensation build up with both pods so a regular clean up whilst you're filling the pod won't go amiss either.

Pros
Great flavour from the 0.6ohm pod
Inexpensive
Really comfortable drip tip
Cons
1.0ohm pod prone to flooding
Pre filled pods available but these aren't TPD compliant
Conclusion
A decent little starter kit, I particularly enjoyed the 0.6ohm pod and this would definitely be my pick of the two available refillable pods. It should be noted that both pods do have quite a pronounced throat hit which caught me by surprise a few times if that's something you prefer as well. I'm not sure how well the paint job will hold up to long term use as mine is showing a few dings in the finish after a couple of weeks use, but overall I'd give the Kumiho Model V Pod system a definite thumbs up.
Many thanks to Healthcabin for sending the Model V Pod system out for review.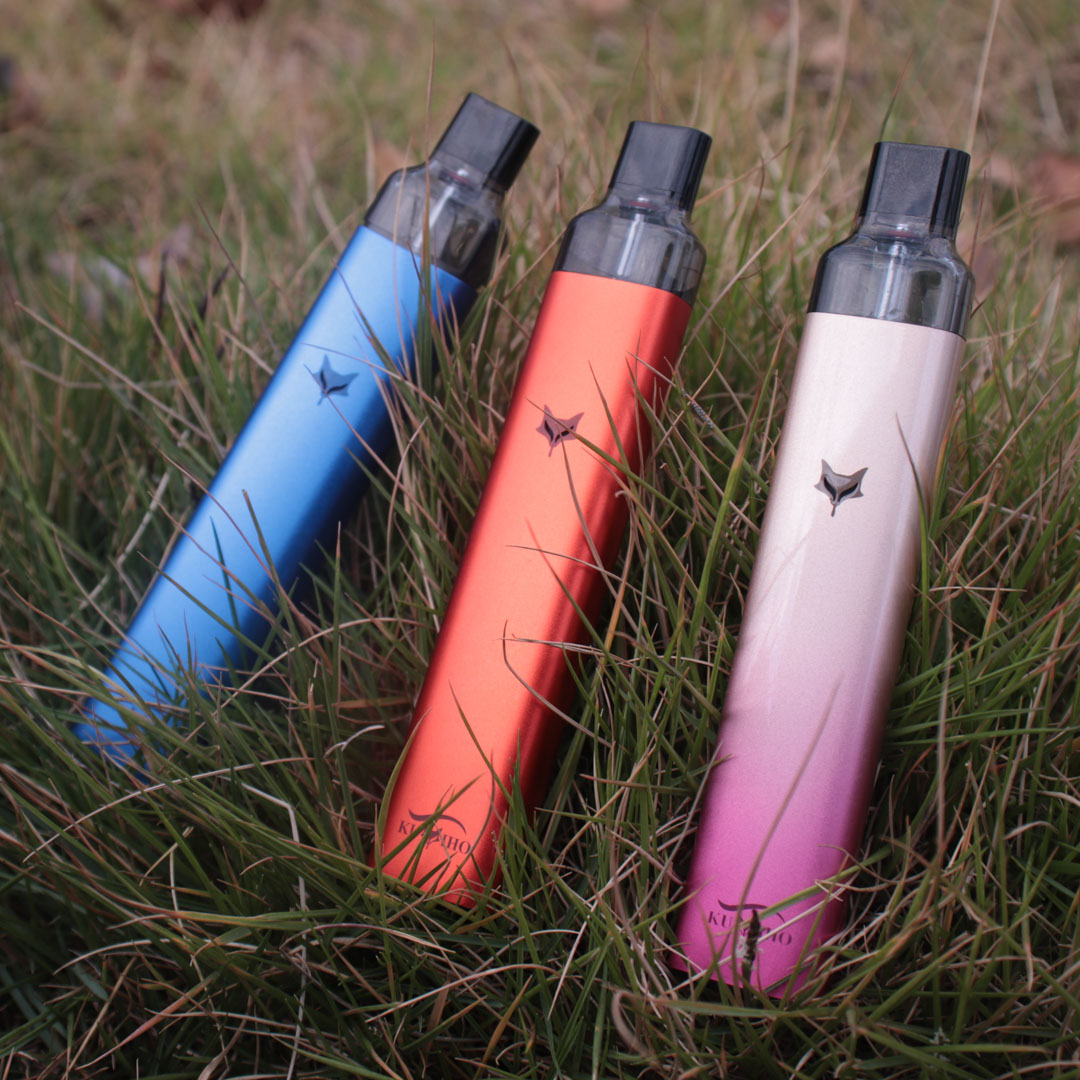 This review was written by Antony from POTV(Planet Of The Vapes), click to view original review.