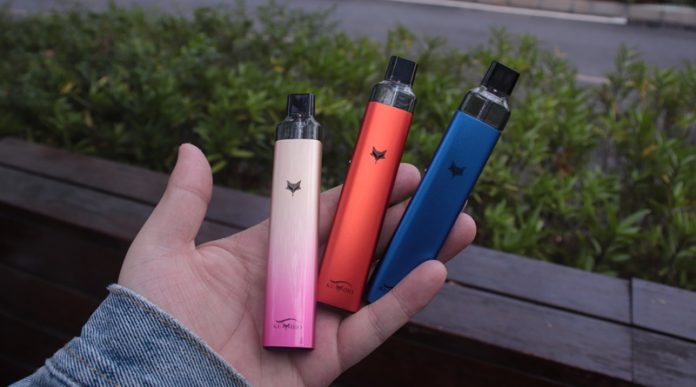 Hello once again and welcome to today's review of a new vape company's first offering of a Pod Kit that sports a 600mAh internal battery with a auto-draw only function, there is adjustable airflow utilizing a 3 slot system that can opened or closed down for your MTL vape style. Pods are 2ml and Kumiho also has pre-filled Pods of juice that can be purchased. There's a few other features with new device that I'll cover later in my review but first lets get started the Kumiho Model V review.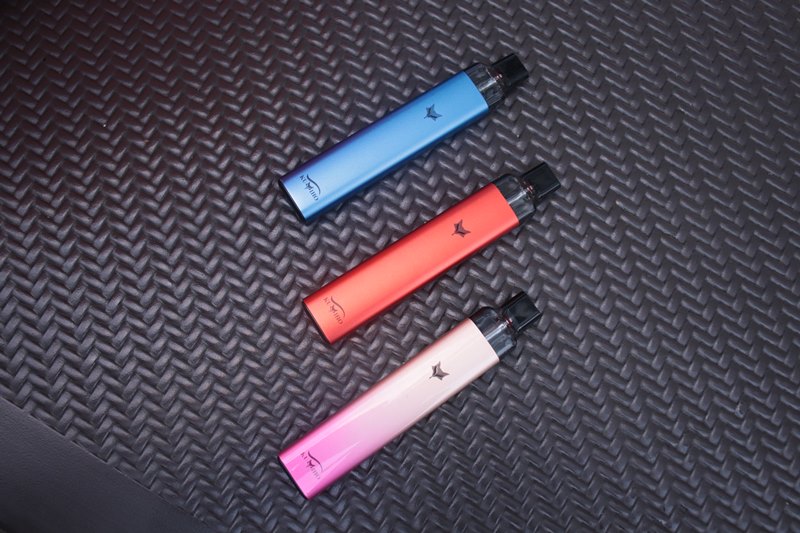 Materials: Aluminum Alloy, PCTG
Size: 119mm*22mm*11.5mm
Color: Black, Blue, Red, Gunmetal, Pink Gold
Battery capacity: 600mAh
Output wattage: 18W max
Pod capacity: 2ml
Pod resistance: Meshed 0.6ohm(14-18W), Dual Coil 1.0ohm(11-13W)
Internal 600mAh battery
2ml refillable empty transparent pods: 0.6ohm & 1.0ohm
Patented coil cotton design for 0.6ohm pod for quick eliquid transmission
Innovative vibration interaction when the pod connected
Super easy to use with auto draw
Adjustable airflow for accurate RDL & MTL vaping
Pre-filled pods are also available, sold separately
USB C charging port
Unboxing and first impressions
Packaging is very standard having a box inside a sleeve, opening reveals the device and 2 pods resting in their own spots in a plastic tray with your paper material of the user manual and warranty card inside a cardboard envelope, no charge cord is included in this kit.
The Model V is a very sleek and slender device that's also a featherweight because of it's aluminum construction. The paint finish is of a metallic look and looks very nice, there is a logo of a Fox on one of the sides with it's eyes illuminating 2 LED lights when vaping, charging or installing or removing a pod, you will also feel a vibration letting you know the pod is fully seated inside the device.
On one side of the device is the adjustable airflow control which consists of 3 slots that can be opened or closed down to tailor your MTL vape. The Type-c charge port is on the bottom of the device, no buttons on the Model V and it's auto-draw only.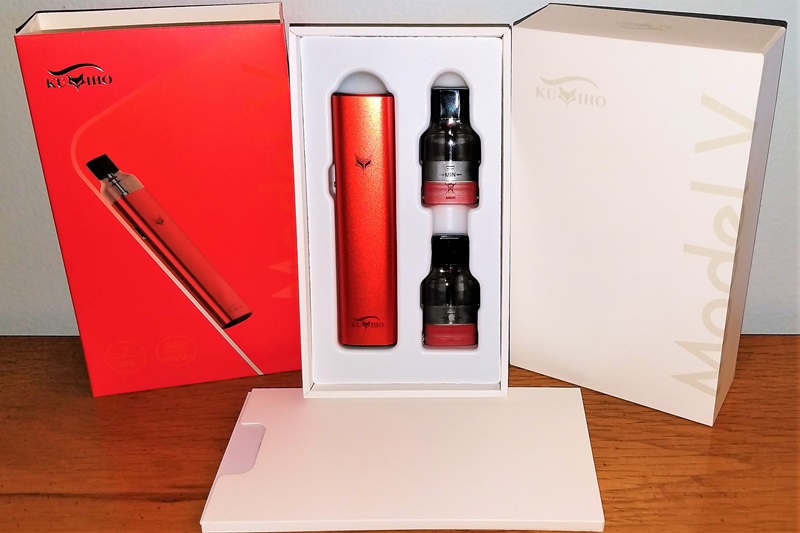 Having a look inside the device and the 2 pods included in the kit you can see the 2 gold contact pins and the airflow feeding intake hole as well as the air feed hole that supplies air to the pod. Both pods are clearly marked being 0.6Ω and 1.0Ω.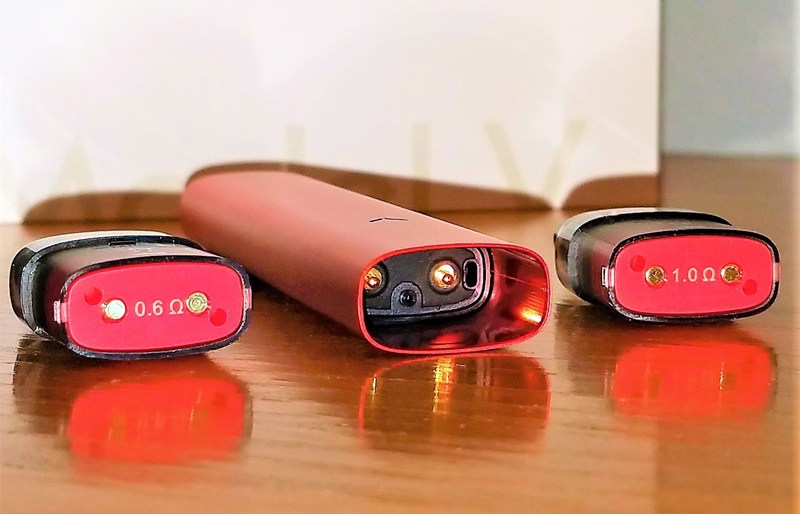 The placement of the charge port being on the bottom in this case works out better because of the rounded off corners for a comfortable feel in the hand but it makes the device prone to being tipped over easily, it can be stood upright but I suggest laying it down when not in use.
The pods have the standard fill method of a rubber plug, in this case the plug is on the side with a arrow pointing to the correct opening spot. The fill hole has a good sized opening and is wide enough to allow air to escape when filling preventing a messy fill up.
There is also a minimum fill level line on each of the pods. The mouthpiece is on the thin slender side not being bulky which is very comfortable to use. Being very lightly tinting make viewing your juice level a breeze.

On the face of the device is the logo of a Foxes face at the top and Kumiho branding at the bottom , the Foxes eyes have 2 tiny but very bright LED lights that when vaped, charged or when the pod is removed or inserted into the device light up with a white light until the battery reaches 30% at which point they change to a Red color, I suggest charging when they turn red because the battery has very little power left and depletes very quickly.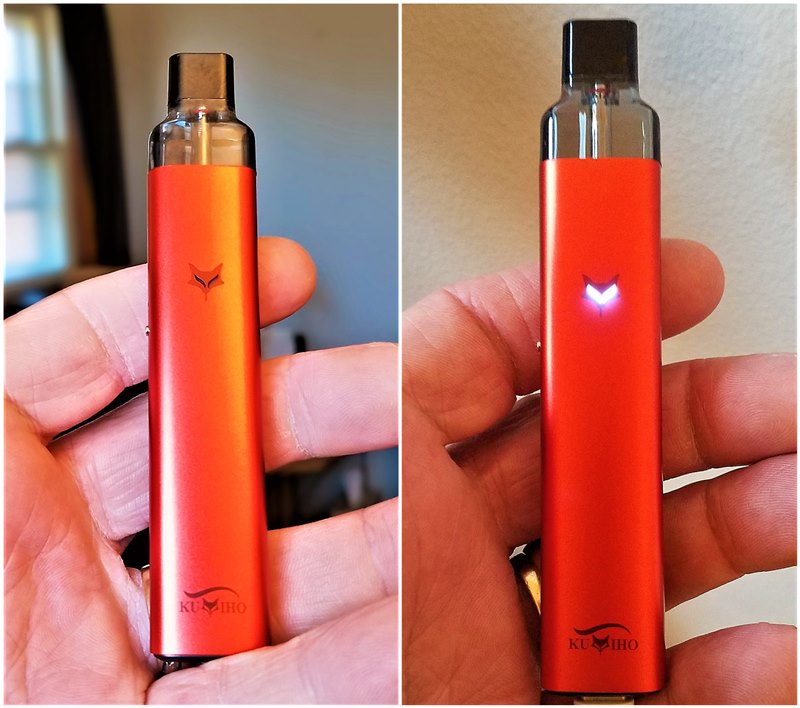 On the flipside of the device the Model V is branded at the bottom, paint finish is really done well and has sort of a metallic look. Having a longer than most mouthpieces while being thin works well with the Model V and a lightly tinted pod is a treat, juice viewing is easily done. The airflow control lever is barely visible and stays in place when adjusted.
The Kumiho Model V has adjustable airflow via 3 slots on one side that can be closed down to no airflow, when closed completely down some air still makes it way through making the vape somewhat tighter, fully open it's still a MTL vape only looser by a small margin. The airflow is smooth at any setting having no turbulence.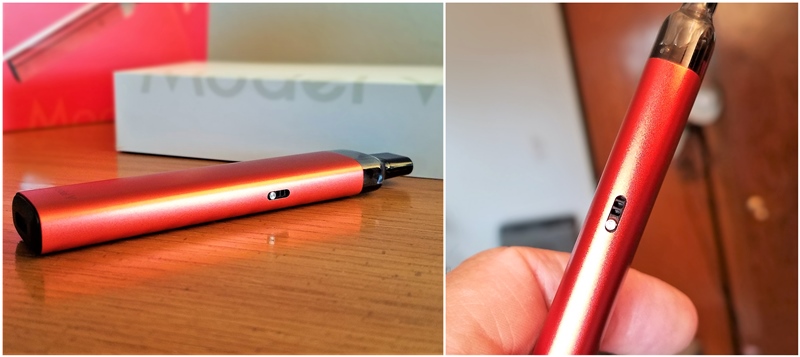 I have to tell you that I really did not think that the performance would be as good as it is and I will go out on a limb and say it's a great starter kit for a MTL Pod Kit. Flavor is pretty good and I've had no issues except some flooding with the 1.0Ω pod that a quick flick removing excess juice from the pod solved, it happened mainly after filling.
The 0.6Ω coil did not have this issue and the flavor seemed to be better and was more my style of vape. Again I have to say the little Fox surprised me in a good way.
Being as lightweight and as thin as it is makes it perfect for shirt pocket carry, compared to other devices that meet that task the Model V is much thinner and takes up less real estate while having a adjustable airflow control the other 2 devices pictured don't.
Pros
Lightweight
Good Flavor
Type – C
2 Pods In The Kit
Adjustable Airflow
Cons
No Charge Cord Included
0.1 Coil Floods At Times
Final impressions
I found that in the time of using the Model V the only issue to be found was the flooding of the 0.1Ω coil when freshly filled, airflow was smooth and on this device I used it with 1 airflow slot opened or I cut that 1 slot in half and liked it that way, as I mentioned already this would be a nice kit for a new MTL vaper and having the option of pre-filled pods is a nice bonus of the Model V. I would like to thank Sue and Healthcabin for providing the Model V for the purpose of this review. The Kumiho Model V can be purchased at Heathcabin using this link, remember to sign in first for 30% off.
This review was written by bigbob2322 – Bob from ECF, click to view original review there with more photos and more details.