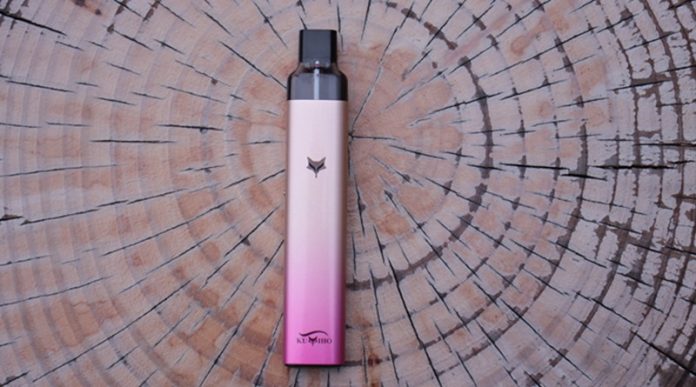 Disclaimer: This is an independent review of a vape device kindly provided to me by Healthcabin and is not associated with Planet Of The Vapes or any other organisation. The opinions here are purely my own and I am not receiving any payment or inducement for them. So let's get started the Kumiho Model V Review.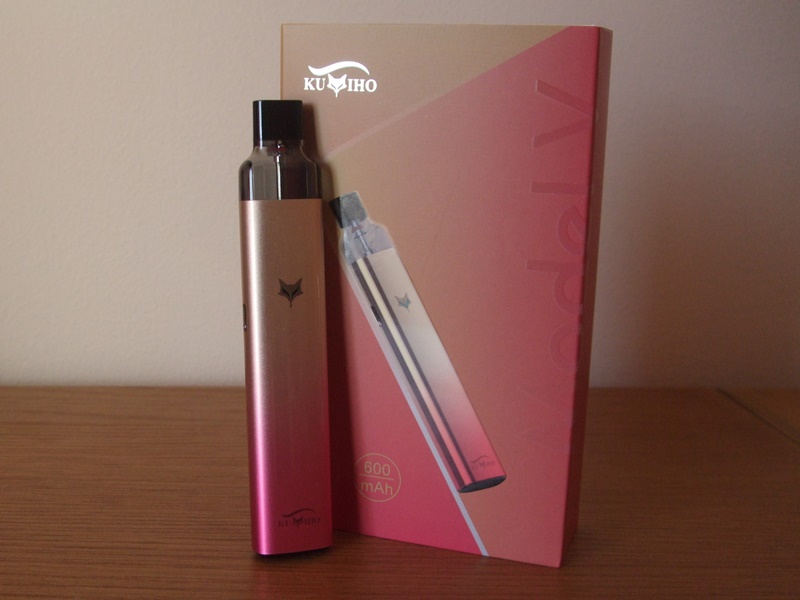 I know what you're thinking and you'd be wrong.
You're thinking the model-V is a Ford or a Tesla, aren't you?
Well it isn't. It's neither of those, it isn't even a car at all, it's a vape and it's from Kumiho.
Kuminho? Yes, Kumiho. They're a brand new vaping company out of China and this is their first release.
They're named after a mythical Korean nine-tailed fox and use the image of one as both their corporate logo and as an illuminating LED indicator on the front of the pod, and as debuts go it's really a rather good one.
Whilst it's rather basic it's all very nicely done. In fact, it's so nicely done it's actually hard to find anything to criticise.
You might say it's all very sensible.
It's nicely designed, nicely machined, stylish, functional and light-weight.
It's auto-draw only and comes in a range of five metallised colours.

The only unusual thing about it is the fact that it vibrates when you insert the pods so that you know they're seated correctly.
It's so simple it doesn't even have a power button. It really is just a case of 'suck it and see'.This really is the most basic of devices.
All you have to do is insert your pod, adjust your airflow and you're good to go.
You even have the option to buy pre-filled pods if you want to, so you don't even have to encounter any mess.
If you do that, you'll get flavours like ice mango, ice watermelon, mung bean, Assam milk tea, ice blueberry lemonade, ice banana apple, passion fruit, banana ice lolly, ice coke and Fanta, but personally I prefer to use my own, and if you want to use the standard pods like me then you've got the choice of two integrated coil affairs – a (14 -18w) 0.6ohm mesh and a (11 – 13w) 1.0ohm dual.
Both will handle all your juices perfectly and they're both equally fine with nicotine salts and freebase.
I liked the warmer 0.6ohm one the best but the 1.0ohm one was almost as good.
While they're all only 2ml, even the rubber bunged, integrated coil, side-filling empty ones don't cause any mess.
Vape wise it's all very tidy too. The auto-draw works well and the adjustable airflow slider situated on the side of the mod is effective.
You can dial this in from various shades of MTL to DL and you should find a draw to suit your preference.
The warmths, flavour and vapour production are all pleasantly sufficient and only the lack of any wattage adjustment lets it down any.
You even get a nice little illuminating fox logo on the front too that stays lit for five seconds when you take a draw.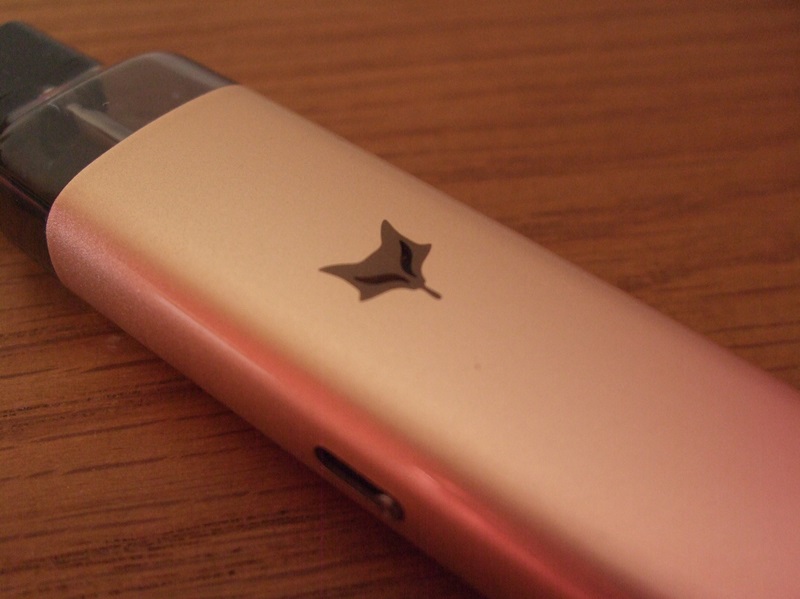 All of the colour options are nice. The black, red, blue, gunmetal and pink/gold all look really rather snazzy and at just 119 x 22 x 11.5mm the elongated aluminium-alloy body fits snugly in the hand.
It's certainly rather elegant.
Only the airflow slider on the side and the USB type-C charging port for the 600mah battery on the bottom provide any texture or features, and even the branding is minimal.
The pod's half in, half out design means you don't have a complete window on to your juice level though, but the mouthpiece is nicely shaped, in an elongated Wenax style, and contours pleasingly to the lips.
It also uses a patented exposed cotton feature on 0.6ohm coil to help you see your liquid level a little better and get the juice into the wicking faster.

At 600mah the battery might be a little small, but it's fairly standard for a device like this and it'll last light users most of the day or see you through a good night out.
You better have your own charging cable though because you don't get one in the box. The only things you get in there are your device, the two pods and the instruction manual. It really is rather sparse.
Kuminho appear to have taken their minimalism to the extreme.

It's increasingly common for manufacturers to omit something though to save on costs but it's usually the spare pod. It's quite uncommon for it to be the cable.
Having said that, I approve of them doing it this way though as most people have plenty of cables these days and the spare pod allows you to experience both resistances of coil or account for any mishaps, and it's target audience of beginners and vaping converts are more likely to have them.
For the more experienced of us though this little kit might not pull up any trees but it fills it's gap in the market well.
Other than the waste caused by pre-filled pods it's really hard to fault.
The only gripes I have with it are par for the course as it was never intended for users like me, but for those of whom it was intended, it's a well thought out, well made, lightweight, functional, practical and aesthetically pleasing little device that'll serve its market well.
If you'd like one you can get one from Healthcabin for the price of $24.99. You can also get 30% off just for signing in and a further 10% for being a new customer.
Healthcabin is also one of the biggest vape wholesale distributors in China. If you're a vape business owner, just contact them to get competitive wholesale prices.