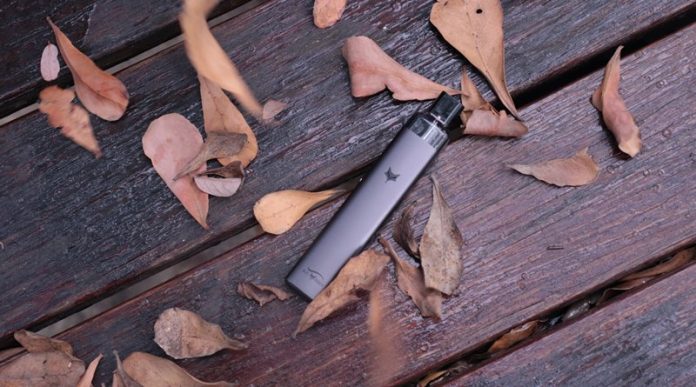 Welcome back with another Z-Lee review. Today we have the Kumiho Model V Mini-Pod Kit we're going to be taking a deeper look at. It's really a "Pod Kit", but these smaller devices have kind of pushed out the larger "Pod Kits" into a realm of the unknown. Pod devices like the Innokin Sceptre Tube, VooPoo Doric, and Uwell Havok V1 are still pod kits to me because they use proprietary pods, but apparently other people think differently. Therefore, I'm deeming smaller devices such as this Model V as a Mini-Pod device – they are quite mini. It's the same general size as the Innokin MVP Pod Kit, Surge Pod Kit, Freemax Onnix 2 Pod Kit, and a plethora of other similar mini-pod devices like the Vaporesso Xros, Caliburn A2/G2, etc. The drip tip or mouth piece is quite a bit thinner than most however, and I really like that. I'll show some comparison pictures later in the review.
I want to thank Sue over at HealthCabin for setting me up with the samples needed for this review. Before she'd asked me to do a review on this product, I was rather hesitant. I'd never heard of Kumiho before and I'm not a big fan of the direction vaping is headed with pod systems as a whole, but I'm happy that I said yes. I was rather surprised by the Model V. As always, I'll remain fair and unbiased in this review.
Welp, shall we?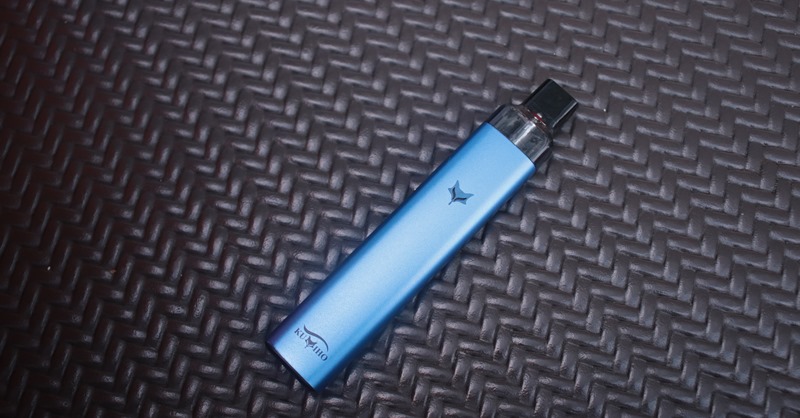 Model V Battery/Mod
0.6 Ohm 2 mL Refillable Pod (14-18 Watts)
1.0 Ohm 2 mL Refillable Pod (11-13 Watts)
User Manual
Power Output: 11-18 Watts
Coil Resistance: 0.4-3.0 Ohms
Battery Capacity: 600 mAh
Charging Specification: USB Type-C Charging Port (5V/0.75A)
Low Voltage Warning: 3.2V +/- 0.1V
PCBA Temperature Alarm: 60° C (140° F)
Longest Vaping Time: 8 Second Cutoff
Working Temperature: -10° to 45° C (14° to 113° F)
Standby Current: =< 15 uA (millionths of an Amp)
Vibration Interaction
Patented Cotton Design
Adjustable Airflow
Refillable Transparent Pods
Pre-fill Pods (sold separately)
2 mL Pods (TPD compliant)
USB Type-C Charge Port
Auto-Draw
600 mAh Internal Battery
*The Specifications and Features are written in the User Manual which I'd highly recommend you read
There are a couple of safety prompts that are shown using specific light patterns that refer back to a few of these tolerances which I'll go over later.
Color Options
The available colors are:
Gold Pink
Red
Blue
Gunmetal
Black
I received the Blue colorway for this review. The aesthetic is a polished aluminum alloy and it's much more of a brilliant and vibrant blue than what's seen in the photo above. You'll get a better look further down.
This device is solidly built, yet extremely simple in construction. I'll get into more details about all of this down below.
The battery vibrates when the pod is seated correctly followed by the LED indicator lighting up with the status of your battery.
From MTL to loose MTL is about right for the Model V. I'd almost consider it a loose MTL to a more loose MTL, but that really depends on which coil/pod you're using. The 0.6 Ohm coil is a loose MTL to more loose MTL, the 1.0 Ohm coil ranges closer to an MTL and loose MTL.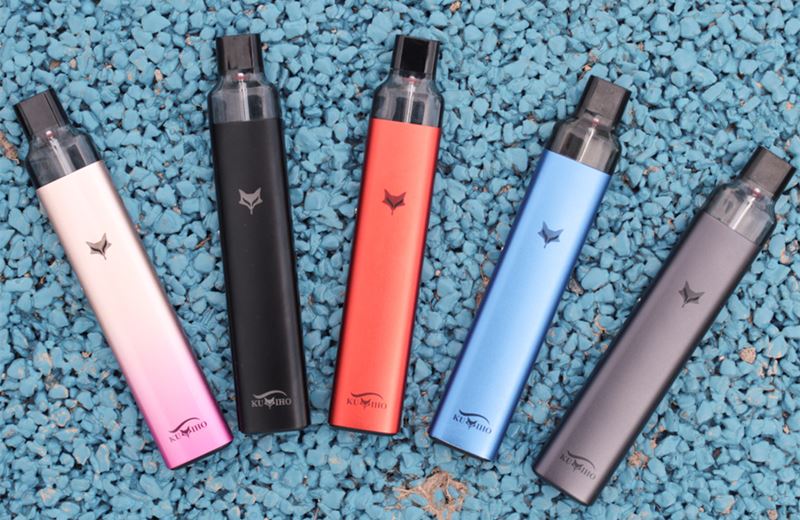 LED Indicators/Prompts can be a bit confusing, but I think after you've used this device for a bit, you'll get used to what you're seeing. The LED patterns shown below will hopefully clear this up some.
When inserting a pod or taking a puff, the LED indicator will show the status of your battery for around 5 seconds and then fade out.
Red: 0-30% battery remaining
White: 31-100% battery remaining
When plugged in and charging, the LED will pulse at a very slow rate.
Pulsing Red: 0-29% charged
Pulsing White: 30-99% charged
Solid White: 100% charged
LED Warnings/Prompts:
Low Battery: Slow pulsing red light when inserting a pod and the battery is below 30%, the red light will flash 10 times when the battery is out of power
No Atomizer (Pod): Red light will flash 3 times
Atomizer Short: White light will flash 3 times
Output Timeout: When a puff timer exceeds 8 seconds, the LED will flash white 7 times
Overheat: White light will flash 5 times when the device exceeds 60° C or 140° F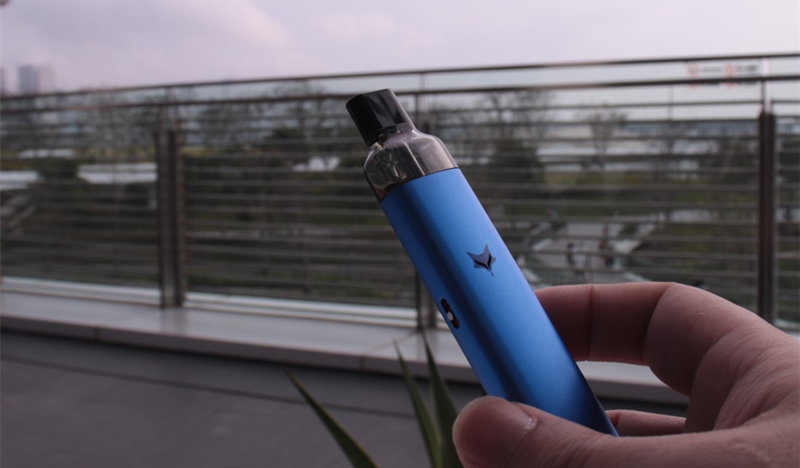 I'm not entirely sure what's exactly patented with the 0.6 Ohm coil other than what's indicated above, but I will say that it vapes better than the 1.0 Ohm coil. The 1.0 Ohm coil does offer a slightly stiffer and closer to a true MTL draw, but I experienced a bit of gurgling with it. It wasn't all the time, but the gurgling would pop in and out. It never really effected the overall vape, other than it felt like I was sucking through a straw trying to get the last drop of pop/soda/coke out of a cup. I started with the 0.6 Ohm coil because the lower resistance coils generally have a higher chance of leaking with larger juice ports. So far I've experience no leaking from either pod.
This device offers refillable pods if you have your own e-juice, or pre-filled pods for purchase. The flavors are listed below and can be purchased separately. Unfortunately I did not acquire any of the pre-filled pods for this review, so I cannot make any remarks on their flavor or quality.
This is quite an interesting array of flavors:
Ice Mango
Ice Watermelon
Mung Bean
Assam Milk Tea
Ice Blueberry Lemonade
Ice Banana Apple
Passion Fruit
Banana Ice Lolly
Ice Coke
Fanta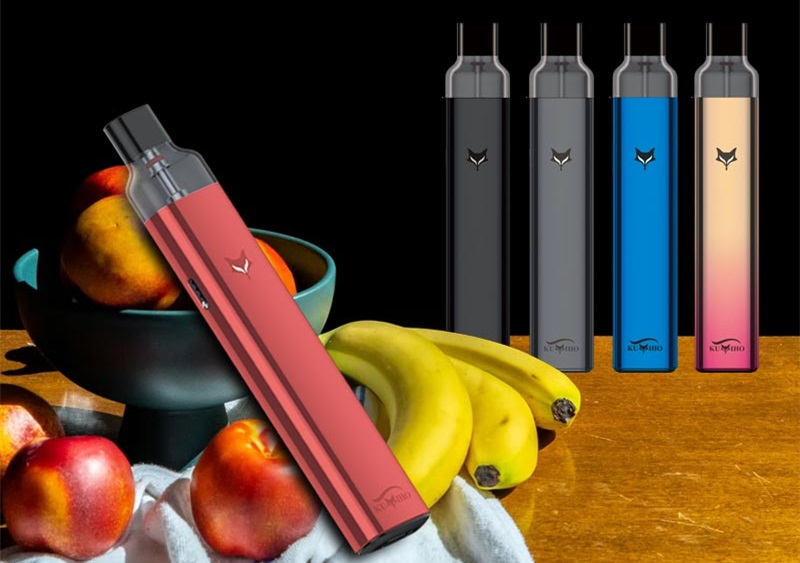 500-700 mAh capacity is about the average for devices of this size. The Kumiho Model V sits right in the middle at 600 mAh. I wouldn't say it's guaranteed to deliver a whole day of vaping if you're a regular vaper, but if you're the type to take a puff here and there every half hour or an hour, then sure – this'll get you through the day. More likely with the 1.0 Ohm coil/pod simply because the battery's using only 11-13 Watts instead of 14-18 Watts with the 0.6 Ohm coil/pod. I'd say that you can expect to vape roughly 2 or so full pods, or 4 mL in total, per battery recharge. This device was clocked at a 0.7A charge and it's advertised at 0.75A – very accurate and I applaud the honesty here. Nothing irks me more than false advertisement. You can expect around an hour to fully charge from a dead battery, but the Model V does have pass-through vaping, so you're able to safely vape while it's charging.
Personal Observations and Experiences
So, I've had the Kumiho Model V for almost two weeks now. I have an hour and a half commute to and from work currently, and this device has been my daily driver. The 2 mL tank will get me to work, and a 2 mL tank will get me home.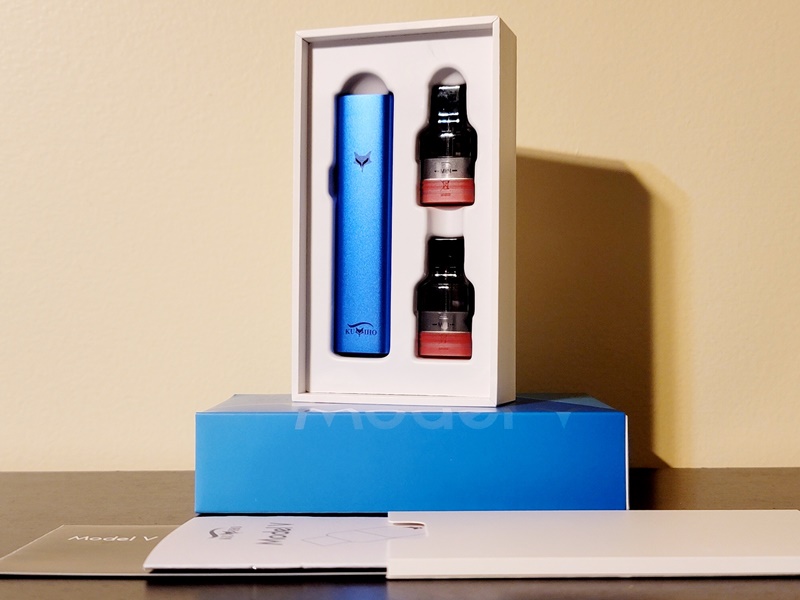 The drip tip is very slim and comfortable between the lips. The pod is made of PCTG which will make it resistant to breaks when dropped. I've dropped this pod quite a few times, and unless I've been really lucky with how it's landed, you can't even tell it's been dropped – the device is very light. For the Model V, the coil is built into each pod meaning when your coil burns out, you must purchase a new pod. Replacement packages of coils/pods come in 3's.
I've been very surprised with the flavor output in these pods. I'm not one to be all gung-ho about disposable pods simply because I think there are better options for the environment, but I'd be lying if I said these pods don't deliver in flavor.
I've been using Vice Cream (Vanilla Ice Cream & Buttery Sugar Cookie) from Freeman's line of e-juice which I've had a difficult time getting much of any flavor from in rebuildable decks and MTL premade coil head ("sub ohm") tanks, but Kumiho's Model V is popping out some extremely tasty vape. I've just been enjoying the crap out of this juice, and so I haven't really tried other fruit or custardy flavors. I also only received two pods, and I wanted to give a fair comparison in flavor between the 0.6 and 1.0 Ohm coils. The 0.6 Ohm coil definitely puts out better flavor, but the 1.0 Ohm coil isn't far behind. As mentioned above, the 1.0 Ohm coil will also give you a tad more battery life if you're in dire need to stretch it out.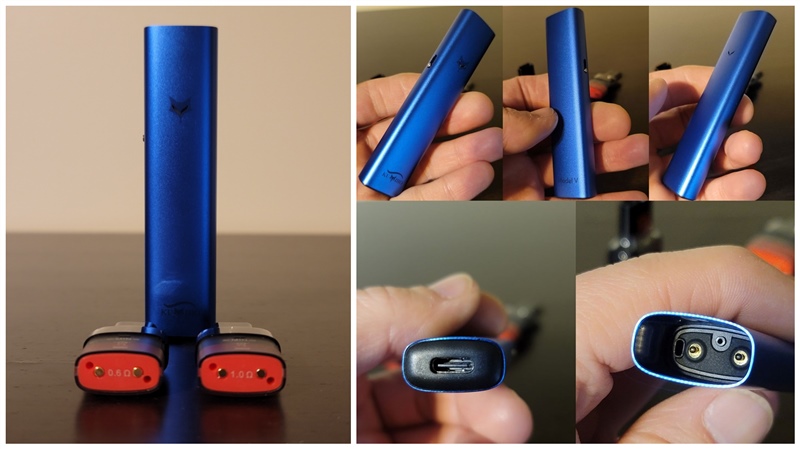 I mentioned in the color options portion of this review, that the pictures don't really do the actual colors any justice. As you can see, the blue is far more vibrant.
On the front side of the battery mod toward the top, you can see the fox head logo which shows the LED indicator through the cutout of the eyes. Toward the bottom is the Kumiho logo.
Transitioning to the left side of the battery, is the airflow control that slides up and down. The picture below will give you a better look at that.
On the back side, is simply Model V along the bottom.
Flipping the mod upside down gives us a view of the USB Type-C charging port. This device will charge from a 3.0 QC charging cable, but it will still only charge at 0.7A. Again, you're looking at a 45 min. to an hour charge time from fully dead, but you can safely vape while it's charging.
Every time I've recharged this device, the pod has remained in the battery while on its side. Zero indications of any leaking.
On the top of the battery where the pod seats, you can see an oval-shaped opening – that's the airflow hole that feeds up from the airflow control on the side of the battery. The two spring-loaded brass positive and negative connector pins are interchangeable meaning you can put this pod in either way, and it will function the same. The small circular hole near the top is your auto-draw detector which I must say, is very sensitive. Even if the MTL draw is too loose for what you're used to, you can still draw slower than the suction, and the auto-draw will still fire the battery. If you have problems with the auto-draw activating in the future, remove the pod, hold the battery near the bottom, and whip it (whip it real good) like you're trying to get the last drops to come out of a hose. Do this for as long as you need. This will hopefully release any residue caught down in the auto-draw sensor.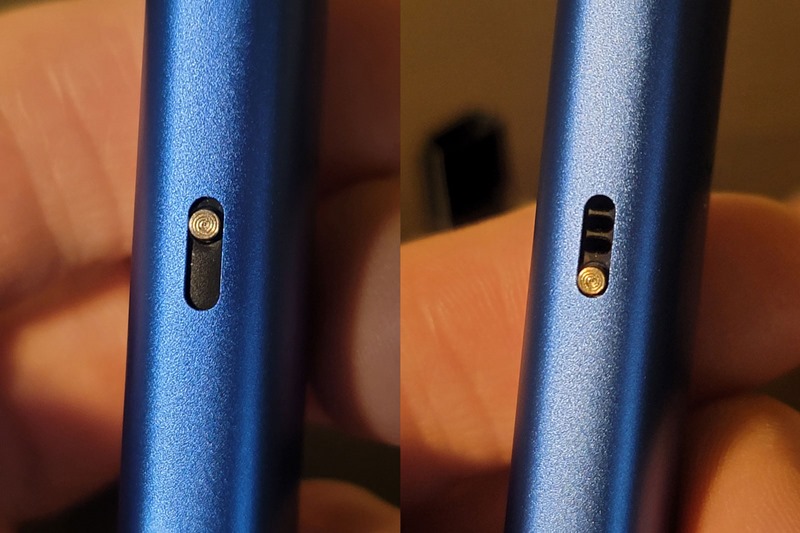 So, I wasn't all that impressed with the airflow control. Can I tell a difference when I'm inhaling and plugging the airflow and when I'm not? Yes, but ever so slightly. Maybe this was intended, but I would have liked to have seen a bit more of a wider airflow range. I noticed more of an airflow restriction from switching between the 0.6 Ohm pod to the 1.0 Ohm pod. The restriction might be bottlenecked at the air intake at the base of the pod which may mean this was intended.
When the knob is up, it's fully closed. When the knob is down, you can see 3 air inlets reveal themselves.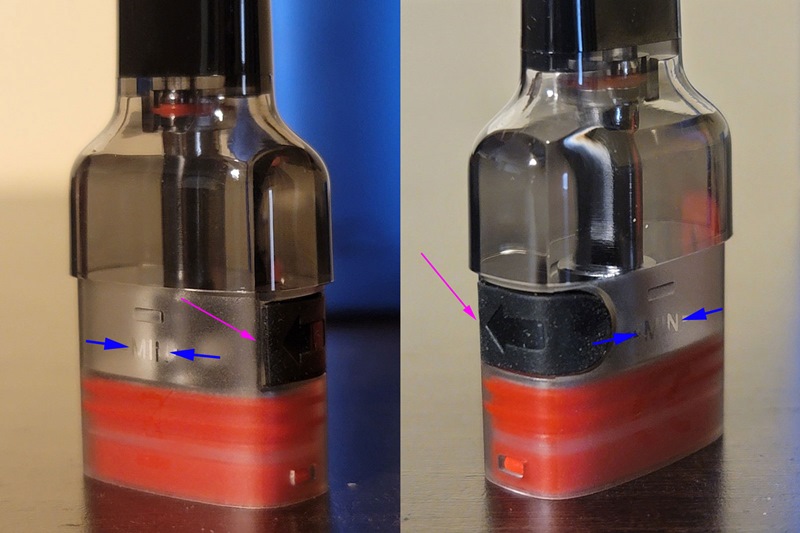 The pods are quite simple to use. Don't be a doofus like me, and pull the wrong side of the plug out. Pull from the end that the arrow on the plug is pointing to (also indicated by the magenta arrows). It took me a good 5 or 10 minutes with Swiss tweezers to jam the little rubber piece that holds the rubber plug back into its ultra tiny hole, lol.
Also noted here by the dark blue arrows, is the minimum juice line indicated on the pod with "MIN". This is the point where you're dropping down below the juice ports on the coil inside the pod, which can disrupt the air displacement process of your coil. If you continue to vape while the e-juice is below this line, you are apt to receive some dry hits when you fill your pod back up. This may fix itself, and it may not. It's best just to keep the juice level in this pod above the MIN line.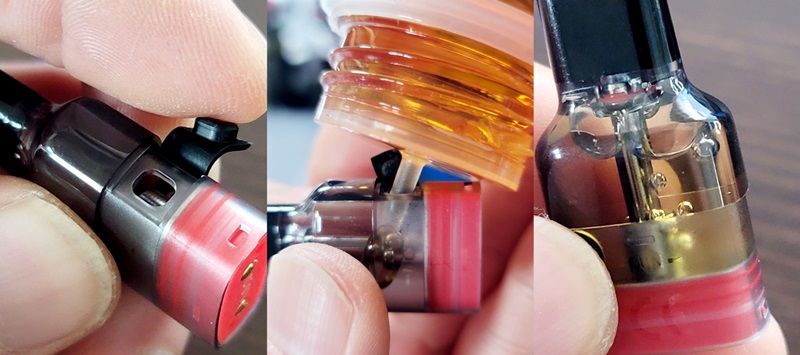 Refilling is very easy with this pod. Once you open the rubber plug (correctly), the refill hole is large enough to fit a 120 mL Gorilla nozzle way down inside of it without the worry of juice bubbles swelling up out of the hole.
I will say of all the mini-pods I've tested, this is one of the easiest simply because of how far into the refill hole you're able to get the nozzle. Once it's filled up, seal the rubber plug, and look for those tiny cute little bubbles floating to the top. This indicates that the juice the wick is absorbing, is pushing the air out of the wick, and into the tank which is how it's supposed to be. Allow the wick to absorb the juice for about 5 minutes to be on the safe side before vaping.
If you don't see bubbles when first filling, or after taking a few puffs, that's a bad sign. Expect some dry hits in the near future.
==Pros==
No leaking (not a hint so far)
Super lightweight
Built sturdy for a pod device
Very simple to use
Slender/pocket-friendly and sleek look
Fairly simple LED indicators
Love the thin mouth piece
Flavor in refillable pods is outstanding
USB Type-C compatible
Vibration lets you know the pod is seated correctly
Decently long coil life (so far – no decline in flavor)
Pod seats very snug
Refillable and Pre-filled Pod options
Adjustable airflow
Vibrant colors
==Cons==
Battery status indicator is a bit lacking; I'd be severely disappointed if I thought my device was near-fully charged, when in fact it was actually sitting at 30% – both statuses would be indicated by the same white light
Adjustable airflow is hardly noticeable
==Preference Considerations==
600 mAh battery
No USB Type-C charging cable
Overall Rating
Compared to other mini-pod devices: 9 – 9.5
I'm a huge sucker for flavor, and this mini-pod really delivers.
The Kumiho Model V Kit can be found at HealthCabin currently at a price of $24.99 when you create an account and/or login which gives you 30% off. It's also part of the Weekly Sale page right now which means you can use the code "WSHC" at checkout for another 17% off which will further drop the price to $20.74. Refillable pods in packs of 3 for both 0.6 and 1.0 Ohm coils are currently $9.99, and pre-filled pods in packs of 2 with various flavors come in 30 mg/mL (3%) salt nic for $7.99.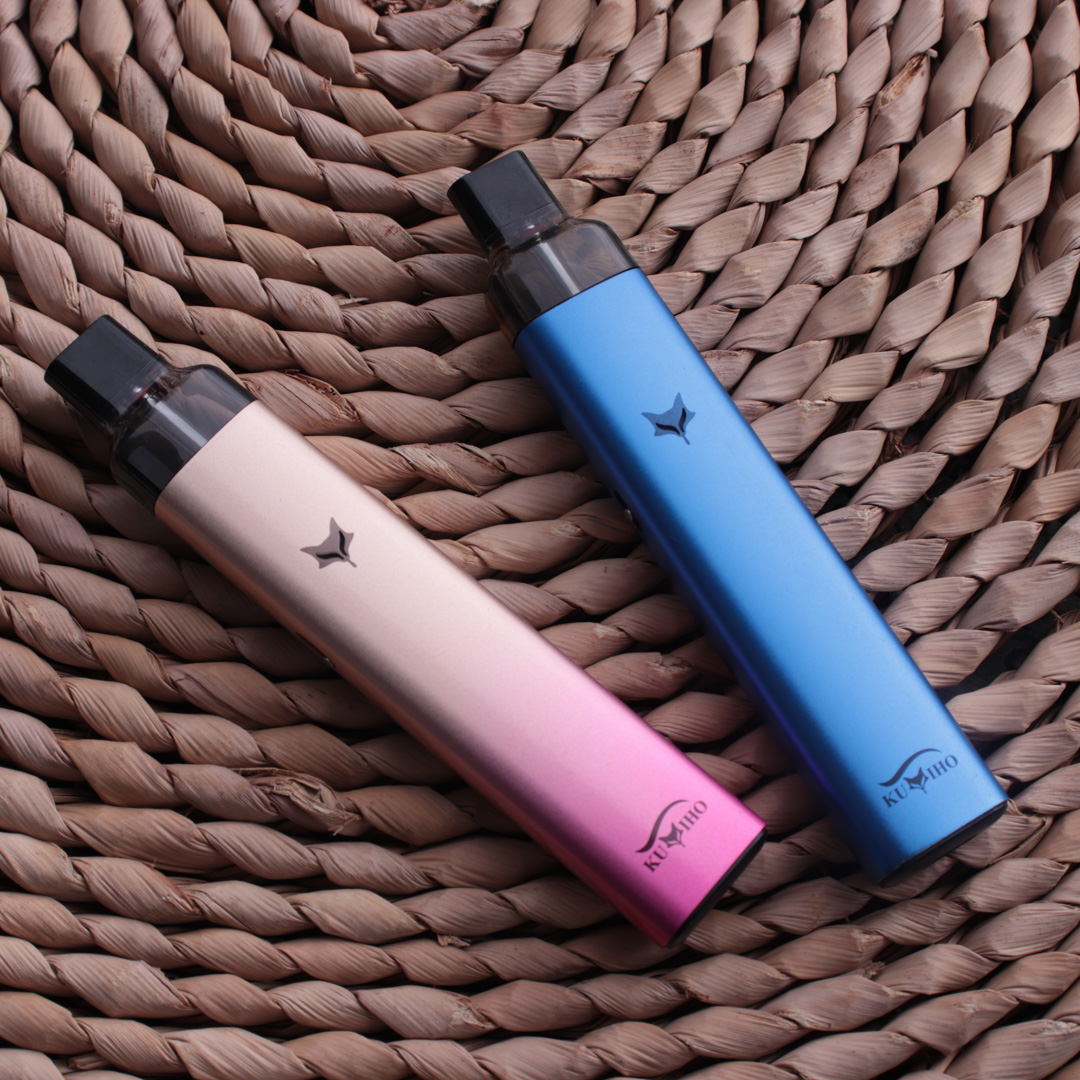 This review was written by Zach == Z-Lee from ECF, click to view original review there with more photos and more details.