Lost Vape Furyan Squonker Review by Norseman
I received this Furyan Squonk Mod free of charge directly from HealthCabin for the purpose of this review. Regardless of this, it will not color my opinion on this review in any way, shape or form.
Packaging
This is the first ever box I got from Lost Vape and even though I have seen packages for different mods from them on online pics and so on, the real thing is something else.
Gotta say that Lost Vape have perfected the package they deliver their mods in. In this case the packaging is just beautiful, it is rectangular and has a carton sleeve with the mod printed on the front together with the name and Lost Vape logo.
Other than that you will find info on their social media and what color mod it contains. When you take the sleeve off you find a really cool box and if you look at the above pic you will know what I mean.
The mod sits in a cutout in the foam and in other cut outs you will find a spare bottle and the adaptor for the 18650 battery.
The MOD
The first look is just «wow» really, I totally dig what I see and the mod breathes quality. I got the brass and black version and it is just beautiful. The brass and yellow Ultem does also look really nice and a version with a brass tube instead of the carbon tube is the next release from Lost Vape.
The brass parts is really well machined and the top plate has this nice looking pattern to it and a deep engraving that says Furyan, and to top it off, a really solid 510 connection in SS.
The black Ultem casing is really rigid and does also look good.
It is compatible with 21700, 20700 and 18650 batteries and it only uses one at the time.
On the bottom you find the caps for the battery and the 9 ml squonk bottle. The threading on the battery cap is buttery smooth and I haven't had any issues at all with threading the cap back on.
One cool thing with the bottle cap is that it is attached to the bottle and locks in place by turning it just a little, until a couple of notches fit into a couple of cut outs on the brass plate. So in order to take the bottle out, you just turn the the cap a little and pull the bottle out together with the cap.
Another nice thing is that you also can use the cap to seal off the bottle in case you want to use the mod with a regular dripper on top. In that case you just unscrew the cap and attach it to the top of the bottle, then it is sealed and won't leak. Nice thinking there…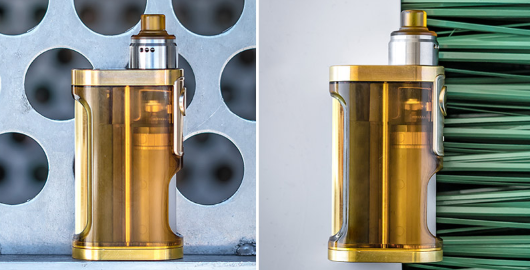 The battery polarity marking on the cap is clear and you won't have any issues knowing in which direction the battery should be put into this mod. The 18650 battery adaptor is made out of plastic and does have a polarity marking on it as well, and in this mod the negative should be downwards.
The button has no rattle to it at all, just nice and smooth to use, and you got the option to lock the button through a little brass switch that you pull up and voilà!. It is simple, but it works as intended. Sometimes you might have to push it up one extra time to make sure it really does lock the button.
It has copper internals to lead the current when you push the button and close the circuit, and since they are kinda sealed off inside, you might not have to take the mod apart too often to clean those parts at least.
With the build I have put on it I must say that it hits hard and I haven't been disappointed with that at all.
Since it doesn't have any sharp edges anywhere it sits real nice in the hand and it is comfortable to hold and carry around. And with the cut out for the bottle on the front, it is smooth and easy to squonk with it as well.
Only thing with this mod that bugs me somewhat is the fact that the cap holding the liquid bottle rattles a bit, not much, but it is still rattling, making a tiny noise.
Assessment
This is a really well built mod that breathes quality and to be honest it has become my new favorite among the squonk mods I have. The looks is just beautiful, machining exemplary, nice smooth button and hard hitting. Among the squonk mods I have tried this is the best by far, no doubt.
Can I recommend it to others?
Even if you aren't in the market for a squonk mod I would still recommend this mod to all of you reading this review. Ok, so it is priced maybe a bit higher than other squonk mods on the market, but on the other hand you get what you pay for, and in this case, you get quality.
Pros
Machining
Innovative when it comes to holding the bottle in place
Good 510 connection
The looks on it
The solution for the bottle cap
3 silicon squonk bottles
Hits hard
Did i say Looks?
Cons
Rattle on the bottle cap
Button lock can be a little difficult sometimes
Parameters
Width: 27 mm
Height: 84 mm
Length: 50 mm
Black Ultem/Brass, Yellow Ultem/Brass and the new with the brass tube instead of carbon
Package includes
1 x Furyan Squonk Mod
3 x 9 ml Silicon squonk bottles
1 x 18650 adapter
1 x Brass polishing cloth
1 x Manual
You will find it here
Furyan Squonk Mod at HealthCabin for $89 at the time I wrote the review.
And before ending this review i want to point out a few things of importance to those new to mech mods and also the seasoned user. Remember to always pay attention to…
Battery safety
Ohms law
Keeping your mech mod clean at all times. Meaning the connections, switch, threading and internally
Lost Vape Furyan Mech Squonker Mod Price: $89.00
https://www.healthcabin.net/lost-vape-furyan-mech-squonker-mod-p/18154.html
Related Products:
Lost Vape Modefined Sirius Mod
Lost Vape Modefined Lyra Mod
Thanks for reading this far and Vape on!
Norseman
About the writer:
My name is Norseman in the vaping business and I started out as a normal vaper until I one day decided to start doing written reviews since I felt that I wanted to be able to help people make good decisions on different vape gear. I try to do Mechanical Mods and RDA's mainly but I sometimes fall for the pressure and do a regulated device once in a while.
So there you have it, I'm in this just to help others basically by being dead honest perhaps to a fault at times but I think being honest and do reviews with integrity is all I got going for me and I also think that it will shine through in my reviews. And I love using good pictures to illustrate my reviews the best way possible. Taken by yours truly of course.