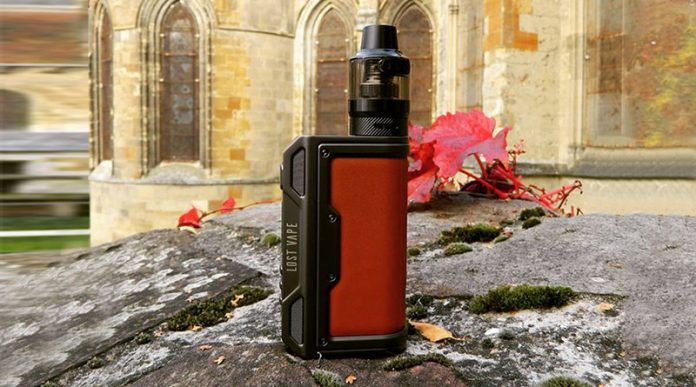 Roll up… Roll up. Hello my fellow vapers today we have a kit from Voopoo The Drag X Pro. This was very kindly sent to me from Healthcabin. Let's get started the Voopoo Drag X Pro Review together!
As always this review is my own thoughts and not associated with anyone from Healthcabin or POTV. Nor have I been paid for my thoughts.
Abit about the kit
This is the first kit from Lost Vape I've owned they're known for there quality mods which range from DNA mods to regulated dual and single battery mods. This is in the quest line of mods and has been made as a cheaper alternative to a DNA style and quality built mod.
It comes in 8 different colour options and I recieved the silver and carbon black version.
1* Thelema Quest 200W Box Mod
1* 5ml UB Pro Pod Tank
1* 0.15ohm UB Pro P1 Coil
1* 0.3ohm UB Pro P3 Coil
4* O-rings
1* Type-C Cable
2* User Manual
1* Warranty Card
Dimension: 56.1*27.6*92.5mm
Battery: Dual 18650
Input Voltage: 6.0V-8.4V
Battery Voltage: 3.0V-4.2V
Output Voltage: 0.7V-8.0V
Power Range: 5-200W
Input Current: 1A-40A
Temperature Range: 200℉-600℉
Coil Resistance Supported: 0.1ohm-5.0ohm
Coil Material Supported: Nickel, Titanium, SS316, SS904, Kanthal
Screen Pixel: 0.96 inch, 80*160
Body Material: Zinc Alloy
Charging: DC 5V Type-C fast charging
E-juice Capacity: 5ml
Filling Type: Side refilling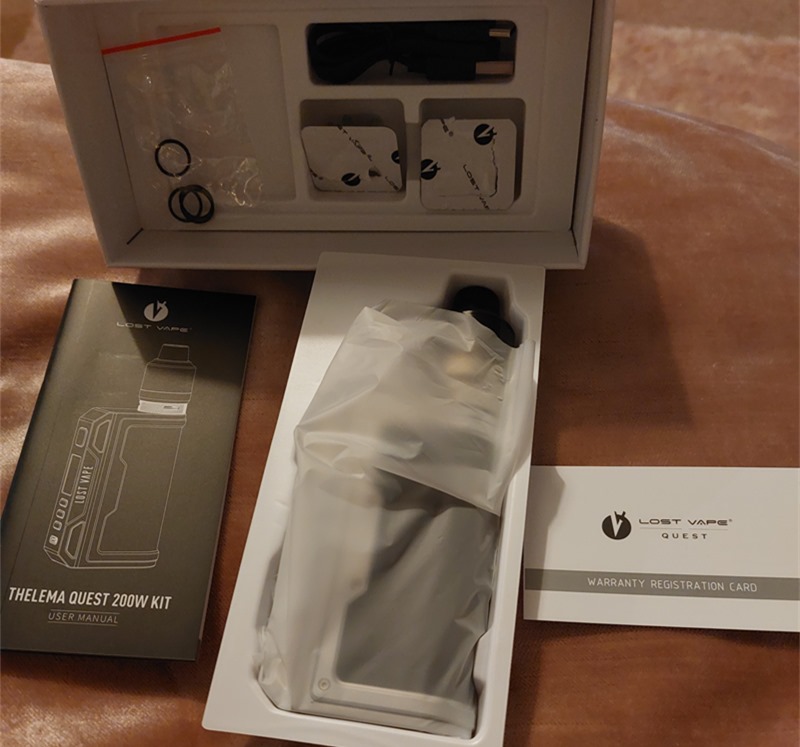 Mod
The Thelema Quest uses two 18650 batteries and is rated for 200 watts. Its styled on a DNA mod but without the DNA chip. Its got a very simple user friendly menu system with plenty of vaping modes on board.
The main device is made from aluminium alloy and the battery cover made from a alloy plastic with a padded battery sleeve wrap in the the color way you choose to buy. It's not a particularly heavy mod even with 2 18650 batteries fitted but one thing Lost Vape have done is make sure it is sturdy and comfortable in the hand.
The carbon fibre panel is held in by strong magnets and this simply pulls of to expose the battery compartment, the polarities are clearly marked and there is a battery ribbon to help getting your batteries out to charge.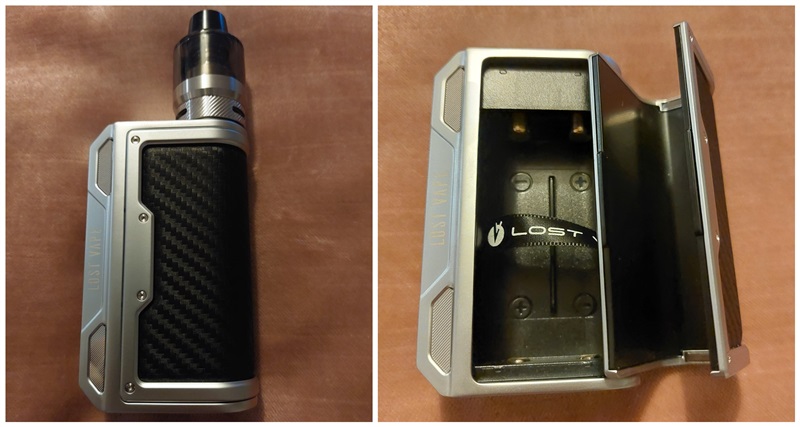 On the face of the mod is the display screen, a + & – button and the mode button. Also a USB Type-C Charging/update port.
Displayed on the main screen is the usual these are:
Two battery level indicators with numerical percentages
Mode of operation
Set wattage
Coil resistance and user record number
Firing mode( Soft, Normal, Hard) and Puff counter
Settings
It's a very easy to use menu system simply by pressing the mode button which is the middle of the 3 buttons it highlights the section you are on, using the + & – buttons you can work your way though the front screen simply pressing the mode button on a setting and then changing the wattage or vape type (soft, medium, hard) with the up and down buttons.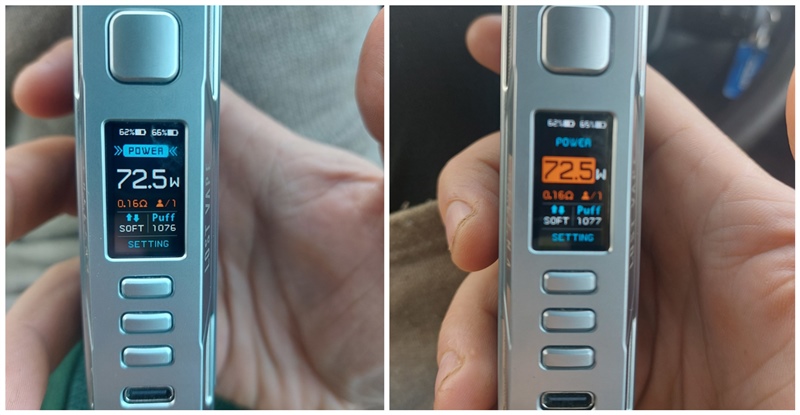 If you go down to the settings button and select that you're taken to the menu system where you have these options displayed.
Atomizer
Screen
Color
User
Reset
About
Back
There isn't to much to change here but you can control the brightness of the screen, the colour display of your screen and set different user settings, if you're using the mod with different tanks or coils you can save different settings to save you scrolling through the wattages etc which is a great feature to have.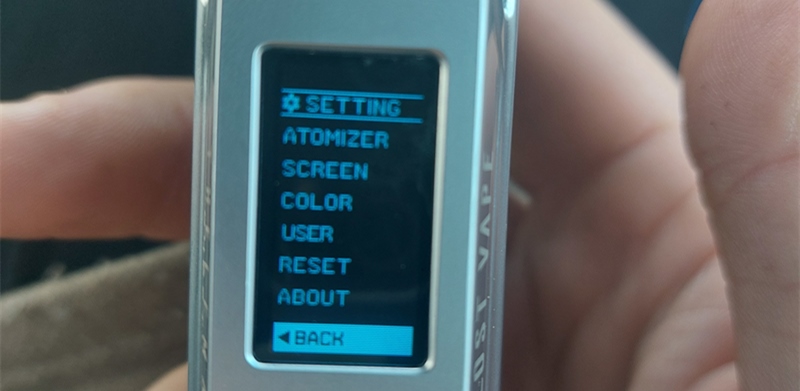 By using this mode button it cuts out having to remember all different button combinations to enter a menu screen and I think this way works brilliantly. Making it simpler to use but also quicker and more efficient. The only button combinations you will need if you want to lock the wattage in but still fire the device is to press and hold at the same time the + & – buttons and its the usual 5 on and off.
There are 5 different vaping modes which can be used with this device and they're are:
VPC
Bypass
Wattage
Voltage
Temperature Control(SS904/SS316/Ti/Ni) mode
Simply use the mode button to highlight wattage and scroll through using the up and down buttons to select your preffered vaping mode.
On top of the device is a spring loaded 510 connector and this sits to the back of the mod with the shape of this mod it looks very classy and fits well. I sometimes prefer when the 510 sits central to a mod but not with this kit.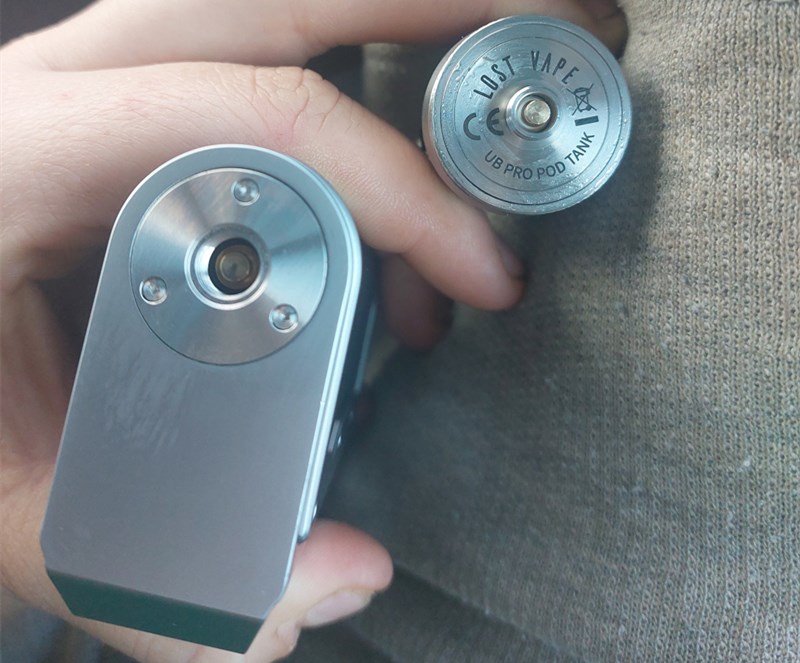 Tank
The tank included is the UB Pro Pod Tank, it has a side filling method and is made from a tinted dark plastic which is light enough to easily see you juice level it also holds a generous 5ml (2ml TPD)
Unlike many pod tanks which are held into the 510 connector or mod by magnets, lost vape have made this is screw in pod into a 510 connector and although this means previous tanks won't be able to pop into the connector it does give the tank abit more stability and strength and it works perfectly the threading is nice and it holds in place perfectly with no leaking issues at all.
It has a removable 810 drip tip meaning you can swap it for a preffered one although the one provided is comfortable. Also on the 510 connector are 2 cyclops airflow openings and this provide a full open DL to a slightly RDL if needed.

The Coils
In the kit you're provided with 2 coils from the UB range. They're are the 0.15ohm UB Pro P1 Coil rated at 70-90 watts and 0.3ohm UB Pro P3 Coil rated at 60-70 watts.
Lost vape have also made these coils compatible with TC vaping examples of these being used in this mode can be found on the forum I have based this review purely on Wattage Mode.
One thing I have liked is how Lost Vape make it easier to tell what coil is what by using different colour O rings on each and this works well for ease of use or if you can't read the small writing on the coil.
I Started with the 0.15ohm Coil and the flavour is fantastic from 60W it's a proper cloud chucker with great flavour I found my preferred spot to be at 76/78W this with the airflow fully open is a flavoursome airy DL vape I found closing it down 1/4 provided a very rich flavour and dense vape which was perfect for me.
I moved onto the 0.3ohm coil and this has become a favourite of mine it's a little less airy but not restricted and gives a great vape. I have been preferring this at 64W with the airlfow a 1/4 closed off.
One thing I've been very impressed by with these coils is the longevity and flavour in them with both coils lasting into the 2nd week and at these high wattages it is very impressive.
I've found myself preferring the 0.3ohm coil slightly and I think it's down to the slight restriction you can get and the lower wattage suits me more but for flavour it's hard to spilt them.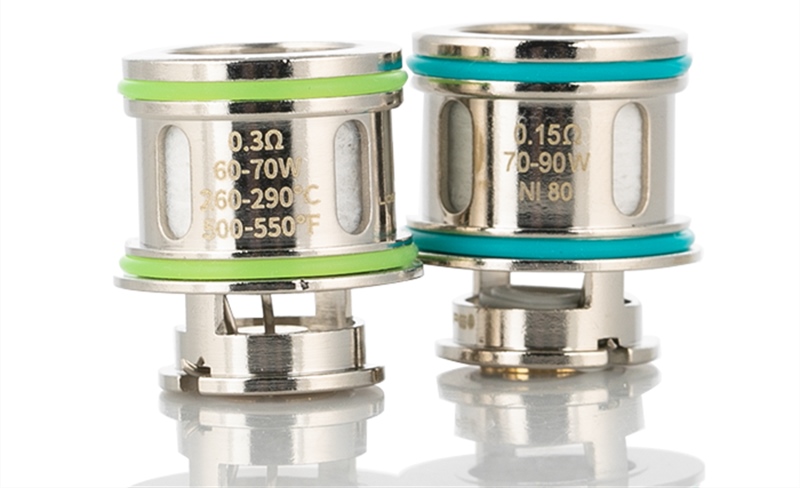 Pros and Niggles
Pros
Premium looking mod
Great flavour and coil life
No leaking
Interchangeable panels
Lots of different vape options
Easy to use menu system
Niggles
Overall Thoughts
It has the quality feel and options of a DNA mod but In a simple form for a kit. You can change the battery panels for any of the other thelema colour options.
I haven't had any leaking from the tank at all, the coils last a good amount of time for high wattage sub ohm tanks and give great flavour.
I would highly reccomended this kit for anyone looking for a smart looking mod with a great subohm pod on top.
As always a massive thank you to sue at Healthcabin for sending me this over for review its very much appriciated.
HealthCabin is also one of the biggest vape wholesale distributors in China, if you're a vape business owner, just contact them to get competitive wholesale price.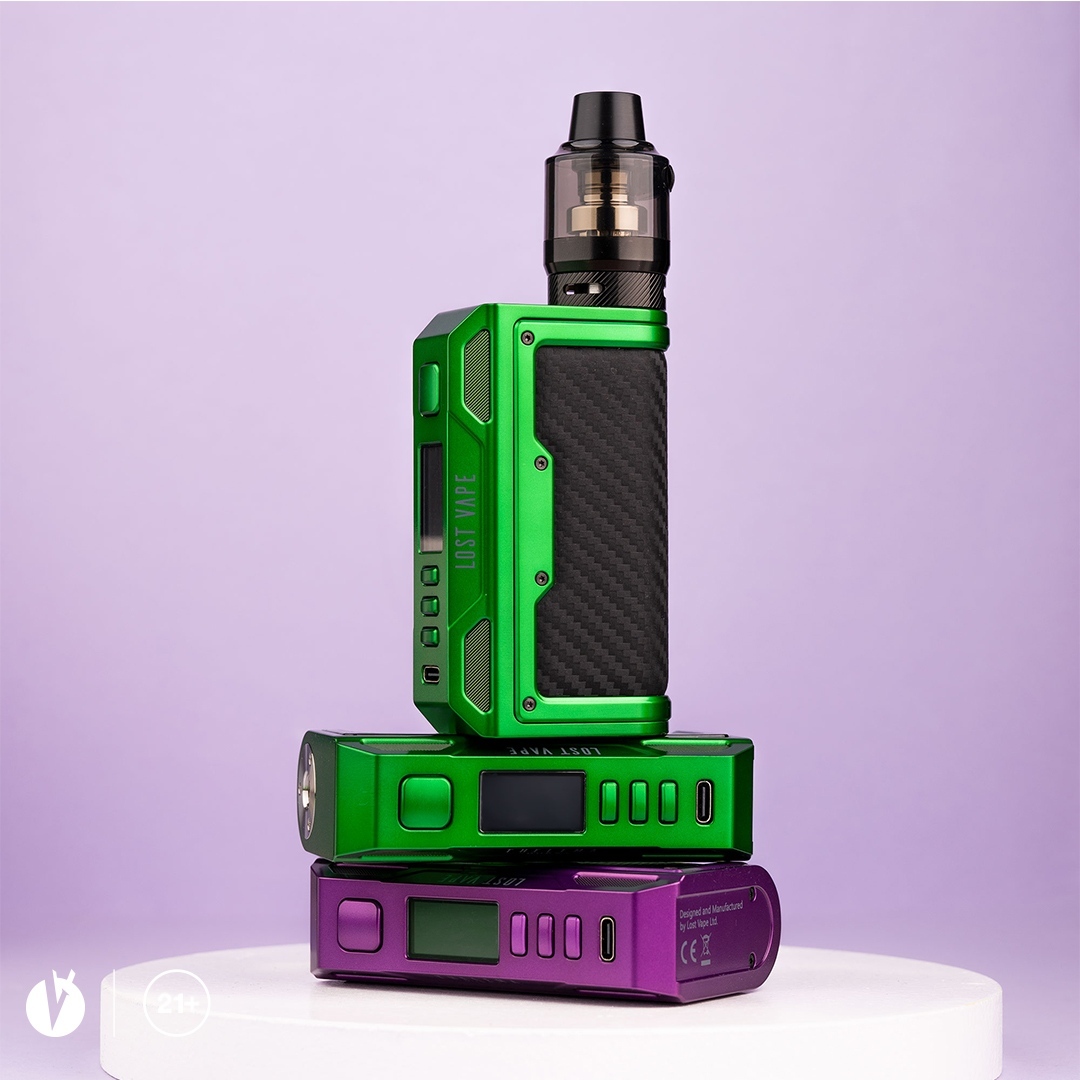 This review was written by Sam – The Vaping Gardner from POTV(Planet Of The Vapes), click to view original review.