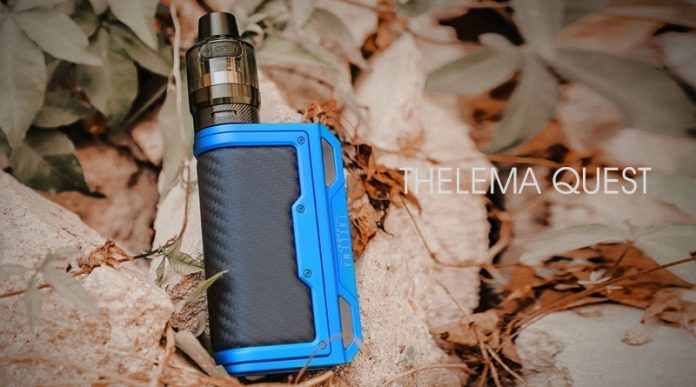 Hello once again folks and welcome back for today's review of the more affordable version of the Thelema DNA 250C by Lost Vape that was provided to me from HEATHCABIN. The Thelema Quest 200 is a exact duplicate of the DNA version in appearance and form and uses the Quest 2.0 chipset instead of the DNA. If screen customization, 100% temp control accuracy or replay isn't a must have for you, then the full featured Quest 2.0 chipset will be a great option, included in this kit is the UB Pro 5ml Pod/Tank. The Quest 2.0 chipset has many customizations of it's own that rival the DNA chipset that I'll cover later on in my review, there's a lot to cover on this kit so let's begin with some information on the Thelema 200 Quest Kit from Lost Vape. So let's get started the Lost Vape Thelema Quest 200W Kit Review together!
1pc Thelema Quest Box Mod
1pc UB Pro Pod Tank
1pc 0.15ohm UB Pro P1 Coil
1pc 0.3ohm UB Pro P3 Coil
4pc O-Ring
1pc Type-C Cable
1pc Warranty Card
1pc User Manual
26mm Base Diameter
28mm Widest Diameter
5ml Pod Capacity
Side Fill System - Silicone Stoppered
Lost Vape UB Pro Coil Series
0.15ohm UB Pro P1 Coil
0.3ohm UB Pro P3 Coil
Press Fit Coil Installation
Dual Slotted Airflow Control Ring
Threaded 510 Connection
Quest 2.0 Chipset
Dimensions - 92.5mm by 56mm by 27.6mm
Dual High-Amp 18650 Batteries - Not Included
Wattage Output Range: 5-200W
Voltage Output Range: 0.7-8.0V
Resistance Range: 0.1-5.0ohm
Temperature Range: 200-600F
Nickel, Titanium, SS Wire Compatibility
Boost Function - Soft, Norm, Hard
Zinc-Alloy + PC Chassis Construction
Intuitive Firing Button
0.96 inch TFT Color Display Screen
Two Adjustment Buttons
Magnetic/Replaceable Battery Door
10S Timeout Protection
Type-C USB Port
UNBOXING AND FIRST IMPRESSIONS
Packaging was done very well with the standard box in a sleeve, opening the box the kit is presented with the mod that is inside a white bag for protection , there's also a protective display screen sticker on it, pod tank and kit component parts that's boxed in there own spots on a pre-cut foam insert with your paper information of the Thelema Quest 200 user manual, UB Pro Pod Tank user manual and warranty registration card sitting all on top of the components. ( NICE PRESENTATION )!
Being that my favorite color is Blue receiving the Blue/Carbon Fiber version was a treat for me especially because this shade of Blue is so deep with color intensity. I can tell you after picking the mod up without installing the batteries yet that this is no lightweight, there's some real weight to it being a zinc alloy and the build quality feels solid and very well made.
The UB Pro Pod Tank that is included is solid with a side fill feature that makes filling simple and easy but being on the side of the Pod Tank looks like a sore thumb on it, the trade off of not having to remove and fill from the bottom is worth it to me though. I've reviewed the UB Pro Pod Tank before and it's a good performer as well as the coils provided for it.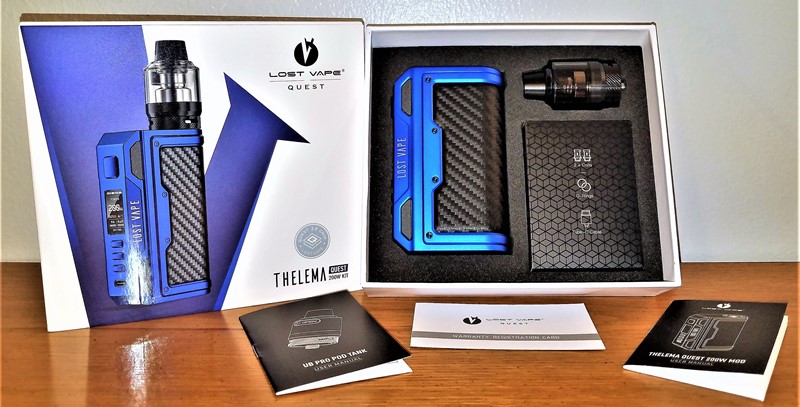 Although the UB Pro Pod Tank performs very well there are a few things that could be improved with it like having a standard 810 drip tip instead of the one with O-rings on it, thankfully it's shape is comfortable to use but many people like to use their own.
The fill plug has open stamped on it with a tiny tab at the end with a arrow pointing to the lift side that's easy to grasp and lift up and can be rotated out of the way when filling, the fill port is large enough that any sized bottle tip will fit including glass dripper tips, I have not had the fill port plug open on me unintentionally in the time of testing when carried in a pocket, also if your a big air lover the UB Pro Pod Tank will give you more than enough airflow with it 3 airflow slots that spin 360° without hard stops at either end, closing the airflow down quiets the sound of the tank a bit but it is a noisy tank with a little bit of turbulence.
This is a screw on pod to the 510 base, to unscrew it from the base grasp the black portion above the airflow selector and turn counterclockwise.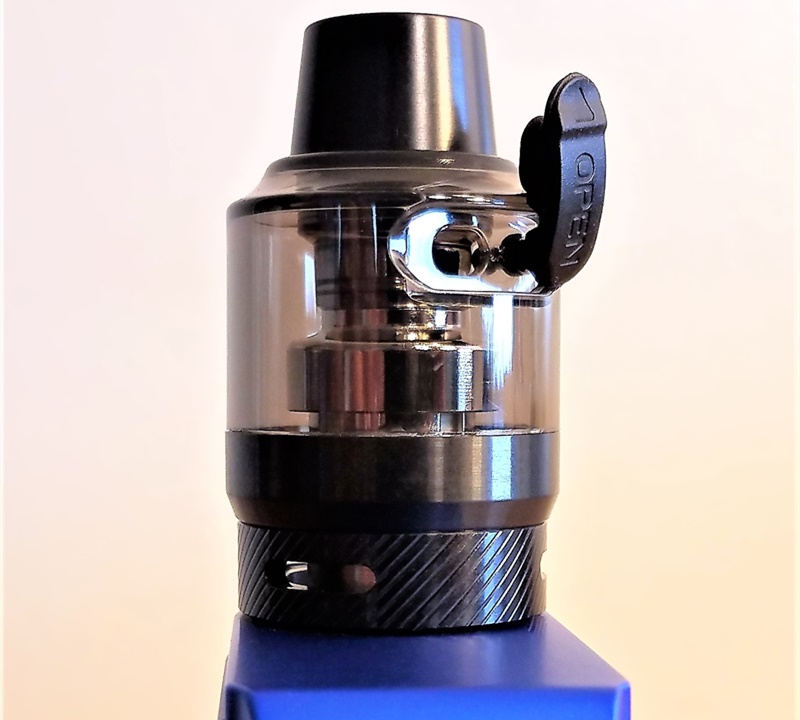 Coils are a plug in type with no flat spots that need lining up, always prime the coil with a few drops of liquid prior to inserting it into the Pod Tank and after filling let the Pod Tank sit for 5-10 minutes before vaping so the coil can get fully saturated with juice.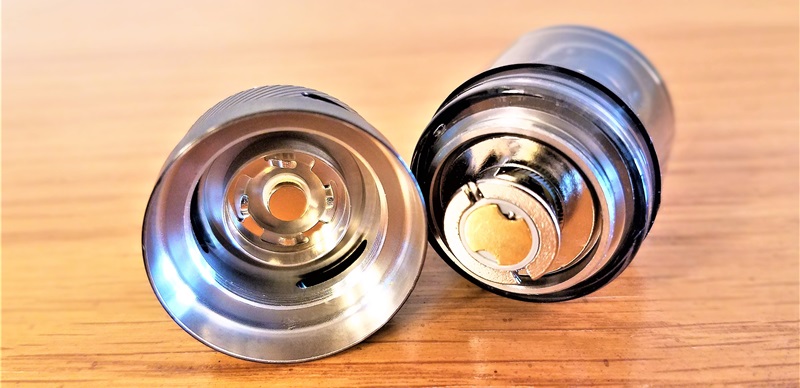 Now that the UB Pro Pod Tank has been covered it's time to get to the real star of this review the Thelema Quest 200w device with the Quest 2.0 chipset that's used in the Ursa Quest device that I've reviewed in the past. The 2.0 chipset performs very well and has so many features on it while being super easy and simple to navigate it's menu system.
The Thelema Quest 200 is a exact duplicate of the much more expensive DNA version appearance wise being a C-Frame operating with dual 18650 batteries. Pulling the frame off that is held in place using 2 magnets and a few connecting tabs is done easily by holding the top and bottom of the device then pulling the frame outward.
The carbon fiber inlay panel is attached to the frame cover using 8 screws, 4 on each side of the frame cover, once the frame cover is pulled off you have 2 battery slots on the device that are marked for polarity ( I wish the symbols were done in white ).
The 1st battery slot that's closest to the display screen has the minus – symbol at the top while the 2nd battery slot has the positive + symbol at the top. The contact pins for both batteries are spring loaded and have to be pushed upward with the correct end of each battery.
There's also a battery release ribbon that the batteries should be placed on top of for quick removal, this device's batteries run in series by the way and provide very good battery management.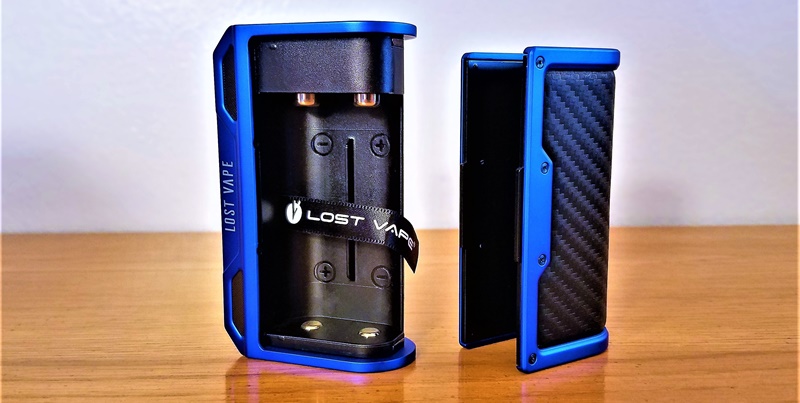 The backside of the device has 5 small tabs in total located on top and bottom with 1 in the center end that also help the magnets lock in the battery cover to the devices frame. The carbon fiber is very soft and has some cushion give to it making it very comfortable in your hand and really has killer looks to it. One thing that I want to mention is if you own the Thelema DNA version the battery cover will work on the 200 and vise versa, early sample versions had their magnets reversed and the covers could not interchange but on the final retail version that issue was corrected.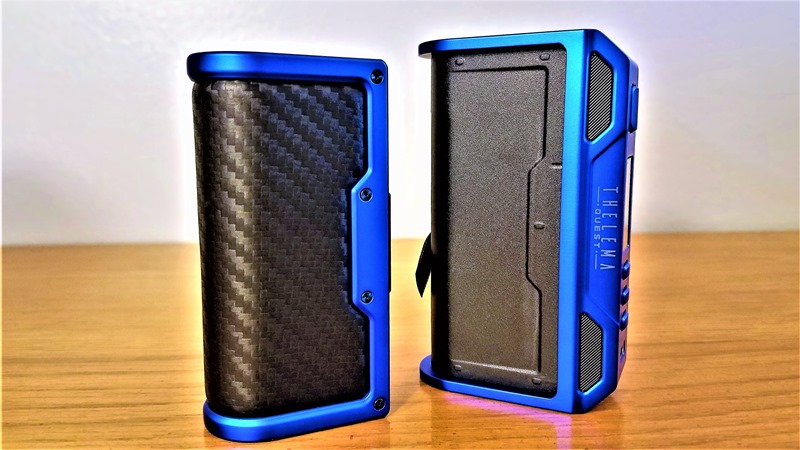 On one side of the device is the LOST VAPE name while the other side has THELEMA QUEST printed on it, both sides have a small design at the top and bottom that in a way kind of resemble the grills of speakers to me giving the device a attractive balanced look. As you can see the 510 connection is not centered but offset and I think that I prefer it rather than being centered.

A 26mm atomizer fits perfectly without any overhang, There is a nice amount of travel on the 510 pin with all atomizers I tried on the device, all sat flush having no gap to them. The 510 top plate is screwed in place using 3 screws so no worry's of it coming off.
All of the corners on the Thelema 200 have been rounded off at their very edges but leaving nice angular corners, even the little step down above the fire button leave a nice resting place for your thumb to sit.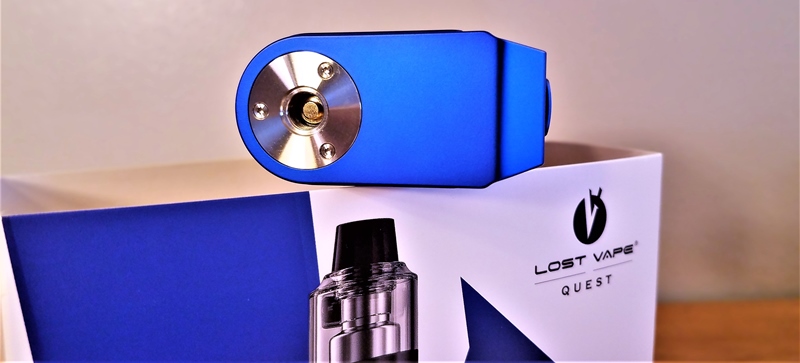 QUEST 2.0 CHIPSET FEATURES
If any of you own or have used the Ursa Quest it has the same chipset as the Thelma Quest 200 does, and those that have used it know just how well it performs.
It is one of my favorite chipsets because of the many features it has in it and a menu system that's so easy to use and navigate through.
Wattage and voltage accuracy is almost perfect that only a meter and oscilloscope would show discrepancy's that a person really can't notice, A DNA device would be perfect with a much larger price tag for it plus the Thelema Quest 200 has a Type-C charge port where the DNA uses a Micro USB
You are given the choice of 6 different color accents for the display screen to use, Blue, Yellow, White, Red, Green and Purple.
There are 3 user settings that can be set up and recalled, this really helps if you use different atomizers with different coils or builds in them including temperature control builds.
You also have 5 power modes on the Quest 2.0 chipset that can be employed- Wattage, Voltage, VPC – (VARIABLE POWER CURVE), Bypass, Temp Control – Ni, Ti, SS316, SS 904
There's also 3 power boost presets to choose from – (SOFT ) – ( NORMAL ) – ( HARD )
Plus a brightness control ( SCREEN ) that is very bight and sharp when it's maxed out to it's fullest
Whenever a new atomizer is connected the device will ask new or old cold before it will fire
There's also a atomizer setting that comes in handy for locking the wattage in temp control
Having a dedicated menu or mode button really makes using and navigating the menu a breeze.
USING THE MENU
The device turns on/off as most devices do by quickly pressing the fire button 5 times, once the device is on pressing the up and down buttons will move you to different spots on the display screen to which you can make adjustments to by pressing the menu/mode button that's located in the center between the up and down adjustment buttons.
Pressing the menu/mode button will highlight the selected item your on and then you can make adjustments to that selection using the up and down buttons, when finished press the menu/mode button again to exit and return to your working mode of operation.
At the bottom of the display screen is settings where you have more selections to further customize to your liking.
DISPLAY SCREEN INFORMATION – ( LEFT TO RIGHT AND TOP TO BOTTOM )
Battery % And Bar – When Battery Levels Reach 10% They Turn Red In Color
Wattage/Voltage/Temperature/ VPC ( Power Curve )
Ohms
User Presets
Power Boost Modes
Puff Counter
Settings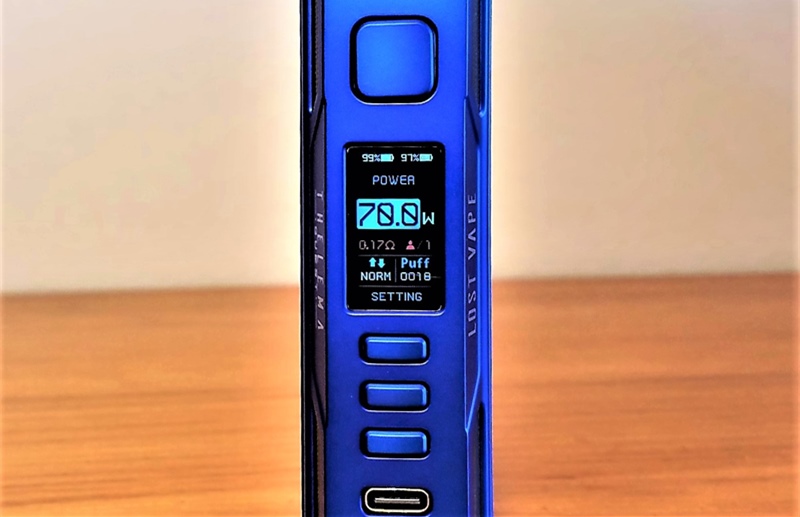 PROS AND CONS FOR THIS KIT
Thelema Quest 200

PROS
Attractive
Great Quest 2.0 Chipset
Easy Menu
East To Navigate
6 Different Color Interfaces
Solid Build Quality
3 Firing Modes
5 Power Modes
Round Robin Feature
Dedicated Menu/Mode Button
Bright And Vivid Display Screen
Type-C
C-FRAME
Fires Fast
Round Robin Feature
CONS
Battery Fonts Are Small On The Display Screen
Very Slow Scrolling
UB PRO SUB-OHM POD TANK
PROS
5ML Capacity
Side Fill
Very Good Coils
Lightly Tinted
Very Good Flavor
Large Fill Port Hole
CONS
Noisy
No Hard Stops On Airflow Control
Can't Use Standard 810 Drip Tips
USING THE THELEMA QUEST 200 KIT
I'm not going to kid you folks but it was love at first sight when I opened the package but looks alone don't make a great device. I was bound and determined to put the kit through it's regular testing of devices and pods to evaluate both and give a honest review as I always do no matter how much I liked the appearance.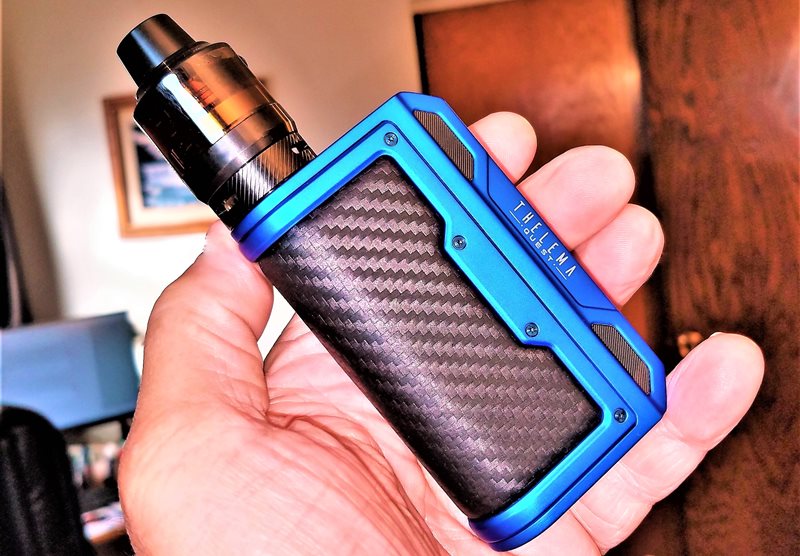 As I stated earlier I have reviewed both the UB Pod Tank and another device that used the Quest 2.0 chipset so I already knew what was in store for me, none the less I put it through it's trials and it performed flawlessly without a hiccup to speak of.
That's not to say that there are improvements that can be made to both the UB Pod Tank and Thelema Quest 200 mod.
As far as UB Pro Pod Tank goes these are more wish lists than complaints, I'm pretty used to having hard stops on pods or tanks and wish the UB Pro had them, it functions just fine without but like I said WISH LIST. I'm alright with the side fill even though it takes away from the Pod Tank in the looks department, better to have side fill than bottom fill any day.
This is a very noisy tank and can at times feel a little turbulent mainly because of the triple airflow slots that when wide open you can actually breath through it's so open, but it can be dialed back and become quieter without a whistle or goofy sound for a good RDL vape.
Both coils that are provided worked well and the 0.3Ω P3 coil is SS giving you the option to use temperature control or wattage in using it. I tended to prefer the 0.15 Ω coil that read 0.17 on the mod, I really didn't have to drive a lot of wattage into these coils to get very nice performance from them.
Coming to the mod that I have been really enjoying for almost 2 weeks of testing, it has not skipped a beat and has performed as I had hoped it would even though the 0.15 provided coil that I prefer reads 0.17 on the device.
I can't mention it enough on how well the chip performs, apart from the slow scrolling of the device that thankfully has the Round Robin feature for those that vape close to or at the max wattage of 200w, yes hard to believe but some people can and do vape that high. The only other issue that I have with the Thelema Quest 200 is the font being so small that even with glasses that I use for reading it's hard to make out the battery percentages.
I recommend the kit 100% and consider it a big time winner because of all it's attributes that I mentioned earlier, if you don't have to have a display screen that you can customize to your hearts content or need the replay function of the Thelema DNA 250C jump on this kit.
I would like to thank Sue and Healthcabin for providing the Thelma Quest 200 Kit to me for the purpose of this review and I urge you folks to pick up this kit if your looking for a kit with killer looks that performs just as impressive as it looks and is full of features that rival the DNA version.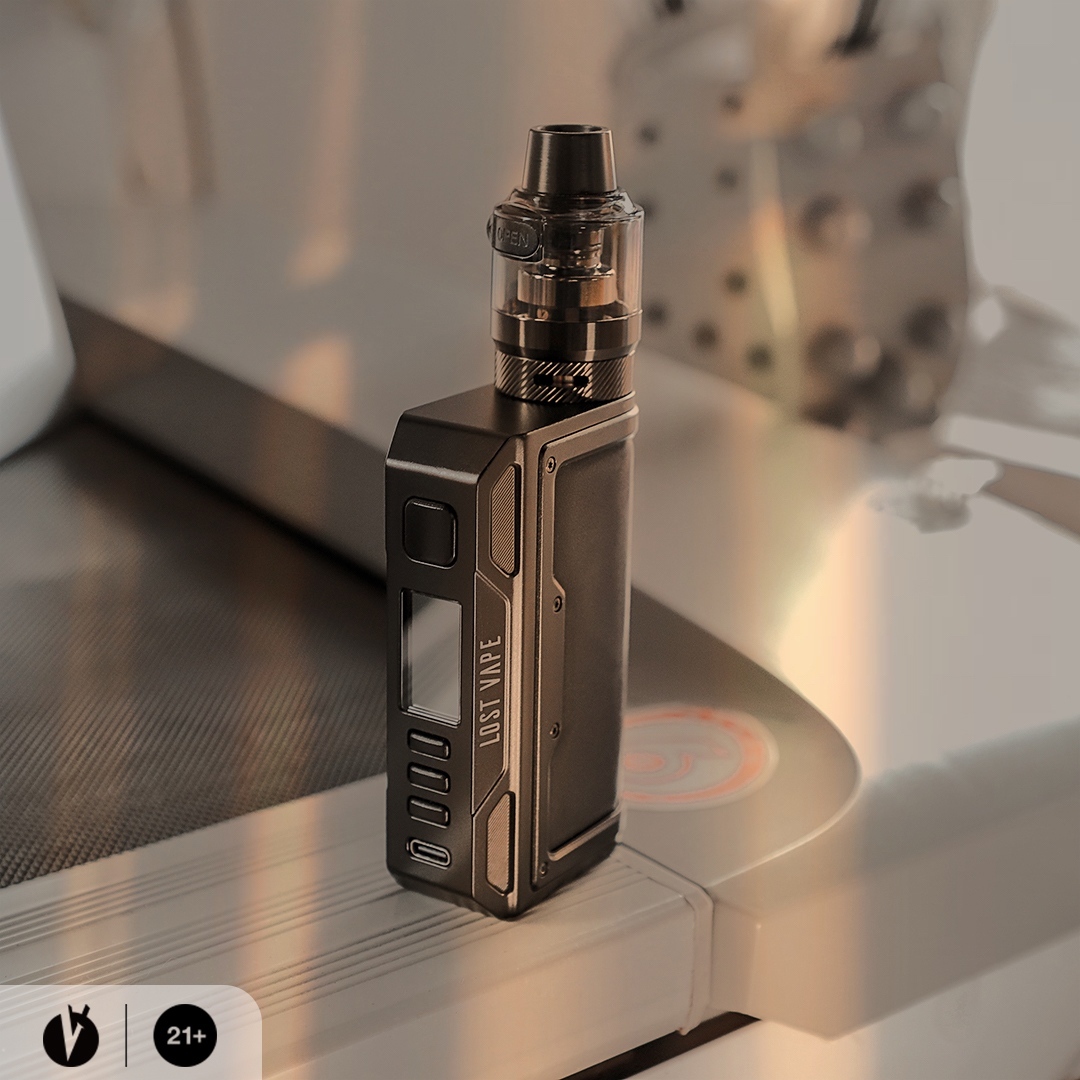 This review was written by bigbob2322 – Bob from ECF, click to view original review there with more photos and more details.