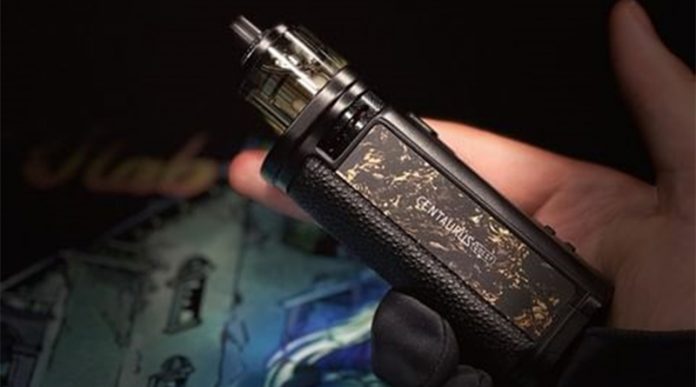 Hello and welcome to today's review of the Centaurus Q80 Pod Mod from lost vape that was sent to me from Healthcabin. This device uses the UB Ultra Pod with the UB coils with a replaceable single 18650 battery and has a maximum wattage power output of 80 watts with wattage being the only power mode. Even though there is only 1 power mode it uses the Quest 2.0 chipset that I think is the best on the market as of this date other than a dna. Lets check out some info on the Centaurus Q80 prior to my review. So let's get started the Lost Vape Centaurus Q80 Review together!
1pc Centaurus Q80 Pod Mod
1pc 5.5ml UB Ultra Empty Pod
1pc UB ULTRA M3 Coil 0.15ohm
1pc UB ULTRA M1 Coil 0.3ohm
4pc O-Rings
1pc User Manual
1pc Type-C Cable
1pc Warranty Card
5.5ml UB Ultra Pod
Compatible with Ultra Boost coil series
A single 18650 Battery (Not Included)
0.96inch Full-color TFT Screen
5-80W Output
VW Mode
SS & Zinc Alloy Construction
Two Adjustable Airflow Slots
Top Filling System
0.15ohm and 0.3ohm UB Ultra Coil
FIRST IMPRESSIONS
Packaging for the kit is pretty standard with a inner box that slides out of a outer sleeve, inside everything rest in it's own spot on a plastic tray with the charge cord and spare O-rings inside a rectangular box with the paper items of your user manual and warranty card on top. For a extra touch of protection Lost Vape put the Centaurus Q80 in a small bag to protect it during shipping. At first glance the deep blue color almost looked black but in the light the color pops, I really like the overall design of the mod along with the UB Pod that is on the short side, being short improves the total appearance of this Pod Mod, there's even a very thin band of silver at the top portion.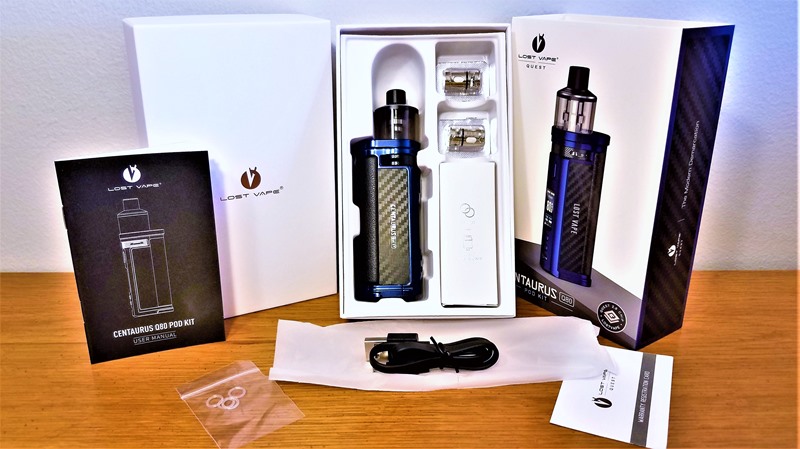 Connection of the Pod is done using strong magnets that connect to a SS base, the 3 magnets really hold well being able to pick the Pod Mod up by the drip tip without it coming off of the mods base. The UB coils are a standard push and pull without any flat spots to need to line up.
The UB Ultra coils that ship with the kit are the M3 0.15Ω and the M1 0.3Ω, both are mesh with the 0.15Ω having a rating of between 60-80w and the 0.3Ω with a rating of between 30-40w. If trying to conserve battery life the 0.3Ω M1 pictured on the right is the better choice.
As most pods use bottom fill using a rubber plug so does the UB Ultra Pod, the fill port is large and filling it is a mess free one. Being a 5.5ml pod is a big plus because most are less requiring more refilling, as I mentioned earlier being a short and stumpy pod comes into play as a big plus.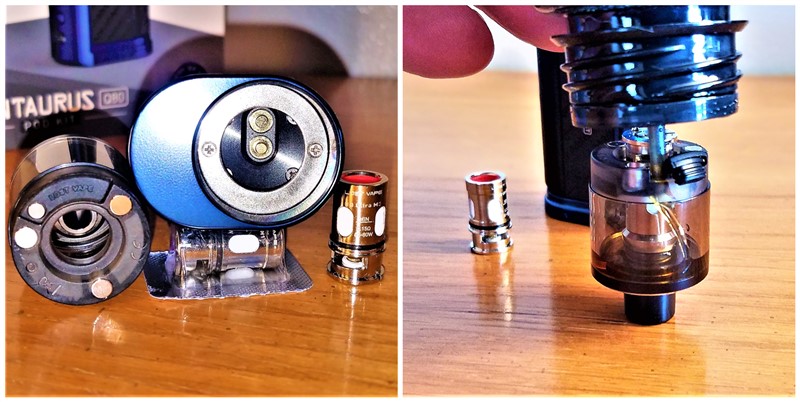 The Centaurus Q80 has fully adjustable airflow that is smooth but on the loud side, the airflow control works well with perfect resistance and has knurling but it's hard to feel any so the easiest way to adjust the airflow is by grasping and turning the airflow control at the 2 channels.
The battery door is a bottom hinged type seen on many devices, it feels solid and has never opened on me during the long testing of the Centaurus Q80. There are 3 raised horizontal lines that help when opening the battery door and a arrow pointing in the direction to slide it open.

Polarity markings or symbols are on both the battery door showing a minus- symbol and inside the battery tube housing there is a + symbol, hard to see but it's there.
The sides are done in a carbon fiber look with the spine being covered in leather that has some cushion feel to it but as most Lost Vape Devices have it's not a deep cushion feeling. There is some branding done on both sides of the Centaurus Q80 but it's done tastefully with LOST VAPE on one side and CENTAURUS QUEST on the other, branding doesn't bother me if done tastefully.

The front face is nice with a great tactile button feel and are also clicky with the Power/Fire button being very clicky. Because the Centaurus Q80 is a wattage only device Lost Vape didn't include a dedicated menu button even though it uses the Quest 2.0 chipset because there really is no menu but rather a couple of button combinations. There are 6 color choices for the display screen that are bright as well as vibrant ( Green ) ( Purple ) ( Blue ) ( Yellow ) ( White ) ( Red )
On/Off – 5 Quick Presses Of The Fire Button
Color Change – Press And Hold The Power/Fire Button And Up Button Simultaneously
Lock/Unlock Adjustment Buttons – Press And Hold Adjustment Buttons Simultaneously
Clearing The Puff Counter – Press And Hold The Power/Fire And Down Buttons Simultaneously
The layout of the display screen is done very well and large enough fonts that even my bad eyesight can decipher but I would like to see uniformity in the size of wattage and other fonts. Placement of the charging port is where I like to see it below the adjustment buttons.
DISPLAY SCREEN LAYOUT – ( Top To Bottom – Left To Right )
Ohm Reading
Battery Percentage And Battery Bar
Power
Wattage
Time Of Last Vape In Seconds
Puff Counter
6 Different Display Screen Color Choices
Hand fit and feel is great with the mod being as thin as it is, this has a good weight ( 115g ) feeling solid but not heavy. Paint color is very deep and rich sometimes looking black even though it's Blue. The Carbon Fiber side panels look fantastic butting up to and joining with the leather wrapped spine.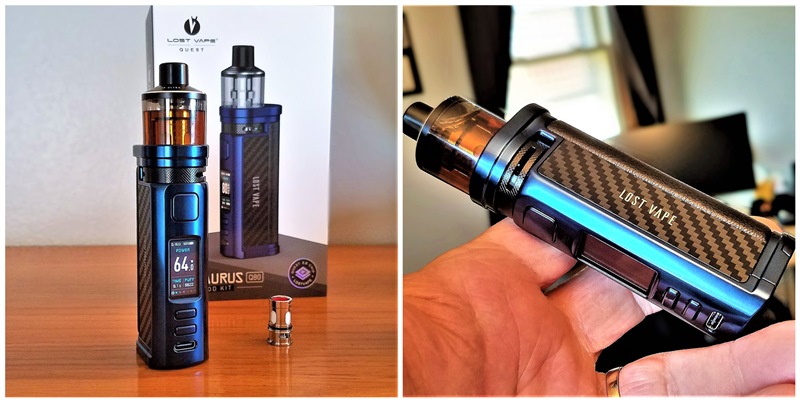 PROS
Attractive
Replaceable 18650 Battery
Very Good Flavor
5.5ml Capacity
6 Display Colors
Simple And Easy To Operate
Type – C
Fully Adjustable Airflow
Easy To Read Fonts
CONS
No Boost Circuit
Knurling On The Airflow Control Could Be Larger
Bottom Fill
FINAL IMPRESSIONS
I'm a big fan of Lost Vape and their products and the Centaurus Q80 kept that feeling going, it has been a issue free device in the time I tested it. The UB Ultra Pod and both coils work great with me as usual liking the lower 0.15Ω coil better but the 0.3Ω coil is just as good and will help conserving battery time, you can't go wrong with either one.
Appearance scores a 10 for me with it's deep color next to the Carbon Fiber side panels and leather wrapped spine just pop. Having a smooth airflow although loud is something that improves a vape and this Pod Mod does it well.
I forgot to mention when talking about the pod that the 510 drip tip is replaceable if you wish but I saw no need to do so as the stock drip tip feels fine, another thing that impressed me was the attention to detail including a thin silver band at the top of the pod for some added flair, Lost Vape didn't need to do that but I for one am very glad that they did.
Controls work great with no rattle from the buttons, the display is bright and vivid and it has the Quest 2.0 chipset that as you all know I really enjoy using.
So to wrap this review up I will tell you that it's a definite winner in my book and I will continue to use it. Lost Vape did a great job with the design of the Centaurus Q80 Pod Mod!
I would like to thank Sue and Healthcabin for sending the Centaurus Q80 for my review.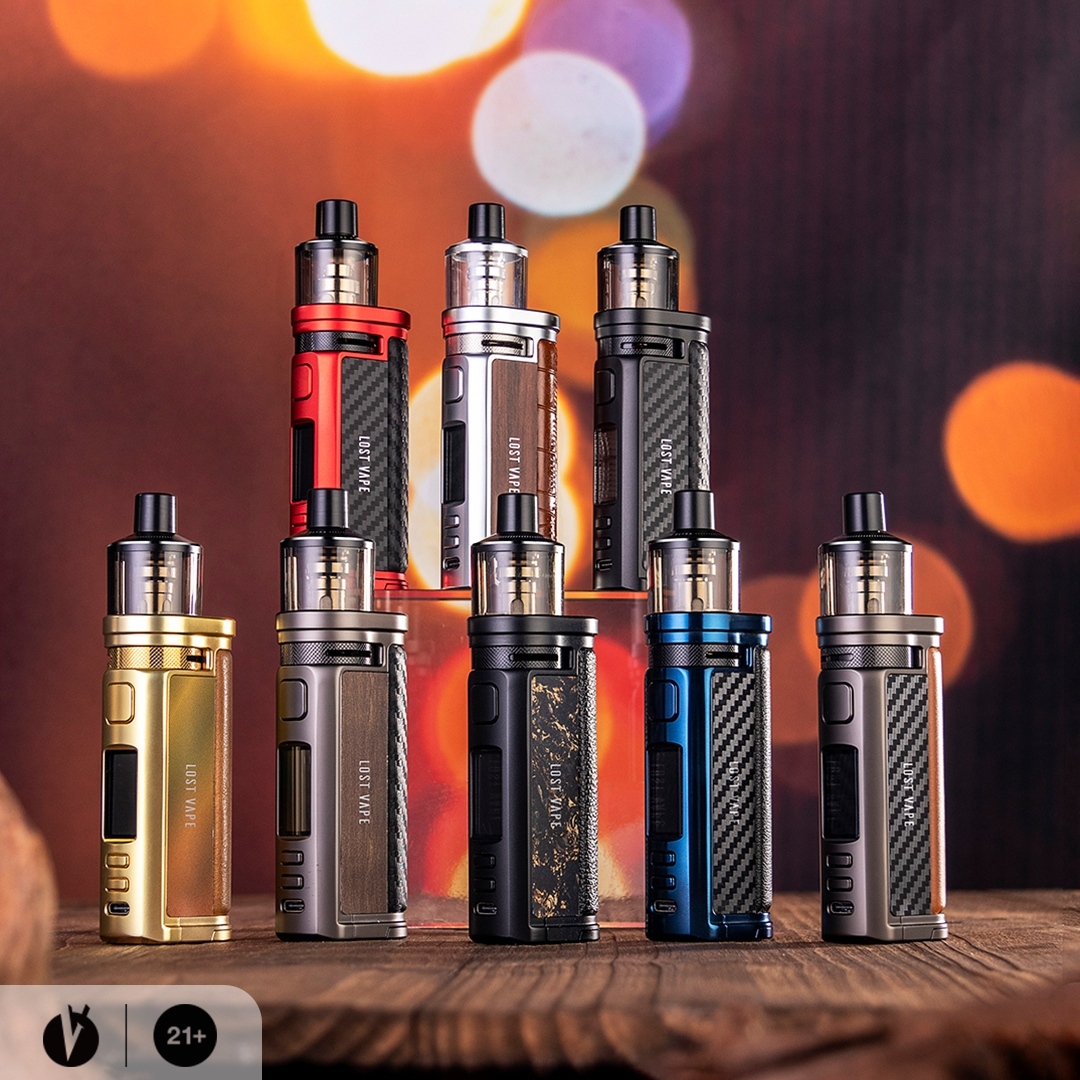 This review was written by bigbob2322 – Bob from ECF, click to view original review there with more photos and more details.