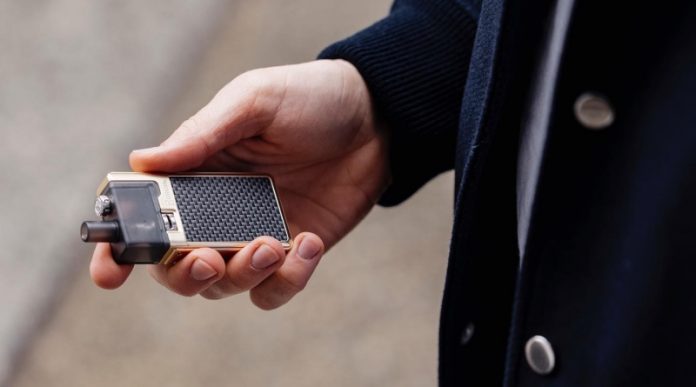 Roll up… Roll up. Hello my fellow vapers today we have a kit from LVE the Orion 2. This was very kindly sent to me from Healthcabin. Let's get started the LVE Orion 2 Kit Review together!
As always this review is my own thoughts and not associated with anyone from Healthcabin or POTV. Nor have I been paid for my thoughts.
Abit about the kit
I've managed to stay away from the section on the forum and online about the reviews this kit has been getting so I can go in it with a fresh idea. From parts of read regarding the company they were originally part of Lost Vape and once it spilt into 2 companies LVE was made and they've since had Orion DNA Go, and Lost Vape have had the Orion Mini and Art.
The kit comes in 5 colour ways with 3 different sets of kits, the banding being either silver, gold or black.
I receieved the silver bubinga which is a wood effect panel.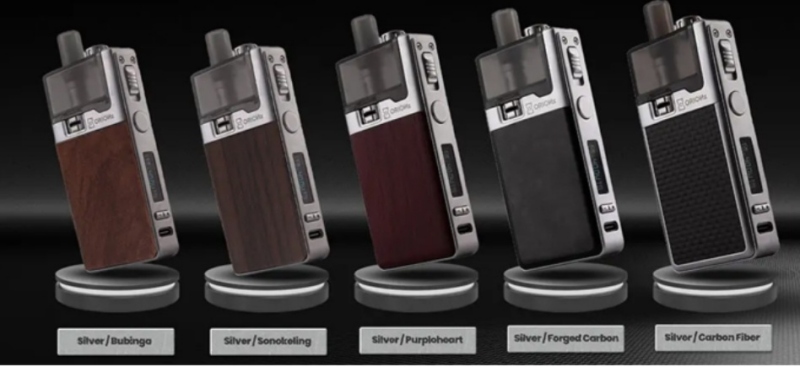 LVE Orion II device
2x Pod
2x Coils (0.4ohm Mesh, 0.8ohm Mesh)
USB Type C cable
User manual
This is honestly one the nicest presentations I've had on a vape device it feels premium and quality.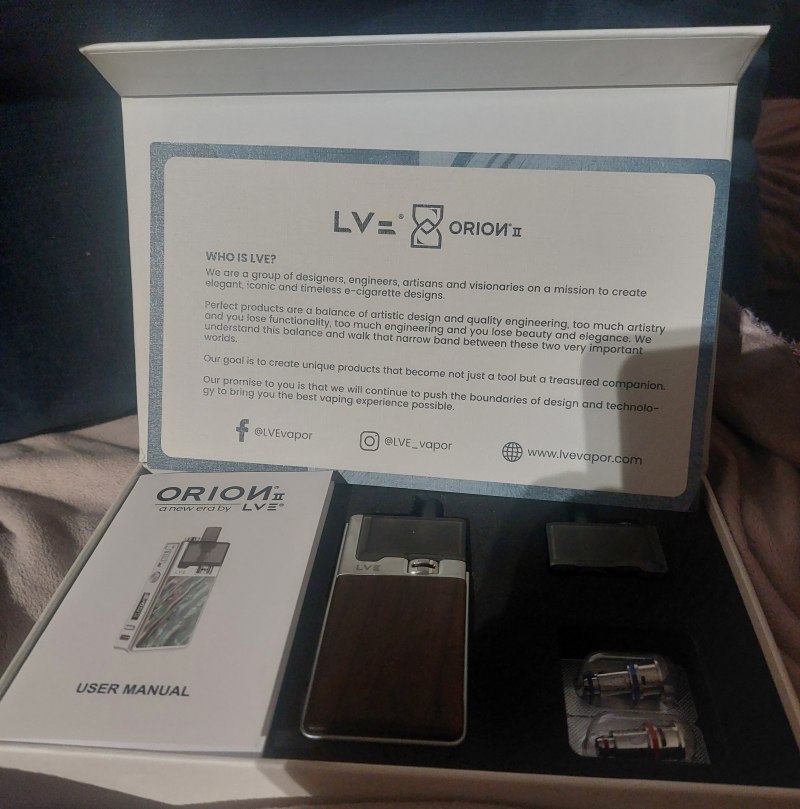 Size: 103x43x17.2mm
Output: 5-40W
Battery: 1500mAh (internal)
0.69 led Display Screen
Resistance range: Not specified
USB Type C
Pods: Refillable, replaceable coils
Capacity: 4ml (Standard) / 2ml TPD
Coils: compatible with Orion II coils
Adjustable airflow
Replaceable panels
Top fill
Mod
Rectangular in shape, a built in 1500MaH battery, wood effect panels. It has everything needed to be a fantastic compact pod kit.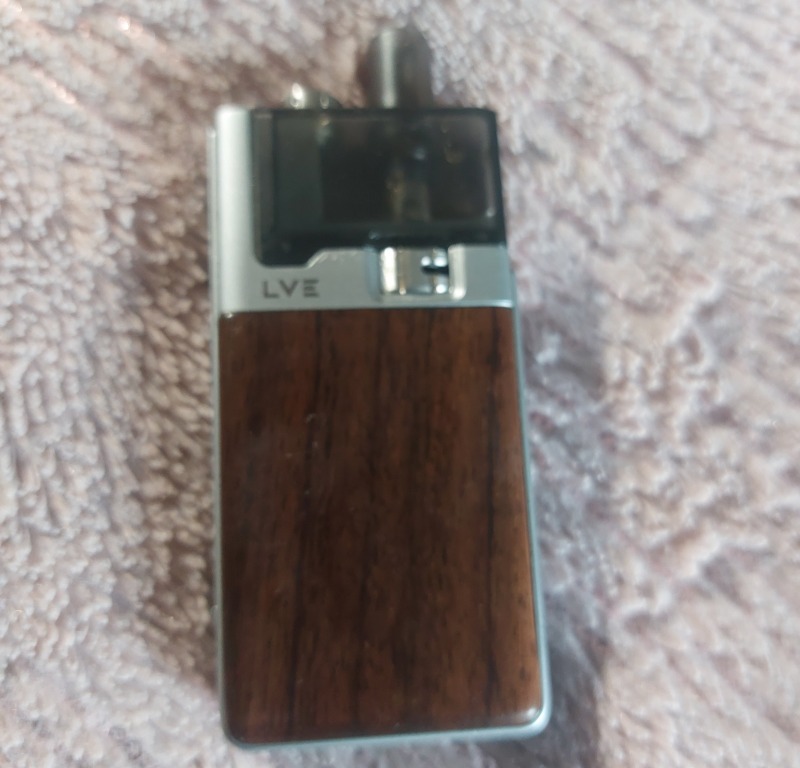 It's a simple kit to use 5 clicks of the fire button to turn on and off the device when on you simply use the up and down buttons to change your wattage. It is a button fire device so pressing it will fire the device instantly at your set wattage.
The device also features a number safety features, including short-circuit protection, low voltage protection, overcharge protection, and overheat protection.
The 1500mah battery is decent enough for what this vape is made for. The 0.8ohm coil on this battery dependant on usage easily reaches a full day's vaping. The 0.69 screen shows you all the necessary information needed, including:
Wattage
Battery level
Voltage
Puff count
Coil resistance
Under the screen your find the + & – button with the USB type C charging port. Above the screen your see a sort of button this is used when pushed down to release the pod for changing your coil.
Either side of the device are 2 removable wood effect panels these give the device a premium smart look. For me they're slightly too loose but it may simply be a design fault on mine.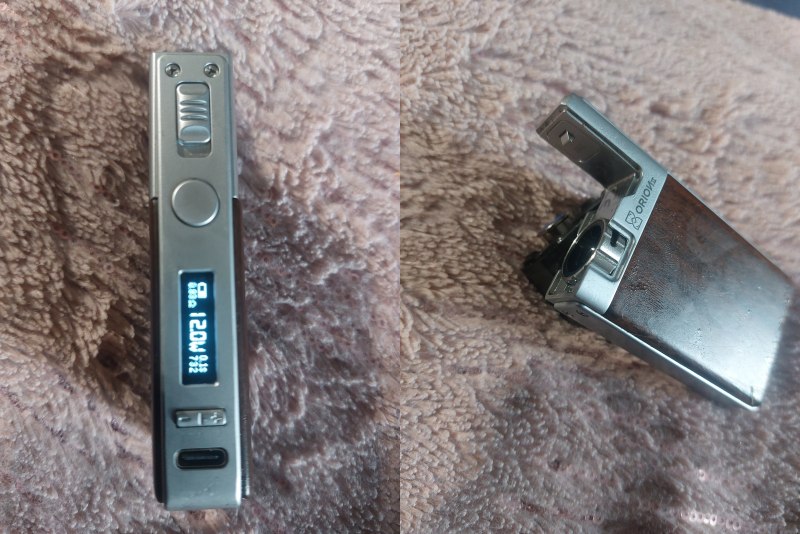 Pod & Coils
The device comes with a tinted 4.5ml pod (non tpd) which clicks in nicely to place and features an adjustable airflow ring on the device which sits under the coil when fully assembled. Although tinted dark its still easy to see your juice level.
On top of the pod is the drip tip which is 510 and removable but it suits the pod well. Also your find a silver screw top this is your filling port which makes for a less messy and non leaking method which I like.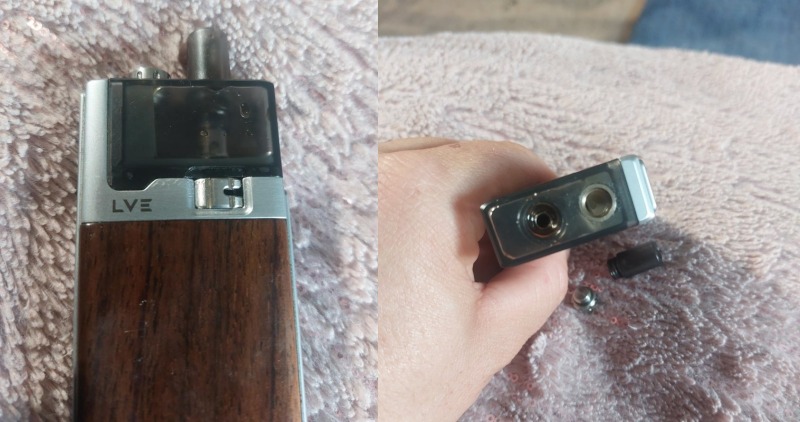 The 2 coils LVE include are a 0.4ohm and a 0.8ohm Mesh coil.
0.4ohm coil rated between 26-32W is made for RDL vapers and with the airflow adjustment and removable drip tip this is a very good vape indeed you can when the airflow is closed almost fully get a loose mtl out of it.
I found my preffered vape at 28W with the airflow 1/4 closed its absolutely brilliant, fantastic flavour, decent amount of clouds. I was very impressed.
The 0.8ohm Mesh coil rated between 12-16W is catered for your mtl vape and wow LVE have smashed it. I found my sweet spot to be 14W with the airflow half closed and for me it's a perfect vape. The flavour is brilliant a smooth vape and I've been very impressed. This review has taken me a little longer than normal due the fact the coil just kept going. I got a good 2 and half/ 3 weeks out of this coil until it started to drop off.
Pros and Niggles
Pros
Great flavour
Brilliant coil life
Adjustable airflow
Smart looking kit
Replaceable panels
No leaking
Easy to use
Niggles
Overall thoughts
As you can see the possitives clearly out number the Niggles here and its simply a fantastic kit, the flavour and life of these coils is brilliant for both, with the adjustable airflow you can get a great mtl vape with the 0.8ohm coil and with the 0.4ohm a very dense flavourful rdl vape. My only niggle with mine is the side panels one of mine is quite loose and slips around when in your hand but this could simply just be a design fault on my device and is very subjective. The fact you can change and swap the panels around is a great idea from LVE too.
As always a massive thank you to sue at Healthcabin for sending me this over for review its very much appriciated.
HealthCabin is also one of the biggest vape wholesale distributors in China, if you're a vape business owner, just contact them to get competitive wholesale price.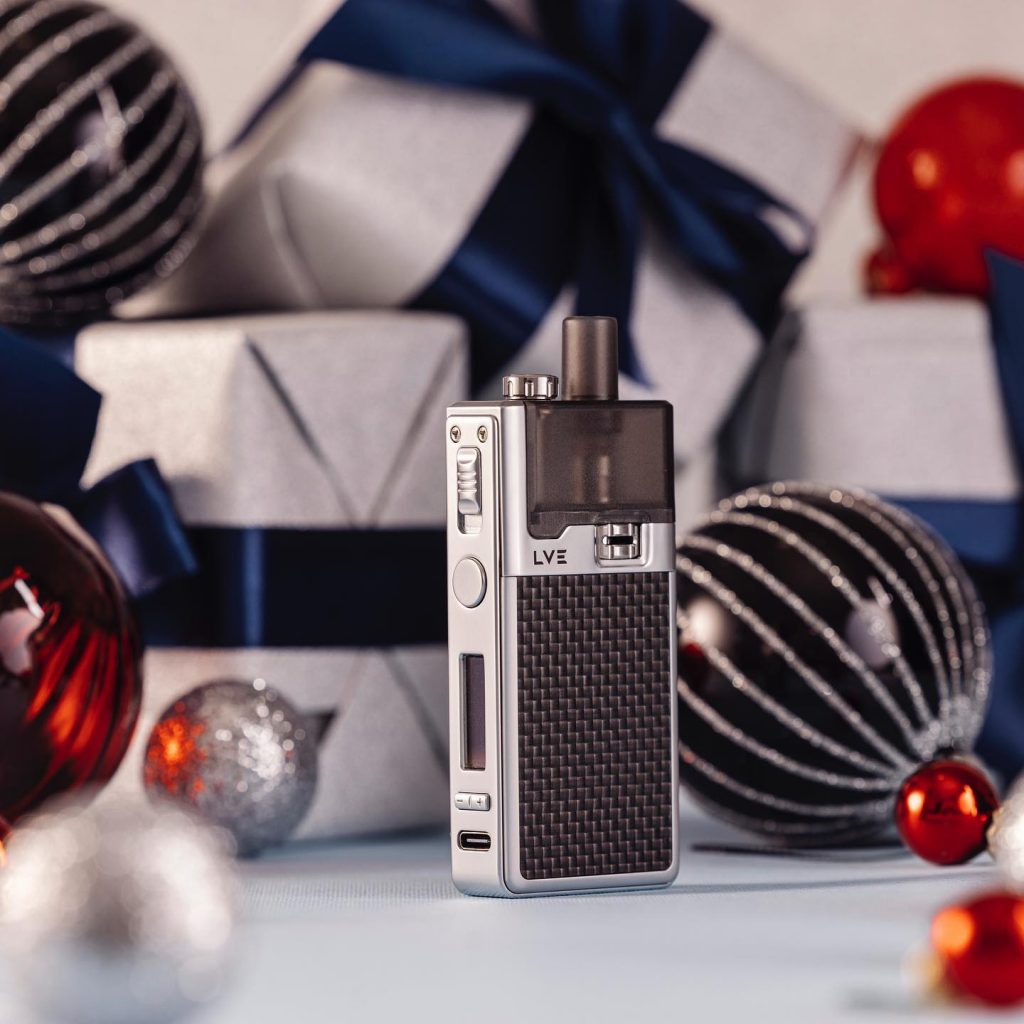 This review was written by Sam – The Vaping Gardner from POTV(Planet Of The Vapes), click to view original review.