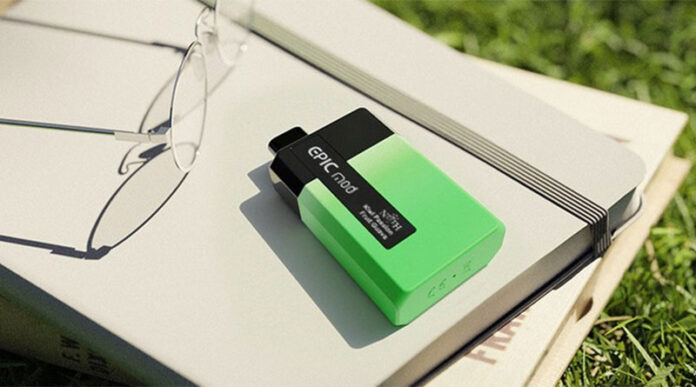 Thanks to HealthCabin for sending me this product to review! The Epicmod is a classy-looking disposable vape by Neith. The device comes in 10 different flavors and 3 different nic strengths (0, 20 or 50mg). I went for 20mg, because for me personally 50mg seems a little bit overkill, but if that's your thing, they are available. I went for the Energy Drink, Blue Razz Lemonade and Strawberry Kiwi flavors. Let's get started the Neith EPICMOD Review together!
Disclaimer: This review is my own thoughts and I am not associated with anyone at HealthCabin, nor am I being paid to write this review.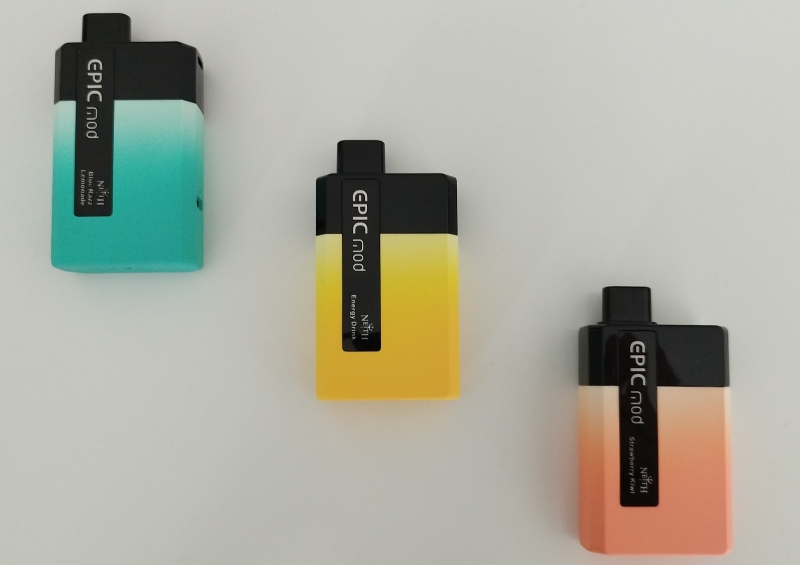 Design
The rectangle shape of the device feels very nice in the hand. All flavors a black top part, followed by a colored part, associated with the flavor. The black part is shiny and sleek. The colored part has more of a soft, almost rubbery touch to it. There is even an open part at the top, to connect a little chain or lanyard to if you're into that. The branding isn't obnoxious, it really feels like a classy device directed to the right type of people.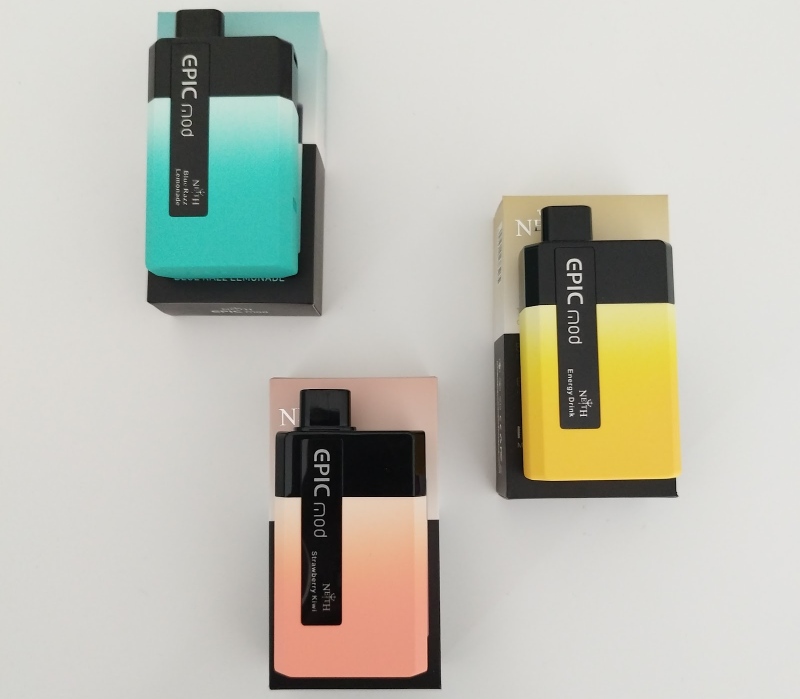 Performance
Really good disposable device. You can tell that a lot of time and effort went into making this a quality device, something that can't be said for everything on the disposable market. It can do a loose mouth to lung and a very restricted direct lung draw. It definitely seems more targeted towards the mouth to lung side of things, though.
The light doesn't light up when charging it, it would've been a good touch to add that.
The device states to be 5500 puffs and that seems about accurate, unlike those 10000 puff devices that already taste burned halfway through.
The battery of this thing is a beast. I've been puffing on them constantly and it seems they only have to be charged after about two days of use.
Energy drink
This is the only one of the three, where the flavor disappointed me a little bit. Don't get me wrong, it was still a nice and comfortable flavor, with a little bit of ice, but it wasn't as sweet and as much 'energy drink' like as I would've expected. It's good that there are disposable products out there without this overwhelming sweet flavor, but for one called 'energy drink' it's what I would expect and that wasn't there as much as I'd hoped.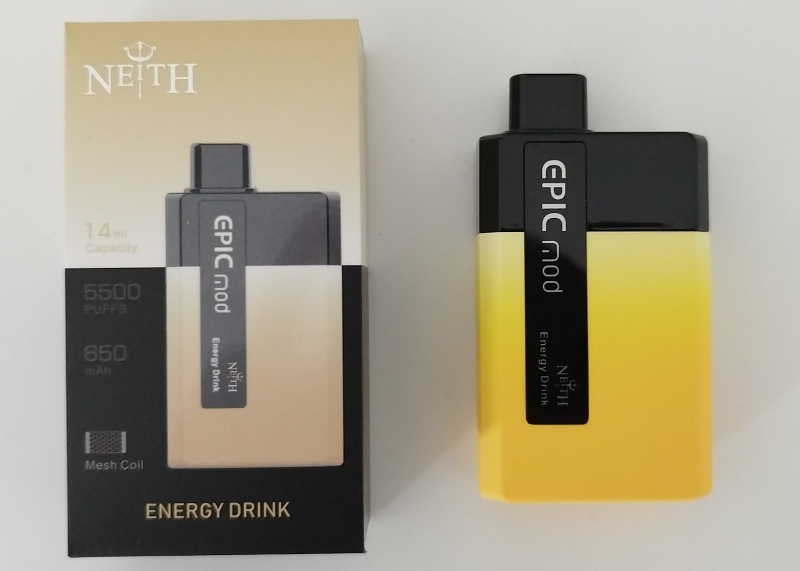 Blue Razz Lemonade
Honestly there's not much more to say about this one than that it's a very nice flavor. I think it's a well known flavor in vapes, disposables and those tfa juices, as it's very similar to those. Definitely that recognizable blue razz ice flavor with a bit of fizziness to it.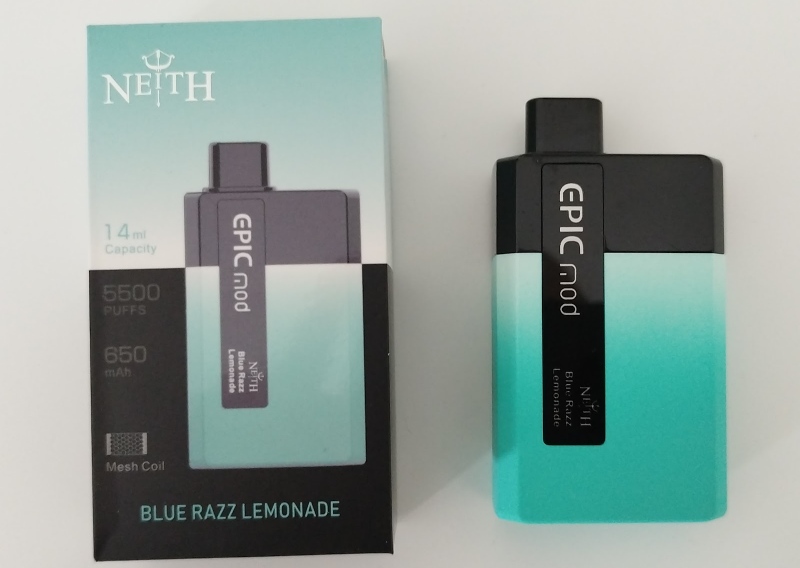 Strawberry Kiwi
This is my favorite flavor by far, with a more subtle flavor. I literally haven't been able to put this one down. Once I start vaping it, I just wanna keep going. It gives a really sweet strawberry cream type of flavor with a hint of kiwi.
Pros
Lots of flavor, not too sweet
Rechargeable
Feels great in the hand
5500 puffs
Cons
No charging light
No airflow control
Verdict
I have to say, since I got these items, I have forgotten about my pods a little bit. I just throw them in my pocket, take them out when I want to have a vape, and put it back in. No liquid to keep an eye on. Barely a battery to keep an eye on, cause those are beasts. Definitely a disposable device that's in the run to be one of the best, if not the best!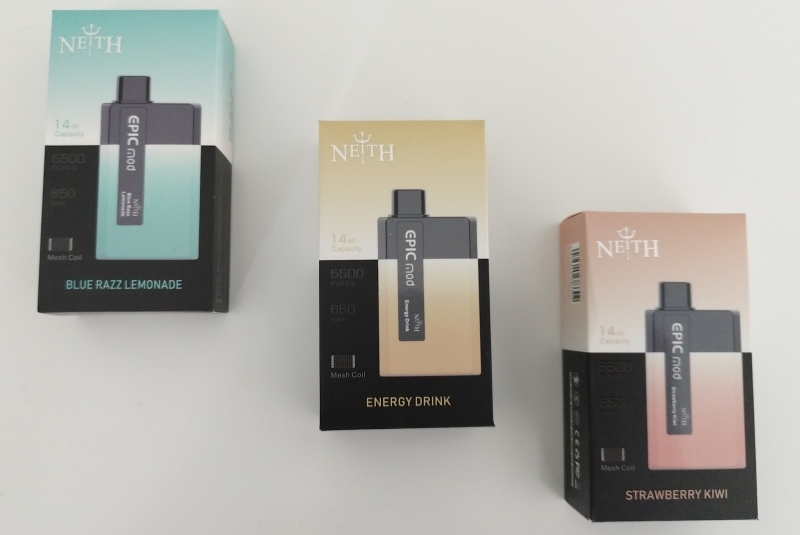 This review was written by Naomi from Vaping Underground, click to view original review.