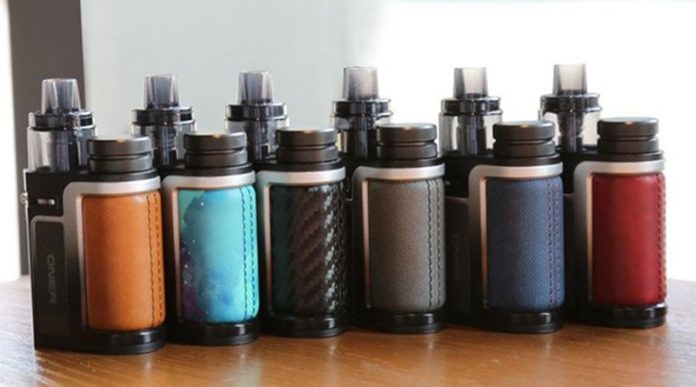 Roll up… roll up… Today for review was sent by sue from Healthcabin, we have the OBS Oner Kit. Let's start the OBS Oner Kit Review.
As always this review is my own thoughts and not associated with anyone from Healthcabin or POTV. Nor have I been paid for my thoughts.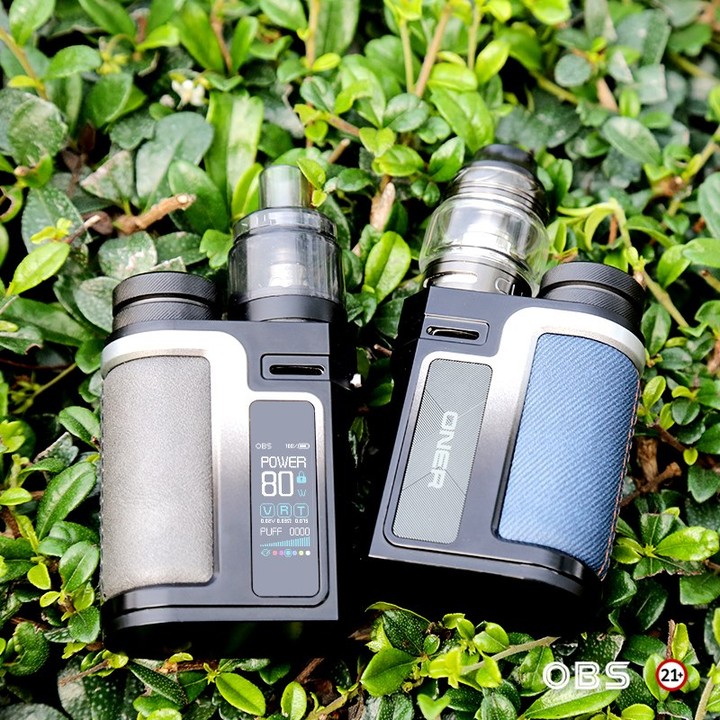 Abit about The Kit
The OBS Oner Kit is a small and discret SBS pod device which is made from zinc alloy with a leather side. The main thing I've learnt from this device is don't be put of by its size as it certainly packs a punch.
It comes in 6 different colour options and for review I received the carbon fibre device.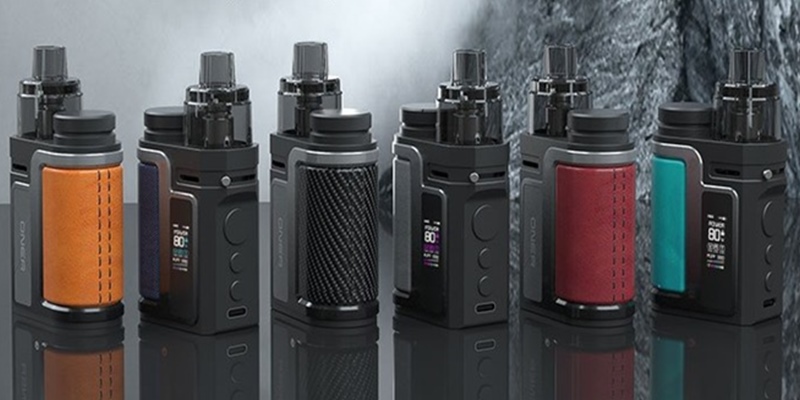 1 x OBS Oner Vape Mod
1 x OBS Oner Empty Pod
1 x OM YE Replacement Coil 0.4 Ohm
1 x OM YE Replacement Coil 0.2 Ohm
1 x 510 Adaptor
1 x USB Type-C Charging Cable
1 x User Manual
Size: 64.5 x 52.5 x 28.5 mm
Weight: 105.5g
Materials: Zinc Alloy, Leather
Battery Type: Single 18650 External Battery
Wattage Range: 5 - 80W
Output Voltage: 3.2/4.25V
Pod Capacity: 2ml
Charging Type: USB Type-C Charging Port
Resistance: 0.2/0.4ohm
Pod Material: PCTG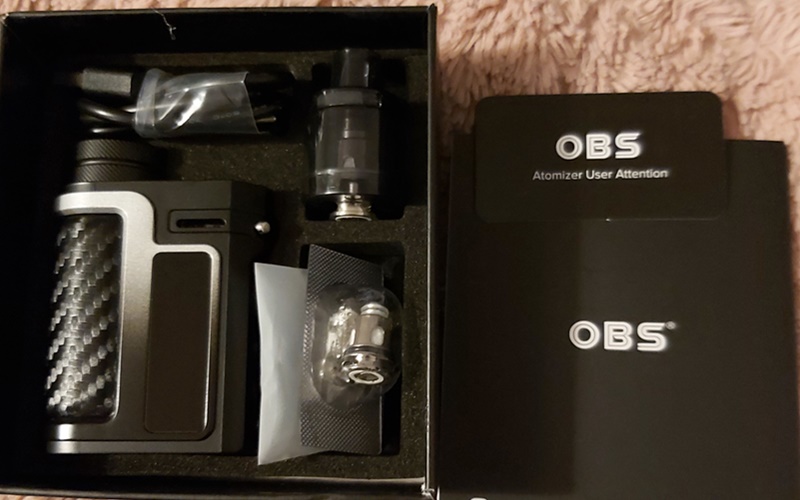 Tank and Coils
The tank is a slightly tinted pod which is easy to see your juice level, it has a slide top fill system which feels secure and hasn't come open once by accident. The fill port is a decent size and I haven't had any problems with air bubbles or overfilling.
It's held in by a strong magnet ring simular to the voopoo pods. These magnets really do hold the pod in strong, when putting the pod in it feels as if it sort of clips in and if not at the right angle it doesn't push down all the way but this is easy to get the hang of after the first try.
The first niggle is its a non removable drip tip, saying that the one provided is comfortable and is fine to use.
The tank is 5ml non tpd and 2ml tpd as standard.
There are 3 available coils but the kit comes with 2 of them.
OM 0.2ohm Mesh – included in the kit
OM YE 0.4ohm Mesh – included in the kit
OM SK 1ohm wire coil – available separately
I Started with the 0.2ohm coil rated between 40-60W best at 50W. I used zeus juice the black and straight away with the airflow fully open the flavour was there plenty of clouds and plenty of flavour and that was at 40W as I slowly increased the wattage I I found it best at 52W for me the mix between flavour and clouds was perfect and really surprised me for such a small device.
Next up I installed the 0.4ohm coil with the same juice this is made to be a RDL coil rated 30-40W best at 35W this has turned out to be my favourite coil at 32W with airlfow half closed it produces a dense flavourful vape but isn't to warm. I've noticed with both coils there isn't to much of a bedding in period and the flavour is there straight away.
As with most pod devices I have noticed slight condensation left under the pod when left this Is simply sorted with some tissue or by removing the pod each evening. But there hasn't been any leaking.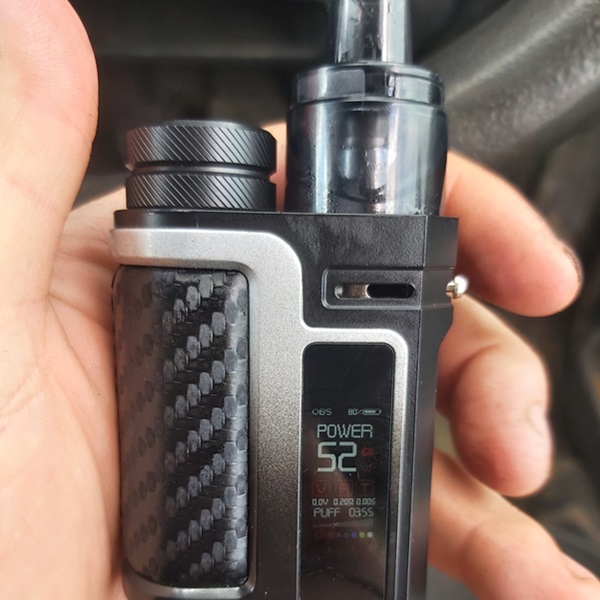 Mod
The star of the show is a small yet powerful single 18650 SBS Mod which houses a 0.96 led colour screen. It has an output range of 5-80W and is supported by USB type C Charging for firmware updates or emergency charging but with all external batteries I reccomend a separate charging bay.
Its a simple Mod with 3 buttons and a screen. A fire button and up and down buttons. Just below where the tank sits is an adjustable airflow ring which is a great addition to this little mod.
It has all the usual safety produces built into the device and the is the normal 5 clicks on 5 clicks off. 3 clicks off the up button locks the device but still allows you to fire and 3 clicks of the fire button changes the colour of the screen.
The main safety feature being a smart mode built In which doesn't allow you to go above the reccomended wattage on the individual coil which prevents you burning the coils out to quickly.
You can flick through a array of different coloured screens and some of the darker colours I've found can make it hard to see the writing on the screen.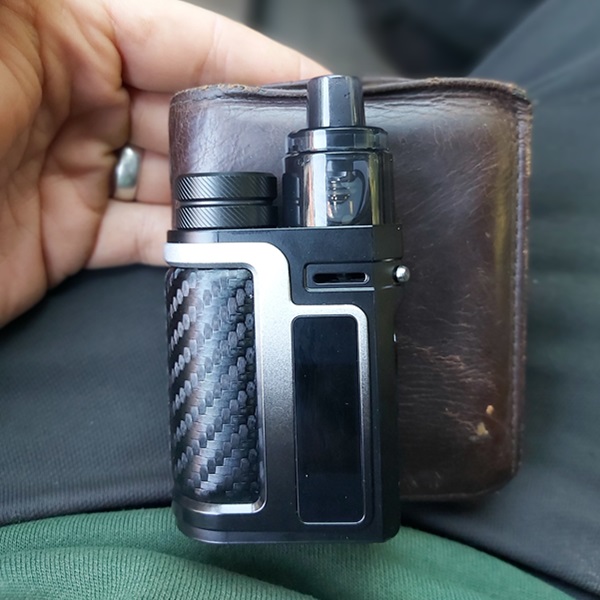 A great addition to this kit which is included is a 510 adaptor which turns this sbs pod mod into a stylish looking sbs mod which can fit your normal tanks on. I have found as with most 510 connectors it seems to need more power than your usual mod to produce the same vape. Which would be fine in a rebuidable but on a stock coil tank I've found without cranking the wattage right up you just aren't getting the same decent vape you would expect or want. I know this can sometimes be affected by the size of 510 etc but luckily the little coils in these pods produce cracking flavour. Another thing to be aware of is depending on the size of your tanks glass (bubble tanks) they may not fit due to the battery top lid.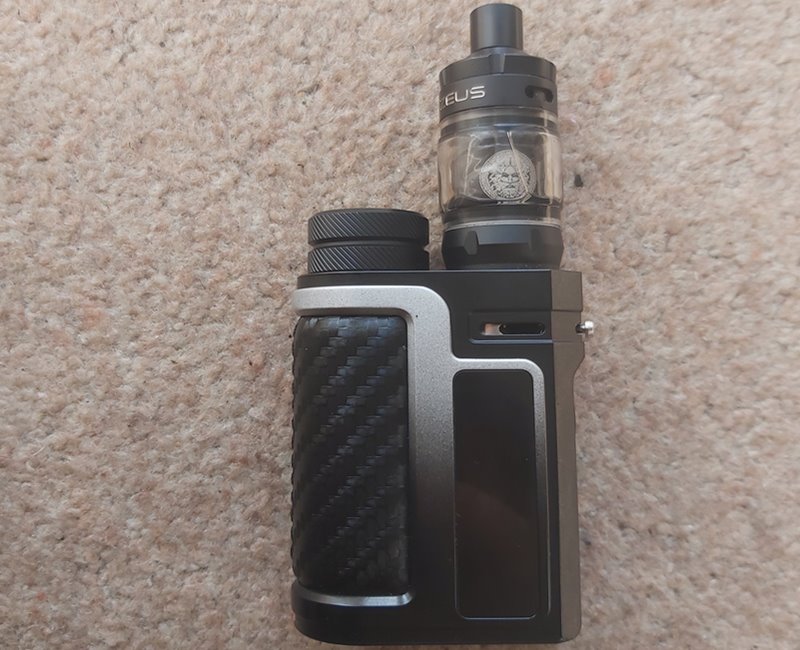 Pros
Great flavour
Stylish looking device
Easy to use
510 included
Discret and easy to carry
Niggles
510 connector needs more power than normal
Slight condensation
Non removable drip tip
Darker colour screen can be hard to read
Overall this would be a great device for anyone looking for a small RDL/ DL sbs mod or pod device I've throughly enjoyed using it.
You can get it at health cabin for the great price of $27.49 as always don't forget to sign in for discount.
As always thank you to Sue from Healthcabin for providing me this for review and thank you all for reading.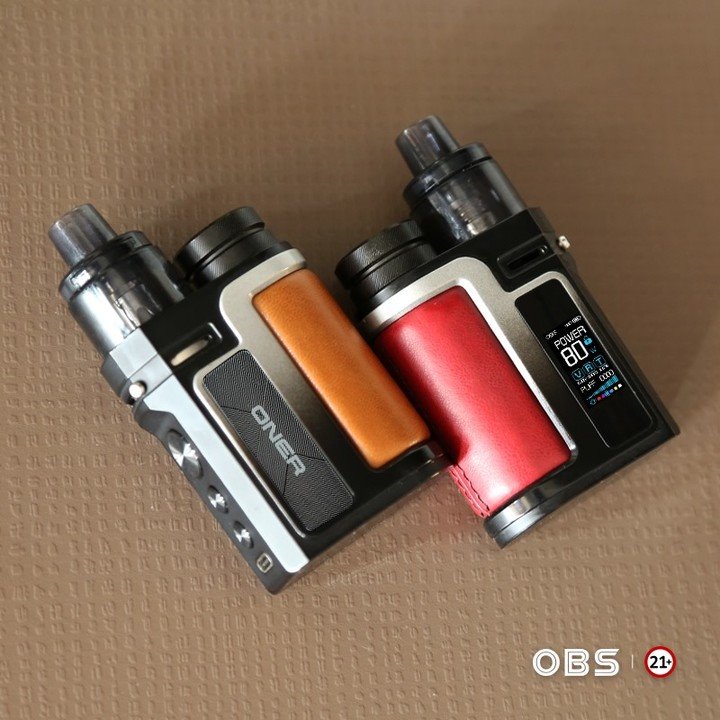 This review was written by Sam The Vaping Gardner from POTV(Planet Of The Vapes), click to view original review.