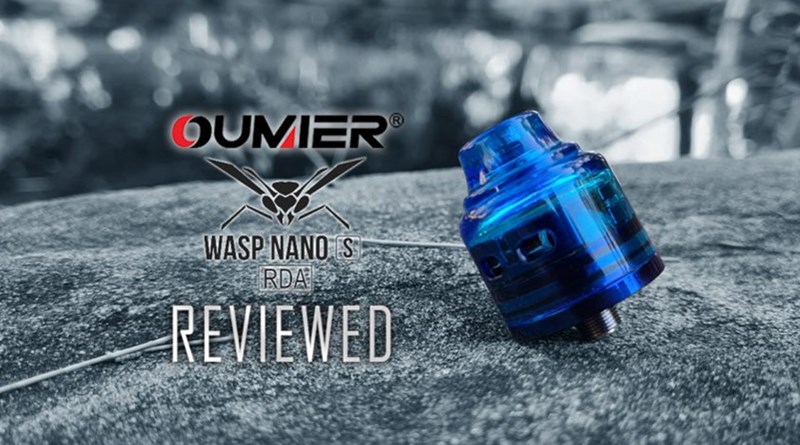 Oumier. You'll likely remember them, they made waves a little while ago, when they released their budget, single coil RDA the Wasp Nano. It was a small 22mm diameter RDA that was big on flavour, and simple in design, introducing their signature plastic cap that they've become known for. Fast forward a little, and they Wasp Nano changed a little bit with the frosted caps no longer being the only choices, new colours and new transluscent caps were also offered.

Now Oumier have released a newer version of the old trusty Wasp Nano, and it's no longer a tiny single coil RDA, it's a little larger with all of the signature looks and styling of the original, but this time offering a dual coil deck!
Let's check out the Oumier Wasp Nano S RDA!

Big thanks goes to Health Cabin, who sent this out for the purposes of review!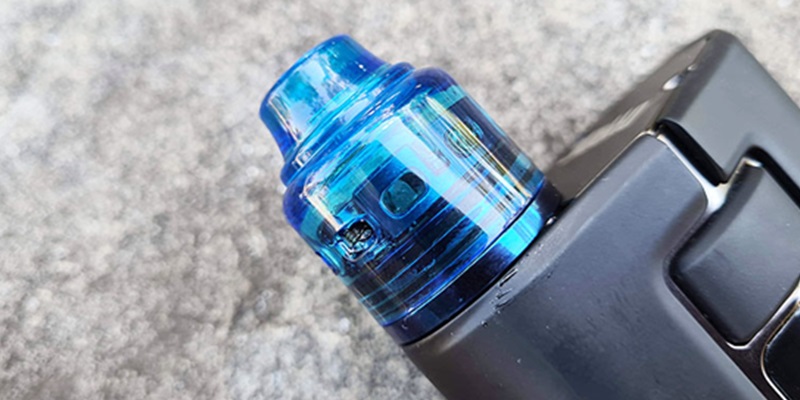 25mm Diameter
Dual Post Expansive Build Deck
5mm Deep Juice Well
810 Drip tip
Superior Stainless Steel construction
Top Secured via Flathead screws
PEEK Insulator
Dual Coil Configuration
Double O-Ring Top cap connection
Dual slotted airflow system
Side airflow vents to side of coil
Slotted Top Cap airflow control
Squonkable BF 510 Connection
1 x Oumier Wasp Nano S RDA
2 x O-Rings
2 x Coils
2 x Slotted Set Screws(M2.5*3.5)
1 x Philips Screw
1 x Organic Cotton
1 x Flathead Screwdriver
1 x Coil Jig
1 x BF 510 Squonk Pin
General Info
Oumier really have tried hard to keep the general look and styling of the Wasp Nano in the new Wasp Nano S. The plastic top cap, with cyclops style airflow is still there, this time with 2 slots on either side, the deep juice will in the deck remains, as do the solid blocks that allow airflow to pass through to the coils.

What the most obvious difference is, is the size. Where the original was a tiny 22mm in diameter, the Wasp Nano S is now 25mm in diameter, obviously increased in size to allow for a second coil to be installed.
The Base/Deck
The deck is something that has changed slightly, but while a second coil option has been added, Oumier have worked that in with the original deck design to offer something quite different and unusual, all the while keeping with a similar look to the first Wasp Nano. The coil channel snakes around a little, creating an angled chamber where airflow can directly pass over both coils from either side in a kind of staggered fashion.
Just like the original, there are two large blocks for posts on the deck with airflow holes machined into them to allow direct airflow, just this time there is a provision for an extra coil. Instead of 2 post screws there are now 4 (flathead screws), and instead of 2 airflow slots, there are also now 4. Two for each side.
The Nano S also has quite a generous juice well, it's 5mm deep, so you can push a fair mount of e-liquid in there to make sure your wicks aren't drying out too quickly, which is quite handy, even when using it with the squonk pin installed.

Top Cap
I have no idea what material the top cap is, the original frosted POM caps had some new caps put on offer a while back that were not frosted but more a transluscent shiny plastic. The Nano S uses this look too.
Available in various colours, these caps are a nice fit over the 2 deck o-rings, providing an easy airflow control when turned, yet still retaining some of that restriction, so it doesn't move around by accident.
On each side of the cap you've got 2 elongated airflow slots that line up with slots in the deck, and when pushed home, the top cap rests on a stepped deck to limit any e-liquid leaking or seepage under the RDA.
The drip tip this time, while looking like it's all part of the cap, is actually removable. Not only that, but it's a stock 810 drip tip, with an o-ring on the inside of the cap so you can still use your favourite 810 drip tips, even your custom made tips and have them fit nicely, if you don't like the matching plastic one provided. I've kept the stock drip tip on mine during use, because I really like the look of it, despite it feeling a little unusual when using it.

Airflow
There's a lot of airflow through this RDA. The twin cyclops slots on each side offer a heap of airflow and you'll quickly realise that this is quite an airy RDA.
You probably can't notice by the photos alone, but the airflow, while great, is very limited.
Spinning the top cap around to adjust the airflow might have you thinking that you can reduce this down quite a way, but you simply can't. There are slots/gaps between the blocks, as well as only a small sliver of metal around the airflow holes in the deck, meaning no matter where you position your top cap, you're always going to get at least a medium airflow, never being able to reduce it down further, because there simply isn't enough metal around to block the holes in the cap. This was a bit disappointing to be honest, and really is a deal breaker.
I've also noticed quite a bit of whistling from the airflow as well, something that is again, a deal breaker for me.

Building
Building on the Wasp Nano S, looks like it would be a monumental effort, but it really isn't, its quite easy in fact. In all honesty, I was a little confused at first, thinking that one long wick would be the best way to wick the dual coils, until I realised that Oumier actually have left room for a staggered wick design. Individual wicks for each coil.

Clamp your coils down so that they are parallel to the airflow holes, dry burn, and slot a piece of cotton through each. Snip off the ends of each wick so that it just touches the deck below, and you're done. It really is that simple.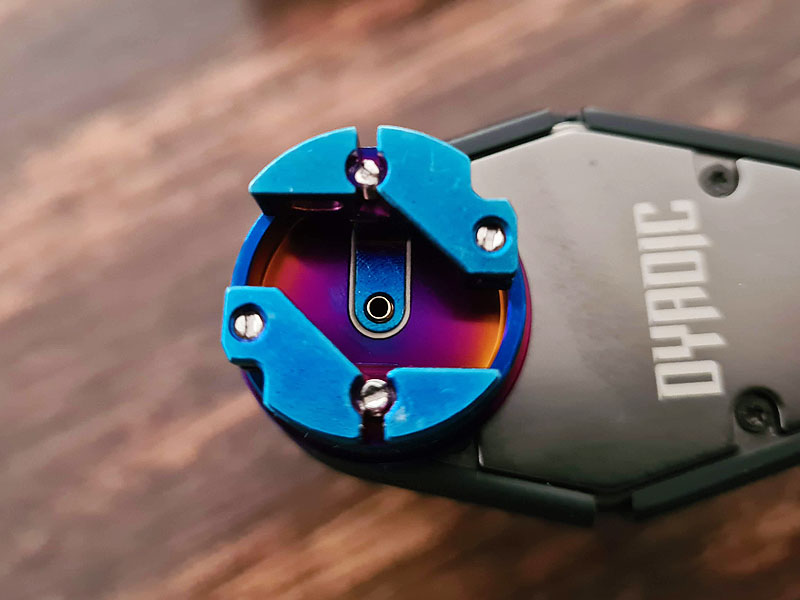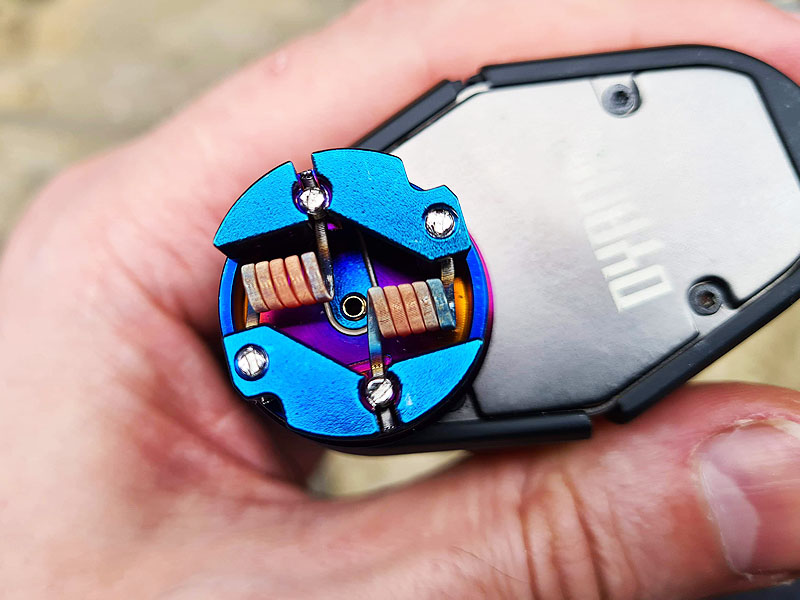 Any Leaks?
No. And I really wouldn't expect any from an RDA. The two o-rings on the deck do a pretty good job at keep the juice from leaking out, and you really have to squeeze a lot of e-liquid into this before you'll see juice seeping from the airflow holes. The 5mm juice well helps too.

Pros
Excellent Flavour
Great design
Easy to build and setup
Great colours to choose from
Solid and quality construction
Removable drip tip
Squonk pin included
Cons
Whistling airflow
Airflow cannot be adjusted lower than medium airflow

Where to Buy
A big thankyou to Health Cabin for sending this through to me to review, and of course you can pick up the Oumier Wasp Nano S RDA directly through them for around $28 AUD which is an absolute steal, putting this RDA squarely in the budget bracket. Affordable but a lot of bang for your buck!
Conclusion
If you loved the original Wasp Nano RDA, you're going to also love the new Oumier Wasp Nano S RDA. It's very much on par with it's smaller sibling, but with the ability to run dual coils, looks a lot better on larger devices, and is generally just a larger atomizer.

With the similar styling, it also has quite a similar vape, right down to the slight whistling, and the looser draw.

I've had a bit of a love/hate relationship with this one, just as I did with the original for a lot of the same reasons, as well as a few more.

On the one hand, I love the flavour from this RDA, it really does put out a fantastic vape. Nice flavourful and dense vapour that satisfies really well.
I also love that they've included a removable drip tip, as well as making this a dual coil atomizer, it really does put out some excellent flavour. The included squonk pin is a plus just like the original, and the colours available look fantastic! I quite enjoy the plastic cap too, as it allows you to vape at a much higher wattage than you normally would, without the cap heating up and potentially burning your lips.

Flip things around and for me there are a few deal breakers. The most obvious is the lack of airflow control options. You can get a nice airy setting going well, but try to tighten that down, and you simply can't because of the position of the deck blocks and the lack of metal to block the airflow holes in the cap off. A two piece cap might have worked a lot better here.
The other killer, is the whistling. I can get it down to a light whistle at times, but at others, no matter how I set the airflow up, it's like blowing lightly through a whistle with every vape. I find it interesting that the original also did this which is a bit strange.

All in all this is a great little RDA that has brilliant flavour and is a great vape. It's super simple, and straight forward, it's priced at a very appealing price-point for those who are budget conscious, but there are also a few things that might annoy.

Would I buy one for myself if I were to lose this one? Probably not, for me the lack of airflow control and the whistling just outweigh the excellent flavour and low price point.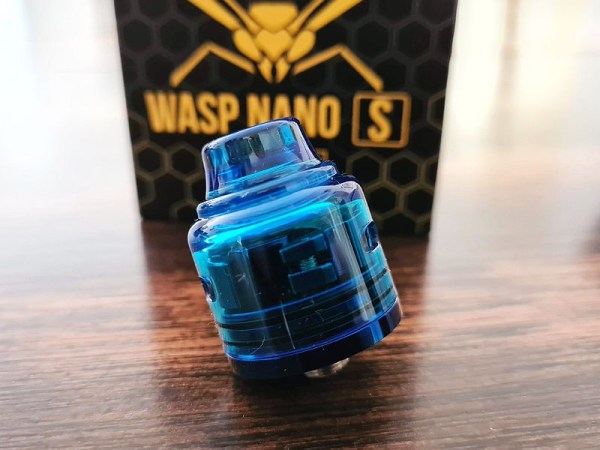 Overall Design——————————————7
Build Quality———————————————8
Ease of Use———————————————8
Airflow—————————————————6
Flavour—————————————————9
This review was written by Shane from vapersgarage, click to view original review there with more photos.